What readers are saying about this recipe
This recipe is amazing! It's super easy and fairly quick… I served (it) with mashed potatoes. The gravy is delicious and I may have eaten a spoonful -or 5- of it all by itself. My daughter and fiancé, along with our 10-year old son, are rather picky, but they all 3 loved it! Actually the entire family practically inhaled dinner. This recipe will absolutely be on repeat at our house.

Ginny
What is salisbury steak?
It's kind of confusing, but salisbury steak isn't really a cut of steak. It's basically a fancy burger patty that's simmered in brown gravy. You'll typically see it served with mashed potatoes and maybe some green beans.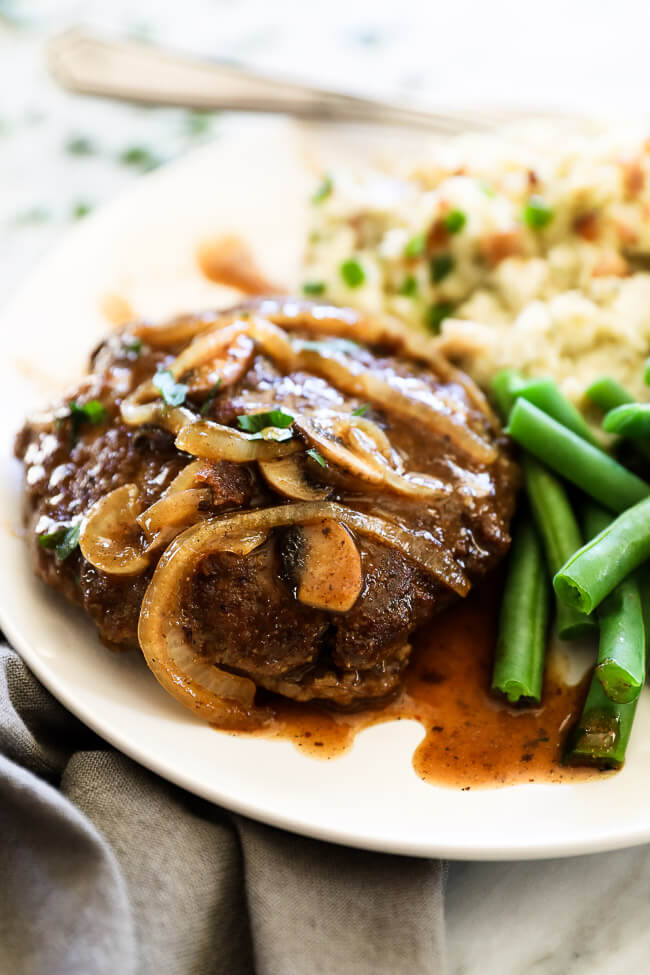 Does it really taste good?
Based on the description above, you might be picturing something like a microwaved Hungry Man TV dinner from your childhood. You also might be thinking of a version made with canned french onion soup. Believe me, this recipe is nothing like those "bad" versions of salisbury steak!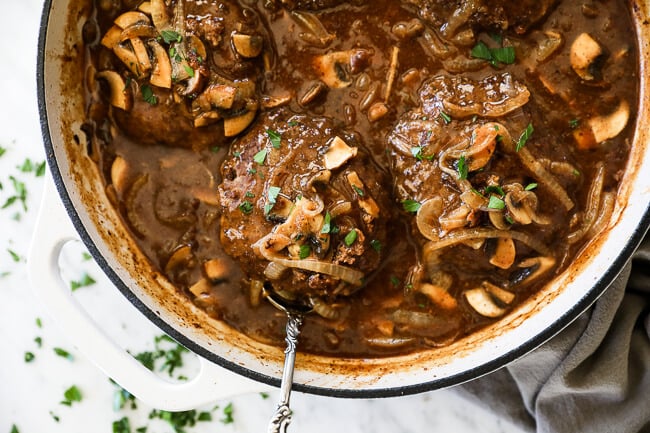 Is homemade salisbury steak hard to make?
The best thing about this recipe is that it's quick and easy to make. The burger patties are flavored with a simple seasoning, egg and almond flour mix. Then, while the patties are cooking, you'll prep the rest of the ingredients. The mushroom and onion gravy cooks quickly, and you'll be enjoying this healthy comfort food recipe in just about 30 minutes.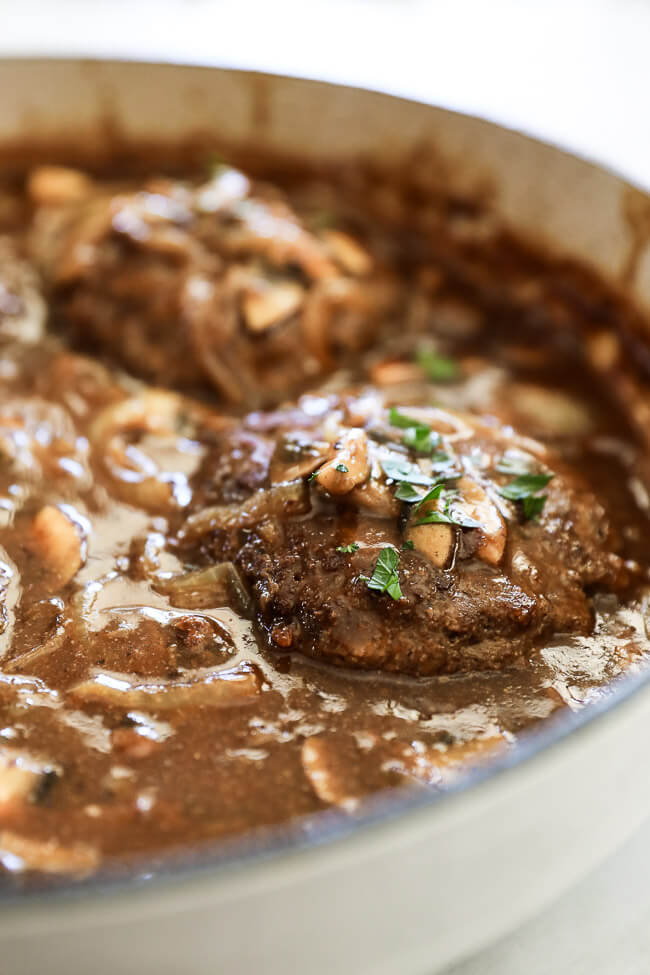 What should I serve with this recipe?
We like to keep this pretty traditional and serve it with simple mashed potatoes and green beans. Some other serving options are with: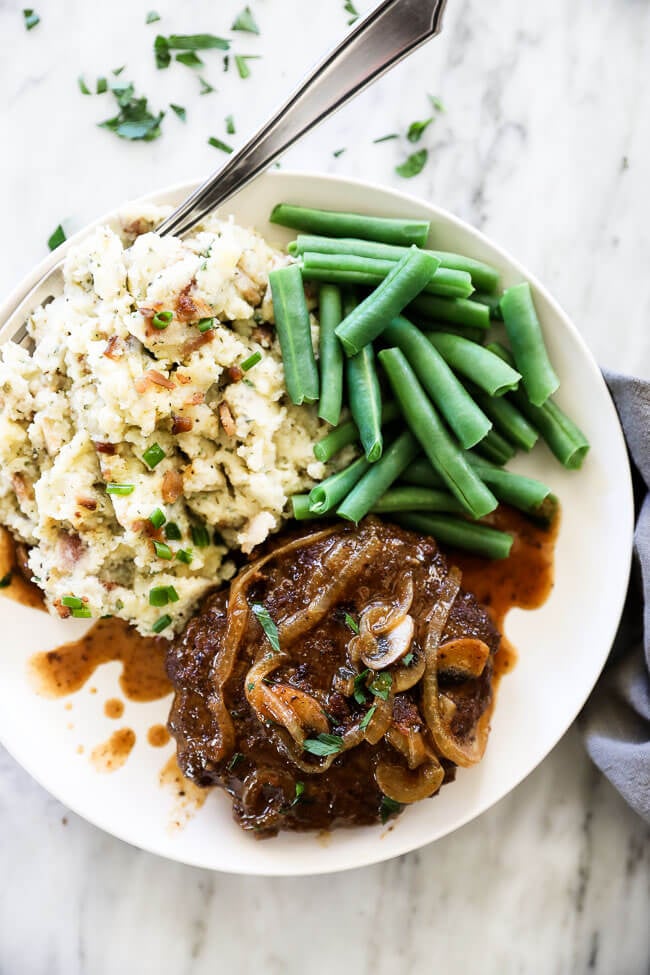 Your turn to try this easy salisbury steak
Craving comfort food but still want to keep it healthy? Try out this easy salisbury steak recipe made with real food ingredients! Leave a comment below to let us know how it goes. Also, take a pic to share on Instagram! Tag us @realsimplegood so we can see, and give us a follow if you don't already! We'd love to stay connected!
---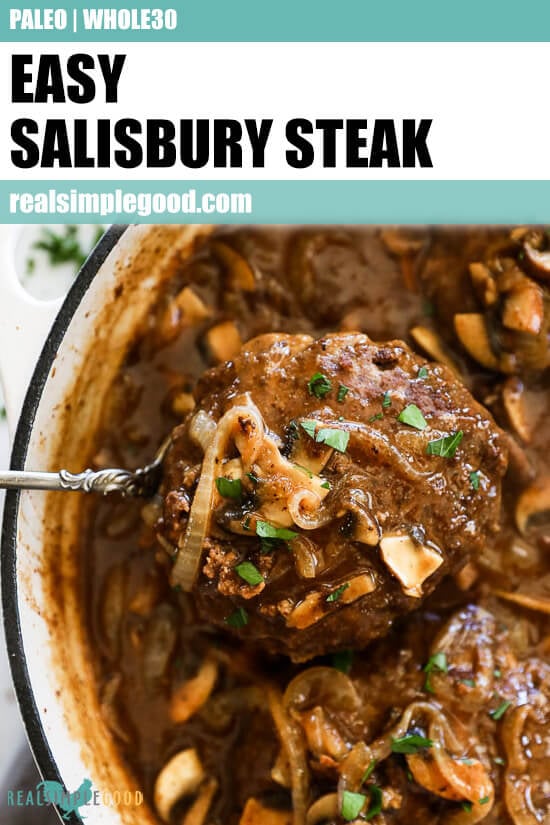 ---
Like this Recipe?
SHARE IT NOW OR PIN IT FOR LATER!
---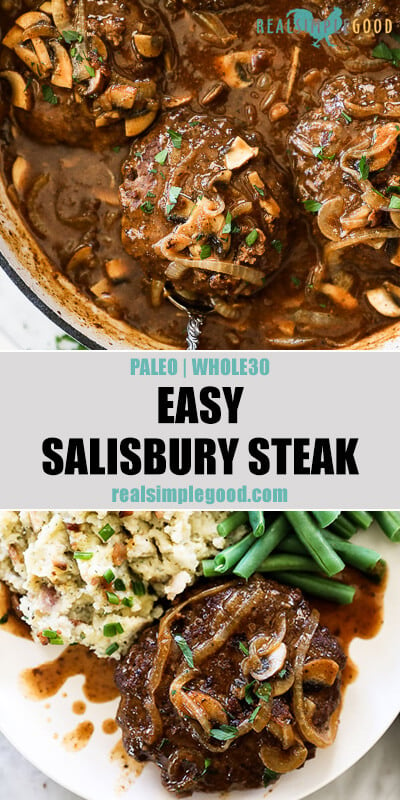 ---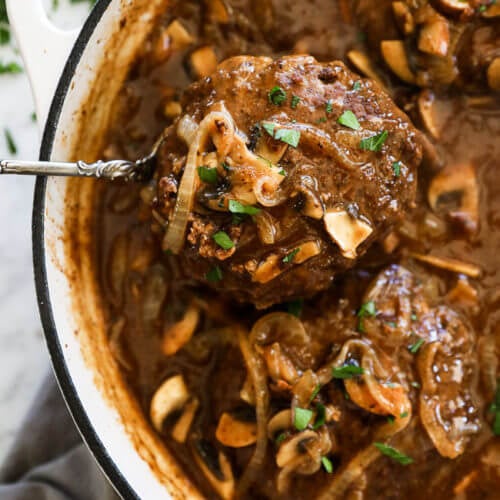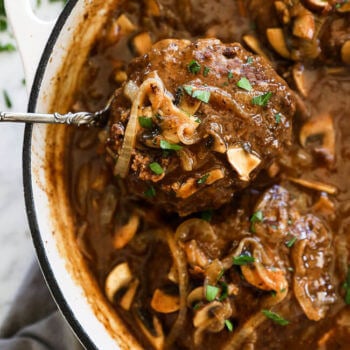 Get the Recipe:
Easy Homemade (30-Minute!) Salisbury Steak
Filled with old fashioned flavor, this easy homemade salisbury steak is such a rich and savory comfort food recipe ready in about 30-minutes! With a rich mushroom and onion gravy, you can serve it up with some mashed potatoes or a cauliflower mash and you will be in healthy comfort food heaven. No one will ever guess that it's healthy and gluten-free so it's Keto, Whole30 and Paleo friendly.
Ingredients
1.5 lbs ground beef
1/4 cup almond flour
1 egg
1/2 tsp sea salt
1/2 tsp pepper
2 tbsp ghee, divided, (or coconut oil for dairy free)
1 onion, thinly sliced, (can omit for keto)
3 cups mushrooms, thinly sliced
2 cups beef broth, divided
1/4 cup coconut aminos, (see recipe notes)
2 tbsp arrowroot starch
1 tbsp tomato paste
2 tsp garlic powder
1 tsp onion powder
1 tsp mustard powder
chopped parsley, optional topping
Instructions
In a bowl combine beef, almond flour, egg, salt, pepper and 1/4 cup of beef broth. Mix well and form into 5 large patties.

Place a large skillet over medium heat and add 1 tbsp ghee. Once hot, add the beef patties. Cook for 4-5 minutes per side (or until cooked to your liking) and remove to a plate.

While the beef is cooking, prep onion and mushrooms as noted.

In a bowl, combine the remaining broth, coconut aminos, arrowroot starch, tomato paste, garlic powder, onion powder and mustard powder. Stir to mix well and dissolve the arrowroot starch.

Once the beef is cooked, add 1 tbsp of ghee to the skillet. Add the onions and cook, stirring occasionally, over medium heat for 3-4 minutes. Add mushrooms and cook another 2-3 minutes.

Stir the broth mixture again to mix it up, then pour it into the pan. Scrape up the bits from the bottom of the pan and bring to a quick simmer. Turn down the heat to low. Simmer, stirring very frequently for 3-5 minutes, until the broth thickens into a gravy.

Add the beef patties back into the pan and nestle them in with the onions and mushrooms. Spoon some of the gravy over the beef. Cook another 1-2 minutes.

Serve steak topped with gravy and optional parsley. Enjoy.
Notes
If you don't have any coconut aminos on hand, you can make your own using our DIY coconut aminos substitute recipe. 

Nutrition amounts are per serving and an estimate provided for those following a Ketogenic or low-carb diet. The amounts listed do not include coconut sugar or the bbq sauce for this recipe. See our full nutrition information disclosure 

here

. 
Calories: 505kcal, Carbohydrates: 12g, Protein: 29g, Fat: 37g, Fiber: 2g