I'm pretty sure when people say eat the rainbow, they mean eat this this Thai chicken salad! This chicken salad recipe is super easy to make and so full of color and textures. You will love how fast it comes together, too. You just need some leftover chicken and fresh produce, and we'll teach you how to make the best "peanut" sauce for the dressing. It's all Paleo + Whole30 friendly, too!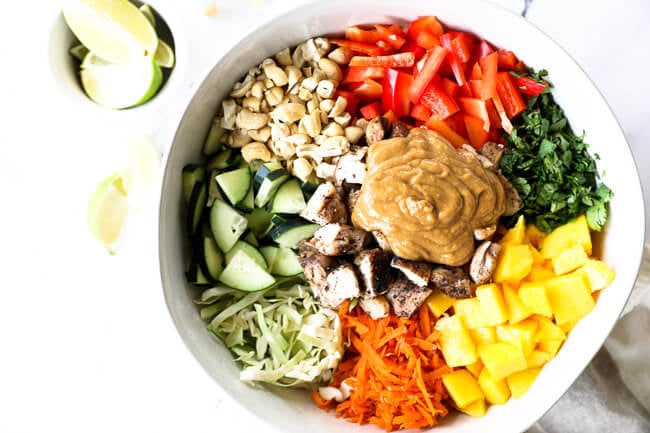 How to make chopped Thai chicken salad
Well, it's really easy. It is a little labor intensive to chop up all the veggies and mango, but once that's done it's really just putting it all together.
Below is a breakdown of how this Thai chicken salad recipe comes together. And here are some other healthy comfort food recipes you might like as well!
Prep produce – Chop up the cabbage (or buy pre-shredded), cilantro, bell pepper and cucumber. Shred the carrot on a grater.
Cube your mango. Here's a twenty second video tutorial with an easy way to do it.
Chop some cashews.
Cube or shred some leftover chicken.
Make the "peanut" sauce dressing.
Put it all in a large serving bowl and toss.
Paleo + Whole30 "peanut" dressing for Thai chicken salad
You'd expect a Thai chicken salad recipe to have a peanut sauce for the dressing, but peanuts aren't Paleo or Whole30 friendly since they're a legume, so we've made a compliant version for this chopped Thai chicken salad. It's easy to mix up and has all the "peanut" flavor. Here's what you'll need.
Creamy cashew butter
Sesame oil
Coconut aminos
Rice vinegar (or apple cider vinegar will work too)
Fresh ginger
Garlic
Water
Sea Salt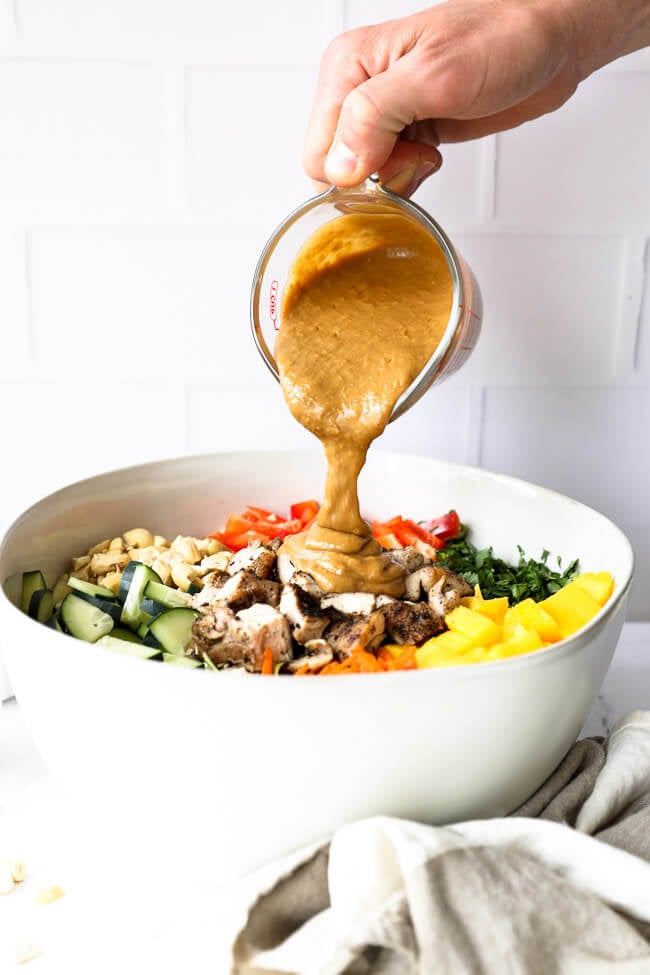 You just mix it all up in a jar or bowl. You can either toss it with all the ingredients or you can keep it on the side and just put however much you want on each serving of the salad. This is a great idea if you're making this salad for meal prep. Then, all the veggies retain their crunch. If you have any leftovers, go ahead and put it on all the things!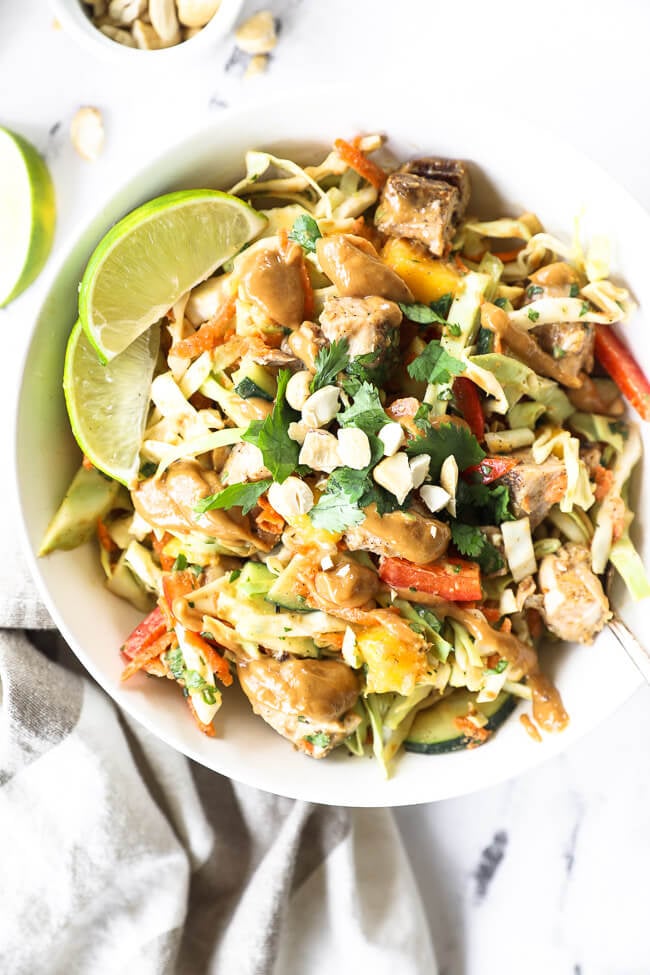 Leftover chicken salad recipe
We love this Thai chicken salad recipe because it uses leftover chicken. You can shred it, cube it or cut your chicken into thin strips. Rotisserie chicken would work well, too. However you prefer it and in whatever form is easiest for you will be great! The idea here is simply that you are using up what's in your fridge and making a tasty meal with it.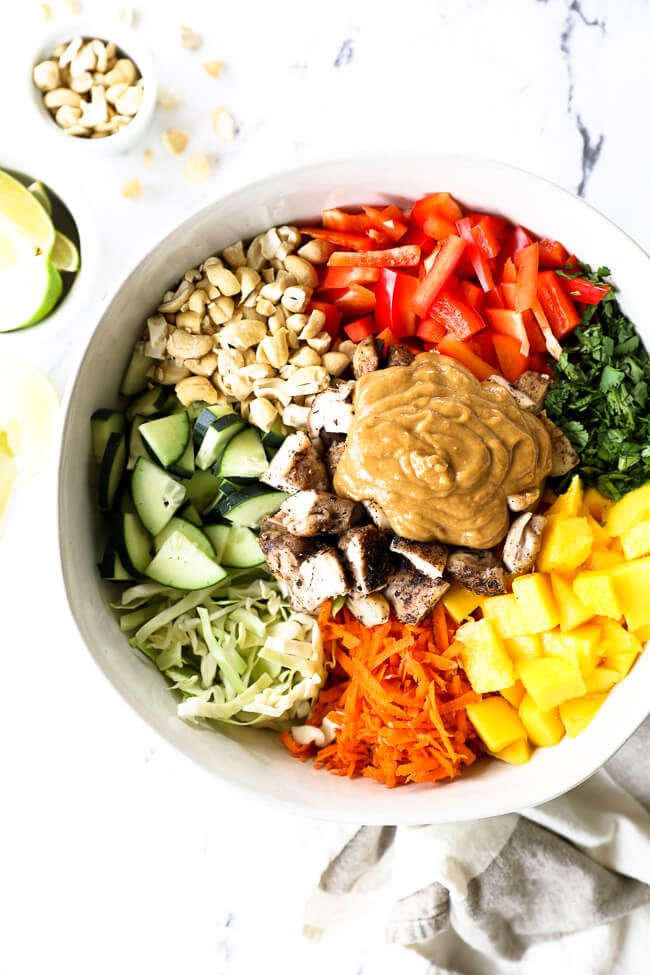 Some other Asian inspired recipes
Time to give this easy Thai chicken salad a try!
If you've got some leftover chicken in the fridge, go ahead and use it up by making this easy Thai chicken salad recipe! You'll love the "peanut" sauce and crunchy chopped salad. Leave a comment and rating below to let us know how it goes. Also, take a pic to share on Instagram, and tag us @realsimplegood so we can check it out! We love to see what you're cooking!
---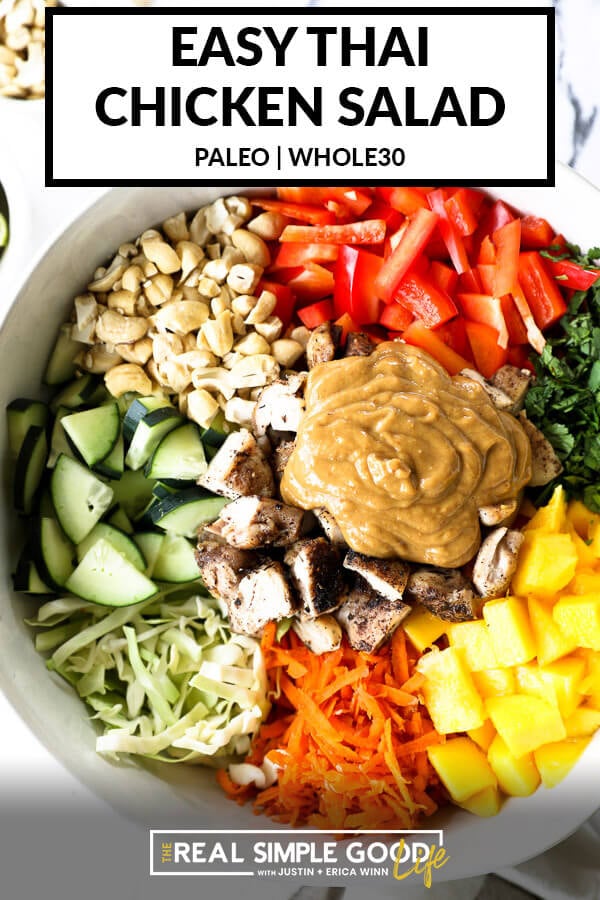 ---
Like this Recipe?
SHARE IT NOW OR PIN IT FOR LATER!
---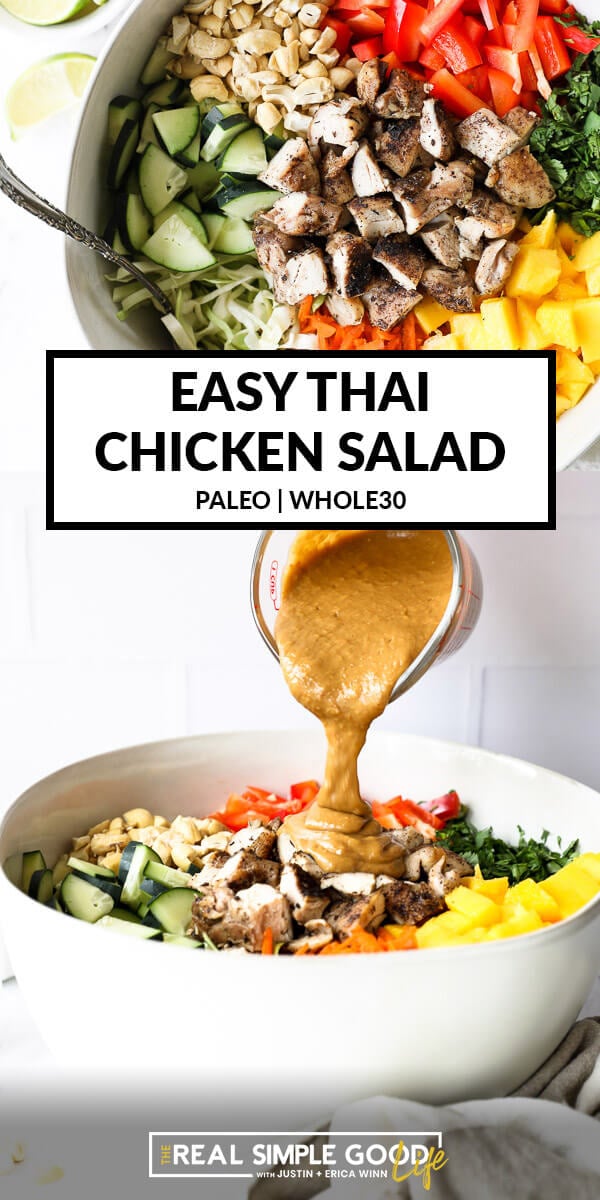 ---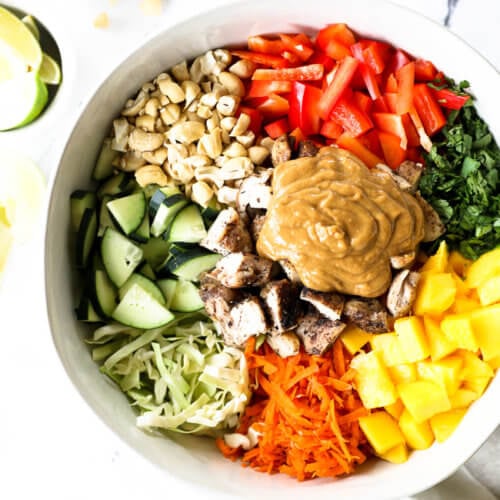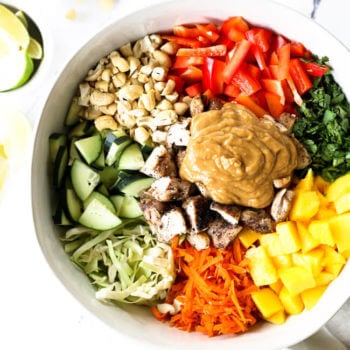 Get the Recipe:
Easy Thai Chicken Salad
When people say eat the rainbow, they mean eat this Paleo + Whole30 Thai chicken salad! You need leftover chicken, produce and the best "peanut" sauce!
Ingredients
For the salad:
3 cups cooked shredded chicken
6 cups shredded cabbage
1 cup cilantro, chopped
1 cup cashews, chopped
1 carrot, shredded
1 red bell pepper, diced
1 cucumber, diced, (one small or half of a larger one)
1 mango, cubed
1 lime, juice
1/4 tsp Sea salt
For the sauce:
1/4 cup creamy cashew butter
2 tbsp sesame oil
2 tbsp coconut aminos
2 tbsp apple cider vinegar, (or rice vinegar)
1 inch fresh ginger, peeled and grated on a microplane
1 clove garlic, minced
water, to thin, (add 1 tbsp at a time until it reaches your desired consistency – we used about 2 tbsp)
Sea salt, to taste
Instructions
Prep all of the salad ingredients as noted, and place in a large bowl and toss.

Prep ginger and garlic as noted and make sauce. Combine all of the sauce ingredients in a bowl with a whisk.

Pour the sauce over the salad and toss again. Serve and enjoy!