Perfect for any wood pellet grill these Traeger smoked pork chops are deliciously seasoned and smoked to perfection! An easy reverse sear at the end gives you the look of grilled pork chops with all the smoky flavor.
Making Pork Chops on a Smoker
This is truly a no-fail method to follow for smoked pork chops. Here's how:
Heat your Traeger (or any smoker) to 225° Fahrenheit.
Mix up the easy pork chop seasoning and sprinkle over both sides of the pork chops.
Smoke the pork chops for 90 minutes (see recipe instructions for notes).
Pull the pork chops off and turn your grill up to high heat.
Give the pork chops a quick sear on each side for a nice char.
If you like this recipe, try our easy smoked burgers and perfectly smoked meatloaf!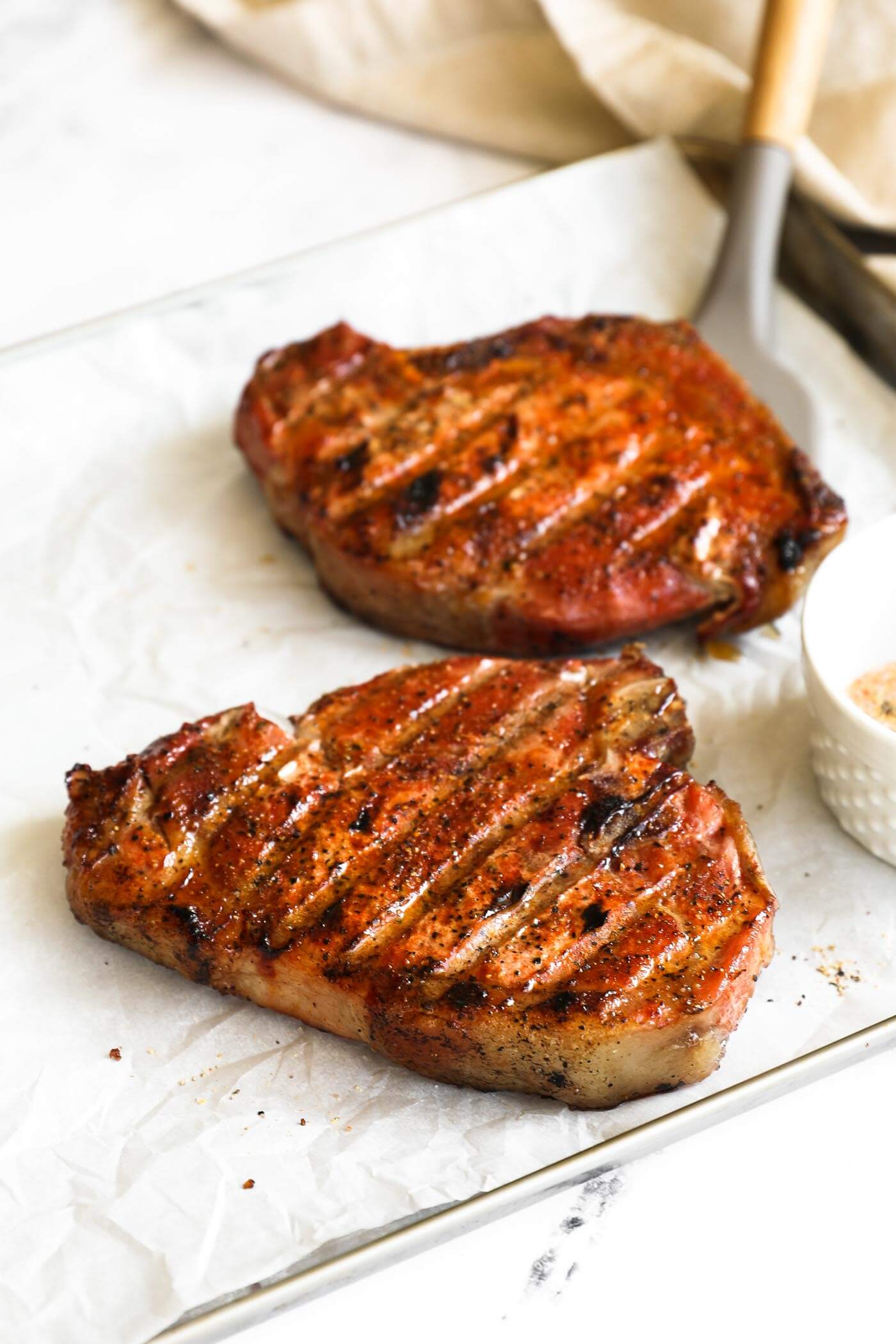 Recipe Tips
This recipe works best with thick cut, bone in pork chops. If you use thin cut or boneless, reduce the smoking time as noted in the recipe.
If you don't want to use the homemade seasoning, just sprinkle on your favorite seasoning mix.
I prefer them without BBQ sauce, but if you want to add some, just brush it on before you do the reverse sear (step #6).
Don't overcook your pork chops! They will turn out rubbery and tough. Use an instant read thermometer and pull them when they reach an internal temp of 140° in the thickest section.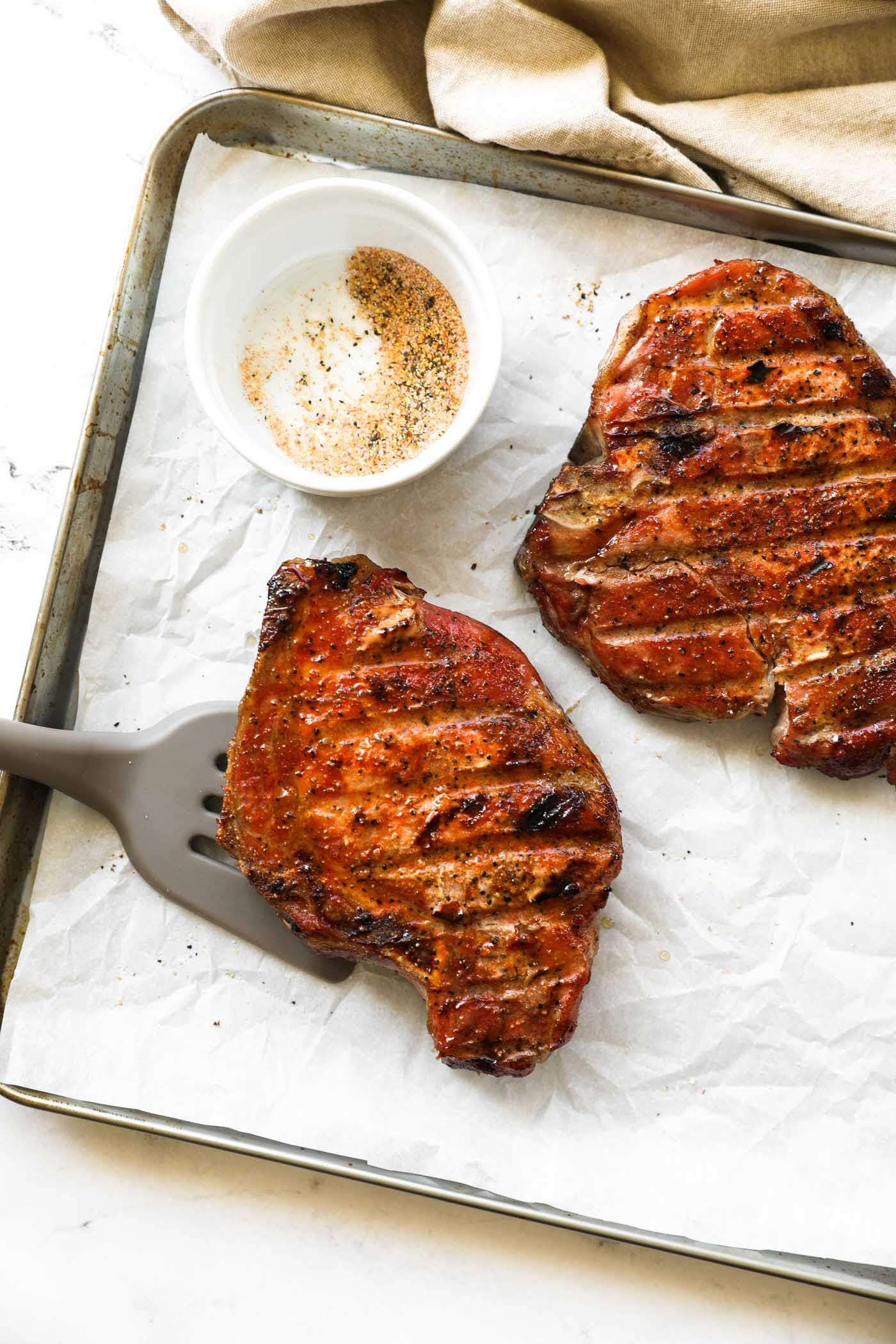 Which Traeger Pellets To Use For Smoked Pork Chops
Really any blend of pellets will work for this recipe, but my favorites are:
Hickory – More of a bold, assertive flavor that pairs well with the homemade pork chop seasoning.
Apple – Have a subtle touch of fruitiness that goes well any pork.
Cherry – A hearty pellet that stands up to the flavor of any meat and is great for grilling.
Why not try them all and let us know your favorite in the comments below?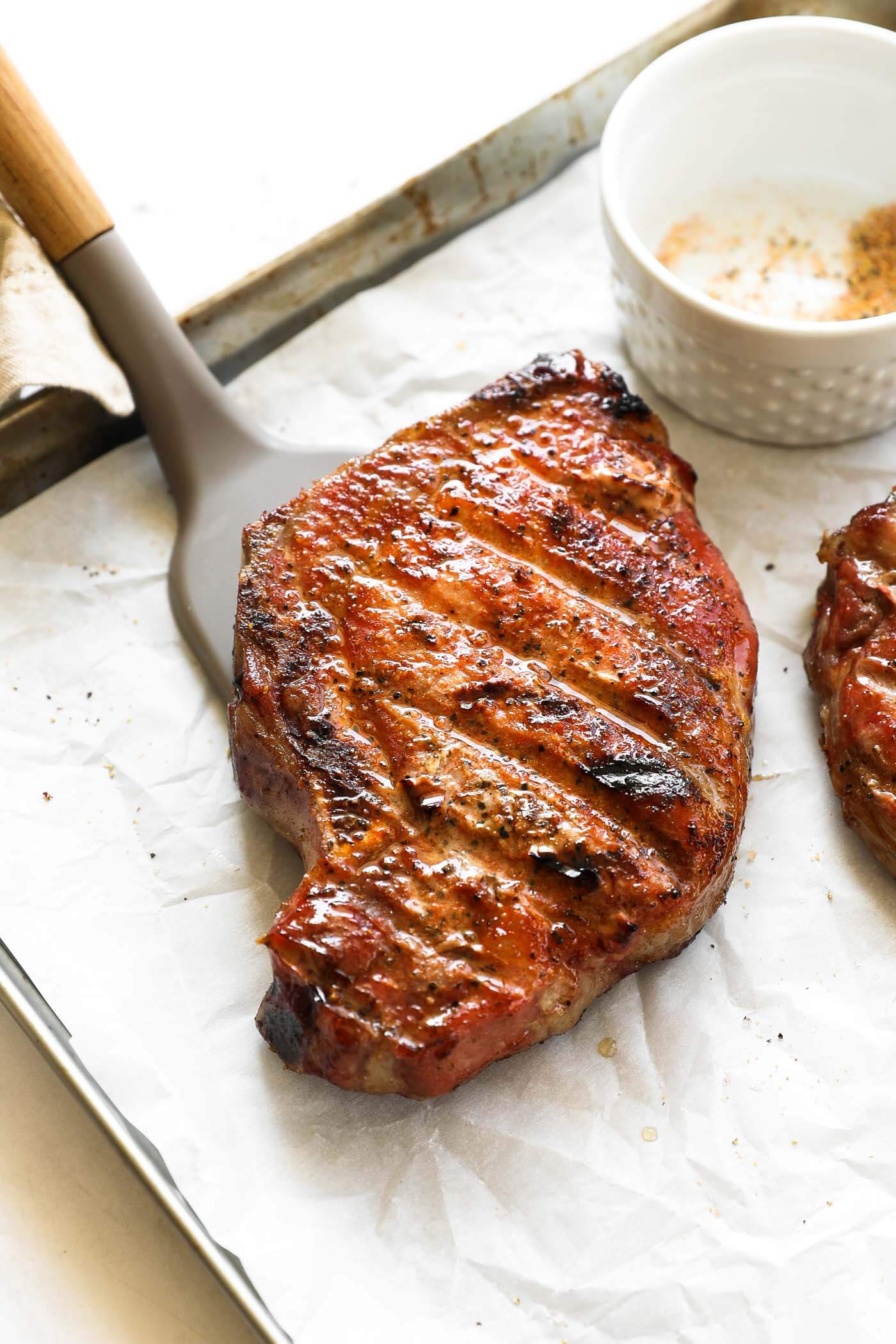 What to Serve With Smoked Pork Chops
Need more ideas? Check out this listing of 10 Healthy BBQ Sides!
Your Turn To Try These Wood Pellet Smoked Pork Chops
Fire up your Traeger or any pellet grill smoker and give this delicious pork chop recipe a try. You'll be amazed by the flavor and how easy this recipe is to cook to perfection.
If you try it, be sure to leave a rating and comment below and let us know how it goes. Also, take a pic to share on Instagram. Tag us @realsimplegood, we love to see what you're cooking!
Get the Recipe:
Easy Traeger Smoked Pork Chops
Perfect for any wood pellet grill these Traeger smoked pork chops are deliciously seasoned, juicy and smoked to perfection!
Ingredients
4 Bone in pork chops, (about 1 inch thick)
Pork chop seasoning:
2 tsp sea salt
2 tsp coconut sugar
1 tsp ground pepper
1 tsp paprika
1 tsp ground mustard
1/2 tsp garlic powder
Instructions
Preheat smoker to 225° Fahrenheit

Prepare the pork chop seasoning by adding all of the seasoning ingredients to a small jar and mixing well.

Add a generous amount of seasoning to both sides of each pork chop.

Transfer pork chops to the smoker. Smoke for 90 minutes. NOTE: This is for thick pork chops (around 1 inch or thicker). For thinner chops, smoke them for about 60 minutes and continue with the next steps.

Remove the pork chops from the smoker and turn the heat up to high (about 500°). Let it heat up until it reaches high heat (10-15 minutes).

Reverse sear – Once the smoker grill is at high heat, add the pork chops back on to sear quickly on both sides. Ensure they have reached an internal temperature of at least 140°.

Remove pork chops from smoker and allow them to rest for 10 minutes before serving. They will continue to cook to 145° while resting.
Notes
Nutrition facts are per serving and an estimate provided for those following a Ketogenic or low-carb diet. See our full nutrition information disclosure here.
Calories: 301kcal, Carbohydrates: 3g, Protein: 35g, Fat: 16g, Fiber: 1g