If you've never had elk meat, you are really missing out. It is mild yet distinctive in flavor and an excellent source of lean protein. I like to describe it as delicious, juicy and tender. It really is at the top of the scale when it comes to wild game meat and it doesn't take much to prepare, generally just a little salt and pepper. Ground elk is perfect for these elk meatballs with a sweet & spicy sauce for dipping.
Luckily, we had a successful hunting trip last year and have had plenty of elk meat in the freezer to pull out when we get the craving for a flavorful steak. In addition to some amazing steaks, we also have some ground elk that we have used mostly as a ground beef substitute, either for taco meat or burgers. To try something different, we decided to use some of our ground elk in this recipe to make elk meatballs with a side of sweet and spicy sauce for dipping.
Since elk is such a lean meat, we mixed the ground elk with a little Italian sausage to give these elk meatballs some additional flavor and keep them from drying out. Toss in a few seasonings and that's all you need to have some perfect little bite-sized appetizers ready for your next gathering.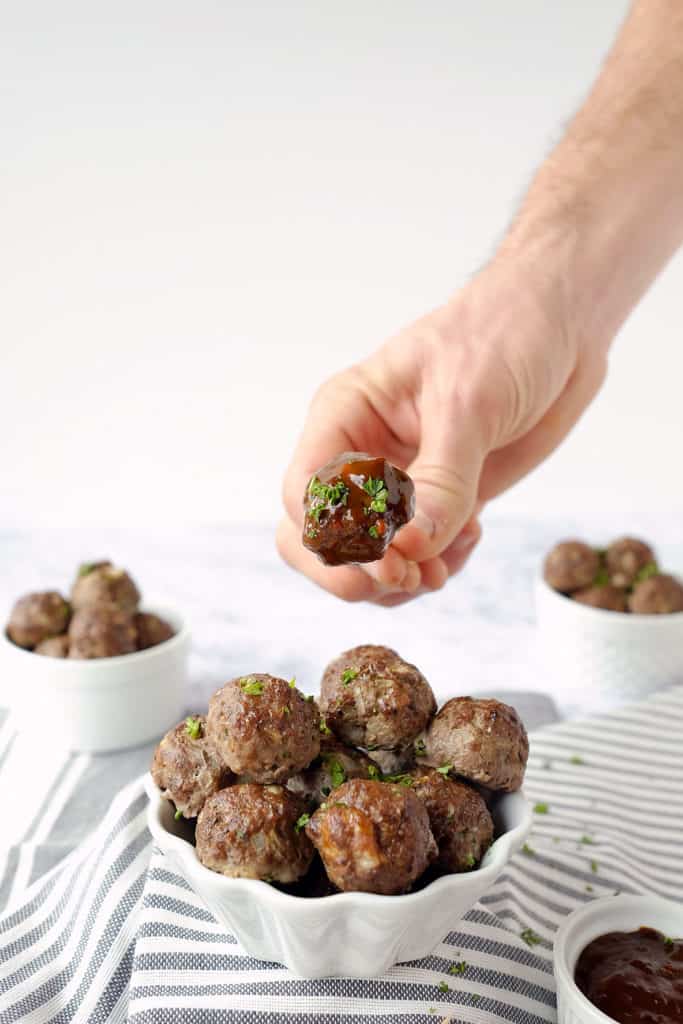 Ok, now on to the sauce. Don't get distracted by the beautiful hand model in the picture. This sauce is sweet, tangy, slightly spicy, and the perfect compliment to these elk meatballs. Go ahead and make up a batch of them so you can grab one with a toothpick and smother it in some of this sweet & spicy sauce.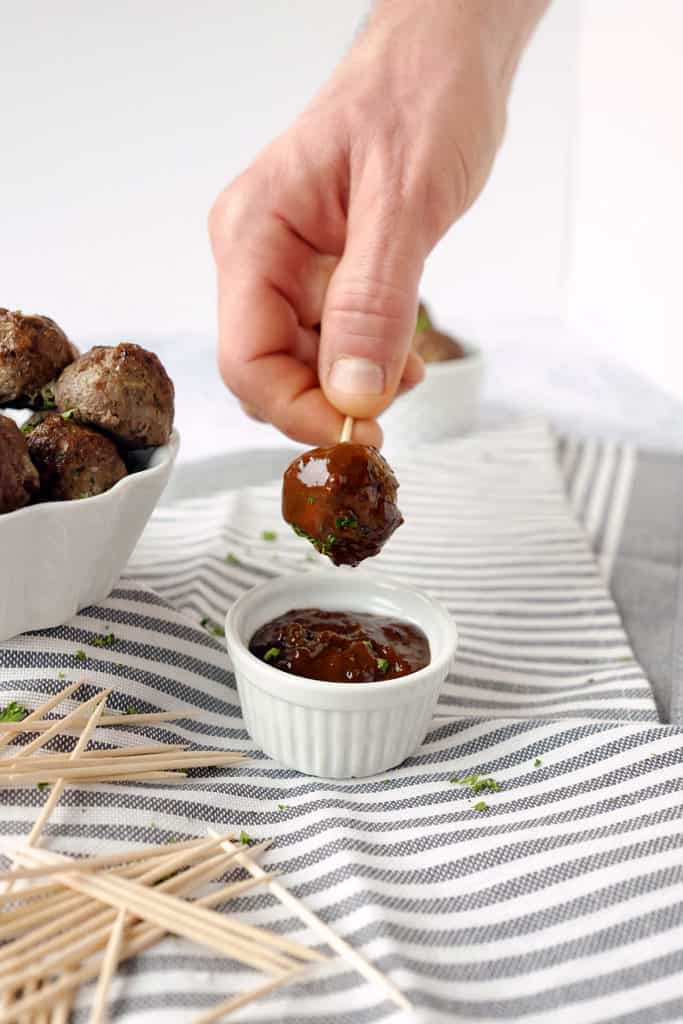 If you don't have any ground elk, ground beef or bison will also work for this recipe.
Make up a batch of these elk meatballs for yourself and your friends and let us know what you think by leaving a comment below. Also, take a picture and tag it on Instagram @realsimplegood so we can check it out!

---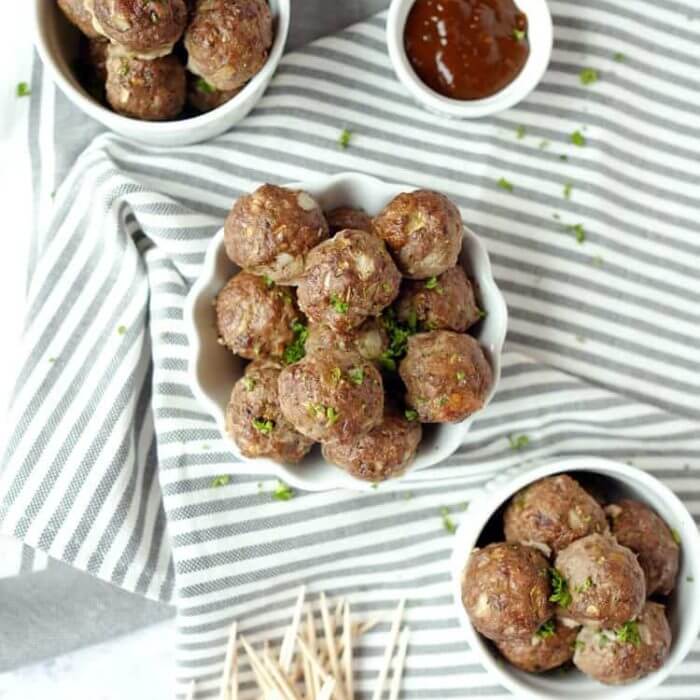 Get the Recipe:
Elk Meatballs with Sweet + Spicy Sauce
These elk meatballs are simple yet delicious and paired with the perfect sweet and spicy sauce for dipping. An easy and healthy appetizer!
Ingredients
For the meatballs:
1 lb ground elk meat (or substitute beef or bison)
8 oz spicy Italian sausage, - we use the Isernio's brand from Trader Joe's
1/4 onion, - diced very small
1-1/2 Tbsp minced garlic
6 small mushrooms, - diced very small (about 1-1/2 cups)
2 eggs
2 Tbsp fresh parsley, - diced small
3 Tbsp almond flour
1 tsp salt
1 tsp pepper
Instructions
Preheat your oven to 375 degrees.

Mix all of the meatball ingredients together in a large bowl. Use your hands and make sure that everything is really mixed together well.

Shape the meat into small meatballs and place them on a large baking sheet. I used about 1 Tbsp for each meatball for a small, bite-sized appetizer style meatball.

Once all of the meatballs are made, place the baking sheet in the oven to cook for 30 minutes.

When the meatballs have about 10 minutes of cooking time left, go ahead and start the sauce.

Place a small pot over medium heat and add in all of the ingredients except for the flour. Mix the sauce well and allow it to heat up.

When the sauce is just about to bubble, add in the flour. It will thicken up the sauce a bit and make it perfect for dipping. Turn down the heat to low and let the sauce simmer until the meatballs are done.

Serve the meatballs and sauce with some toothpicks for dipping and enjoy!