From salmon to scallops and everything in between, here are all kinds of delicious fish and seafood recipes! These unique meals demonstrate clever ways to serve your family healthy fish and seafood more often.
Why We Love Seafood Recipes
We all know that eating fish and seafood is good for us, but it can be a challenge to make it appealing to everyone. We chose these recipes because they showcase the many different ways you can enjoy seafood.
Here's why seafood is so great :
Fish and seafood cooks quickly for an easy and healthy weeknight dinner.
Most "white" seafood (shrimp, cod, scallops, etc.) is mild tasting and takes on seasonings and sauces well.
Seafood can be made into any kind of meal, from noodles to tacos to salads and more!
Need a side to go with your seafood? Check out all of our healthy side dish recipes!
Here Are Our Favorite Recipes for Fish and Seafood
The recipes below are some delicious meals featuring salmon, shrimp, cod and scallops. Each recipe is the perfect seafood dinner and something you can add to your household meal rotation!
Note that any white fish can be used in place of cod for the recipes using cod. Just adjust the cook time if needed if you use a thick white fish like halibut.
1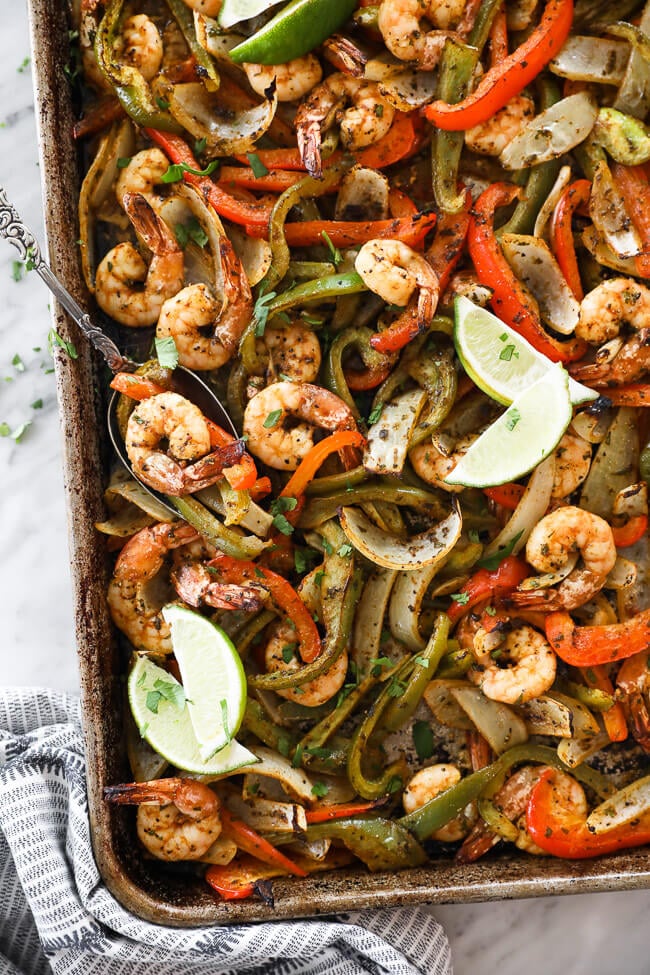 Easy (30-Minute!) Keto Fajitas with Shrimp
Following the Keto diet? These low-carb shrimp fajitas are a fast and easy keto-friendly dinner option. The cilantro-lime shrimp marinade is the secret sauce — literally! To serve, spoon the fajita mixture into lettuce leaves (or tortillas), and top with your favorite toppings and enjoy!
Get the recipe
2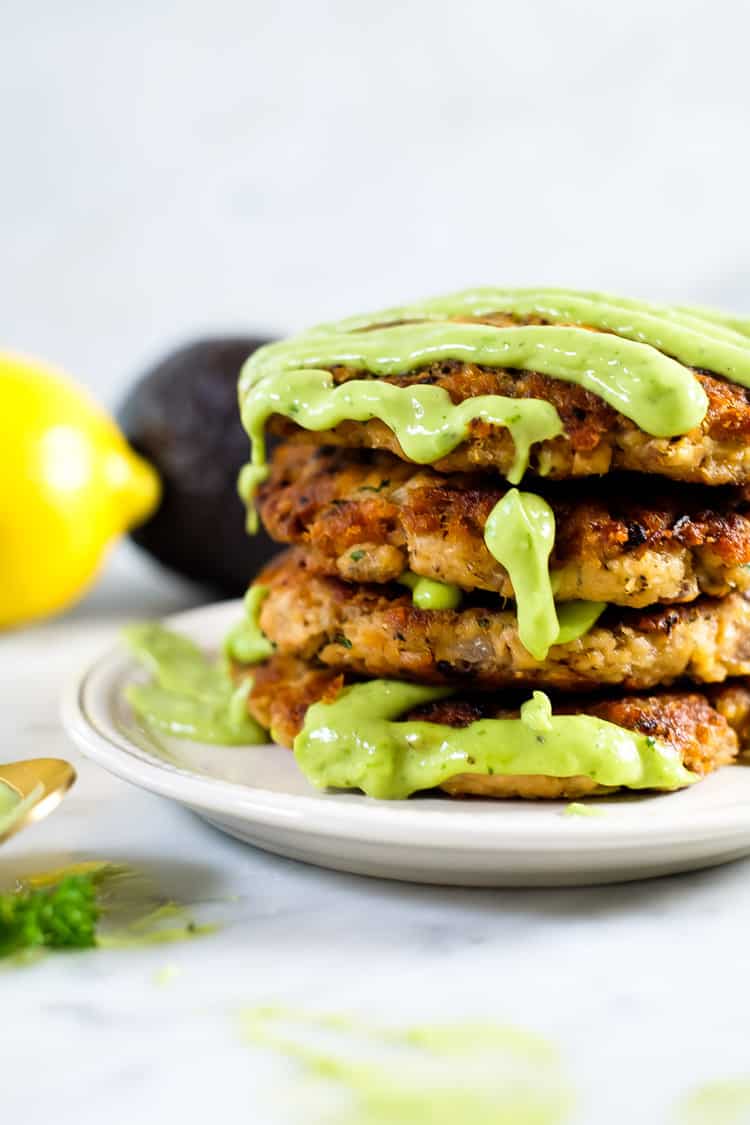 The Best Salmon Patties with Magic Green Sauce (Paleo, Whole30 + Keto)
Yep! We went and said it – these are the best salmon patties! And the magic green sauce is like the cherry on top! This recipe for the best salmon patties is both Paleo and Whole30 compliant, and honestly you can probably sneak them past your kids and husbands as just another delicious meal!
Get the recipe
3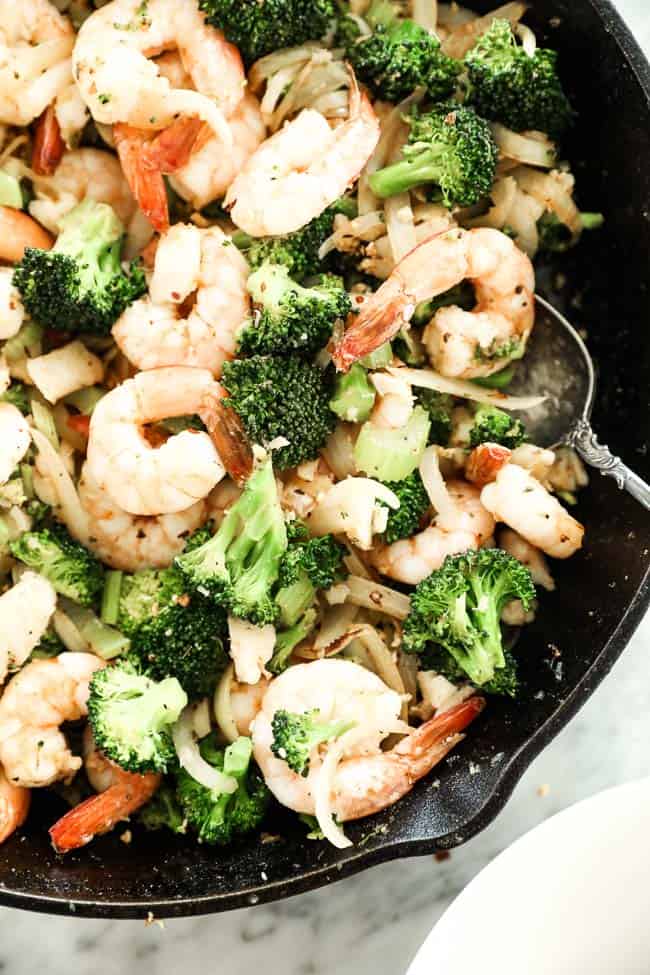 Seafood Stir Fry (Paleo + Whole30)
This Paleo + Whole30 seafood stir fry is a flavorful, quick and easy meal. It's perfect for a weeknight dinner or anytime you want to eat more seafood!
Get the recipe
4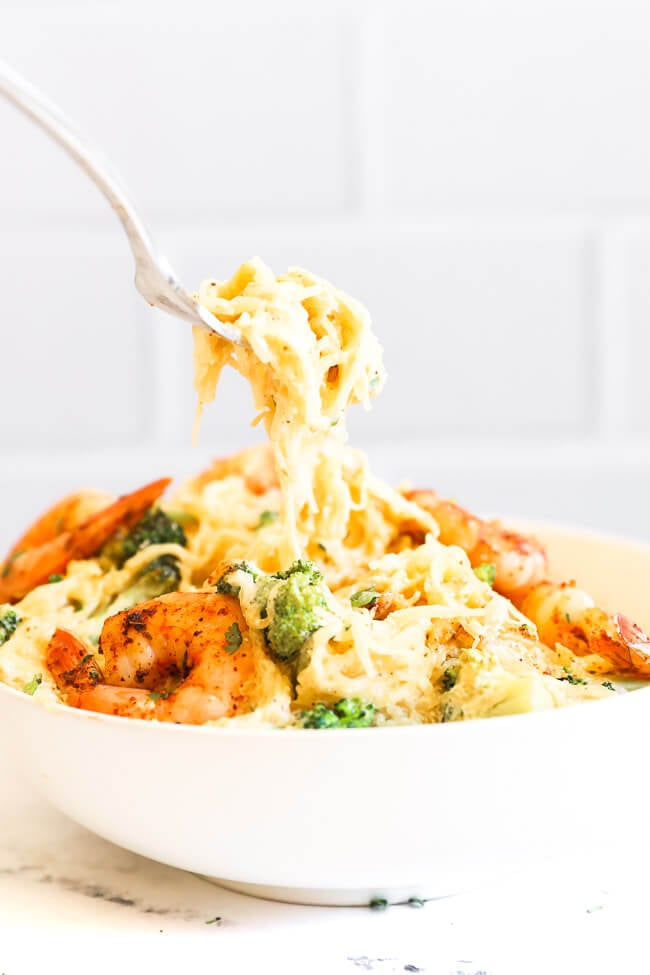 Easy Shrimp + Broccoli Spaghetti Squash Alfredo
The shrimp and broccoli make this spaghetti squash alfredo filling and satisfying, but the real winner here is the creamy, dairy free alfredo sauce!
Get the recipe
5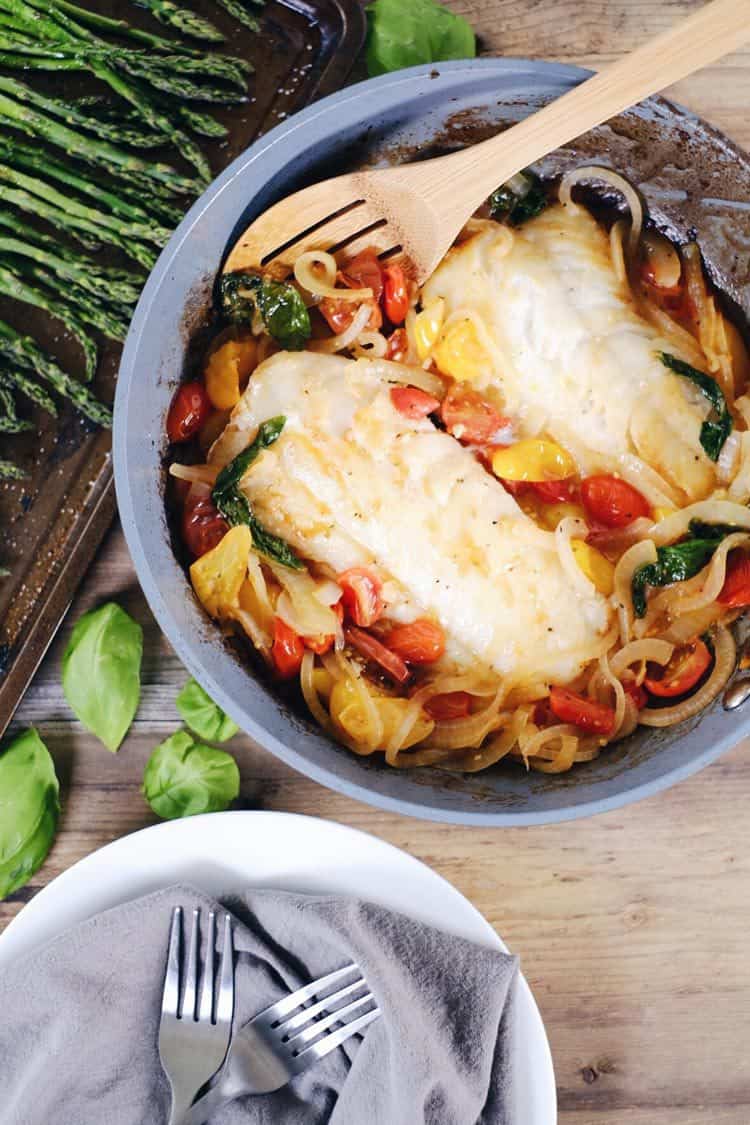 Tomato Basil Cod w/ Asparagus (Paleo + Whole30)
This tomato basil cod with asparagus is a quick and easy favorite! It feels fancy, but is really simple and quick to make!
Get the recipe
6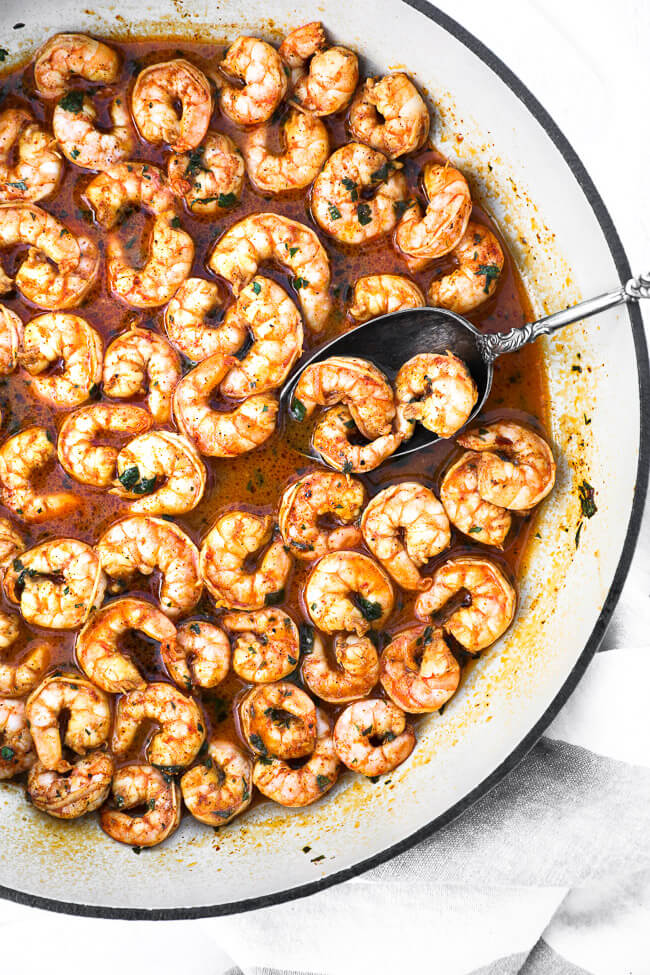 Easy 10-Minute Chili Lime Shrimp
This easy pan-fried chili lime shrimp is packed with incredible flavor from the quick homemade sauce with delicious seasonings. Ready in about 10 minutes, this is a healthy recipe you can make anytime for a quick and easy shrimp dinner.
Get the recipe
7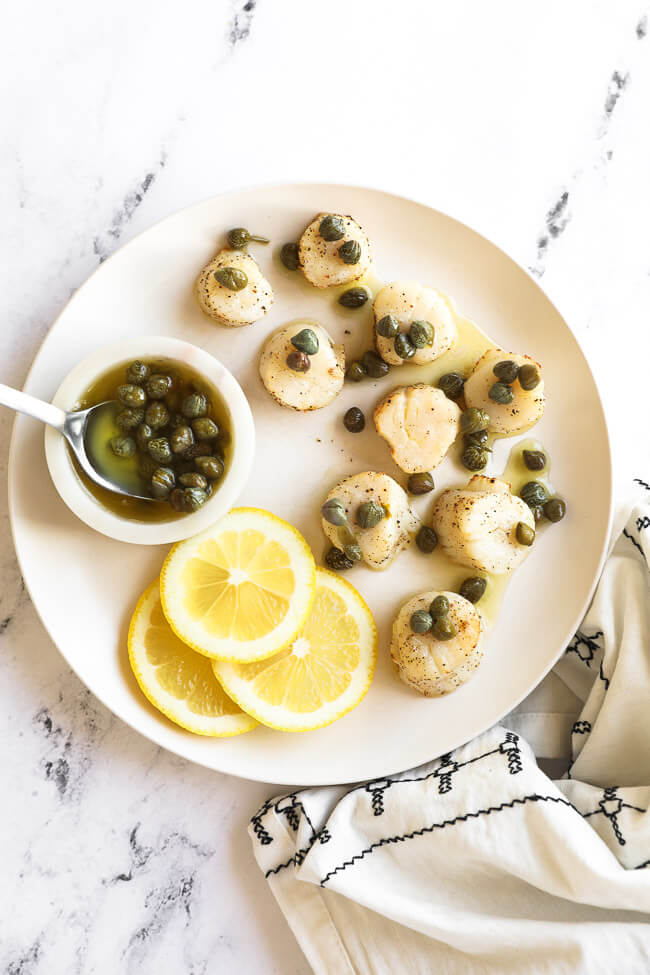 Lemon Butter Air Fryer Scallops
Ready in 10 minutes, these succulent air fryer scallops are drizzled in a savory, buttery sauce for the easiest gourmet meal!
Get the recipe
8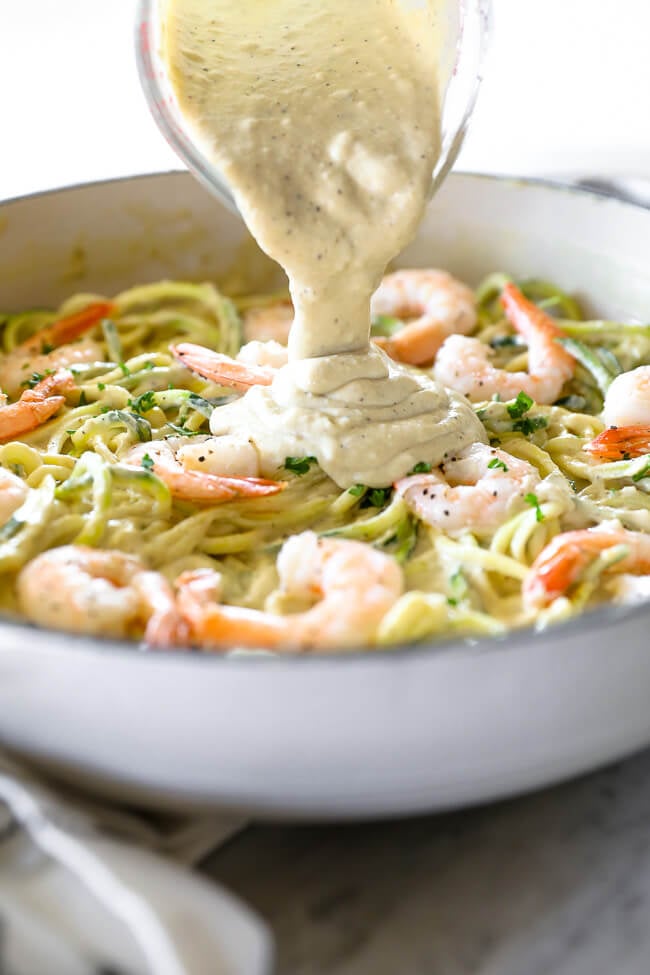 Creamy Garlic Prawns
This Paleo + Whole30 creamy garlic prawns recipe is a cleaned up creamy prawn pasta on the table in 20 minutes, with a velvety, dairy-free sauce.
Get the recipe
9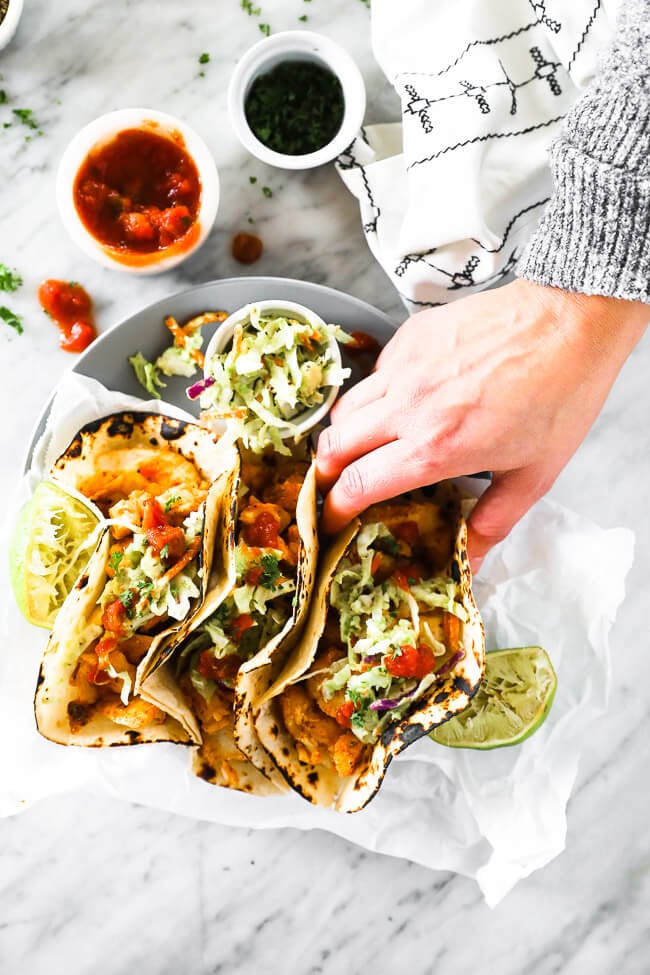 Paleo Fish Tacos and Coleslaw
Our paleo fish tacos and coleslaw are made with a simple blend of spices creating a masterful flavor punch and topped with slaw that is light and zesty.
Get the recipe
10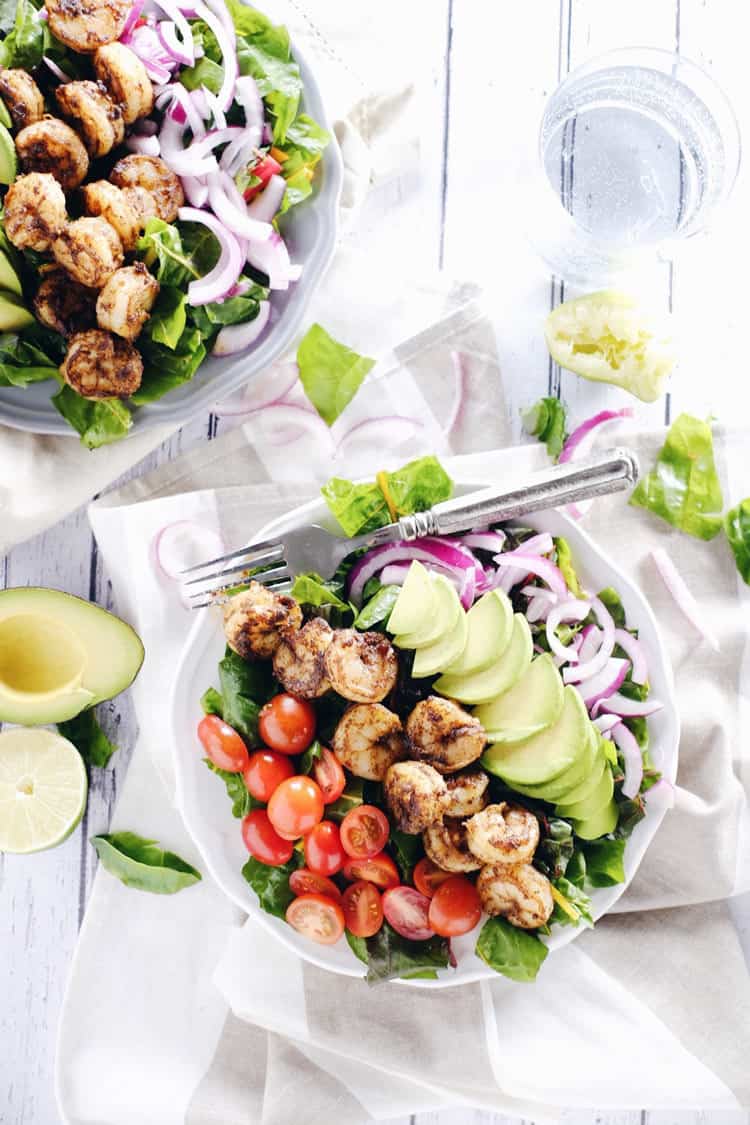 Cajun Shrimp Salad (Paleo, GF + Whole30)
This cajun shrimp salad is an easy and fresh salad option. Make the Paleo + Whole30 salad packed with shrimp, avocado, tomato and onion!
Get the recipe
11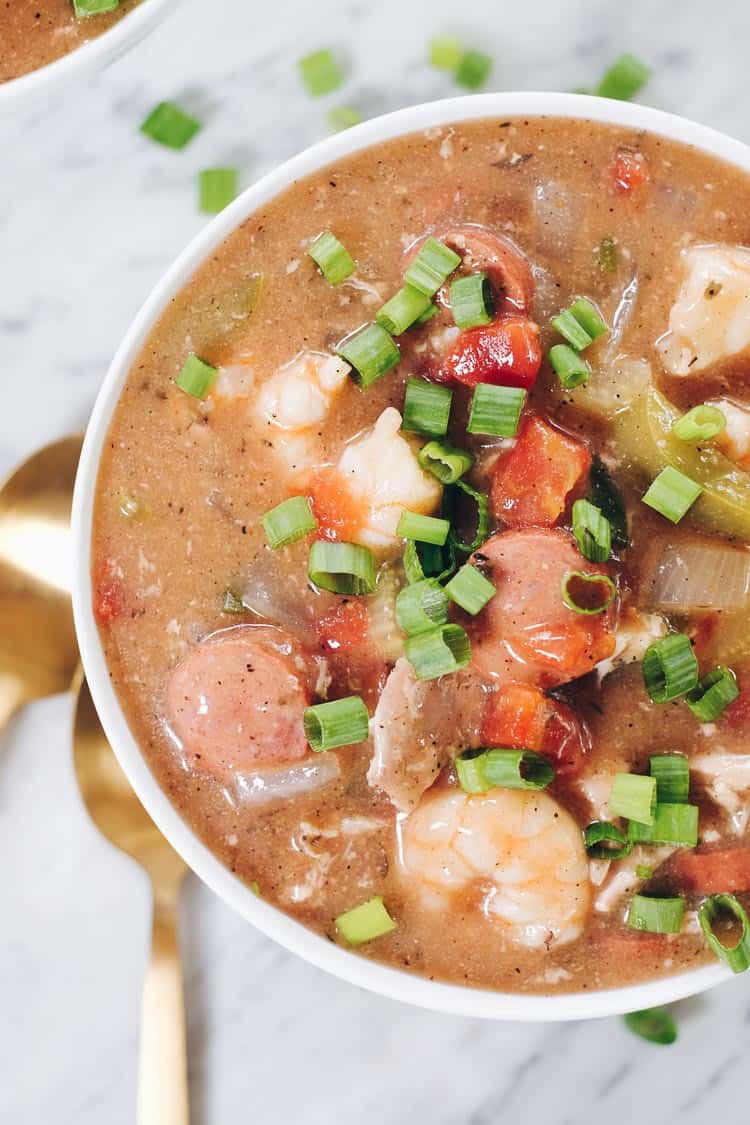 Slow Cooker Gumbo Recipe (Paleo, Whole30 + Keto)
This Paleo gumbo is packed it with chicken thighs, sausage and shrimp in addition to veggies and lots of seasonings. It's also Whole30 compliant!
Get the recipe
12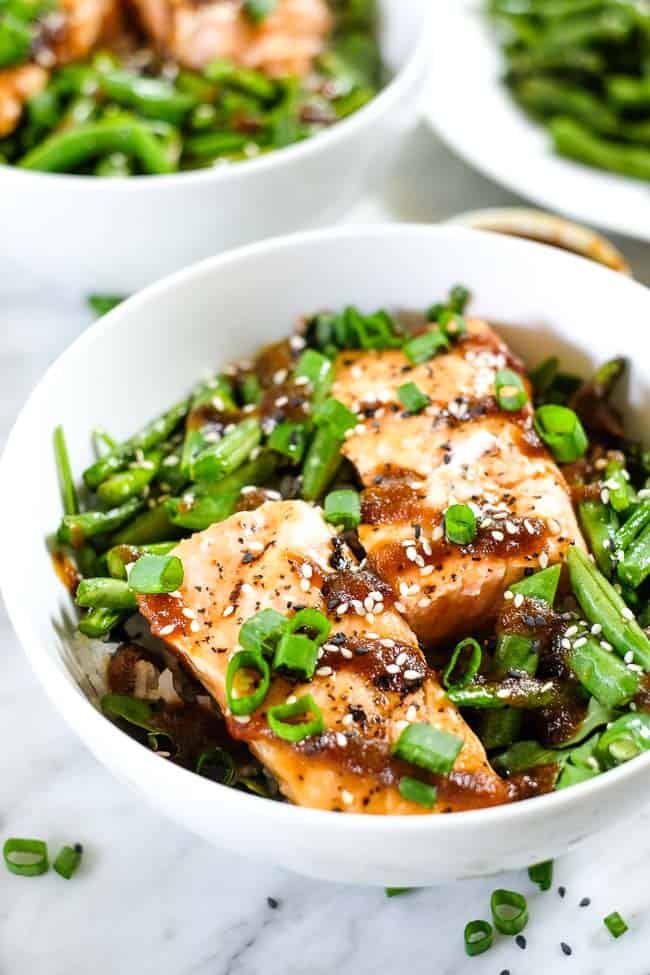 Grilled Teriyaki Salmon Bowls (Paleo + Whole30)
These grilled teriyaki salmon bowls are Paleo and Whole30, made gluten-free, dairy-free, soy-free and refined sugar-free. An easy and healthy summer dinner!
Get the recipe
---
Like this Post?
SHARE IT NOW OR PIN IT FOR LATER!
---
---
Get the Recipe:
10 Delicious, Healthy Fish & Seafood Recipes: Salmon Noodle Bowl
This creamy salmon sweet potato noodle bowl is a healthy seafood meal you'll love. Plus, we've rounded up our favorite healthy & delicious seafood & fish recipes for you!
Ingredients
4 salmon fillets, (of about even size)
1 tsp smoked paprika
1 tsp garlic powder
Pinch of sea salt and pepper
6 pieces bacon, diced
2 sweet potatoes, spiralized into noodles
3 cups greens, (spinach or kale)
For the creamy sauce:
1/2 onion, roughly chopped
3 cloves garlic, minced, (about 1 tbsp)
1 cup coconut milk
1/4 tsp sea salt
1/4 tsp ground black pepper
Instructions
Preheat oven to 400° Fahrenheit, line a baking sheet with parchment paper. Then, dice bacon and spiralize sweet potatoes.

In a large skillet over medium heat, cook diced bacon until crispy. Once crispy, place on a paper towel lined plate and set aside.

While bacon is cooking, place salmon fillets on baking sheet and season with the smoked paprika, garlic powder and a pinch each of salt and pepper. Place in the oven to bake for 15-20 until flaky with a fork. Cooking time will vary depending on the size of your fillets.


While the bacon is cooking, prep onion and garlic as noted above.

Once bacon is done and on a plate, make the creamy sauce. Place onions in the same skillet you cooked the bacon in over medium heat. Cook until softened, about 4-5 minutes.

Add coconut milk, minced garlic, salt and pepper. Stir to combine everything. Turn heat to low and simmer until the salmon has about 5 minutes left.


Heat back to medium, and add sweet potato noodles to the creamy sauce, cover and cook until they soften. Add spinach, and cook until it wilts. Add bacon and mix well.

Once salmon is done, remove from oven and serve over the sweet potato mixture and spoon extra sauce over everything. Enjoy!