Why you'll love this refreshing non-alcoholic drink
Made with muddled fresh strawberries and basil, it's a delightfully crisp and refreshing drink.
These healthy mocktails are easy to make, and you can easily make a big batch or just one or two.
A little honey simple syrup adds a dash of sweetness that you can adjust to suit your taste.
Not only does it taste great, the smashed strawberries look good too. It's the perfect healthy mocktail for spring and summer.
Related ->> Try out this colorful, citrusy sunrise mocktail!
How to make this strawberry mocktail (step-by-step)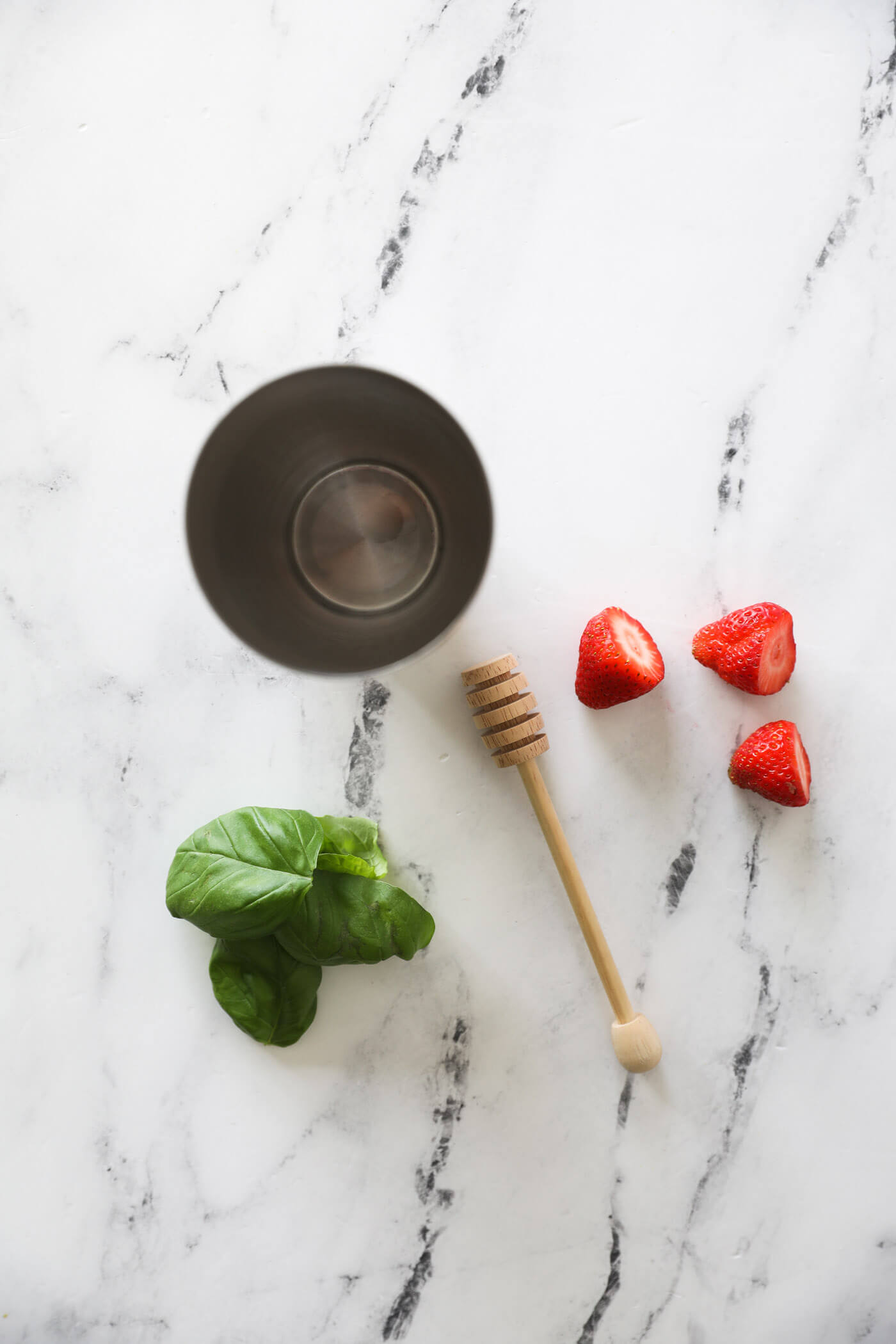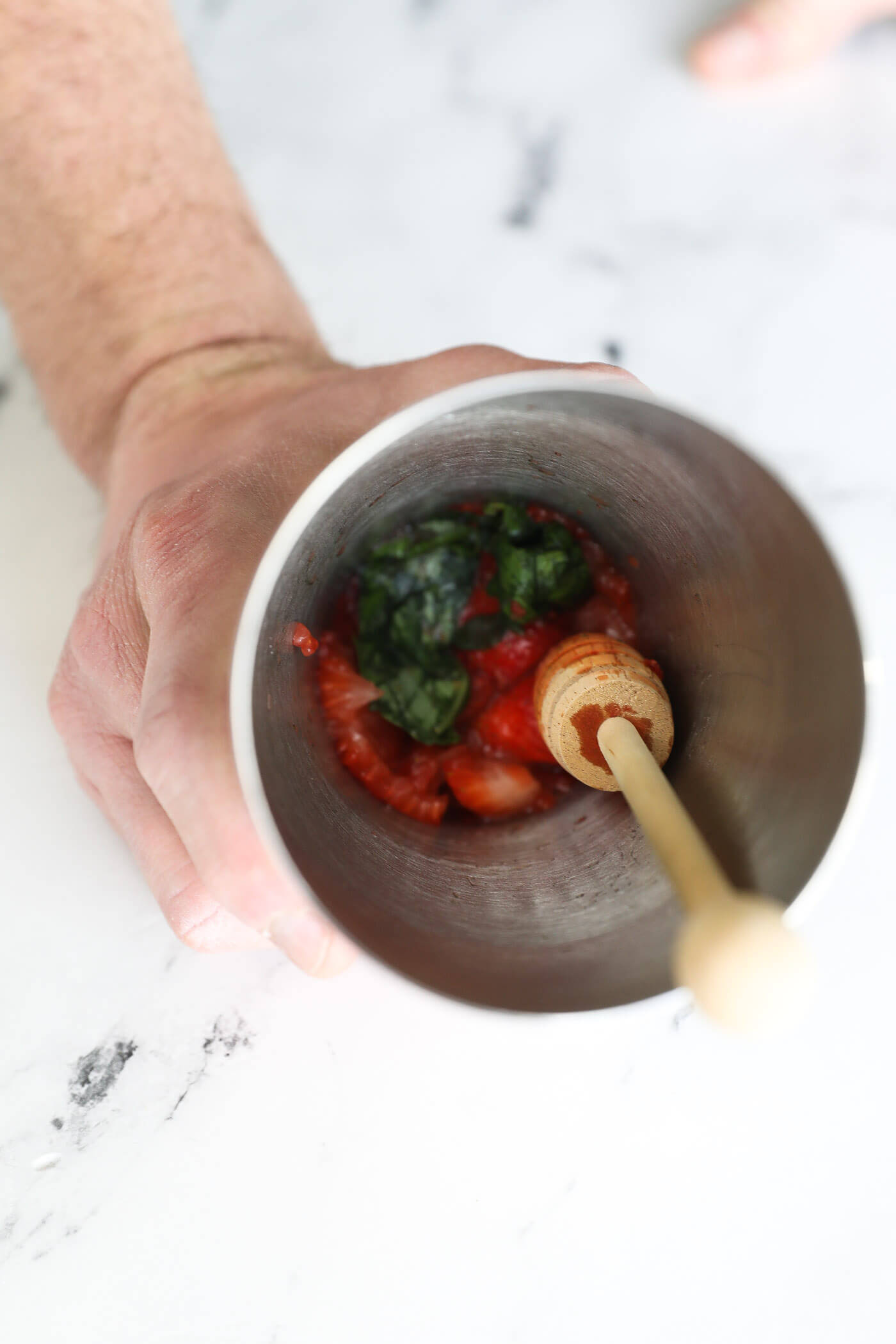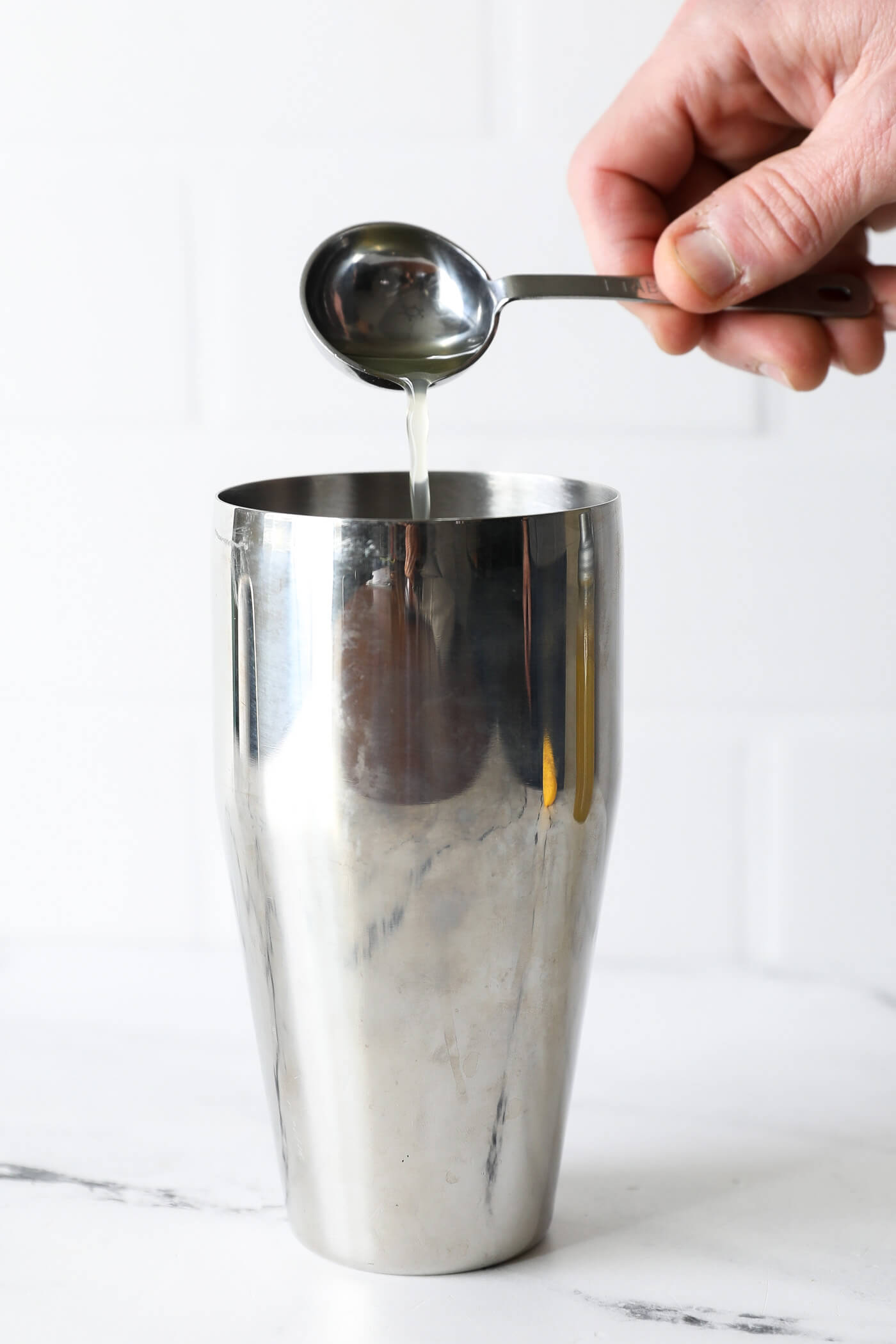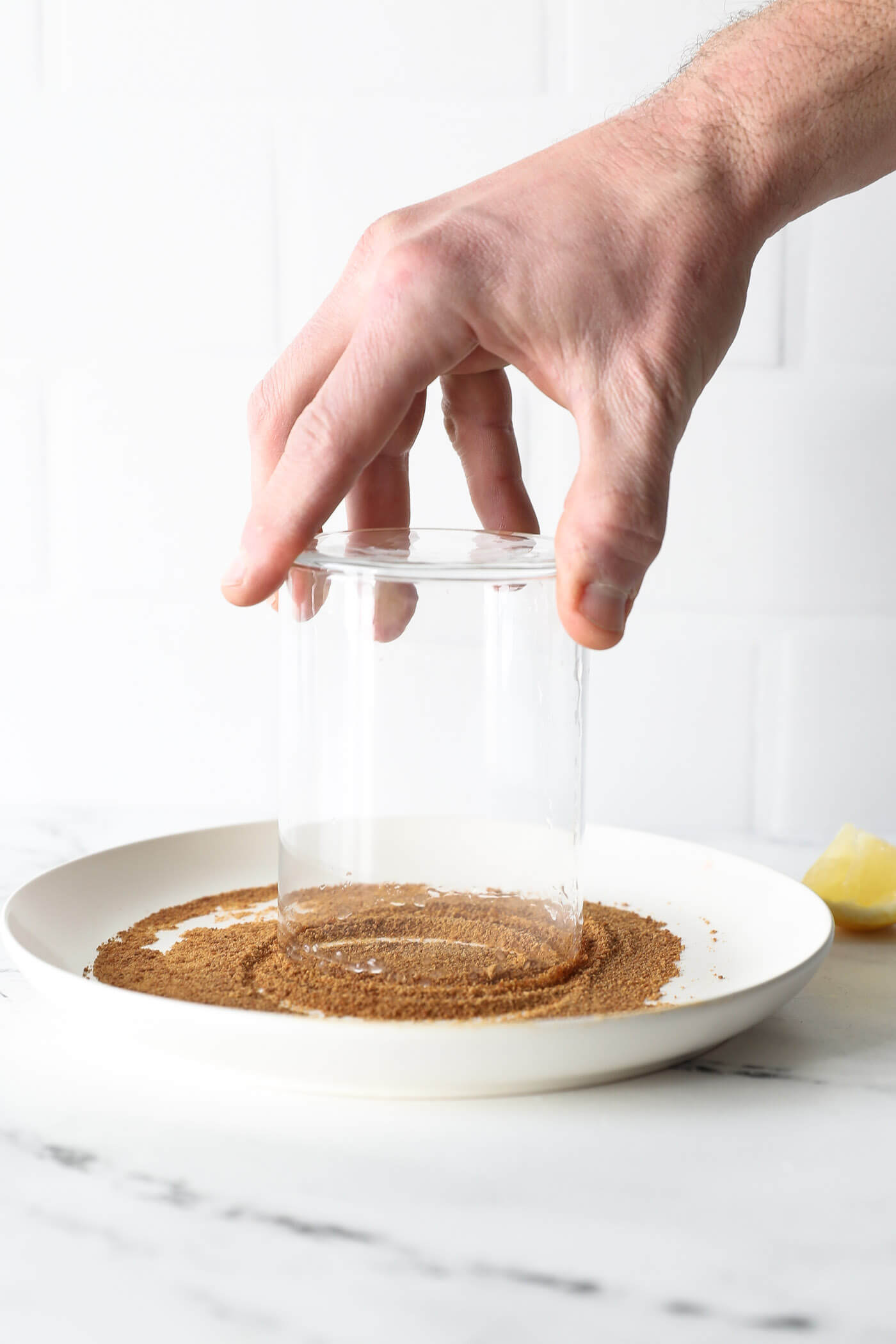 Notes and ingredient options
Cocktail shaker – If you don't have one, simply muddle/smash the strawberries and basil (step #1) in a bowl or jar. You can use a wooden spoon.
Basil leaves – This fresh herb is our favorite to pair with strawberry. You could also use something like mint or cilantro.
Chunks – I prefer to leave the actual chunks of muddled strawberry and basil in the glass for serving. If you prefer, after muddling you could strain the juices through a fine mesh strainer.
Lemon juice – Lime juice works great for this drink also.
Sparkling water – Plain sparkling water is great, but club soda or tonic could be used. Just check for any added sweeteners in whatever you use and adjust the amount of simple syrup to taste.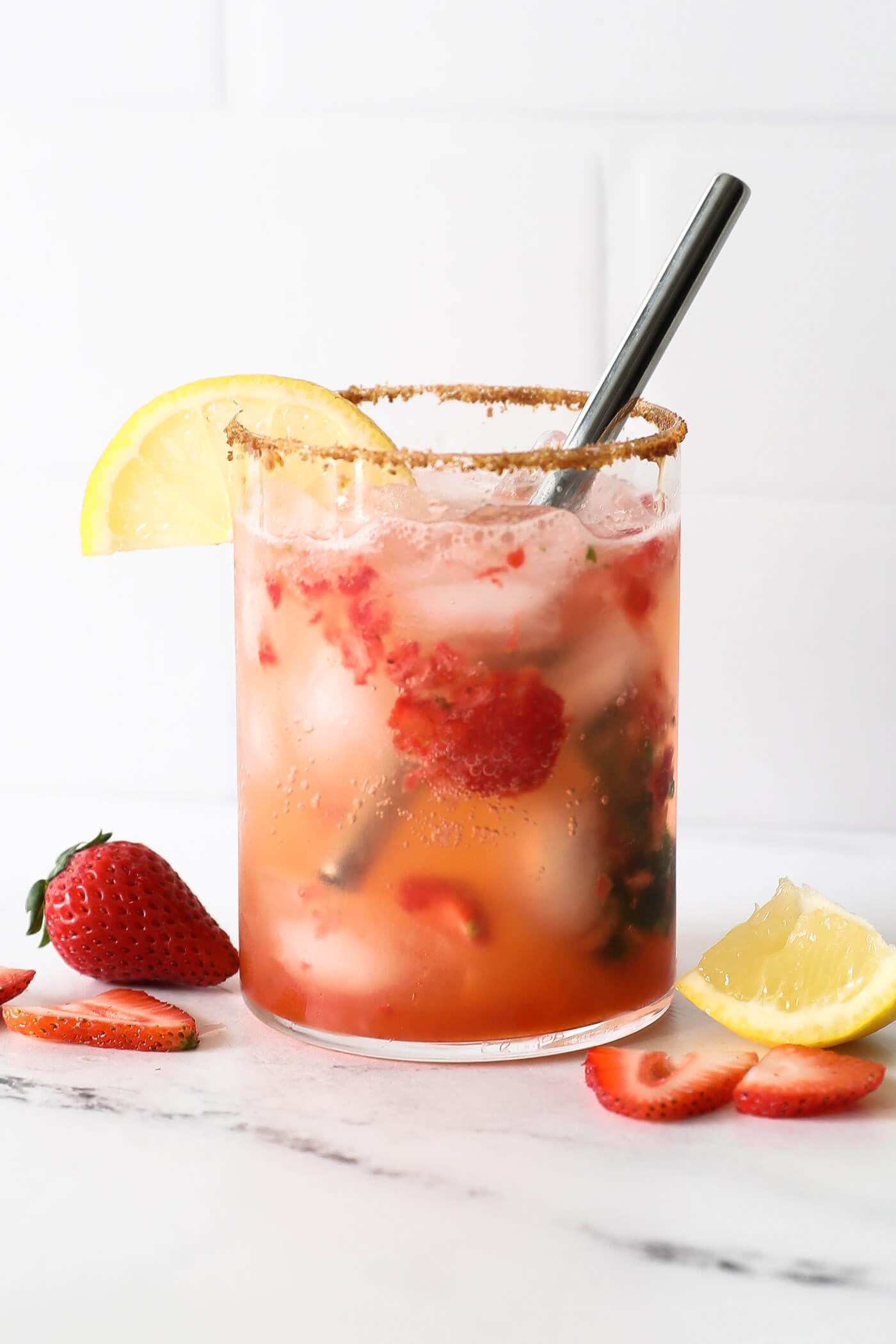 Serving tips
Keep it fresh – I recommend making these immediately before serving. If they sit for a long time the strawberry chunks get watered down and the sparkling water goes flat.
For a crowd – The recipe below is for one single mocktail. To make these for a larger crowd, scale up the recipe ingredients to the approximate number you need. Then you can muddle everything in a bowl (steps 1-2) and refrigerate until you're ready to serve. Then your guests can self serve (ice + muddled strawberries + sparkling water)
Make it a cocktail – Great for a mixed party of drinkers and non-drinkers, if you want an alcoholic cocktail option you could add some vodka or gin.
Other mocktail recipes
Get the Recipe:
Fresh Strawberry Mocktail (Strawberry Smash!)
This strawberry mocktail is a delicious combination of sweet strawberries, lemon juice, basil and honey simple syrup. Topped with bubbly sparkling water, it's a healthy and fresh drink option!
Ingredients
3 fresh strawberries, stem removed
4 fresh basil leaves
2 tbsp honey simple syrup, (or regular simple syrup)
1 tbsp fresh lemon juice, (about 1/4 lemon)
2 oz sparkling water, (approximate, adjust as needed)
coconut sugar, (optional for a sugar rim)
Equipment
cocktail shaker (optional)
Instructions
Place the strawberries and basil leaves into a cocktail shaker. Using a muddler (or the back of a wooden spoon), mash up the two ingredients, allowing the strawberry juices to release.

Add the lemon juice and simple syrup. Seal the lid onto the cocktail shaker and shake vigorously for 45-60 seconds.

If you want a sugar rim, simply run a lemon wedge around the rim of a glass. Dump some coconut sugar on a plate and dip the rim of the glass into the coconut sugar. 

Fill the glass 3/4 full with ice. Pour the strawberry mixture over the ice. Pour in sparkling water to fill the glass. Give it a quick, gentle stir with a straw or spoon to mix.

Garnish with a lemon wedge, basil, or strawberry if you like. Serve immediately.
Notes
If you don't have a cocktail shaker, simply use a bowl to muddle and mix the ingredients in steps 1 and 2 above.