Whether you're looking for a yummy brunch recipe, a special treat or have just been thinking coffee cake sounds good, this Gluten Free coffee cake is Paleo and Vegan friendly. It's the perfect companion with your morning cup or makes an indulgent afternoon pick-me-up. You can also enjoy it for an evening treat, too! You decide!
What kind of flour do you use for this gluten free coffee cake?
We often bake with almond flour, but decided to mix it up this time because we get requests for nut-free options. So, for this gluten free coffee cake, we used Otto's Naturals Cassava Flour. Cassava flour is made by grinding up yuca root, which is a tuber. Tapioca flour also comes from the yuca root, but they are made with separate processes, and therefore cannot be used synonymously.
Do you have tips for baking with cassava flour?
Cassava flour is starchy, and it has a consistency most like traditional wheat flour. While lots of recipes say that cassava flour can be used in place of wheat flour in a 1:1 ratio, I have noticed that it settles quickly and can end up quite dense. So, here are two tips for baking with cassava flour that will help you get the best results.
Always whisk the flour before you measure it out. And then measure quickly, before it fully settles. I just stick a whisk in the bag and give it a couple good stirs, and then measure right away.
If you happen to have a food scale and can measure out in grams, you'll get an even more precise measurement. We don't have a food scale, so I go with the method mentioned above.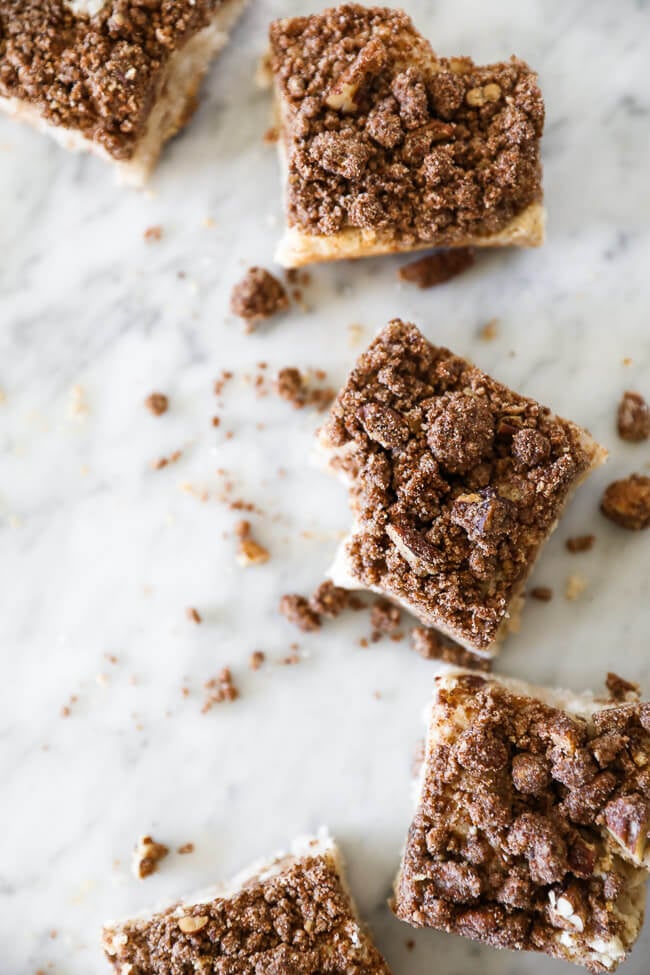 But there are pecans in the topping, so it's not nut-free?
Correct. The recipe does call for pecans in the topping because I love them. That said, you can easily omit them and just have a traditional cinnamon/sugar like crumble topping if you are eating completely nut-free. I just prefer the extra texture and nuttiness of the pecans. But you do you, and best serve your own body.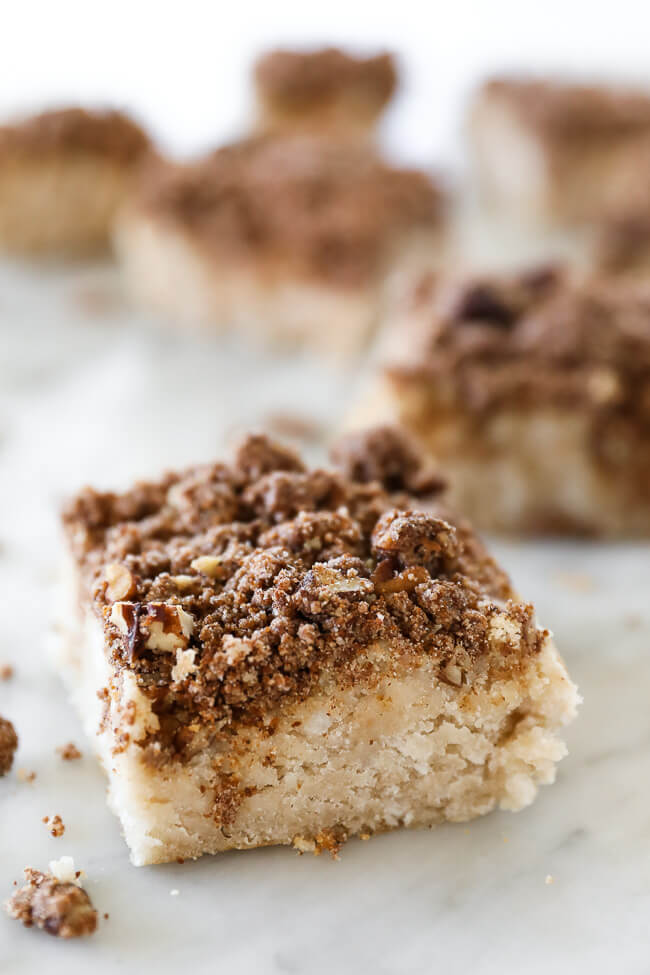 We teamed up with some of our favorite Paleo bloggers!
Check out these great holiday recipes from our friends over at Real Food with Jessica, Paleo Running Momma, Mary's Whole Life, The Wooden Skillet and Wholesomelicious!
Your turn to try our gluten free coffee cake
Looking for a gluten free coffee cake that nobody will ever know is free of gluten, grains and eggs?! This is it! Go ahead and try, and leave a comment below to let us know how it goes. Also, take a pic to share on Instagram and tag us @realsimplegood so we can see. Make sure to give us a follow if you don't already – let's stay connected!
---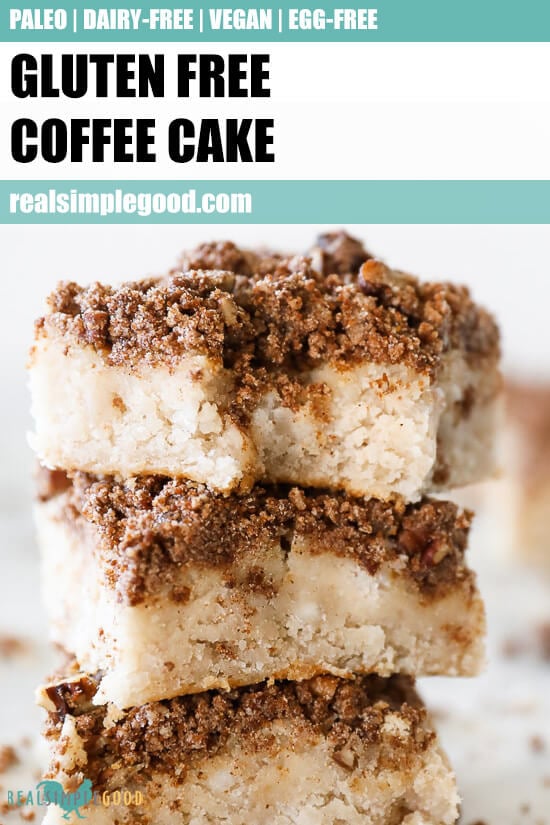 ---
Like this Recipe?
SHARE IT NOW OR PIN IT FOR LATER!
---
---
Get the Recipe:
Gluten Free Coffee Cake (Paleo + Vegan with Nut-Free Option)
This Gluten Free coffee cake is Paleo and Vegan friendly. It's the perfect companion with your morning cup or makes an indulgent afternoon pick-me-up!
Instructions
Preheat oven to 400° Fahrenheit and line a 8×8 inch dish with parchment paper.

In a large mixing bowl, combine cassava flour, baking powder and sea salt with a fork.

Using the fork, "cut" coconut butter and oil into dry ingredients until small bits form.

Add coconut milk, maple syrup, apple sauce and apple cider vinegar and mix with fork until combined.

Transfer cake mixture into prepared baking dish and spread out with your hands into an even layer.

Make the topping by combining all the topping ingredients in the bowl you just used and mix until clumps form. Don't overmix – you want it crumbly.

Sprinkle topping over cake, and transfer to the oven. Bake for about 20 minutes. When a knife comes out clean, remove from the oven and let cool before slicing.

Serve and enjoy. You can drizzle some extra coconut butter if you want, too! We love it best served a little warm, so we usually re-heat it for about 10-12 seconds in the microwave.