Why you'll love this recipe
It's a great gluten free, nut free and egg free alternative to traditional waffles.
You can use prepared oat flour or make your own oat flour from rolled oats.
They're fluffy + crispy and perfect for adding any toppings you want!
Ingredient notes
Oat flour – you can buy store bought oat flour. We love Bob's Red Mill because they have certified gluten free oat flour. You can also save money making oat flour by processing rolled oats in a blender or food processor until it reaches a fine flour texture.
Dairy free milk – I prefer to use almond milk or cashew milk, but coconut milk will work too. You can also use regular milk if you tolerate dairy.
Applesauce – make sure you use unsweetened applesauce. The ingredients should just be apples.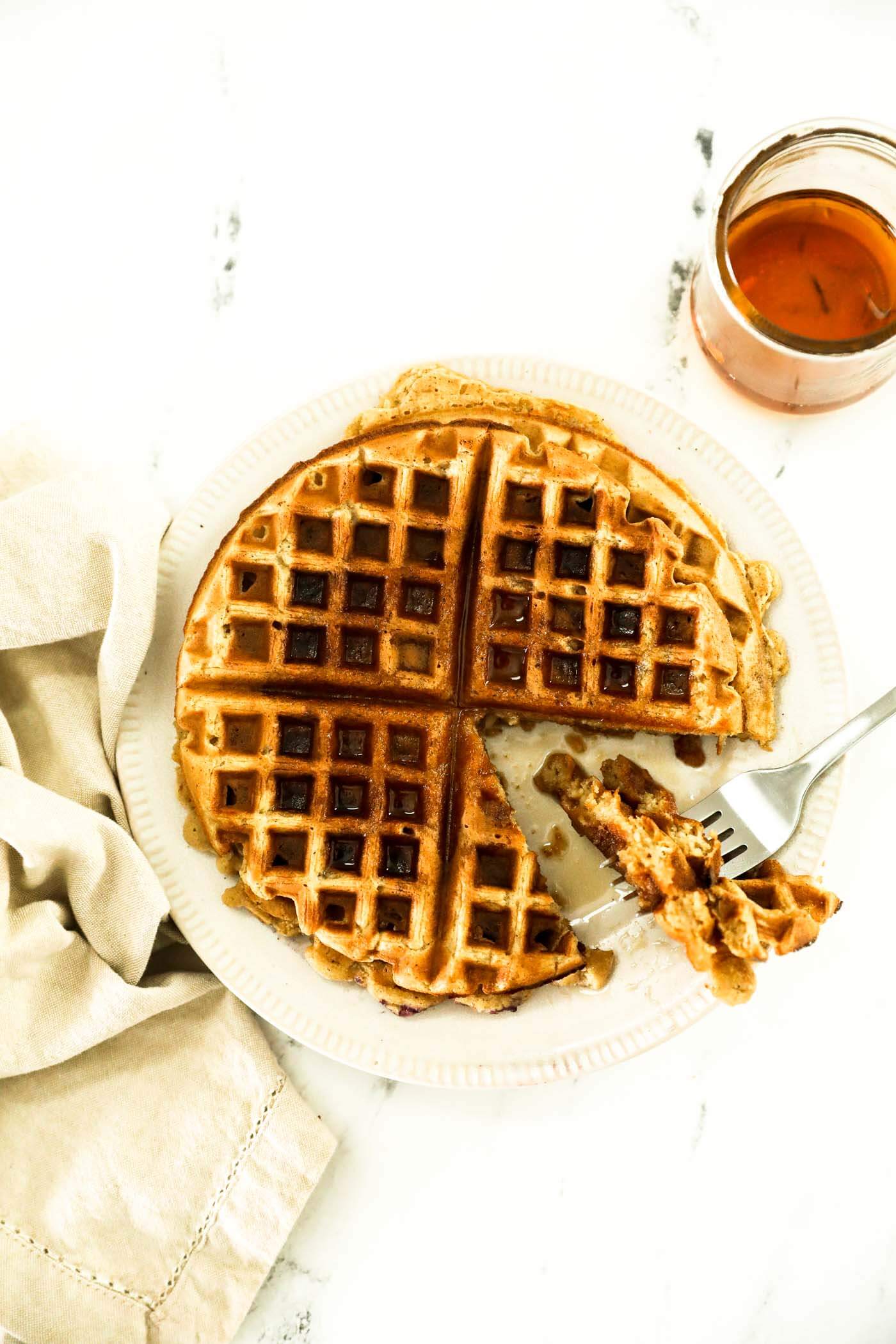 Tips from an expert home chef
The batter is a thicker batter, but you should still be able to pour it out. If it's too thick, stir in 1-2 tablespoons more of milk until it's thin enough to pour.
I like to set our waffle press to a level 4 to get my waffles a little browned and the edges crispy. Play with the settings to get nice and crispy edges for the perfect waffles.
More recipes with oats
We hope you love this recipe as much as we do!
Don't forget to leave a quick star rating and review below, we read every comment and truly appreciate your feedback. Also, be sure to browse the rest of our delicious, healthy recipes to find some other favorites too!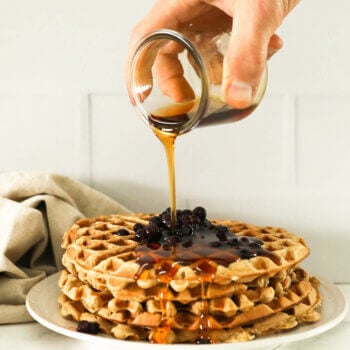 Get the Recipe:
Gluten Free Oat Flour Waffles (Egg Free!)
These fluffy and crispy oat flour waffles are a hearty and healthy, gluten free and egg free alternative to traditional waffles!
Ingredients
Dry ingredients:
2 cups gluten free oat flour
3 tbsp coconut sugar
1.5 tsp baking powder, we use this recipe for a grain free version
Pinch of sea salt
Wet ingredients:
1.5 cups dairy free milk, we use almond or coconut
1/2 cup unsweetened applesauce
1.5 tsp vanilla extract
Instructions
Add all the dry ingredients to a mixing bowl, and whisk to combine.

Add the wet ingredients and whisk to combine. Batter will be thick, but should be able to be poured easily. Add more milk 1-2 tbsp at a time if it needs to be thinned out more. You may need to add more milk in between waffles to keep the batter thin enough to pour.

Heat waffle maker, and when it is ready pour batter to fill your waffle maker. Close lid and cook until edges are crispy.

Repeat until all the batter is used up. Serve waffles with favorite toppings.