Burgers are just life all summer long, don't you think? These Paleo + Whole30 Greek turkey burgers are perfect for grilling, and you'll love the fresh and creamy, dairy-free tzatziki sauce that goes with! Plus, you can pick it up and eat it like a burger, like you want to!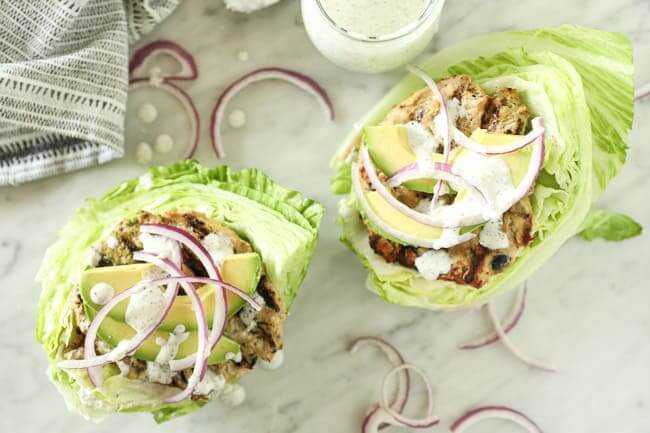 But why do you use iceberg lettuce? Isn't it devoid of nutrition?
Guys…don't you just want to pick up a burger and eat it sometimes?! Like really go for it like the good old days before you stopped eating bread?! Well, enter a little iceberg lettuce from time to time. It's super crisp, and it actually holds together well as a lettuce bun. Yes, it's not a nutrient dense food, but we are trying to satisfy a deep-seated craving for traditional burgers here. So…go with it, or use another lettuce. That's cool, too. You do you!
What's in those Greek turkey burgers?
Welp, they're loaded! Like with all the goods! We used ground turkey, but you could also use ground chicken as well. Then, we added in the fixings – artichoke hearts, olives and nutritional yeast. Don't be scared by nutritional yeast. It's an inactive yeast, which means that it doesn't contribute to yeast overgrowth or candida. This seasoning adds a cheesy, umami flavor. It's real good. Promise.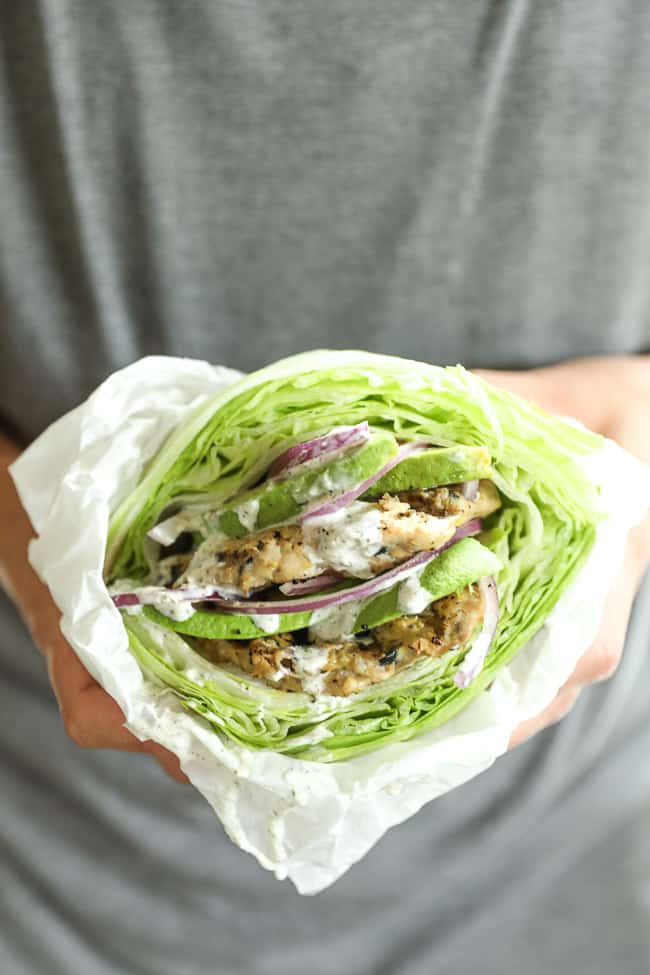 Dairy-free tzatziki sauce
Justin loves making tzatziki sauce, and he puts it on all the things. It's a great fresh, tangy way to add a little something extra to these Greek turkey burgers. Plus, it looks cool drizzled on top! We used coconut yogurt for the creamy, Greek yogurt like flavor, while keeping it dairy-free. Our favorite brand is COYO because it's got great texture. Justin adds in cucumber and dill, which gives it a lots fresh of flavor! Get to drizzling it on all the things already! You might even try our Greek meatballs or beef shawarma bowl recipe that uses it, too.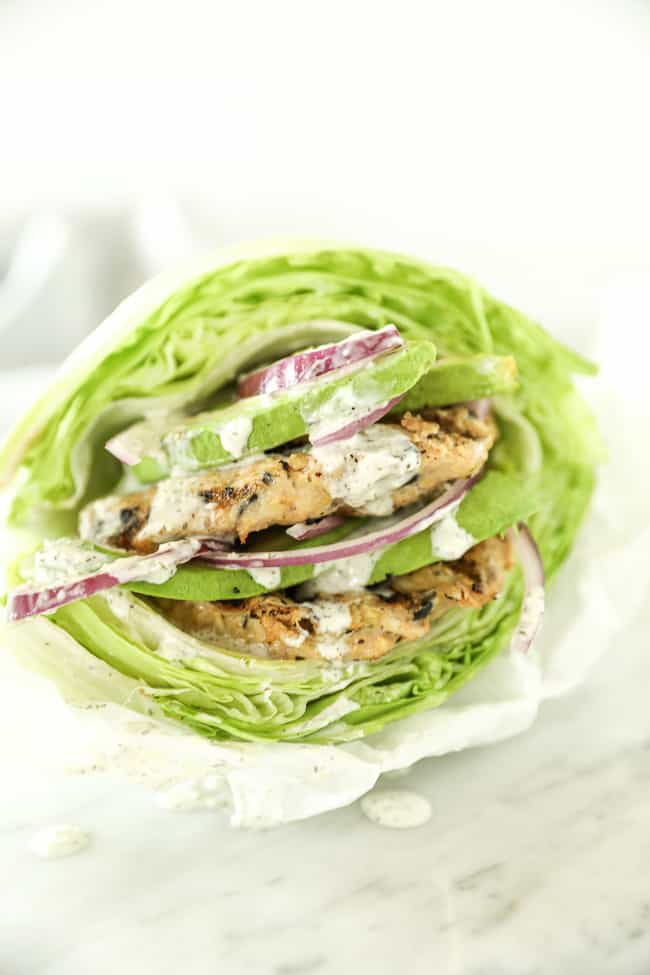 Some other grilling recipes
Your turn to try our Greek turkey burgers
Whether you're grilling or cooking on the stove, these Greek turkey burgers are a quick and easy dinner the whole family will enjoy! Use iceberg lettuce for the bun to satisfy your craving for picking up and eating a burger. Leave a comment below to let us know how it goes. Also, take a pic to share on Instagram, and tag us @realsimplegood so we can check it out! Give us a follow if you don't already, too. We'd love to stay connected!
---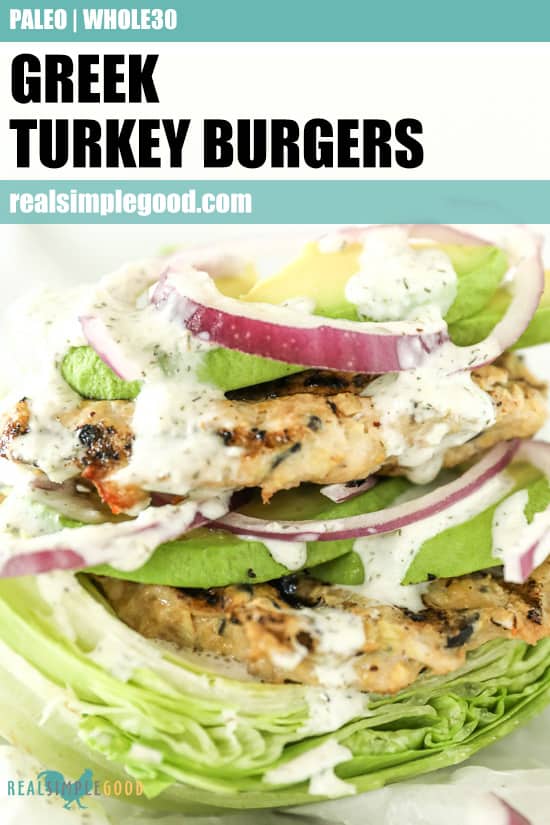 ---
Like this Recipe?
SHARE IT NOW OR PIN IT FOR LATER!
---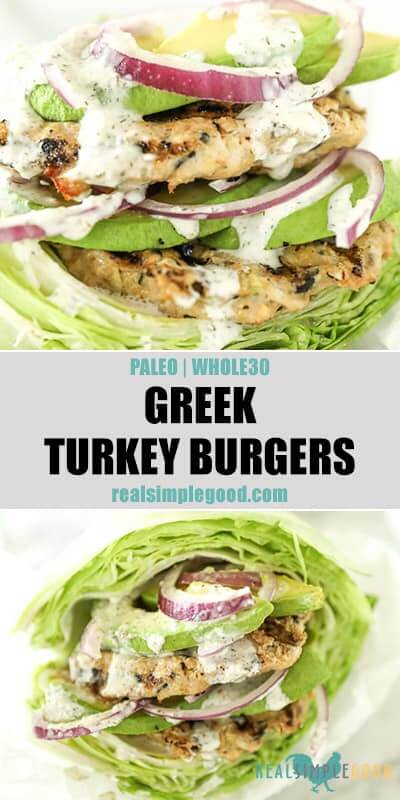 ---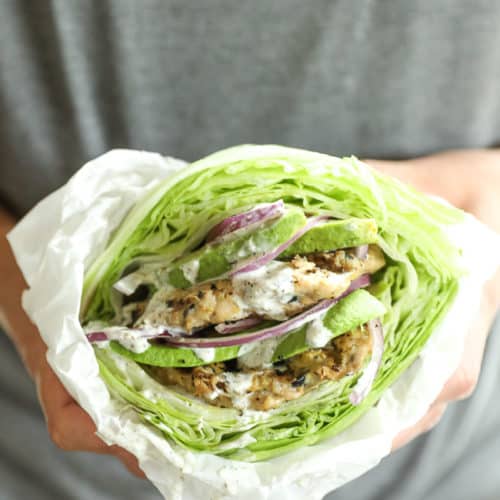 Get the Recipe:
Greek Turkey Burgers (Paleo + Whole30)
These Paleo + Whole30 Greek turkey burgers are perfect for grilling, and you'll love the fresh and creamy, dairy-free tzatziki sauce that goes with!
Ingredients
For the burgers:
2 lbs ground turkey
1 can artichoke hearts, drained and finely diced
1 cup olives, finely diced
1/4 cup nutritional yeast
1/2 tsp sea salt
1/2 tsp ground pepper
For the sauce:
1/2 english cucumber, peeled and roughly chopped
1 cup coconut yogurt, (or sub 1/2 cup full fat coconut milk and 1/2 cup mayo)
2 cloves garlic, peeled
1/2 cup fresh dill
1 tbsp lemon juice
Sea salt and pepper, (to taste)
For serving:
1 head iceburg lettuce, (can sub other lettuce or bun)
2 avocados, sliced
1/2 red onion, sliced into thin rings
Instructions
If you are grilling, prep your grill and preheat it to medium-high heat.

Chop artichoke hearts and olives as noted and add them to a bowl with the turkey, nutritional yeast, salt and pepper. Mix the ingredients well. The mixture will be sticky, so coating your hands in olive or avocado oil will help you to form the patties without sticking as much. Form the mixture into 8 large burger patties.

Prep the sauce by peeling and chopping the cucumber. Place the cucumber between two sheets of paper towel and ring out the moisture from the cucumber. Place it in the food processor with the S-blade.

Add the remaining sauce ingredients to the food processor and process into a smooth consistency. Refrigerate until served.

Either grill the burgers or cook them in a skillet (with some oil to coat) over medium-high heat. You may need to oil your hands again to transfer the patties from the plate to the grill/skillet. Cook for 4-5 minutes per side, or until completely cooked through.

While the burgers are cooking, slice avocado and onion. For the buns, cut the iceberg lettuce head into fourths. Cut off the bottom "stem" of each wedge of lettuce. Remove the thick inner pieces, leaving the outer leaves. You'll split these leaves to form your top and bottom "bun".

Now, assemble your burgers. Start with a bottom lettuce bun and add a burger patty. Top with avocado and onion and drizzle some sauce over the top. Finish with the top lettuce bun and enjoy!
Notes
NOTE: If you have leftover sauce, you can use it as a dip for veggies or as a sauce for other food/leftovers.