The weather is starting to get nice and it is time to do some grilling. This is a grilled stuffed chicken dish that is stuffed full of flavor with bacon, broccoli, mushrooms, shallot and garlic. I cooked it on the charcoal grill along with some veggies.
First, get your grill going. I use a charcoal grill with a chimney starter so it only takes about 20-25 minutes to get rolling.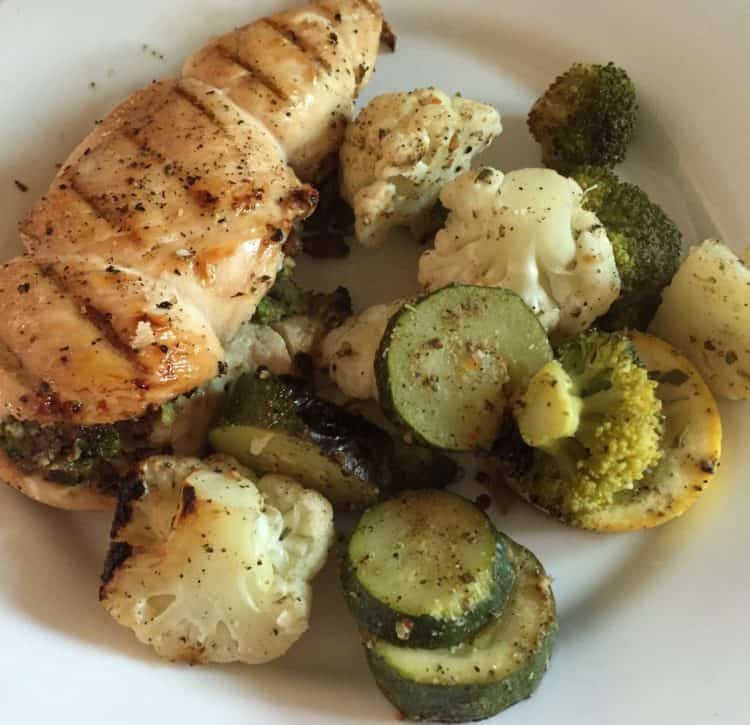 GRILLED STUFFED CHICKEN
Print Recipe
Rate Recipe
Ingredients
3

pieces

of bacon

- diced

3

cloves garlic

- minced

1

shallot

- diced

1

cup

of broccoli

- chopped fine

1

cup

of mushrooms

- chopped fine

2

boneless skinless chicken breasts

Salt and pepper

to taste

Butcher's twine

Whatever veggies you have on hand to grill
Instructions
First, start the grill and get it ready to cook.

Next, chop up whatever veggies you want to grill, season them to your liking and set aside.

For the chicken stuffing, start by heating a medium skillet over medium heat. Toss in the diced bacon and cook until it starts to shrink down and some fat has accumulated in the pan.

Add in the shallot, garlic, mushrooms and broccoli. Stir regularly and allow the broccoli and mushrooms to cook down. Remove the pan from heat and set aside.

Next, get your chicken ready for stuffing by slicing the breasts open (but not all the way through) with a small knife so the two sides lay flat but are still connected in the middle. Spoon the stuffing mixture onto the chicken breasts, fold over the sides and tie everything together with the butcher's twine. Sprinkle with salt and pepper.

Finally, throw the veggies and chicken on your hot grill. The chicken will take about 6-8 minutes per side depending on how hot your grill is and the veggies should be well grilled by the time the chicken is cooked.

Remove everything from the grill and let it sit for a couple of minutes to cool.

Serve and enjoy.