Can't stop, won't stop grilling this summer! These grilled teriyaki salmon bowls combine two of my favorite things into one delicious bowl! This grilled teriyaki salmon is Paleo and Whole30, made gluten-free, dairy-free, soy-free and refined sugar-free. This bowl is an easy and healthy summer dinner filled with healthy fats and veggies!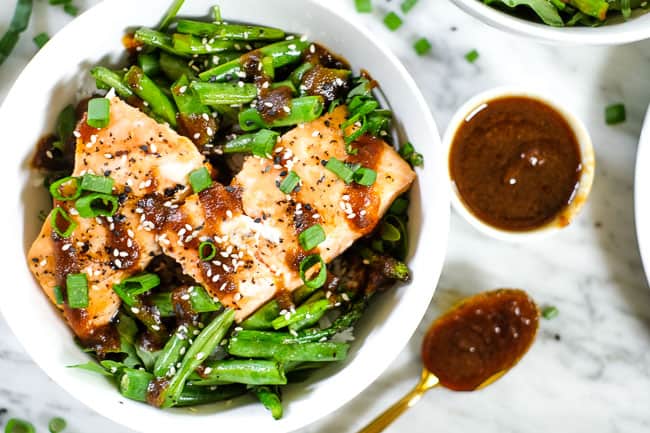 The Teriyaki Sauce
I grew up eating a lot of teriyaki chicken and steak. My mom is from Hawaii and as such also grew up eating plenty of teriyaki. The problem is that traditional teriyaki sauce is full of sugar and also soy. To make our sauce Paleo and Whole30 friendly, we use coconut aminos and dates to sweeten. The combo of these flavors with ginger and garlic is just right!
The Veggies
You can really go with whatever you have on hand and sounds good. For us, the summer always makes us want green beans, and then I added some asparagus because it looked good. Some of our other favorites with salmon are broccolini, bell pepper, mushrooms and onions. You really can't go wrong! Add some color, add some greens and enjoy!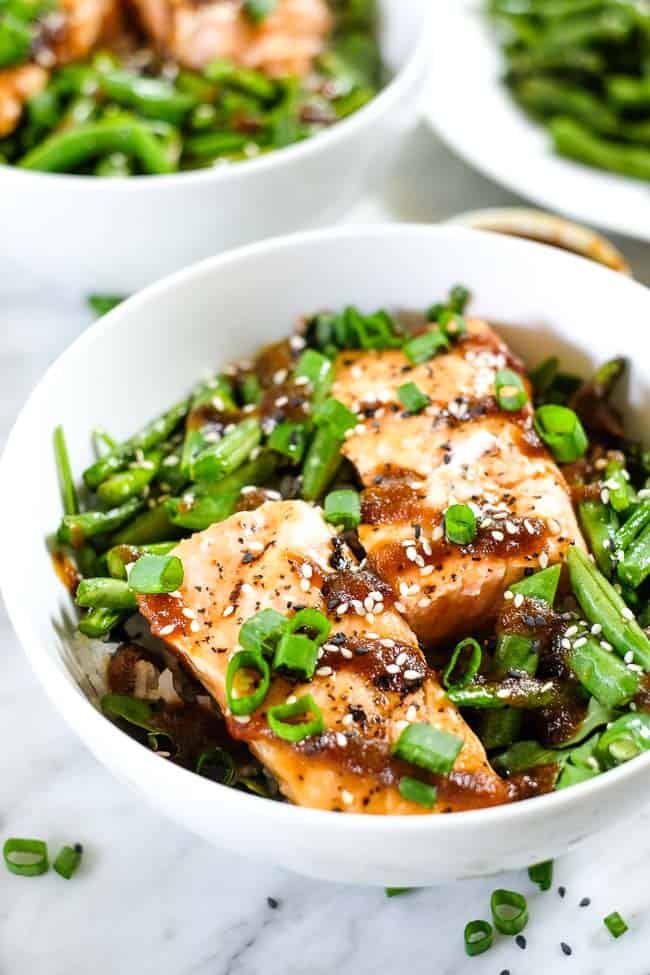 Make It A Bowl
I don't know why I love bowl meals SO much, but I do! Justin thinks I've gone a little overboard with the bowls, but they are life for me! I think it's because I like mixing up all the flavors and getting a little bit of everything in each bite. I also kind of take it as a challenge to see just how much I can fit into one bowl! Hopefully you love bowl meals as much as me, and if not, maybe these grilled teriyaki salmon bowls will help carve out a little spot in your heart for them! 😉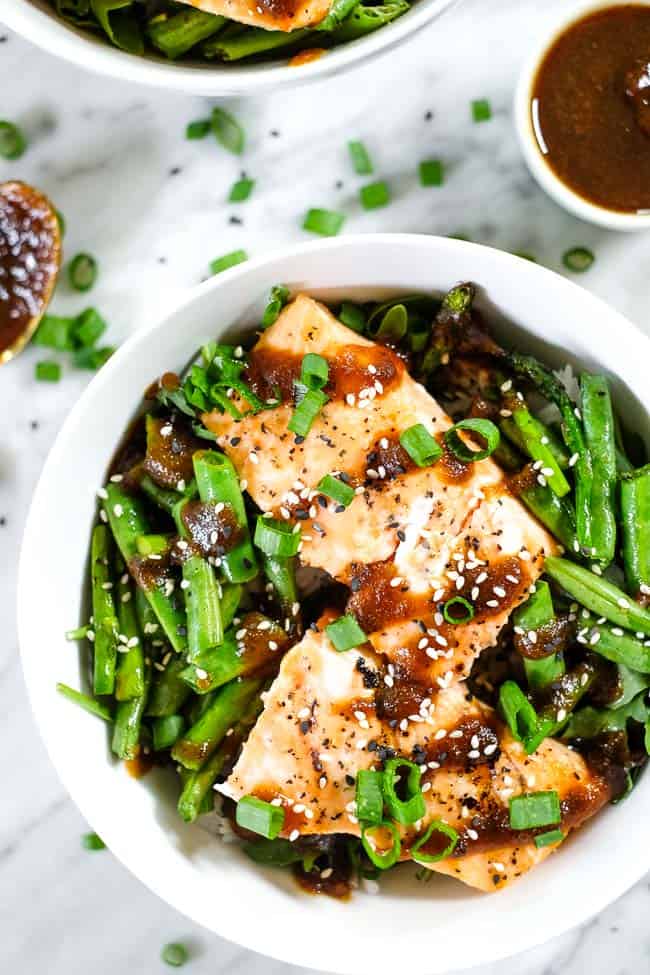 Some Other Bowls To Try
Your Turn To Try Our Grilled Teriyaki Salmon Bowls
Looking for a quick, easy and nourishing meal? Go ahead and make these grilled teriyaki salmon bowls. Your body will thank you and your taste buds will be satisfied. Leave a comment below and let us know what you think. Also, take a photo an tag us on Instagram @realsimplegood! We'd love to see your creation and give us a follow if you don't already so we can stay connected!
LIKE THIS RECIPE? SHARE IT NOW OR PIN IT FOR LATER!
---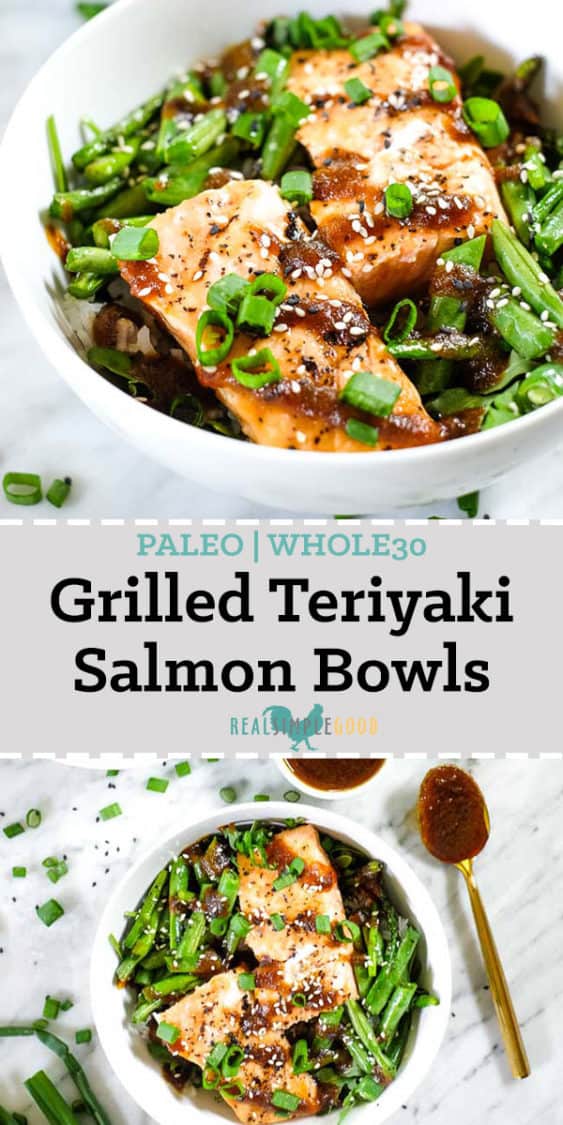 ---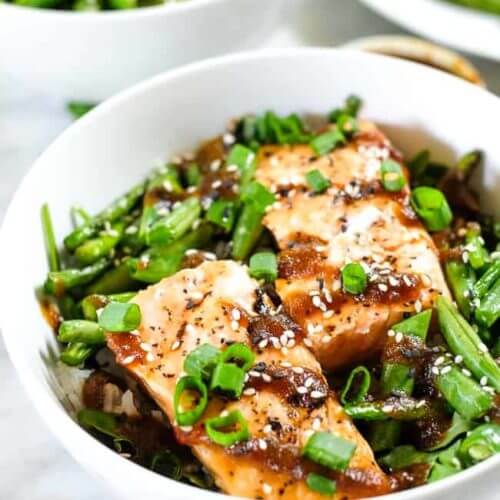 Get the Recipe:
Grilled Teriyaki Salmon Bowls (Paleo + Whole30)
These grilled teriyaki salmon bowls are Paleo and Whole30, made gluten-free, dairy-free, soy-free and refined sugar-free. An easy and healthy summer dinner!
Ingredients
4 fillets salmon, (of about equal size)
For the teriyaki sauce:
1/2 cup coconut aminos
2 dates, pitted and soaked in warm water for 10-15 minutes then drained
1.5 tsp apple cider vinegar
1 tsp fresh ginger, grated on a microplane
1 tsp garlic powder
For the rest of the bowls:
1 lb green beans, trimmed
1/2 bunch asparagus, bottoms trimmed and cut into 1 inch pieces
1 tbsp avocado oil
Sea salt and pepper
4 cups greens
1 cup cauliflower rice or white rice, (cauli rice for Whole30)
1/4 cup green onion, chopped, (optional garnish)
1 tsp sesame seeds, (optional garnish)
Instructions
Heat grill to medium-high heat, and oil grill grate. On a Traeger, heat to 400° Fahrenheit.

Cut veggies and place on a grill pan. Drizzle with avocado oil and season with sea salt and pepper to taste. Set aside.

Place all of the sauce ingredients in a blender or food processor and run continuously to combine all the ingredients until smooth. Stop to scrape sides down as needed and restart.


Place sauce in a small sauce pan and heat over low heat, stirring occasionally, while the rest of the meal cooks.

Season salmon with salt and pepper and place flesh side down on the grill. Grill for 8 minutes and carefully flip. Cook until salmon is done, about 6 more minutes. Add the veggies to the grill at the same time as the salmon. Toss them around when you flip the salmon.

After you flip the salmon, heat up cauliflower rice (or white rice). To cook cauliflower rice, just heat up in a skillet with a little oil and season to taste with salt and pepper.

Once salmon is done, carefully remove salmon and veggies from grill.

Assemble your bowls. Add a base of greens, cauliflower or white rice, your salmon, veggies, and drizzle sauce over everything. Garnish with green onion and sesame seeds. Enjoy!