This ground beef taco salad bowl is the perfect easy weeknight recipe. It is packed full of fresh vegetables and zesty flavors. Made with cauliflower rice, it is also Paleo, Whole30, and gluten free. And it comes together in just 20 minutes!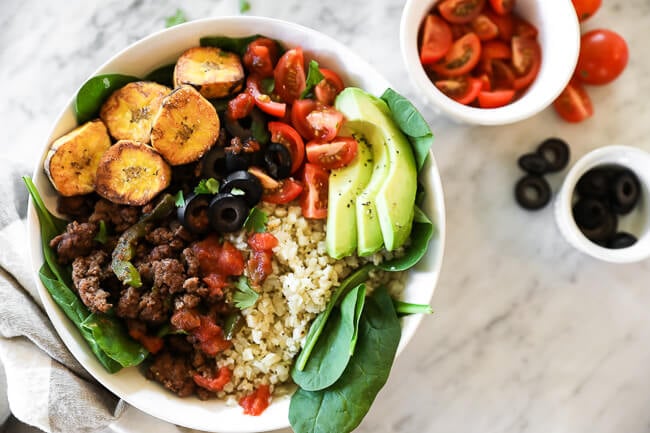 Making this Healthy Taco Bowl
This is going to be easy. Like really easy. Here's what you do:
Prep the homemade taco seasoning.
Chop up the veggies to have them ready.
Cook your ground beef and mix in the taco seasoning.
Warm up the cauliflower rice.
Build your taco bowl and layer on your favorite toppings!
Check out our Healthy 20-Minute Korean Beef Bowl for another quick + easy bowl recipe!
Making this a keto taco bowl
The recipe as written is already low-carb friendly, but here are some notes and options to keep things in your Keto zone.
Make sure you use low-carb greens (like spinach and/or cabbage) for the base of the bowls. Arugula is a good option too.
You can omit the onion if desired.
Keep the toppings keto friendly. Skip the plantains and tomatoes and stick to avocado, olives and a big dollop of chipotle aioli.
Looking for more? Check out all of our healthy low carb recipes!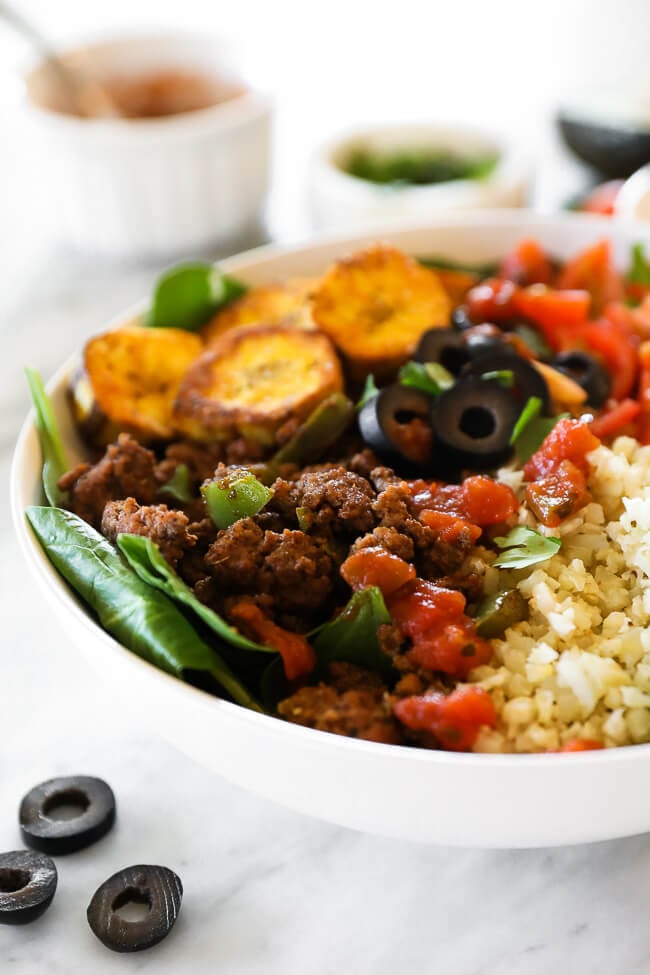 Other variations of this taco salad bowl
This recipe is very versatile and forgiving if you need to make substitutions. Here are some ideas:
If you're not a huge ground beef fan you can always use ground turkey or chicken instead.
Leftover shredded chicken or rotisserie chicken is a good option too.
White rice can be used instead of cauliflower rice if desired.
Switch up the greens and toppings and make this salad bowl anything you want!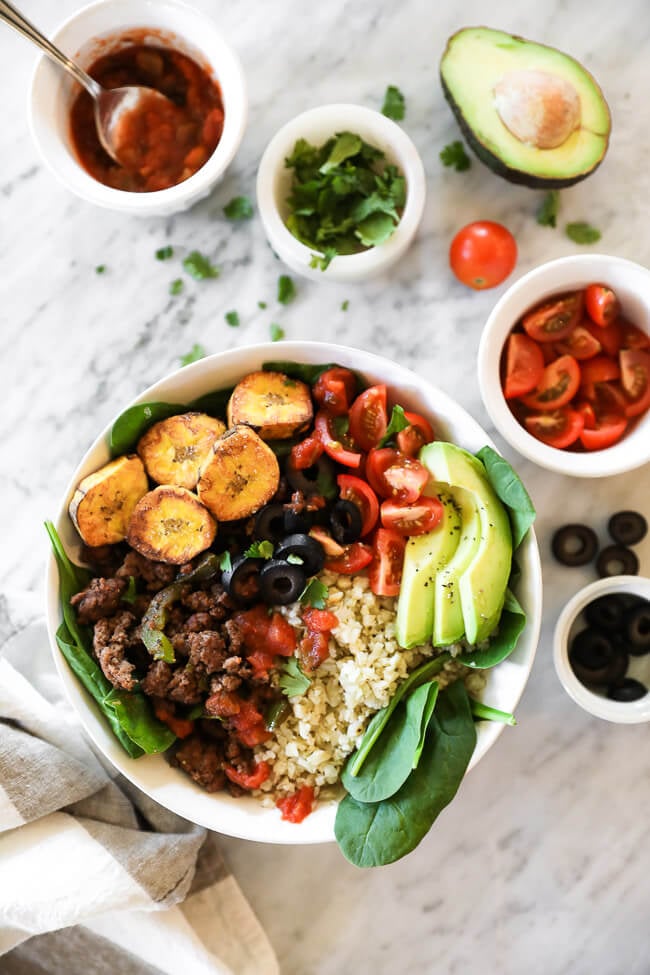 Some other healthy bowl recipes to try
Your turn to make this easy ground beef taco bowl
Make it an easy weeknight or meal prep to your little heart's content! Give this taco bowl recipe a try, and let us know how it goes by leaving a comment below. Also, take a picture and tag it on Instagram @realsimplegood so we can check it out! And if you don't already follow us, make sure to give us a follow! Let's stay connected!
---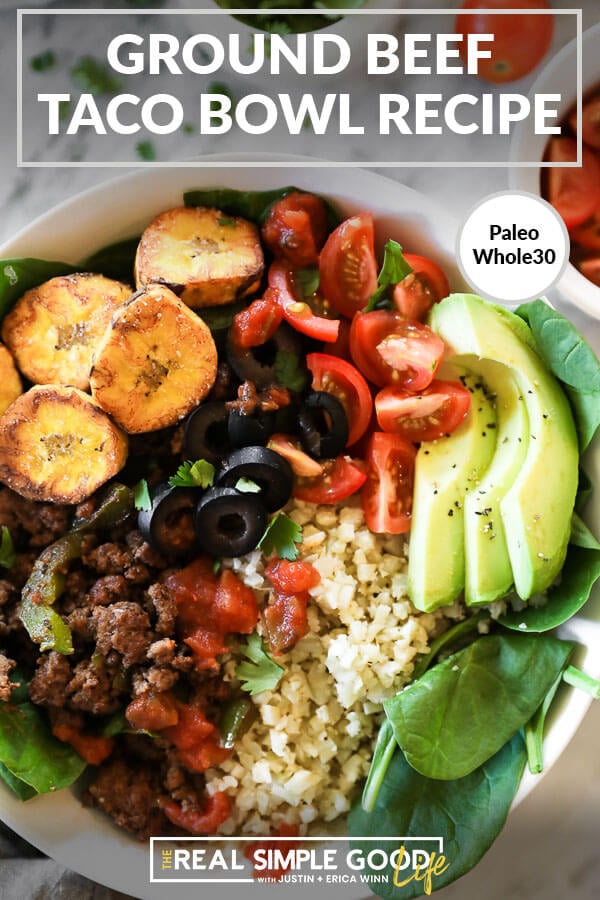 ---
Like this Recipe?
SHARE IT NOW OR PIN IT FOR LATER!
---
---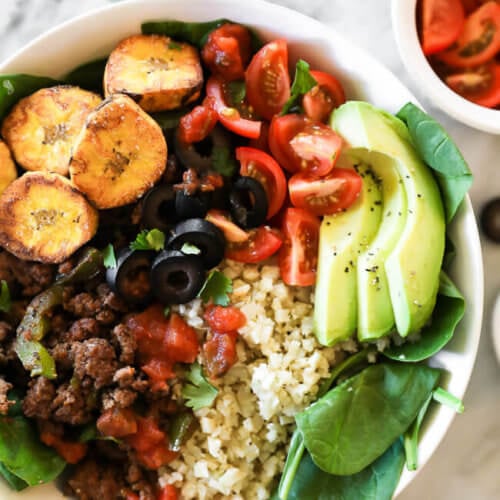 Get the Recipe:
Low-Carb Ground Beef Taco Salad Bowl
This healthy ground beef taco bowl is packed with zesty flavors and fresh vegetables! Made with cauliflower rice, it's Paleo and Whole30 friendly.
Ingredients
1 green bell pepper, diced
1/2 onion, diced
1 lb ground beef
1 batch taco seasoning, (linked below in recipe)
2 cups riced cauliflower, You can use bagged riced cauliflower as a time saver!
4 cups Spinach + cabbage, (or your favorite greens)
Salt and pepper, To season the cauliflower rice
Salsa, avocado, tomatoes, olives, and any other toppings you love
Instructions
In a large skillet, over medium heat, add your green pepper and onions to the pan. Cook until the onions are translucent.

Add your ground beef. Break it up and stir everything around. Continue to cook on low to medium heat, depending on your stove.

While the meat is cooking, toss the cauliflower rice on the stove in a medium sized skillet, over medium heat. Season with salt and pepper. It will cook in just a few minutes. I like to cover my pan so it speeds up the cooking a bit and kind of steams the cauliflower rice.

When the ground beef is just about done, add your taco seasoning. Stir until the ground beef, green peppers, and onions are coated.

When the ground beef is finished cooking, turn off the heat. Turn off the heat on the cauliflower rice, and start making your bowls.

Add a bunch of your favorite greens to your bowl first. We use spinach and/or cabbage usually depending on what is in the fridge. Then add your cauliflower rice next. The ground beef goes on top of the rice. Then add your favorite toppings. We like to put olives, avocado, salsa and some homemade chipotle aioli.

Get to eating these bowls up! They are bursting with flavor and are filling too!
Notes
Nutrition details are an estimate provided for those following a Ketogenic or low-carb diet and do not include optional topping items noted in this recipe. See our full nutrition information disclosure here. 
Calories: 436kcal, Carbohydrates: 10g, Protein: 30g, Fat: 31g, Saturated Fat: 12g, Fiber: 4g