Our hazelnut thumbprint cookies are a little chewy and a little peanutty with a hint of hazelnut bouncing off your tastebuds. The melted chocolate centers combined with hazelnut remind me of nutella.
At one time in my life I could have eaten nutella by the spoonful and quickly come up for air to notice the entire container was about gone. Our hazelnut thumbprint cookies have the same essence as nutella without the residual guilt. Give them a try!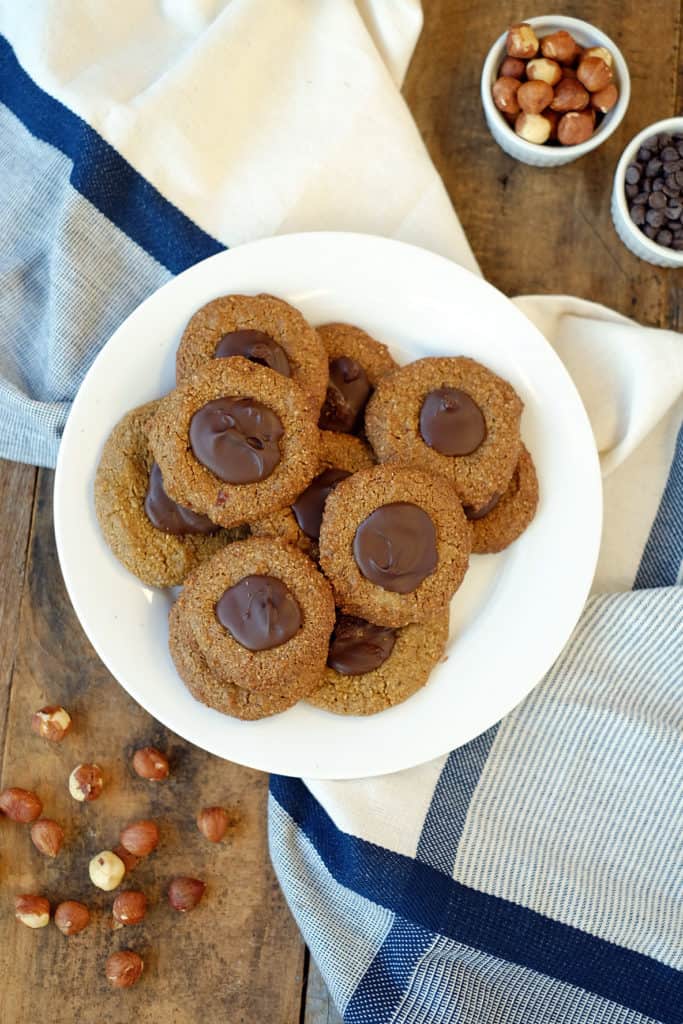 You'll notice they keep well on the counter for about a week (if they last that long) or they freeze well, too. You can savor them however you prefer. We mostly enjoy them just after they've cooled from the oven, and I especially love them with a cup of coffee. Mmmm….I don't know if it really gets much better than that. Coffee, hazelnut, chocolate….
You might even bring a plate of them to your holiday gatherings. They will be a hit wherever you take them this season.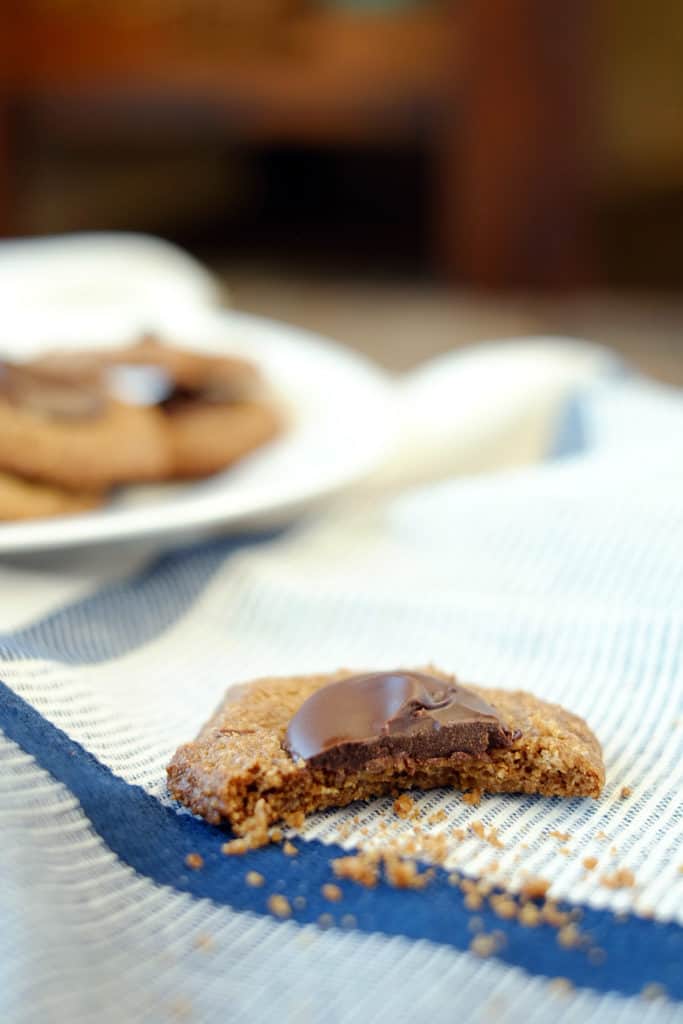 Let us know how you like our hazelnut thumbprint cookies by leaving a comment below. Also, take a picture and tag it on Instagram @realsimplegood so we can check it out!
---
Get the Recipe:
Hazelnut Thumbprint Cookies
Ingredients
Dry ingredients:
1 cup raw hazelnuts
1/2 tsp baking soda
1/4 tsp sea salt
Wet ingredients:
1/4 cup sunflower seed butter
1/4 cup pure maple syrup
2 tbs grassfed butter, ghee or coconut oil
1 tsp vanilla
Topping:
1/2 cup enjoy life mini chips
Instructions
Preheat your oven to 350 degrees fahrenheit and line a baking sheet with parchment paper or a silicone liner.

Place your raw hazelnuts in a food processor and pulse until the nuts turn into a meal, granular flour consistency. It should take about 3-4 minutes.

Next, place the hazelnut meal and the rest of the dry ingredients in a small mixing bowl and whisk until combined and set aside.

Place all of the wet ingredients in a larger mixing bowl and use a spoon to mix until everything is thoroughly combined.

Slowly pour the dry mixture into the wet mixture, stirring until all of the ingredients are combined and a batter forms.

Next, scoop out golf ball sized mounds onto your parchment or silicone lined baking sheet.

Use your thumb to form depressions in the center of each cookie.

Place in the oven and cook for 9-10 minutes until the edges start to brown.

Remove from the oven. You may need to use the back of a spoon while your cookies are hot to reaffirm the depression in the center.

Once the cookies are done cooking, use a double boiler, or a pot and a stainless steel bowl, to melt your chocolate chips. You could use a microwave safe bowl and heat them in the microwave too if you wanted.

Spoon the melted chocolate into the depressions of each cookie.

Let the cookies cool. The chocolate will harden up a bit.

Enjoy! These hazelnut thumbprint cookies are the perfect treat to share with your loved ones this holiday season!