We meal prep on Sunday nights by making a big meal like this healthy buffalo chicken casserole. We get to enjoy a hearty meal and then have leftovers in the fridge for the upcoming week. We made this baked chicken casserole Paleo, Whole30 and Low Carb, and with a simple modification it can also be made Keto.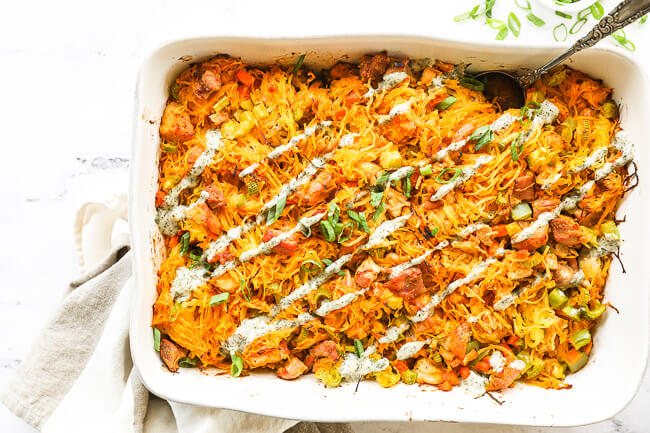 Paleo, Whole30, Keto + Low Carb buffalo chicken casserole recipe
This recipe is made with all real food ingredients, and it's simple to make it fit all of your dietary needs. As is, this buffalo chicken spaghetti squash casserole is Paleo and Whole30 compliant. It's also naturally low carb (thank you, spaghetti squash!), and by omitting the carrot you can make it Keto friendly, too!
Looking for more spaghetti squash recipes? Check out this roundup of 10 Cozy Spaghetti Squash Recipes!
How to bake spaghetti squash
We love how spaghetti squash is a great alternative for making "pasta" dishes. It hits the spot when you are craving comfort food, and it's way healthier! But….baking it can be a little daunting…mostly the cutting of it. So, here are some tips.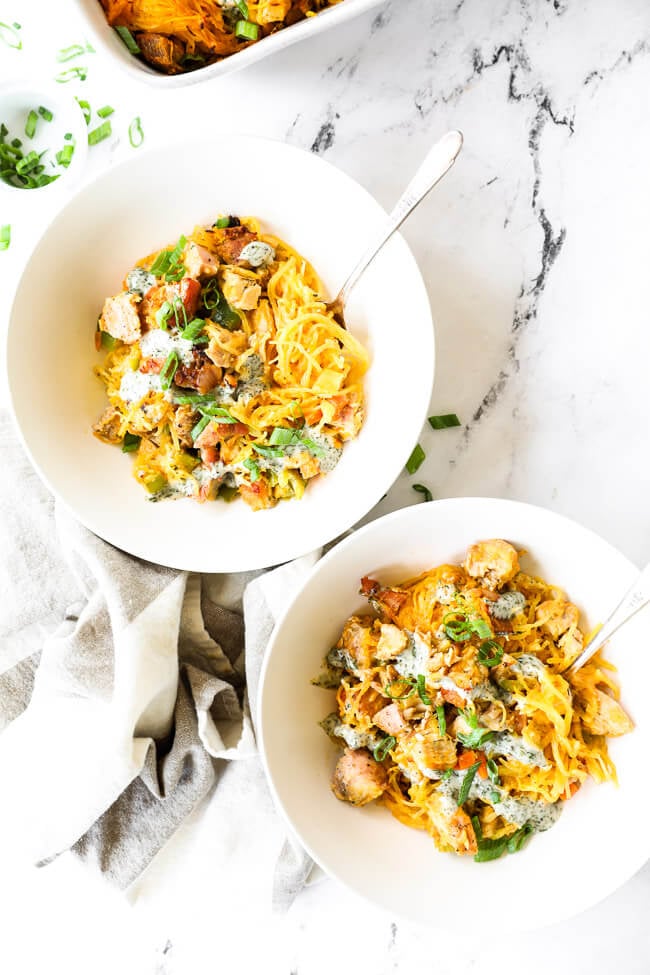 Slice your spaghetti squash in half lengthwise, scoop out the seeds and place it cut side down on a sheet pan. We like to line ours with parchment paper so it doesn't stick. Bake at 400° for about 30 minutes.
If you're really worried about slicing your spaghetti squash in half, you can always ask someone working in the product department at your grocery store to cut it for you. Problem solved!
You can also bake your spaghetti squash whole, it just takes longer, but will be easier to cut once it softens from being baked.
Or you can cook your spaghetti squash in your Instant Pot. To do this, we recommend cutting your squash in half, right in the middle. Scoop out the seeds, and place it in your Instant Pot on the steaming rack with a cup of water in the bottom of the pot. Cook on manual/high pressure for just 7 minutes.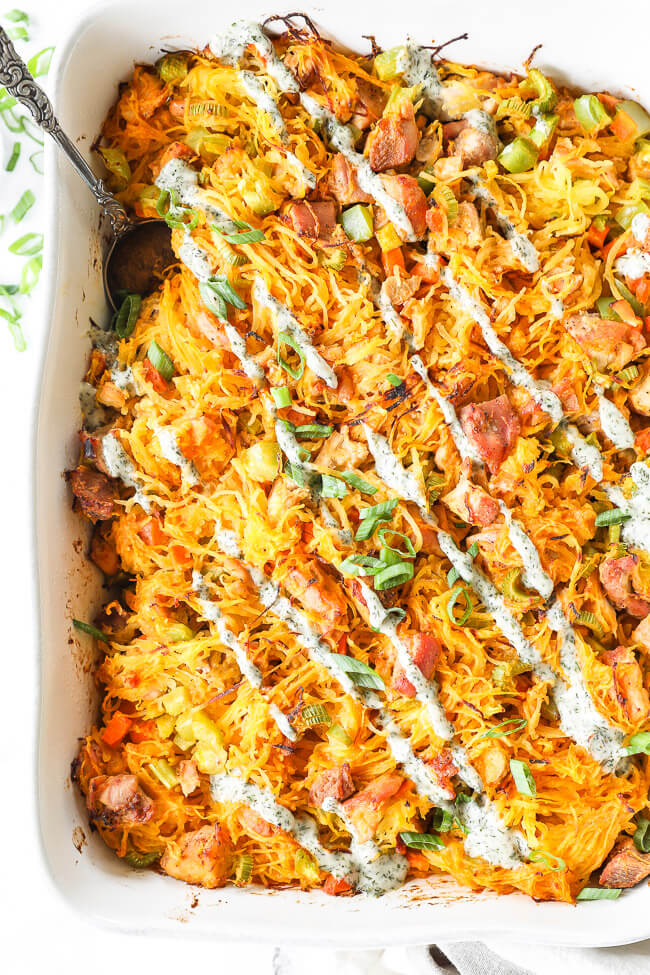 A buffalo chicken bake for meal prep
We use Sunday dinner as a way to meal prep. Typically, we make a larger meal like this buffalo chicken casserole. We eat it for dinner Sunday, and then plan the leftovers into our week for lunches or another dinner. All you have to do is re-heat the leftovers and you've got a super easy, satisfying meal ready with no extra effort. It's a real time saver during a busy week.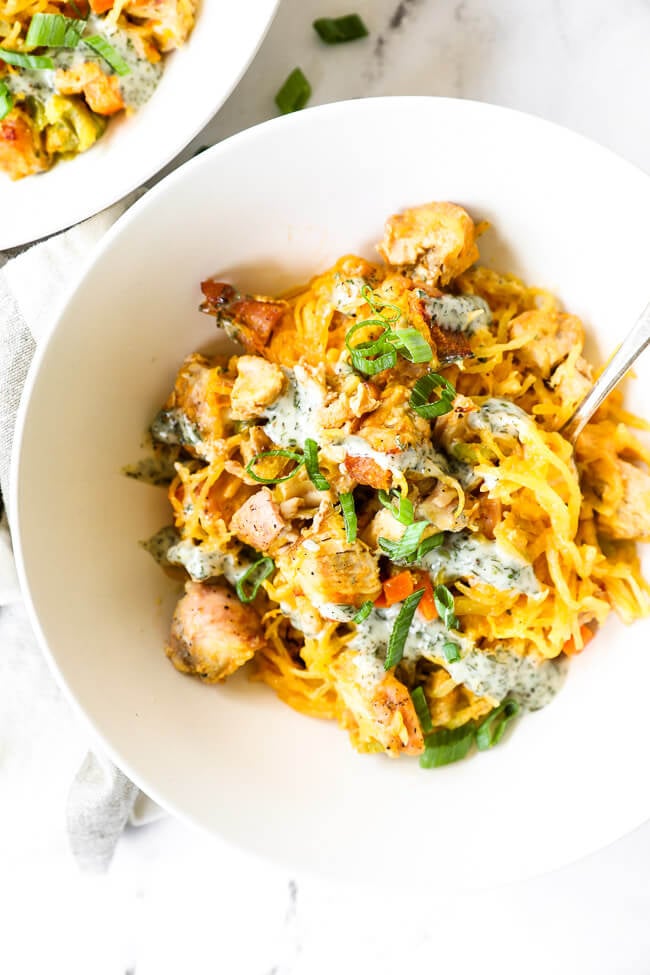 More spaghetti squash casseroles to try
Time to try this oven-baked buffalo chicken casserole
Whether you are meal prepping or making a meal to feed your family or a crowd, this buffalo chicken casserole is going to be a new favorite! Leave a comment and rating below, and let us know how it goes. Also, take a pic to share on Instagram. Tag us @realsimplegood, so we can check it out. We love to see what you're making!
---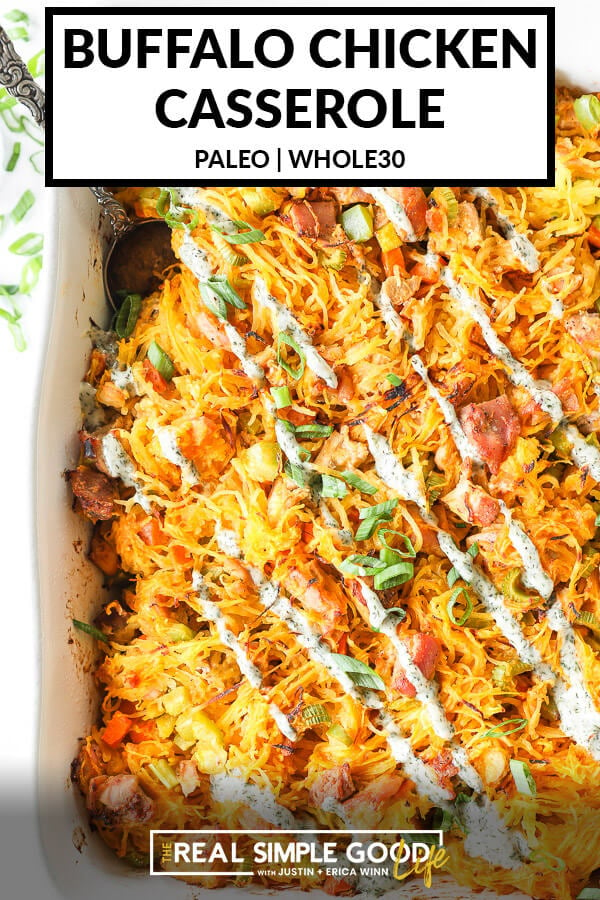 ---
Like this Recipe?
SHARE IT NOW OR PIN IT FOR LATER!
---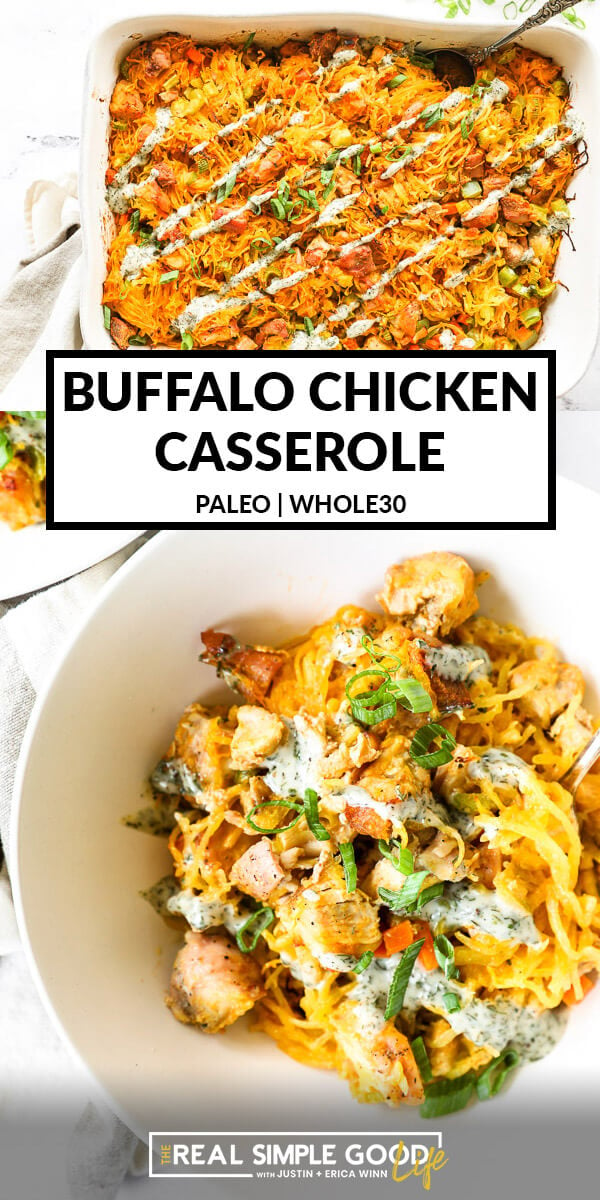 ---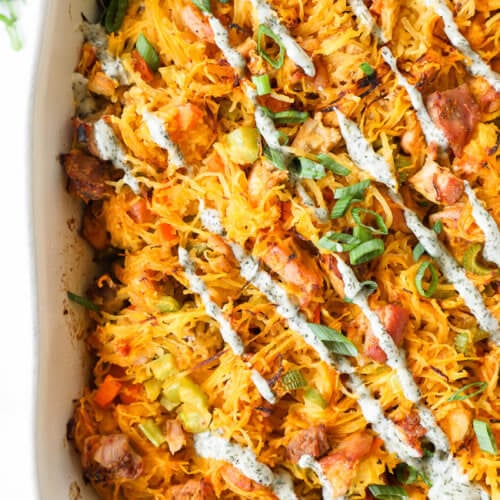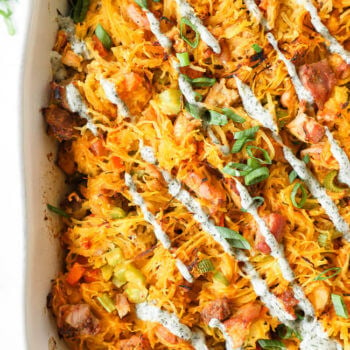 Get the Recipe:
Healthy Baked Buffalo Chicken Casserole
We made this healthy baked chicken casserole Paleo, Whole30 and Low Carb, and with a simple modification it can also be made Keto. It's perfect for a family meal or meal prep!
Ingredients
1 (1) spaghetti squash, (medium to large)
1.5 lbs (680.39 g) boneless skinless chicken thighs, (breast will work but you'll have to adust the cooking time)
Sea salt and ground pepper, (to season chicken on both sides)
1 (1) bell pepper, diced
1 (1) carrot, diced
2 ribs (2 ribs) celery, diced
Ranch dressing, (for topping, see recipe notes)
4 (4) green onions, sliced, (for garnish)
For the buffalo sauce:
1/4 cup (11 g) nutritional yeast
1/2 cup (120 g) hot sauce, (check ingredients for Whole30 compliance and adjust and use less/more based on desired spice level)
1/2 cup (112 g) mayo, (check ingredients for Whole30 compliance)
Instructions
Preheat oven to 400° Fahrenheit and grease two medium baking sheets with oil. Cut spaghetti squash in half and scoop out the seeds. Place the squash, cut side down on one of the baking sheets. Also, grease a casserole dish and set aside.

Place the chicken on the other baking sheet and season on both sides with salt and pepper. 

Place the squash and the chicken in the oven to cook. Remove the chicken after it has cooked to an internal temperature of 165° Fahrenheit, about 20 minutes. Remove the squash when it is cooked (it will give a little when you press on the skin), about 30 minutes. Set aside to cool and keep the oven on at 400° for cooking the casserole.

While the squash is cooking, prep the bell pepper, carrot and celery as noted. Place in a large mixing bowl or casserole dish and set aside.

Also, while the squash is cooking, prepare buffalo sauce by placing all of the sauce ingredients into a small bowl or jar and mixing well. 

Once the chicken has cooled a little, chop it into bite-sized pieces and add it to the bowl with the veggies. Once the squash has cooled a little, scoop out flesh of the squash with a fork into the bowl.

Finally, add the buffalo sauce to the bowl and mix everything together well. Dump the mixture into the casserole dish and spread it out evenly.

Place the casserole in the oven to cook for 20-30 minutes, until everything is heated through. Remove from oven and allow to cool for 5-10 minutes before serving.