Meal planning and prep is what got us through life when we were both working full-time corporate jobs. We cooked up a bunch of Paleo friendly food over the weekend, and Justin prepped all his lunches for the upcoming week too. I typically just ate leftovers for lunch, and we were able to mostly breeze through the work week, at least when it came to food.
Nowadays, we still meal plan, but our lifestyle is a little more forgiving during the week thankfully. We do still love to make a big dinner Sunday most weeks though, like this Paleo + Whole30 healthy chicken and broccoli casserole and have the leftovers in the fridge the following week.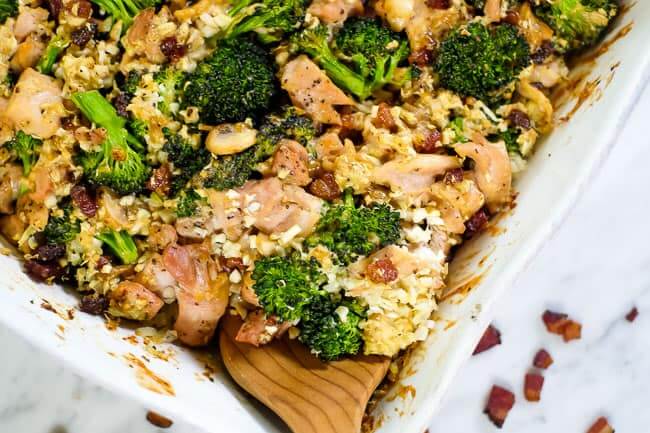 Comfort Food
There is just something about a creamy casserole that gives me all the feels. It's cozy, soul-satisfying and just all around makes me feel good. This healthy chicken and broccoli casserole lacks nothing when it comes to creamy goodness! It is dairy-free and instead uses coconut milk to add in some healthy fats. And of course, bacon doesn't hurt when you're trying to up your comfort food game!
If you like this recipe, you have to try our creamy dairy-free chicken thigh casserole and also check out this roundup of healthy chicken casserole recipes. We know you'll find a new favorite!
Don't Worry – You Won't Taste The Coconut
Lots of folks get a little scared when they see that there's coconut milk in a creamy comfort food recipe. They don't want the coconut flavor. Guess what? You won't taste it! This recipe, and many of our creamy, comfort food recipes have coconut milk in them in place of dairy. BUT….Fear not, we've become masters at masking the coconut taste. You'll just be enjoying the creamy, rich texture and flavors of the rest of this healthy chicken and broccoli casserole!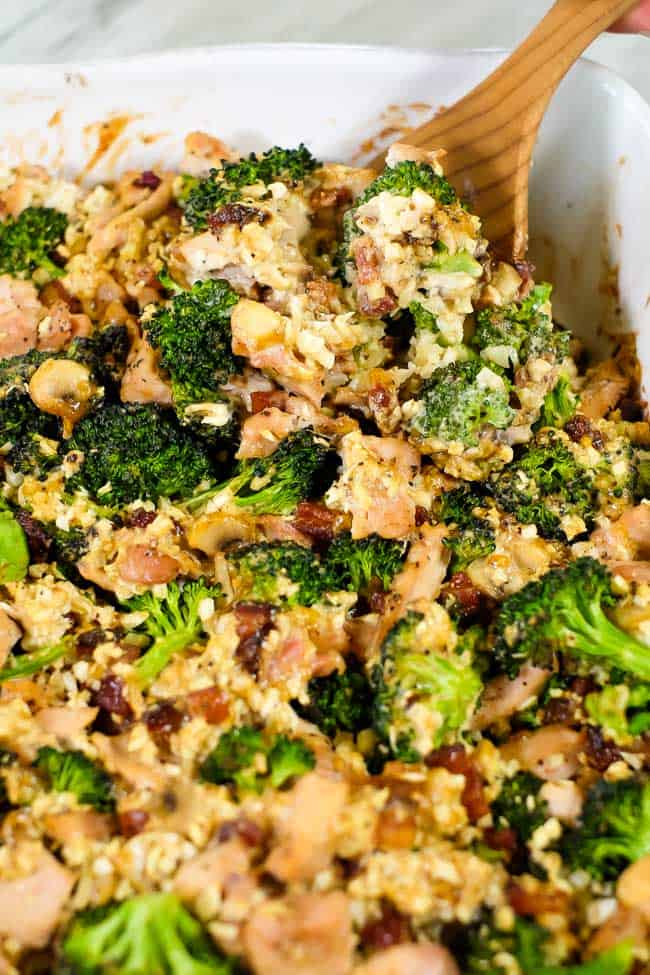 Cauliflower Rice Tips
You can of course rice your own cauliflower in a food processor, either using the grating attachment or the regular steel blade. Just be careful if you use the steel blade. It's easy to over process the cauliflower. We recommend processing in batches if you go with the steel blade. An even better tip though is to get it pre-riced at your local grocery store. We are able to find it locally at Trader Joe's – either in the fresh produce section or in the freezer section. You should also be able to find riced cauliflower at other health food stores like Whole Foods.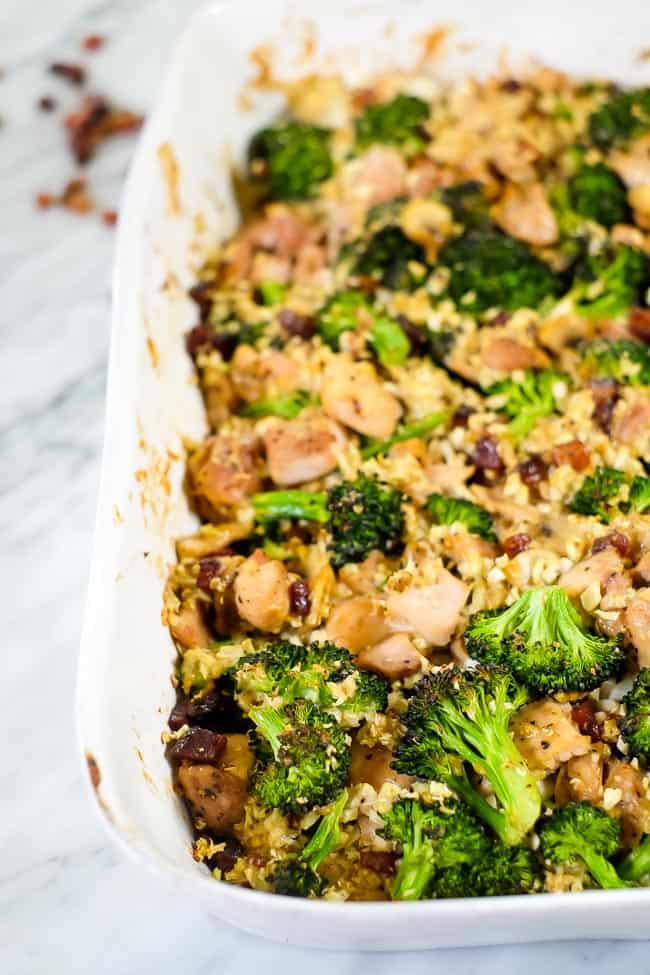 Some Other Comfort Food Recipes To Try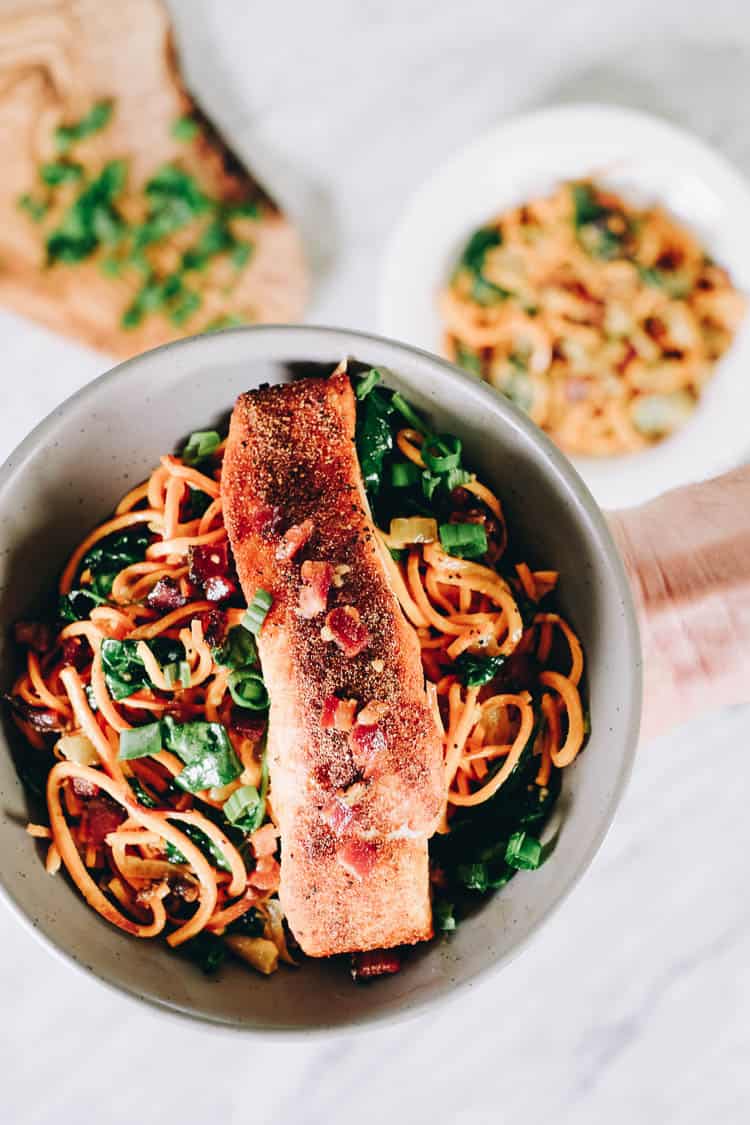 Your Turn To Try Our Healthy Chicken And Broccoli Casserole
Whether you just want a large meal to make over the weekend for dinner and then enjoy the leftovers the following week or you're straight up craving comfort food, make this healthy chicken and broccoli casserole! Let us know what you think by leaving a comment below. Take a picture and share it on Instagram – tag us @realsimplegood. Also, if you don't already follow us on Instagram, make sure to give us a follow so we can stay connected!
LIKE THIS RECIPE? SHARE IT NOW OR PIN IT FOR LATER!
---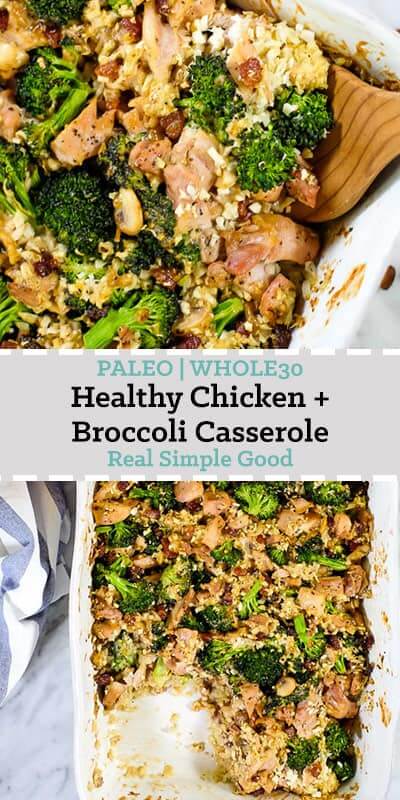 ---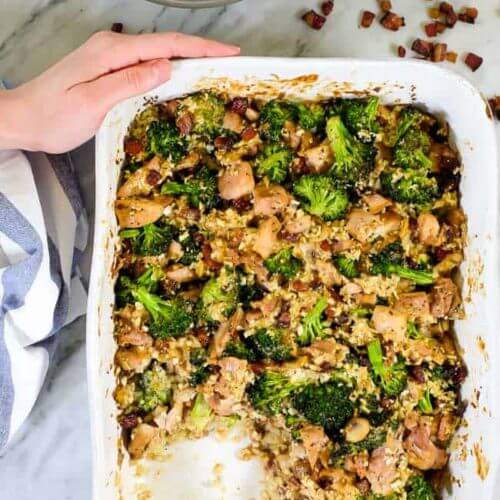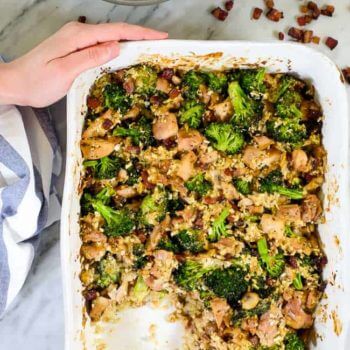 Get the Recipe:
Healthy Chicken and Broccoli Casserole (Paleo + Whole30)
As part of our weekly meal prep, we love to make a big dinner Sunday, like this Paleo + Whole30 healthy chicken and broccoli casserole and have the leftovers in the fridge the following week. This casserole is a great, Paleo + Whole30 family-friendly and large dinner recipe!
Instructions
Preheat oven to broil.

Grease a sheet pan with avocado oil and place chicken on the pan. Season lightly with salt and pepper on both sides. Place in the oven to cook for 6 minutes. Remove, flip and place back in the oven to cook for 6 more minutes or until cooked through.

When the chicken has finished, set it aside while you make the rest of the ingredients and turn the oven down to 400° Fahrenheit.

Prep bacon, cauli rice, broccoli, mushrooms and garlic as noted.

Heat a large skillet over medium heat. Add in diced bacon and cook, stirring occasionally, until it just starts to get crispy, about 6-7 minutes. Remove and place on a paper towel lined plate.

Now, prepare the creamy sauce. Using the same pan you cooked the bacon in over medium heat, add mushrooms and cook until they begin to soften, about 2 minutes. Add in the arrowroot flour and minced garlic and stir around to mix well with the mushrooms, about 1-2 minutes.

Next, slowly add in the coconut milk, stirring constantly for 2 minutes. Be sure to mix well to dissolve all of the flour into the milk (you don't want any flour clumps). Use a whisk to mix if needed. The sauce will bubble and thicken, keep stirring to prevent burning. After 2 minutes turn heat down to low and simmer. Stir in salt and pepper.

Now, put everything together. Grease a 9×13 baking dish with butter, ghee or coconut oil. Chop the cooked chicken into bite sized pieces.

Add the cauliflower rice, broccoli, chicken, bacon and creamy sauce to the baking dish.

Carefully mix everything together well with a spoon.

Place back in the oven to bake for 20-25 minutes. Remove and allow to cool at least 5 minutes before serving.