Looking for some delicious gluten free muffins? We have recipes for healthy banana muffins, blueberry, pumpkin, zucchini, chocolate chip and more!
The Best Gluten Free Flours
There are a lot of different gluten free flours out there, but here are some of my favorites for baking:
Almond Flour – a lower carb flour that isn't too dense
Tapioca Flour – pairs well with almond flour in baking recipes
Coconut Flour – another lower carb option and great for nut-free baking
Cassava Flour – great nut-free option
Our go-to brand for gluten free flours is Bob's Red Mill. You can order them online or find them in most stores.
Looking for more? Check out all of our healthy breakfast recipes!
Gluten Free Banana Muffins
Banana muffins are where it's at! Since they are naturally sweetened with bananas, these muffins don't require much extra sweetener, just a little maple syrup. Of course, you can slather them in the optional glaze if you want to :).
1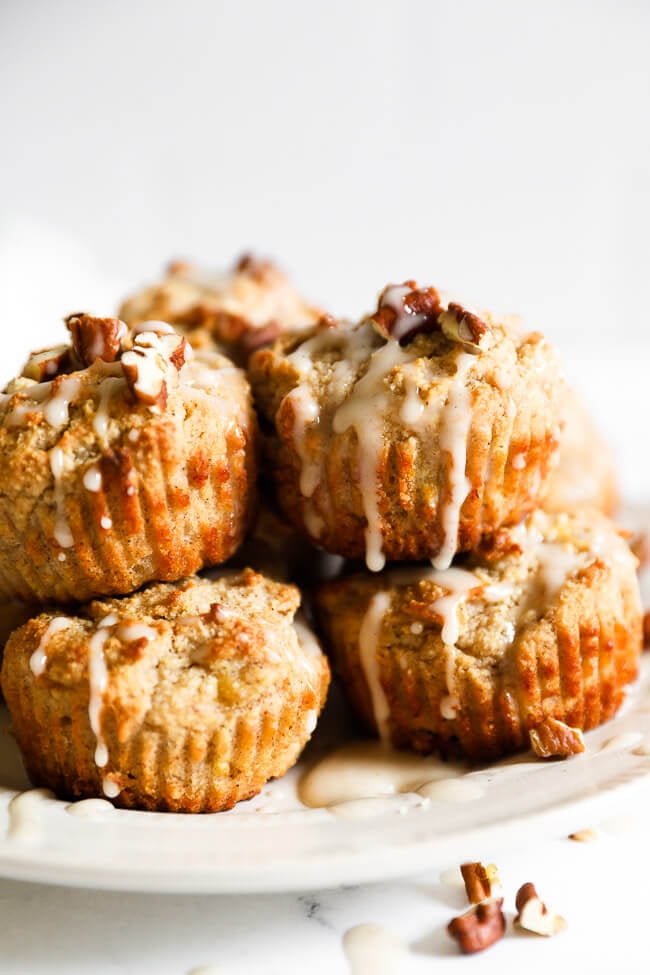 Healthy Gluten Free, Vegan Banana Muffins
The center of these banana muffins comes out a little gooey with golden brown outer edges. And with the dreamy maple pecan glaze, you're going to love this healthy banana muffin recipe!
Get the recipe
Gluten Free Blueberry Muffins
Blueberries are the perfect fruit to mix in with muffins. You can use either fresh or frozen berries in this recipe and the lemony twist is the perfect combo!
2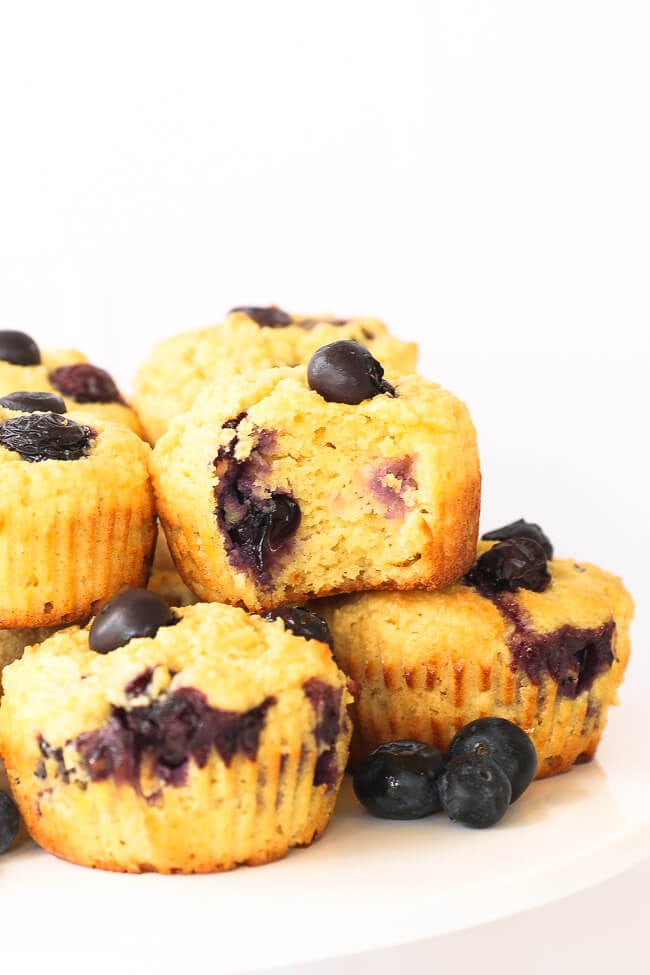 Easy Gluten Free Lemon Blueberry Muffins
Mixed up in one bowl, these gluten free lemon blueberry muffins are easy to make in just 35 minutes. They're made with lemon zest and juice and fresh or frozen blueberries.
Get the recipe
Gluten Free Chocolate Chip Muffins
I know that everyone loves chocolate muffins. These recipes are perfect for chocolate lovers but aren't loaded with refined sugar or corn syrup for a healthier twist.
3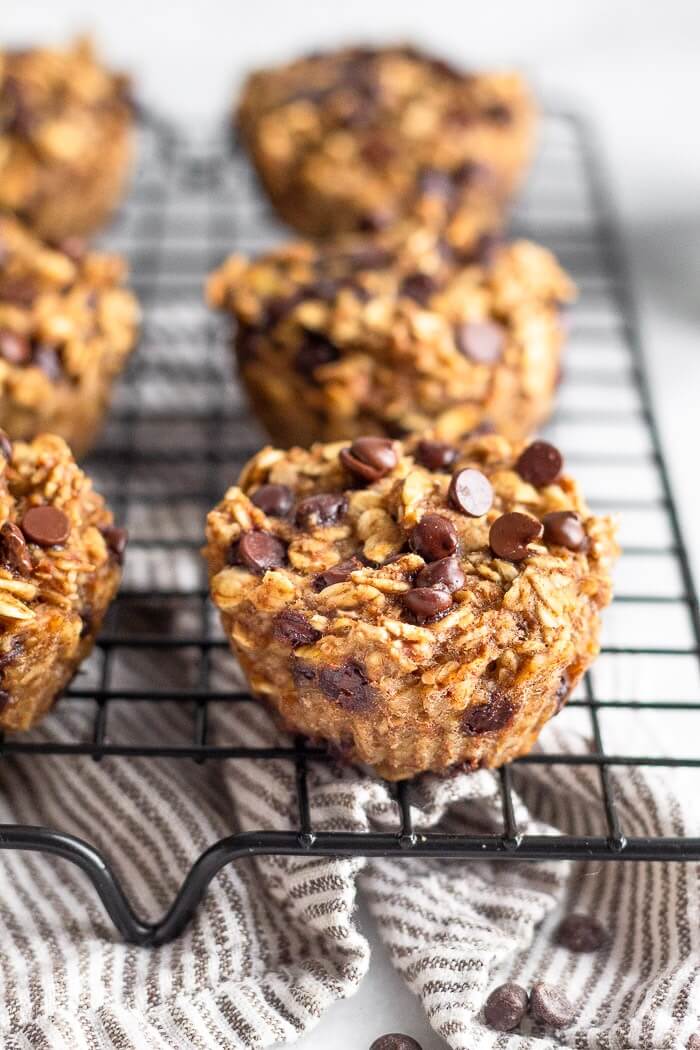 Oatmeal Chocolate Chip Muffins from Eat the Gains
Baked Oatmeal Chocolate Chip Muffins made with rolled oats, bananas, cinnamon, and loaded with chocolate chips. They make the perfect make ahead healthy muffin recipe.
Get the recipe
4
Gluten-Free Double Chocolate Muffins from Bakerita
These Gluten-Free Vegan Double Chocolate Muffins are tender, super chocolatey, and absolutely delicious. They are perfect for chocolate lovers!
Get the recipe
5
Chocolate Chip Protein Muffins from Cotter Crunch
Protein muffins bursting with chocolate chips may not sound healthy, but these are! Make this muffin recipe for a wholesome breakfast or snack.
Get the recipe
Gluten Free Pumpkin Muffins
I can pretty much eat pumpkin flavored anything year-round, what about you? If not, when fall rolls around and you need to fill your pumpkin craving, these pumpkin muffins will hit the spot.
6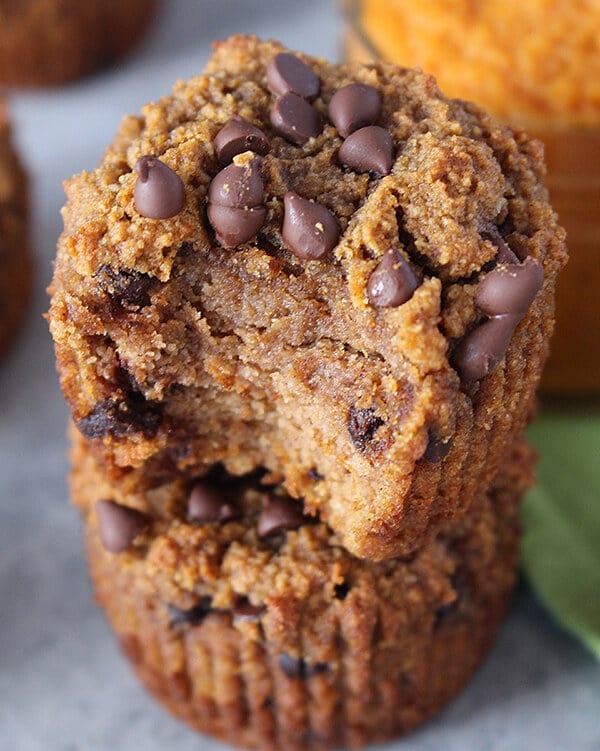 Paleo Pumpkin Muffins from Real Food with Jessica
These Paleo Pumpkin Muffins are so easy to make and incredibly delicious! They make a great breakfast, snack or even a dessert.
Get the recipe
Gluten Free Zucchini Muffins
If you have a bunch of zucchini and don't know what to do with it, make these zucchini muffins? Great for meal prep, you can make batch when you have time and pull one out for a snack or breakfast when you need it.
7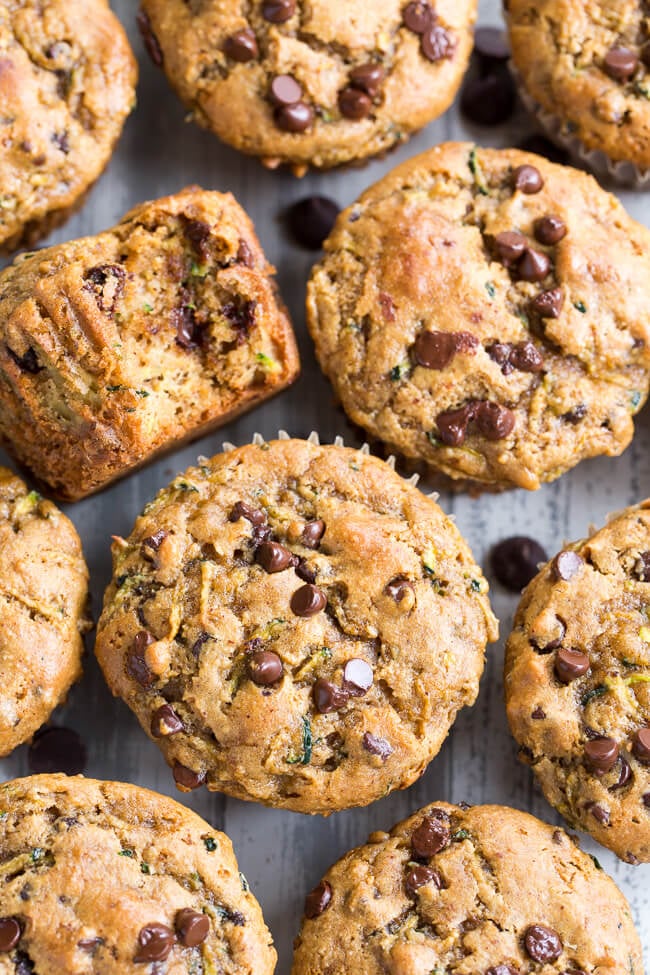 Chocolate Chip Zucchini Muffins from Paleo Running Momma
These chocolate chip zucchini muffins are seriously tasty with a soft, moist texture and the perfect amount of sweetness. They're loaded with chocolate chips and, of course zucchini – though you can't taste the veggies at all!
Get the recipe
Lemon, Orange, Coffee Cake + More
If you don't love the other muffin recipes in this roundup, you're sure to find one you like here! Choose from sweet coffee cake, lemon poppy seed, orange cranberry and hearty morning glory muffins.
8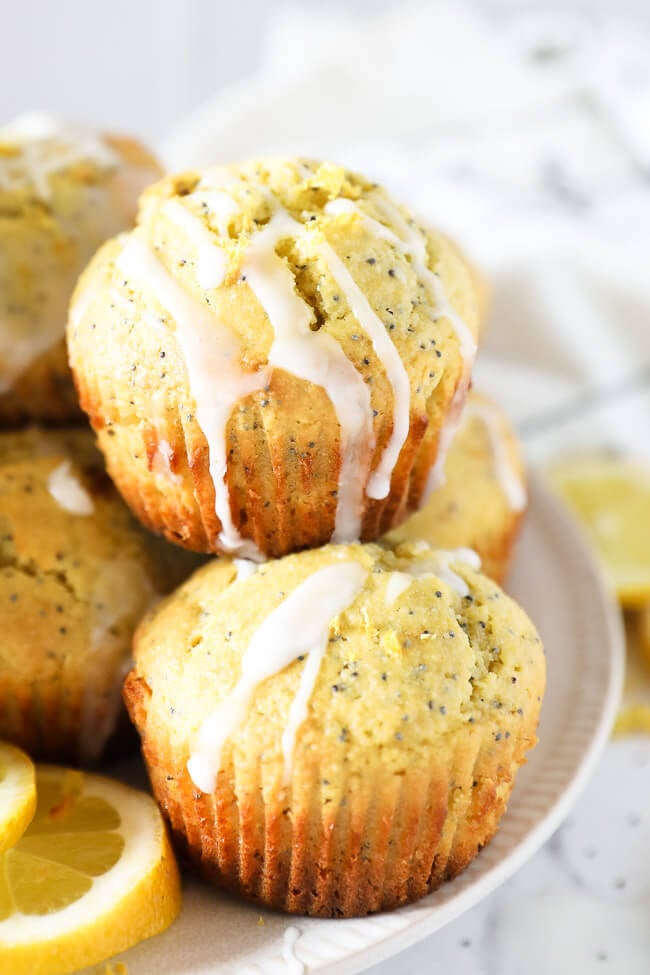 Gluten Free Lemon Poppy Seed Muffins
This one bowl, healthy and gluten free lemon poppy seed muffin recipe is made in just 35 minutes. Made with almond flour, tapioca flour and a lemon glaze!
Get the recipe
9
Morning Glory Breakfast Muffins (Paleo, Vegan + Nut-Free option)
These Paleo + Vegan morning glory muffins are a hearty breakfast muffin loaded with raisins, apples, carrots, pecans (optional) and some basic spices!
Get the recipe
10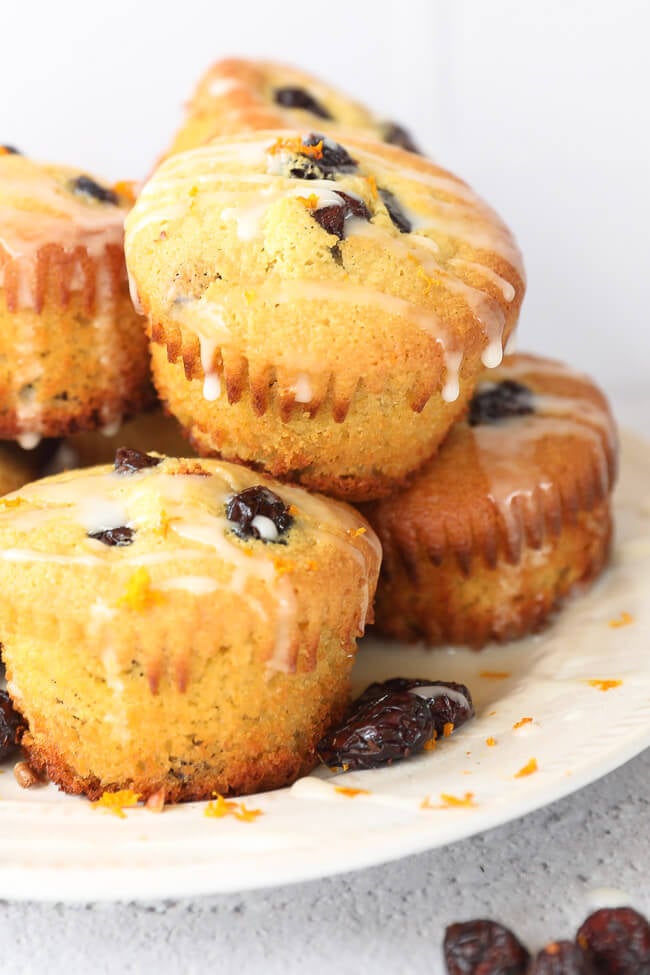 Easy Gluten Free Orange Cranberry Muffins
These gluten free orange cranberry muffins are quick and easy to make in just one bowl in 35 minutes. Easily modified to be vegan friendly too.
Get the recipe
11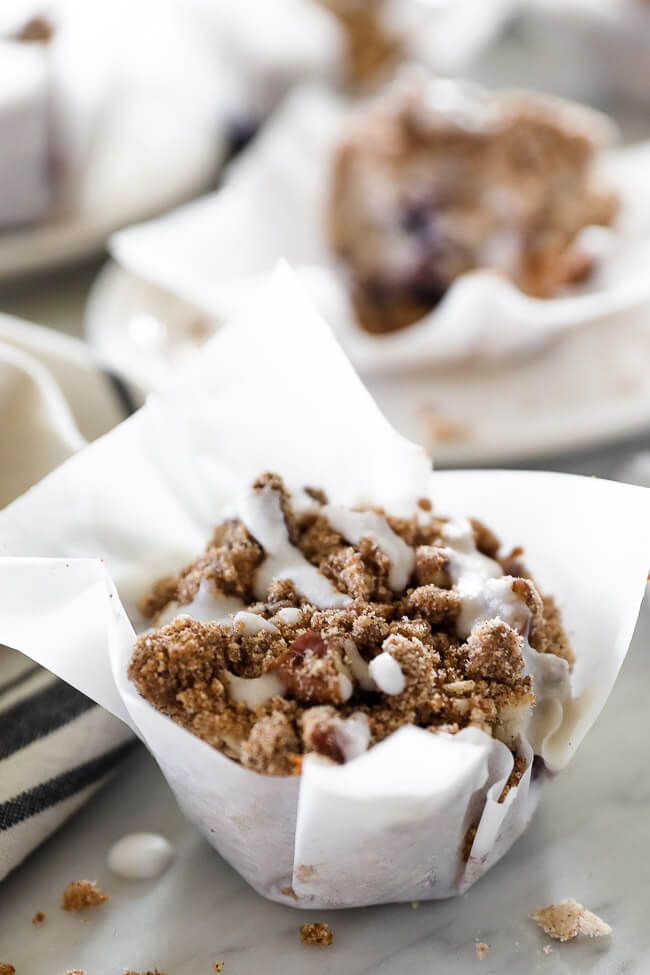 Coffee Cake Muffins (Paleo, Vegan + Nut-Free Option)
These Paleo, Vegan, Gluten-Free + Refined Sugar-Free coffee cake muffins hit the spot every time! There's a Nut-Free option in case you need that as well!
Get the recipe
---
Like this Recipe?
SHARE IT NOW OR PIN IT FOR LATER!
---
---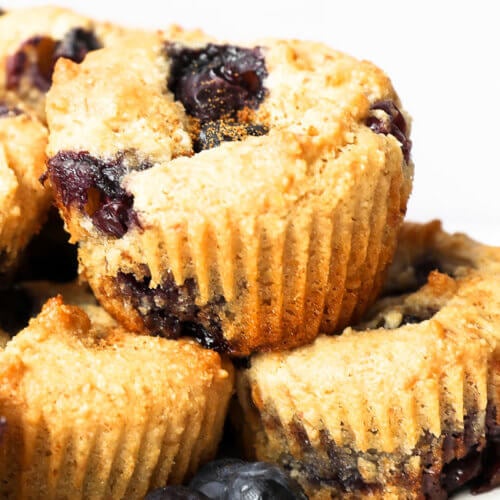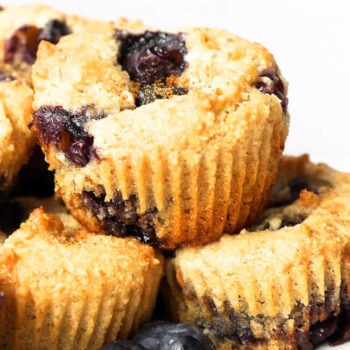 Get the Recipe:
10+ Gluten Free Muffin Recipes: One-Bowl Blueberry Muffins
Made in one bowl in just 40 minutes, these gluten free blueberry muffins are easy to make and filled with juicy blueberries. Plus, we have rounded up more gluten free muffin recipes for you to try!
Instructions
Preheat oven to 350° Fahrenheit and line a muffin pan with parchment liners.

In a large mixing bowl, whisk almond flour, tapioca flour, baking powder and sea salt. Make sure there are no clumps. Make a hole in the center of the flour mixture.

Add eggs, maple syrup, coconut oil and vanilla extract to the hole. Whisk and then combine the wet and dry ingredients until smooth, and fold in blueberries.

Scoop mixture into lined muffin tin, and transfer to oven. Bake for about 30 minutes, or until a toothpick comes out clean. They may cook a little faster if you use freeze dried blueberries – check them at 25 minutes.

Once muffins have cooled, serve and enjoy. Store in an airtight container in the fridge to keep longer. If you use freeze dried blueberries they will keep a little better on the counter.