With regular and sweet potato noodles, a savory sauce, pork and onions, this healthy pork casserole is the ultimate healthy comfort food. If you you are looking for a filling traditional comfort food dish for your Whole30, you just found it!
Easy peasy with ground pork
A lot of pork casseroles feature pulled pork. Instead of a recipe that required making a completely separate batch of pulled pork, we opted for ground pork in this casserole. Ground pork is cheap and adds a lot of savory flavor. It also mixes well with the potatoes and takes on the savory sauce, it's really the perfect ingredient!
The sauce does it all
The sauce in this healthy pork casserole recipe is super simple, yet adds amazing depth of flavor. When you first mix it up you might ask yourself, is this enough sauce for this big casserole? The answer is yes – a little goes a long way and we didn't want to overpower all of the other ingredients in the dish with the sauce.
How do you keep the zucchini noodles from getting soggy?
Zucchini noodles are full of water, so you'll need to squeeze it out before you add them in to this recipe. If you don't, the casserole will get kind of "soupy" when it cooks. It's really easy, just wring out the noodles with your hands using a towel or paper towel to absorb the moisture. Pat them dry and they should be good to go!
What if I don't have a spiralizer?
If you don't have a spiralizer, you should really think about getting one! If you are on the Paleo or Whole30 diet, or just trying to eat more veggies, spiralizing vegetables is an easy way to make exciting dishes! We use the Paderno Spiralizer and love it. Alternatively, you can turn veggies into noodles without a spiralizer using the methods in this video.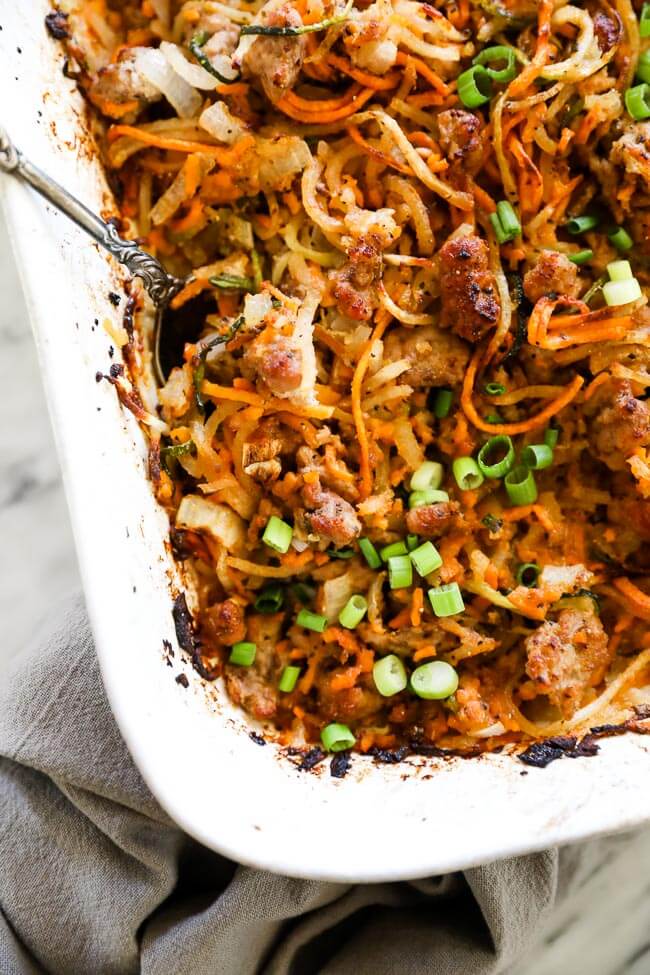 Some other healthy casseroles
Your turn to make this healthy pork casserole
Get your spiralizer out, and prepare to dig in to some healthy comfort food! Everyone who tries this recipe will be amazed that it's Paleo and Whole30 approved. Let us know how it goes if you try it! Also, take a pic to share on Instagram, and tag us @realsimplegood so we can see. Make sure to give us a follow if you don't already. We'd love to stay connected!
---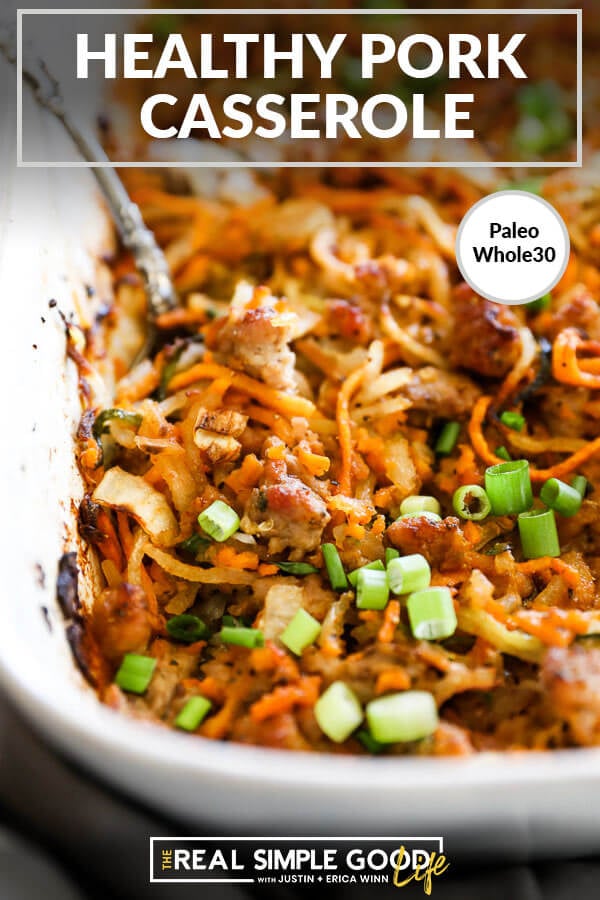 ---
Like this Recipe?
SHARE IT NOW OR PIN IT FOR LATER!
---
---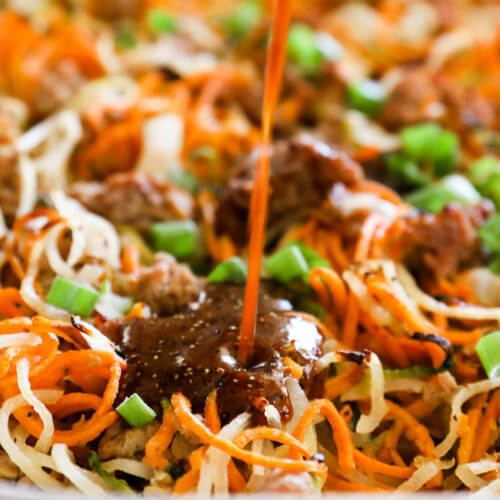 Get the Recipe:
Healthy Pork Casserole (Paleo + Whole30)
With regular and sweet potato noodles, a savory sauce, pork and onions, this healthy pork casserole is the ultimate Paleo + Whole30 healthy comfort food.
Ingredients
2 tbsp ghee, (or sub avocado oil)
1 medium zucchini, spiralized
1 sweet potato, spiralized
1 regular potato, spiralized
1 onion, diced
2 tbsp avocado oil
1.5 lbs ground pork
Salt and pepper
3 green onions, diced
Instructions
Preheat oven to 400° Fahrenheit and grease a 9×13 casserole dish with ghee.

Spiralize the zucchini first. Using a cheesecloth, clean towel or paper towels, squeeze the excess moisture out of the zucchini noodles. Pat dry with a fresh paper towel and set aside.

Spiralize the sweet potato and regular potato. Dice onion. Place the onion, zucchini and potato noodles in the casserole dish. If the noodle strands are too long, you can cut them into smaller pieces with scissors.

Toss the vegetable noodles with avocado oil and salt and pepper (about 1/2 tsp each).

Next, break the ground pork into small pieces with your hands and nestle the pieces of pork in amongst the noodles.

Roast in the oven for a total of 40 to 50 minutes, stirring every 10-15 minutes to make sure the veggies cook evenly. Watch them closely in the last 10 minutes to ensure that they don't burn. If you want to crisp up the top of the noodles, you can switch the oven to broil at the end, for the last 5 minutes or so.

While the veggies and pork are cooking, prepare the sauce by placing all of the sauce ingredients into a bowl or jar and whisking well. Chop green onions as noted.

Once the noodles and pork are done, remove from the oven. Sprinkle the green onion over everything. Pour the sauce over the veggies and toss to mix.

Serve and enjoy.