This recipe for healthy strawberry crumble uses fresh strawberries and an almond flour-based crumble topping. Only 10 minutes of baking required. We love it when a simple dessert recipe is so satisfying—and you will too!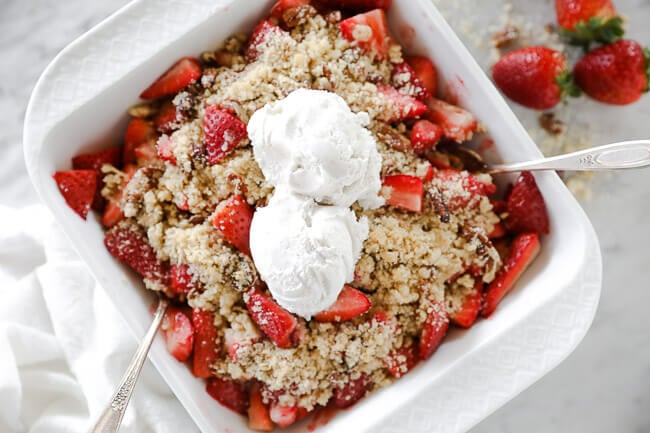 How to make strawberry crumble
This fresh strawberry recipe is so easy to prep and only takes about 10 minutes to bake! Here's what you'll do:
Prep the strawberry filling by mixing the strawberries, tapioca flour, maple syrup and sea salt in a bowl.
Make the crumble topping by mixing the almond flour, maple sugar, ghee, sea salt and chopped pecans.
Place the filling in a baking dish, top it with the crumble topping and bake for 10 minutes.
Looking for more? Check out all of our healthy dessert recipes!
Some notes on the strawberry crumble topping
The topping can easily be modified to suit your taste and ingredients on hand. Here are some options:
Since the recipe doesn't call for a crust, you could easily double the topping and spread half on the bottom of the baking pan and the other half on top of the strawberries.
Another sugar like coconut sugar can be subbed for maple sugar.
You could also use coconut oil in place of the ghee in this recipe.
Speaking of topping, don't forget the ice cream for serving!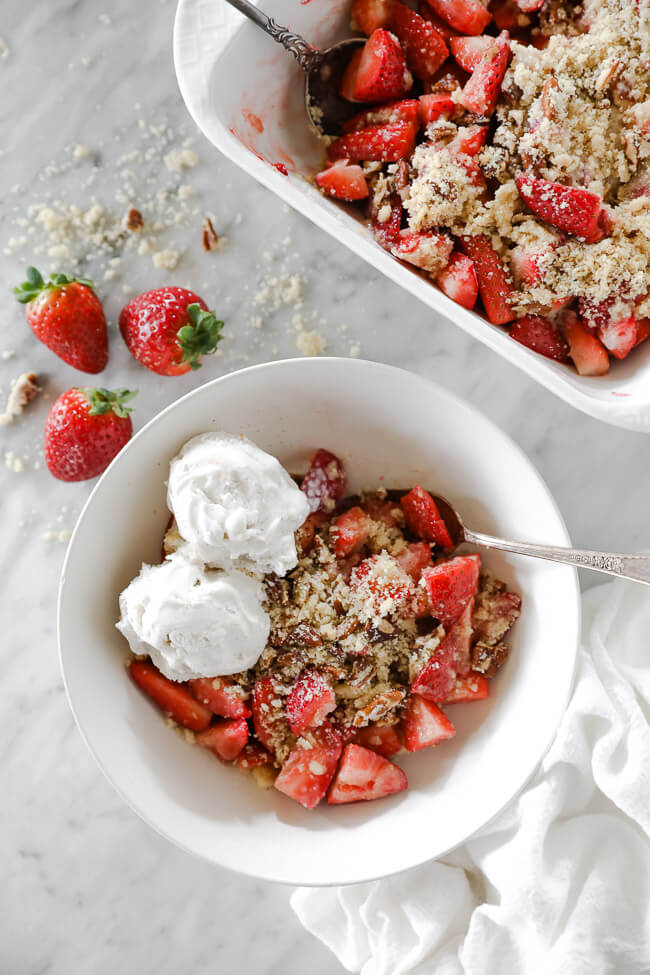 Don't overcook the strawberries in this healthy crumble
It happens fast – the strawberries can go from retaining a little bit of their texture to a soupy mess real quick. We like to bake this crumble for just about 10-12 minutes. The strawberries end up warmed up, but not overly mushy.
Also, if you bake for too long, the crumble topping just kind of gets cooked into the mushy strawberries and loses it's texture as well. So, the lesson here is to just bake long enough to warm the strawberries through and serve it up right away!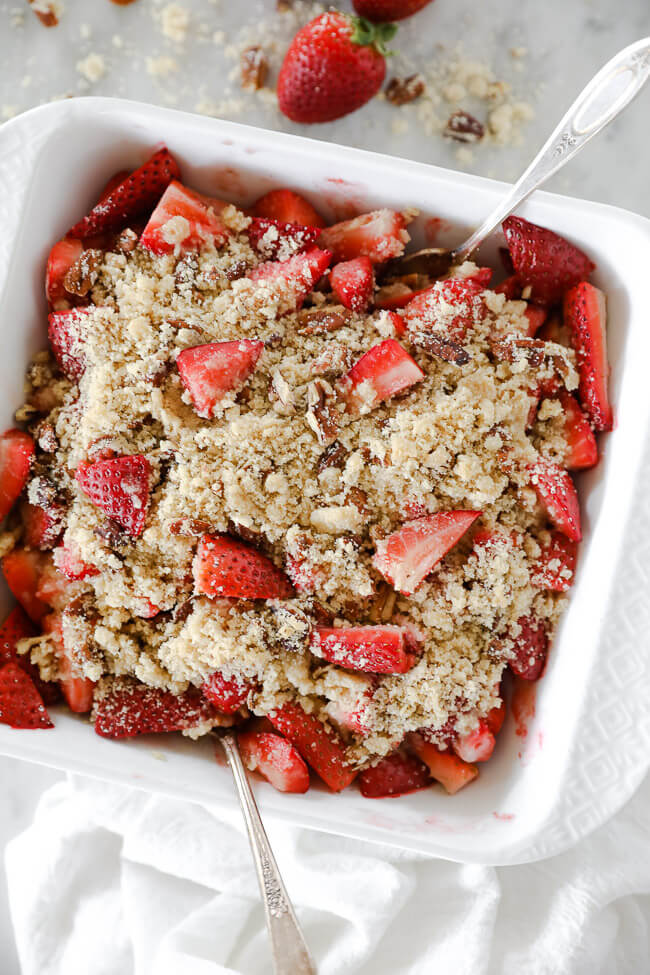 Ideas for optional toppings
Don't forget you can throw some optional toppings on your strawberry crumble to jazz it up a bit. Here are some options:
A scoop (or two 😉 ??) of regular or dairy-free ice cream
A drizzle of balsamic reduction (think thick and sweet balsamic)
Some warm coconut butter
Melted dark chocolate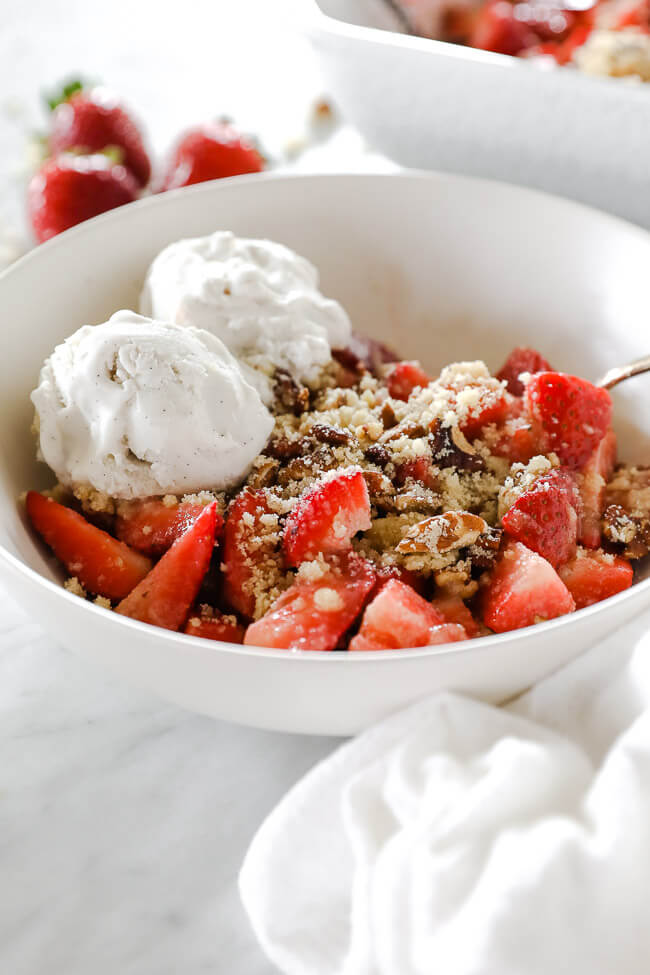 More fresh strawberry recipes
Want more? Check out this roundup of 50 Paleo desserts!
Give this healthy strawberry crumble a try!
Make up a batch of this strawberry crumble and enjoy the spring and summer flavors and treats, just a little bit healthier! Leave a comment below and let us know how it goes.
Also, take a pic to share on Instagram, and tag us @realsimplegood so we can see and maybe even share in our stories, too! And if you don't already, make sure to give us a follow – let's stay connected!
---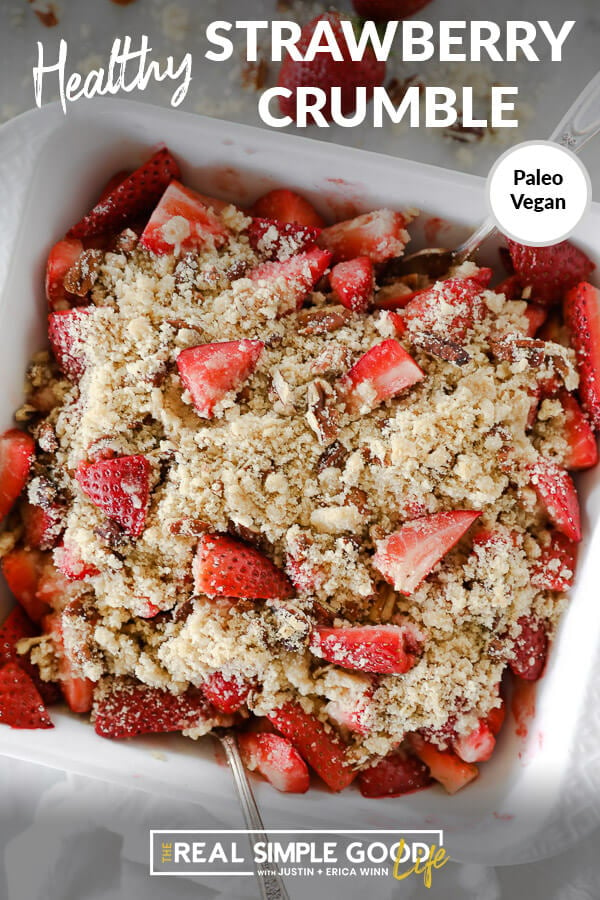 ---
Like this Recipe?
SHARE IT NOW OR PIN IT FOR LATER!
---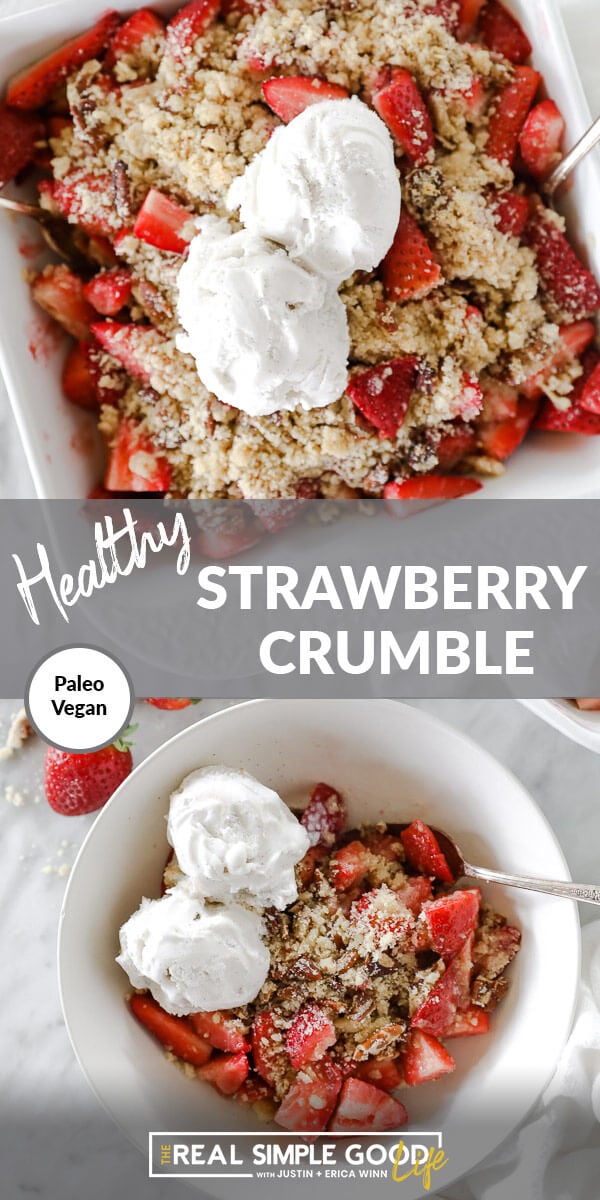 ---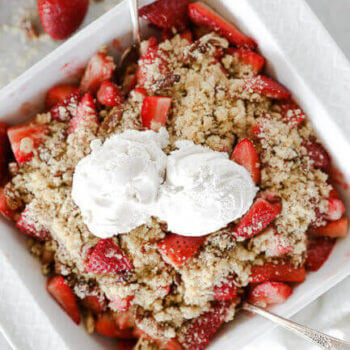 Get the Recipe:
Healthy Fresh Strawberry Crumble (Paleo)
This recipe for healthy strawberry crumble uses fresh strawberries and an almond flour-based crumble topping. So simple, so delicious!
Ingredients
For the strawberry filling:
For the crumble topping:
1/2 cup blanched almond flour
1/4 cup maple sugar, (or coconut sugar)
1/4 cup ghee, room temperature, (or coconut oil for Vegan)
1/4 tsp sea salt
1 cup pecans, chopped
Instructions
Preheat oven to 350° Fahreheit.

Prep strawberries as noted and place in a mixing bowl. Toss with the rest of the strawberry filling ingredients, and place in baking dish.

Re-use the same mixing bowl and add all of the crumble topping ingredients, except for the chopped pecans. Use a fork to combine the mixture until it gets crumbly.

Stir in the chopped pecans, and sprinkle crumble on top of the strawberry mixture.

Place in the oven, and bake for 10-12 minutes, until strawberries are just heated through so they don't get overly mushy. They'll continue to soften after removed from the oven.

Remove and serve. It goes great with a scoop of vanilla coconut milk ice cream. Enjoy!