Healthy Summer Salad Roundup
We are officially in the dog days of summer. It's hot, it's sticky, and the last thing you want to do is turn on the oven or even the stove to cook a meal.
Luckily, fresh produce is in abundance this time of year. Gardens are overflowing with fresh goodies and the markets are packed with some of the best fruits and vegetables you can find. So instead of heating up the kitchen, turn to one of these cool, fresh, unique and healthy summer salad recipes for your next healthy meal.
1. Cauliflower Couscous Salad with Apricots and Cashews
Loveleaf Co. / via loveleafco.com
We use a lot of cauliflower "rice" in a lot of our meals, but this is a unique take on making a cauliflower "quinoa". The dressing might be the best part though. Get the recipe here.
2. Chicken Salad Stuffed Avocados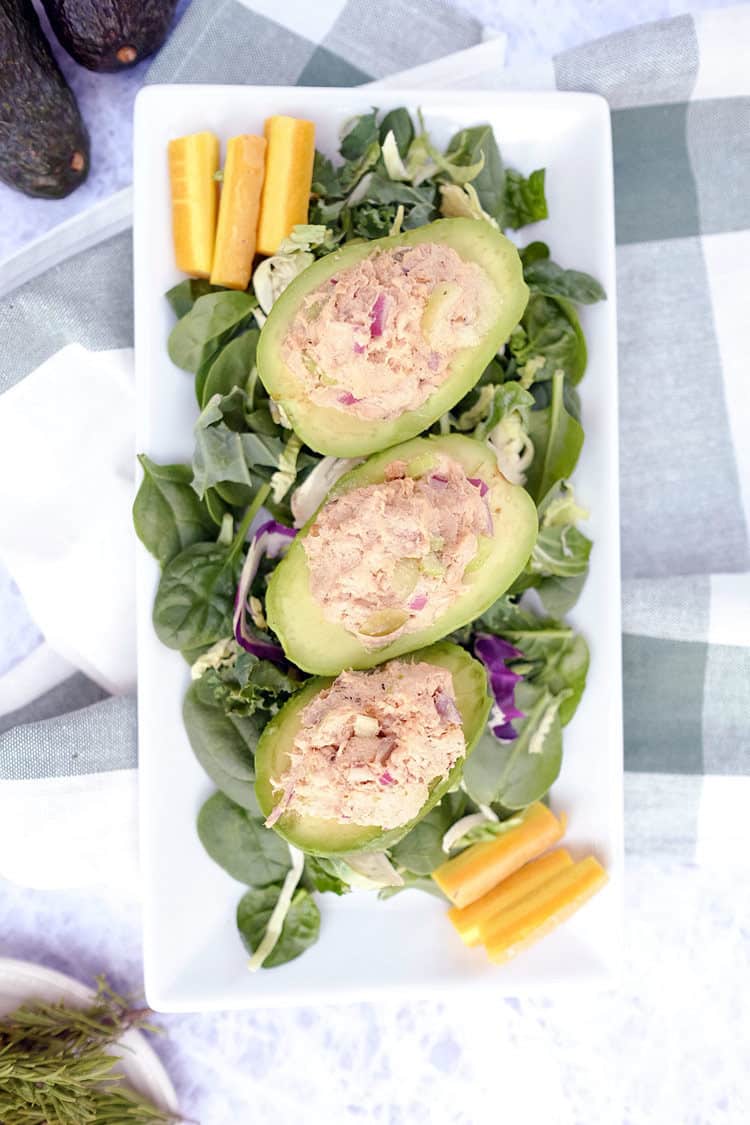 Real Simple Good / via realsimplegood.com
Not only are avocados super healthy, they are also packed with good fats which will help to prevent you from hitting that afternoon wall. Packed with protein from shredded chicken, these stuffed avocados are a complete meal. Get the recipe here.
3. Brussels Sprout and Cabbage Salad
Paleo Leap / via paleoleap.com
This beautiful salad combines the crunch of raw cabbage and celery with the sweetness of apple slices and shaved brussels. Yum. Get the recipe here.
4. Buratta Caprese
Real Simple Good / via realsimplegood.com
Creamy burrata cheese and large slices of heirloom tomatoes are the star of this fresh and vibrant salad. If you have fresh tomatoes in your garden, go make this salad NOW. Get the recipe here.
5. Master Green Detox Salad
detoxdiy / via detoxdiy.com
A large dose of kale and broccoli combined with a the tart flavor of grapefruit make this flavor packed salad a must try. Get the recipe here.
6. Summer Citrus Salad
Real Simple Good / via realsimplegood.com
Who says vegetables have to be the star of the show? This salad lets those summer citrus flavors shine. Get the recipe here.
7. Paleo Sweet Potato Salad with Bacon and Eggs

Paleo Running Momma / via paleorunningmomma.com
A good potato salad is a staple of summer. This Paleo version uses Japanese sweet potatoes, homemade mayo, and bacon. You had me at bacon. Get the recipe here.
8. Berry Bliss Salad with Spicy Mango Poppy Seed Vinaigrette
The Clean Dish / via thecleandish.com
Use any fresh summer berries you have on hand to make this berryriffic salad. Berryriffic is a word right? Get the recipe here.
9. Paleo Pesto Chicken Salad
Foraged Dish / via forageddish.com
It's no secret that we love pesto. We could put it on just about anything. Why not use it in a salad? Get the recipe here.
10. Smoky and Sweet Broccoli Chicken Salad
Real Simple Good / via realsimplegood.com
Smoky bacon and paprika, crunchy almond slivers and broccoli, creamy mayo, shredded chicken and sweet grapes create a salad full of different flavors and textures. Get the recipe here.
---
WANT TO TRY THESE RECIPES? CLICK HERE TO PIN AND TRY THEM LATER!