Simple, easy and quick dinners always end up being our favorite! It's so nice to not have to bust your tail in the kitchen after a long day at work. These healthy teriyaki chicken lettuce wraps are not only super tasty, but also a total breeze to make!
A Clean Teriyaki Sauce
Store bought sauces and marinades can contain an array of not-so-good ingredients, like sugar, preservatives, dyes and other additives. For some reason the idea of making a sauce at home can sound a little daunting, but we promise it's really not hard at all! The sauce for these teriyaki chicken lettuce wraps only uses 6 ingredients and you can pronounce them all.
We use arrowroot flour in our teriyaki sauce much like you would use a cornstarch to thicken a sauce. If you don't have arrowroot flour on hand, tapioca flour or even cassava flour will do as well. And, for more inspiration on homemade sauces and marinades, be sure sure to check out our post called 5 Easy Homemade Marinade Recipes. They're a great way to add extra flavor to any protein!
Quick + Easy 30 Minute Meal
These healthy teriyaki chicken lettuce wraps are super simple to prepare and will come together in 30 minutes. Once you get the sauce going and prep some green onions and the lettuce leaves you'll use as the wraps, it's all about making the chicken. We used ground chicken, so it's as easy as cooking it in a large skillet on the stove. Once the chicken is done and the sauce has been added, get ready to start filling up your lettuce leaves with all of the deliciousness.
The Best Lettuce For Lettuce Wraps
We love a broad leaf green, like bibb, butter, romaine or chard. While iceberg lettuce works well, there isn't much in the way of nutritional content, so we prefer to go with a more nutrient dense option. You'll have to let us know what your favorite greens are for these healthy teriyaki chicken lettuce wraps.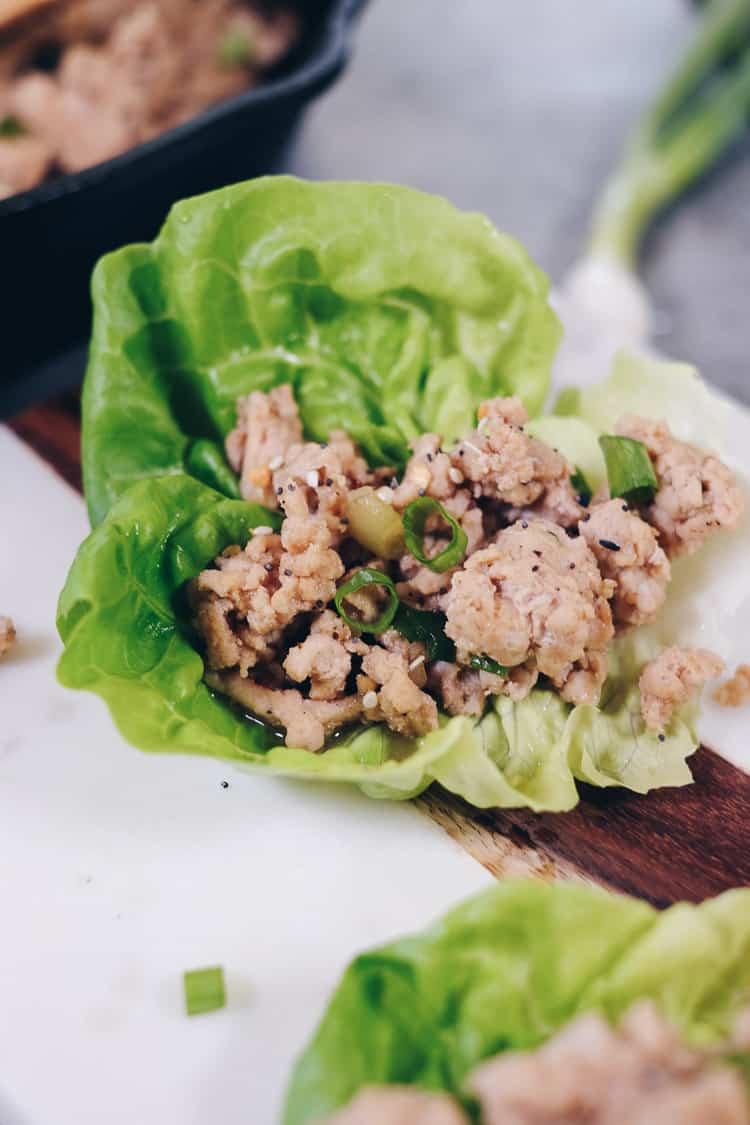 Your Turn To Try Our Healthy Teriyaki Chicken Lettuce Wraps
Looking for a quick, easy and family friendly meal for a busy weekday? These teriyaki chicken lettuce wraps are it! With only simple ingredients, you'll have this dish on the table in 30 minutes and the whole family will enjoy stuffing their lettuce leaves. Let us know how it goes by leaving a comment below. Also, take a photo and tag us on Instagram @realsimplegood, so we can check it out!
LIKE THIS RECIPE? PIN IT AND TRY IT LATER!
---
Get the Recipe:
Healthy Teriyaki Chicken Lettuce Wraps (Paleo, GF, Soy-Free + Refined Sugar-Free)
Simple, easy and quick dinners always end up being our favorite! These Healthy Teriyaki Chicken Lettuce Wraps are a total breeze to make and Paleo friendly!
Ingredients
For the chicken wraps:
1 tbsp avocado oil
2 lbs ground chicken
6 green onions, diced, (the white and green parts are used in separate steps)
2 bunches broad leaf greens, (bibb, romaine, chard, etc.)
Salt and pepper
Instructions
Make teriyaki sauce by combining coconut aminos, maple syrup, apple cider vinegar, garlic, ginger and flour in a small sauce pan. Stir with a whisk until everything is evenly blended. Be sure to remove any lumps from the flour.

Bring the sauce to a quick boil and then turn down to a low simmer while you cook the chicken. Stir the sauce occasionally and it should thicken as it simmers.

Cut up onions and prepare lettuce leaves.

Heat a large skillet over medium heat and add in avocado oil. Once hot, add the chicken and the white portion of the green onion. Mix everything together and break the chicken into small bits. Season with salt and pepper. Cook, stirring occasionally, until the chicken is browned and cooked through about 8-10 minutes.

Once the chicken is browned, add in the green part of the onions and the teriyaki sauce. Stir to mix and cook for another 2 minutes.

To serve, spoon chicken mixture into lettuce leaves and enjoy.