There's just something extra cozy about a big bowl of soup on a cool fall day. Truthfully, I love soup all year long, but it is especially delicious and soul-satisfying in the fall and winter. This healthy zuppa toscana is a brilliant way to enjoy a creamy, dairy-free soup as we transition into fall.
Inspired By A Restaurant Favorite
This recipe was created and inspired by the Olive Garden favorite. I mean what's not to love, it's the perfect soup to dip those tasty garlic breadsticks in. Really, don't pretend like you never did it! And if you really haven't, while your health is probably better for it, you definitely missed out! It was a tasty combo and one that was a go-to for the lunch soup and salad combo. That said, I think we can probably all agree that a healthier and Paleo version is a great way to recreate this gem. And Justin was kind enough to make it with cauliflower rather than potatoes, so I can enjoy it too! I love potatoes and while they are definitely Paleo approved, I don't tolerate them well. Our healthy zuppa toscana is Paleo, Whole30 compliant, potato-free and dairy-free.
Dairy-Free + Delicious
Sometimes we miss dairy. It's true. However, we've found lots of ways to achieve the creamy goodness without the added dairy. In this healthy zuppa toscana we used coconut milk, which we've found to be a great substitute for dairy in lots of recipes. Coconut milk is thick and super creamy like whole milk, and when combined with other spices and garlic like we've done in this recipe, you can't even really taste the coconut flavor. We also love that ditching the dairy allows us to make this soup Whole30 compliant.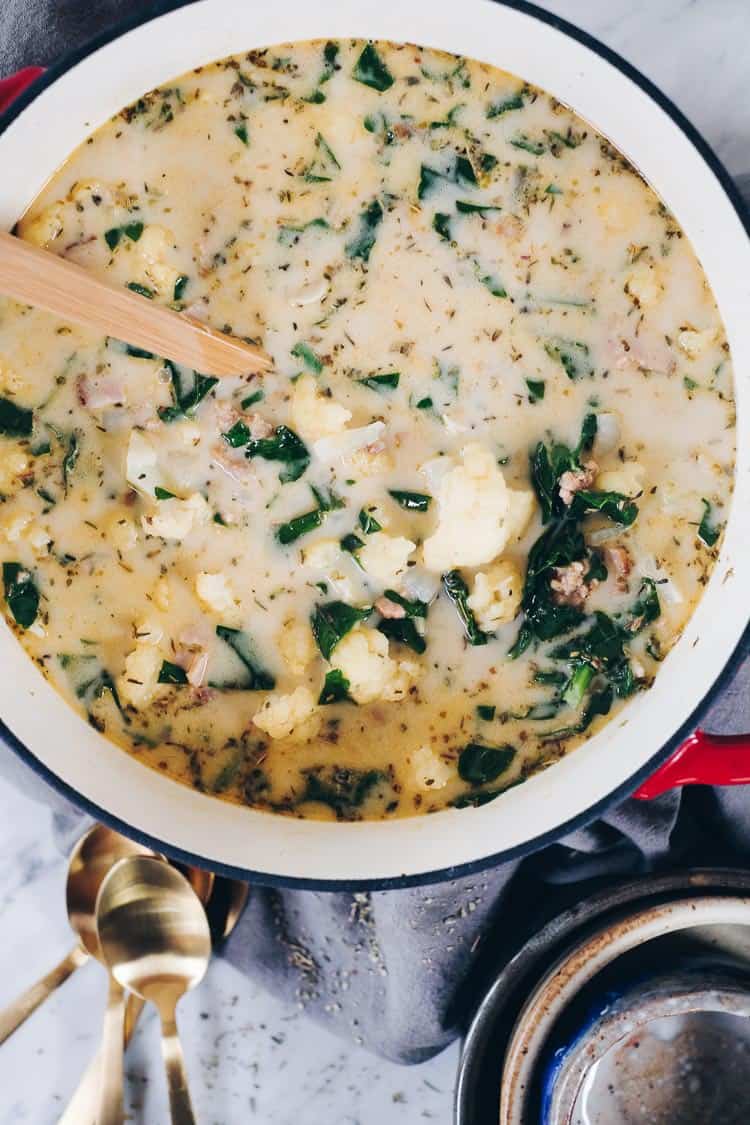 A Little Bit Smoky, Spicy And Filled With Textures
I love the flavors of this soup! They're just so balanced and hearty, and the textures are equally amazing. I love the ground Italian sausage, cauliflower and wilted kale. Add a little bacon, and life is pretty much complete. It's smoky, a little spicy and creamy good! Our healthy zuppa toscana is really just packed with goodness, and a total comfort food recipe.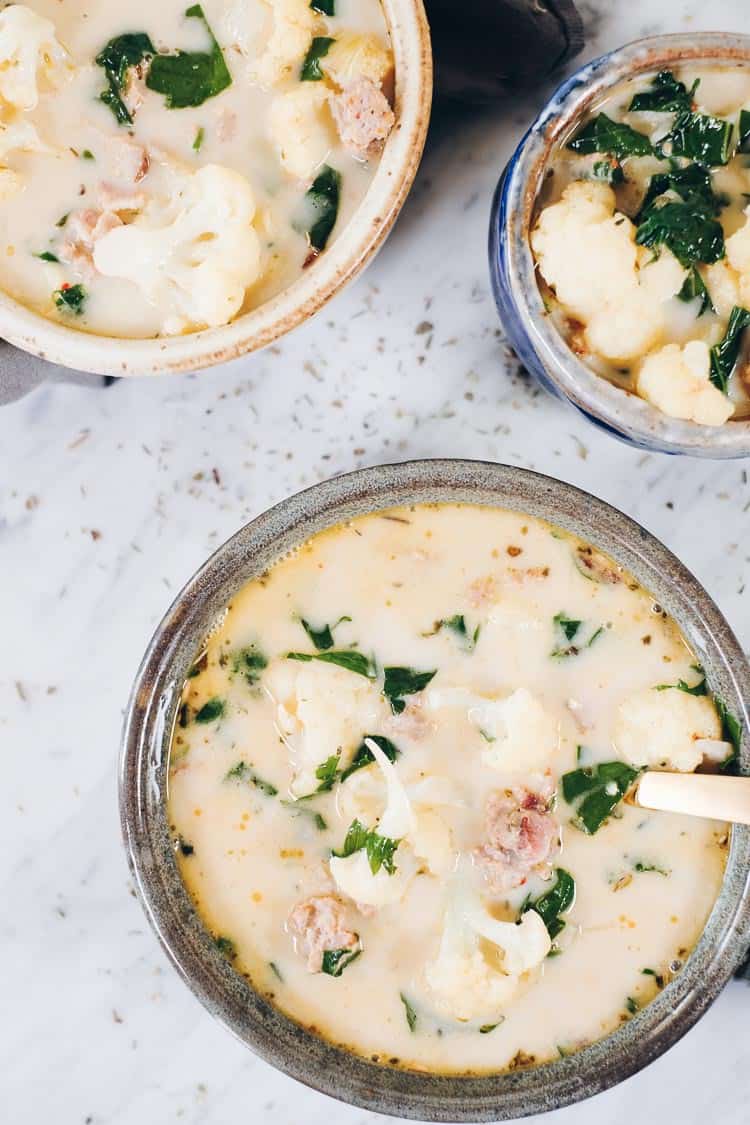 Your Turn To Make Our Healthy Zuppa Toscana
Get ready to feel completely cozy with this healthy zuppa toscana! It's soul-satisfying and dang tasty! Let us know how it goes by leaving a comment below. Also, take a photo and tag us on Instagram @realsimplegood, so we can check it out!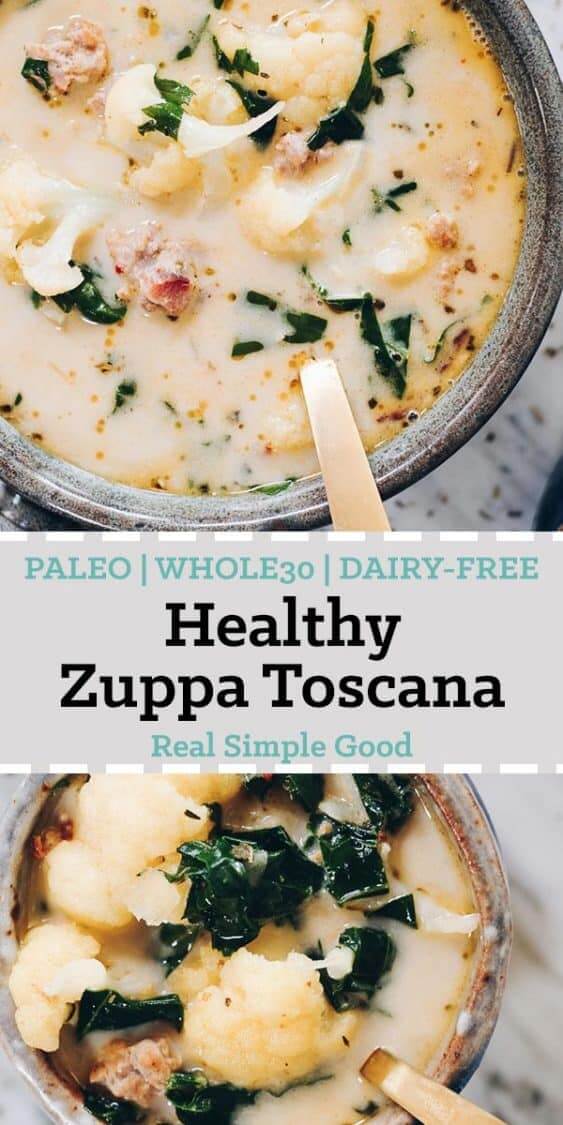 ---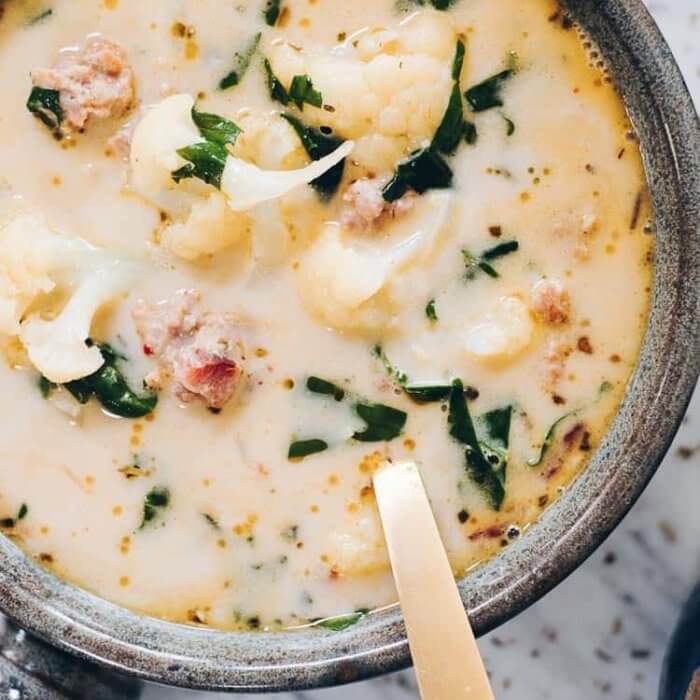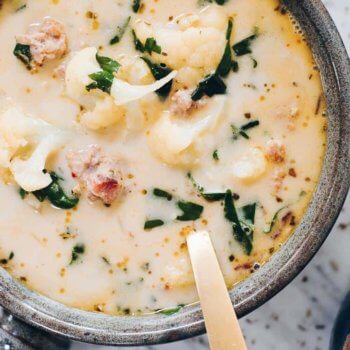 Get the Recipe:
Healthy Zuppa Toscana (Paleo, Whole30 + Keto)
There's something extra cozy about a big bowl of soup on a fall day. This Whole30 Healthy Zuppa Toscana is a great way to enjoy a creamy, dairy-free soup!

Ingredients
6 pieces bacon, diced
1 lb ground Italian sausage
1 onion, diced
4 cloves garlic, minced
1 head of cauliflower, cut into small florets
4 cups kale, chopped
2 tbsp Italian seasoning
6 cups chicken broth
1 cup coconut milk
Salt and pepper, to taste
Instructions
Dice bacon and chop onion and garlic.

In a large stock pot or Dutch Oven over medium heat, add bacon and Italian sausage to cook. Cook, stirring occasionally, until the meat is browned and developing crispy bits, about 10-12 minutes.

While the meat is cooking, prepare cauliflower and kale as noted.

Once the meat is browned, add in the onion and cook for another 3-4 minutes. Then, add in the garlic and Italian seasoning and cook for another 1-2 minutes.

Add the chicken broth and cauliflower. Bring to a boil. Then, reduce heat, cover and simmer for 10 minutes.

Remove cover and add the kale and coconut milk. Simmer an additional 5 minutes until the kale is wilted.

Taste and season with salt and pepper, to taste. Serve immediately.
Notes
Recipe adapted from Farmstead Chic.
Nutrition facts are an estimate provided for those following a Ketogenic or low-carb diet. See our full nutrition information disclosure here. 
Calories: 374kcal, Carbohydrates: 11g, Protein: 14g, Fat: 31g, Saturated Fat: 14g, Fiber: 2g