We are all about healthy comfort food with this chicken casserole recipe roundup! From chicken and rice casseroles to chicken enchilada casseroles to chicken pot pie casseroles – you are sure to find a new favorite cozy casserole recipe.
Why We Love a Good Chicken Casserole
It's no secret that we love making healthy versions of casseroles and traditional comfort foods. Here are some things we love about chicken casseroles:
They appeal to a wide audience – even kids!
They are great for meal prep and leftovers.
Most are freezer friendly.
Chicken takes on whatever flavor you put with it, so the possibilities are endless.
Looking for more? Check out all of our healthy comfort food recipes!
How we Define Healthyish
We wanted these recipes to be on the healthy side of things, but still feel like comfort food. You want a casserole to be rich, hearty and filling and not feel like a "diet" version of your favorite casserole recipe. Here's how we define "healthyish":
The recipe is made with mostly real food ingredients
That's really it! You won't find casseroles that just dump in a package of noodles and cream of mushroom soup with some chicken here.
What you will find are cozy recipes on the healthy side of things. The perfect balance of healthy and indulgent.
Here are the Healthy Casserole Recipes
For the first recipes, we chose a couple of favorites from our archives! The creamy spinach artichoke casserole is rich and indulgent tasting and the BBQ chicken casserole is filling and flavorful with the addition of sausage and homemade BBQ sauce.
1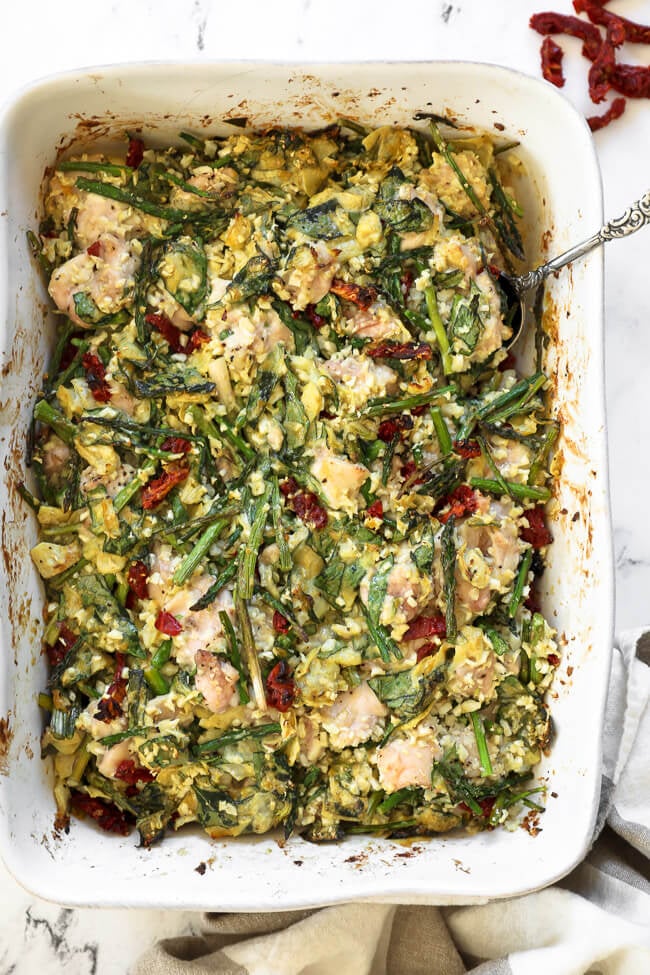 Oven Baked Creamy Spinach Artichoke Chicken Casserole
This dairy free spinach artichoke chicken casserole is full of creamy goodness in addition to having plenty of veggies baked right in!
Get the recipe
2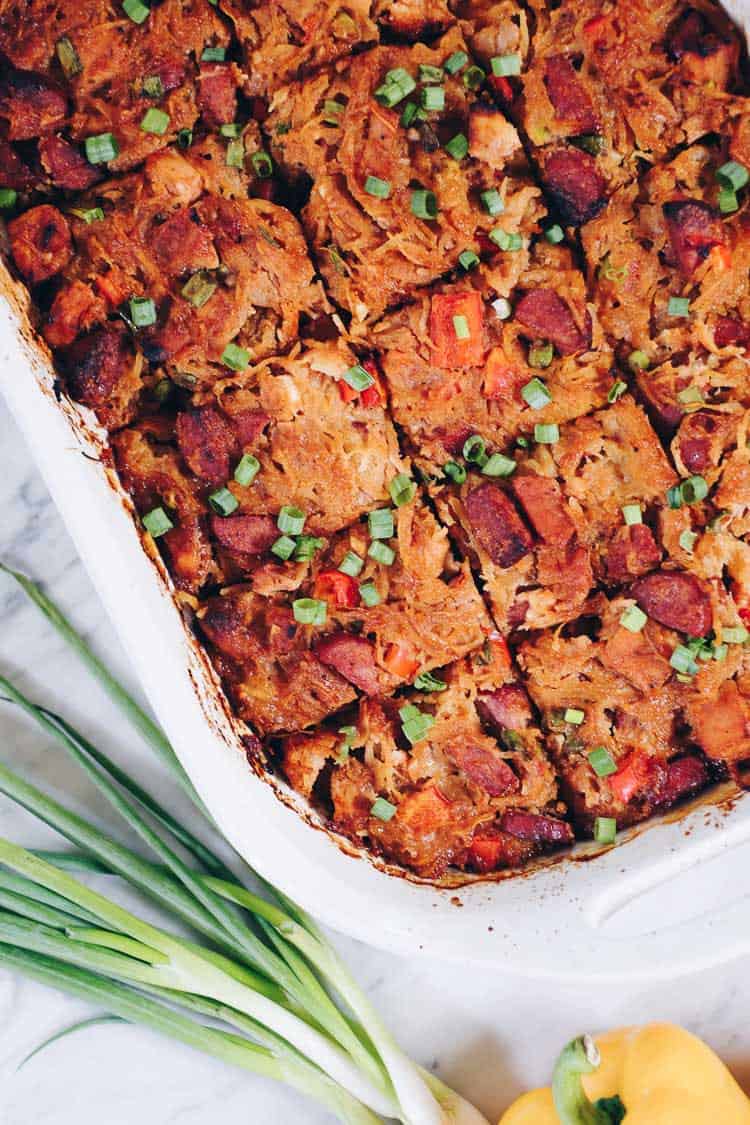 BBQ Chicken Casserole (Paleo, GF, Dairy-Free + Refined Sugar-Free)
We love when spaghetti squash is in season, so we can make this Paleo BBQ Chicken Casserole. It's a cleaner and healthier way to enjoy total comfort food!
Get the recipe
Chicken and Rice Casserole
Chicken and rice casserole is one of the most common types of casseroles out there. This version adds some broccoli for a healhtyish twist and is topped with cheddar cheese. No canned soup here!
3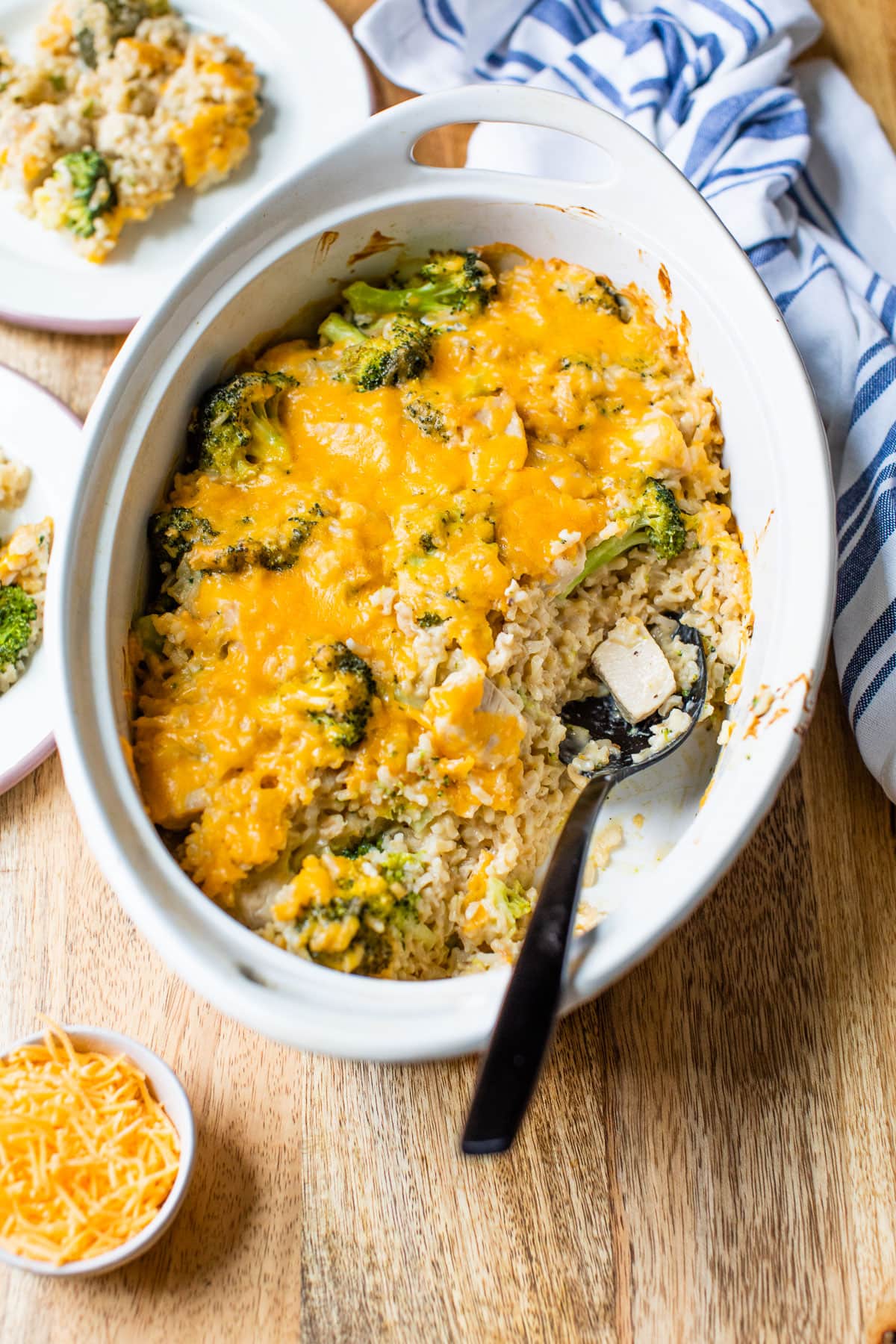 Chicken Broccoli Rice Casserole from Well Plated by Erin
This cheesy chicken broccoli rice casserole recipe is a healthy version of the classic with NO soup. A comfort food recipe to feel good about!
Get the recipe
Chicken Enchilada Casserole
Here are a couple of options for a chicken enchilada casserole. The first is a healthy take on the classic with a creamy, cheesy flavor. The second is a casserole version of chicken fajitas, sure to be a crowd pleaser.
4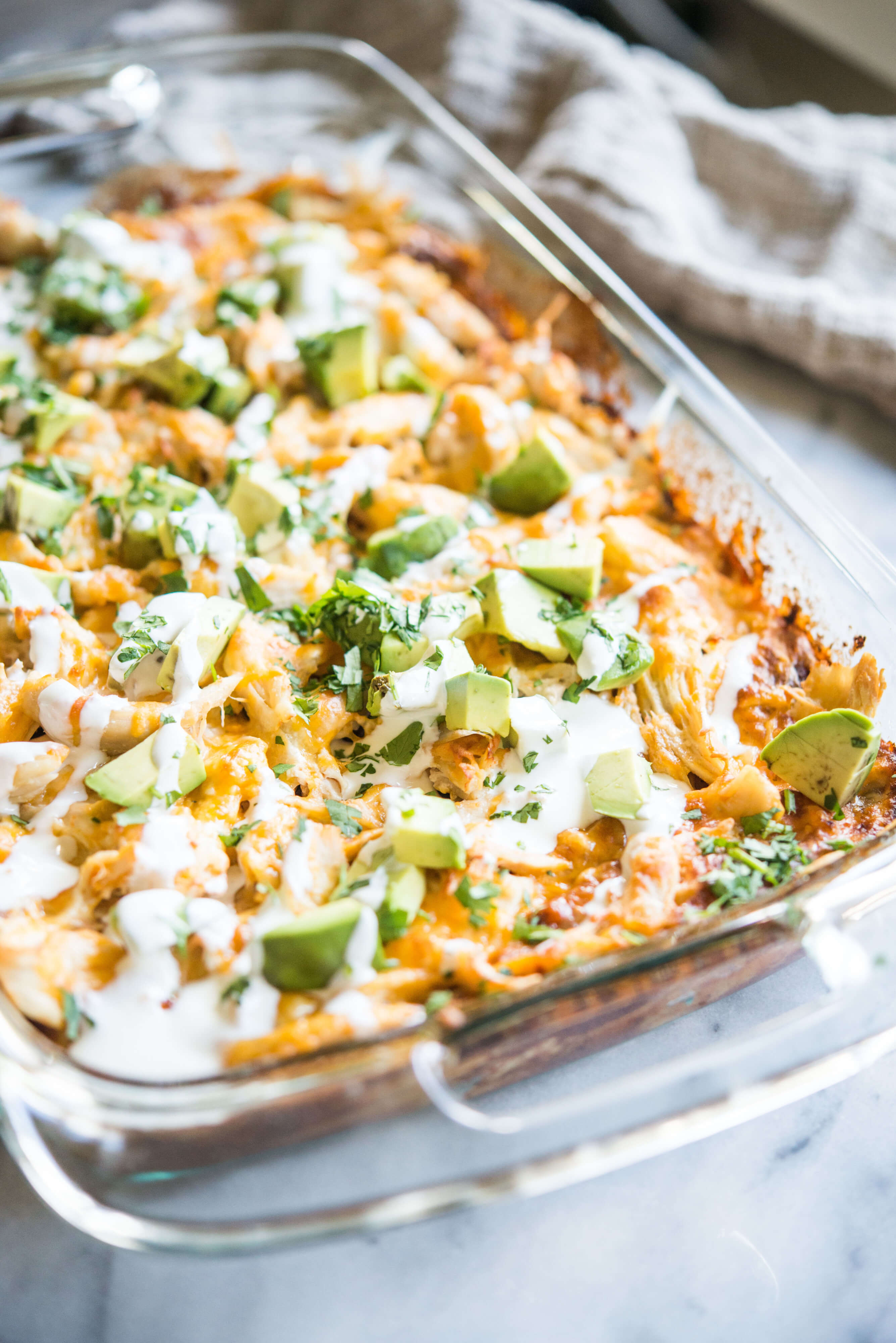 Easy Chicken Enchilada Casserole from Fed & Fit
Essentially enchiladas without all of the work, this chicken enchilada casserole is a cheesy, flavorful, comforting meal sure to please the whole family!
Get the recipe
5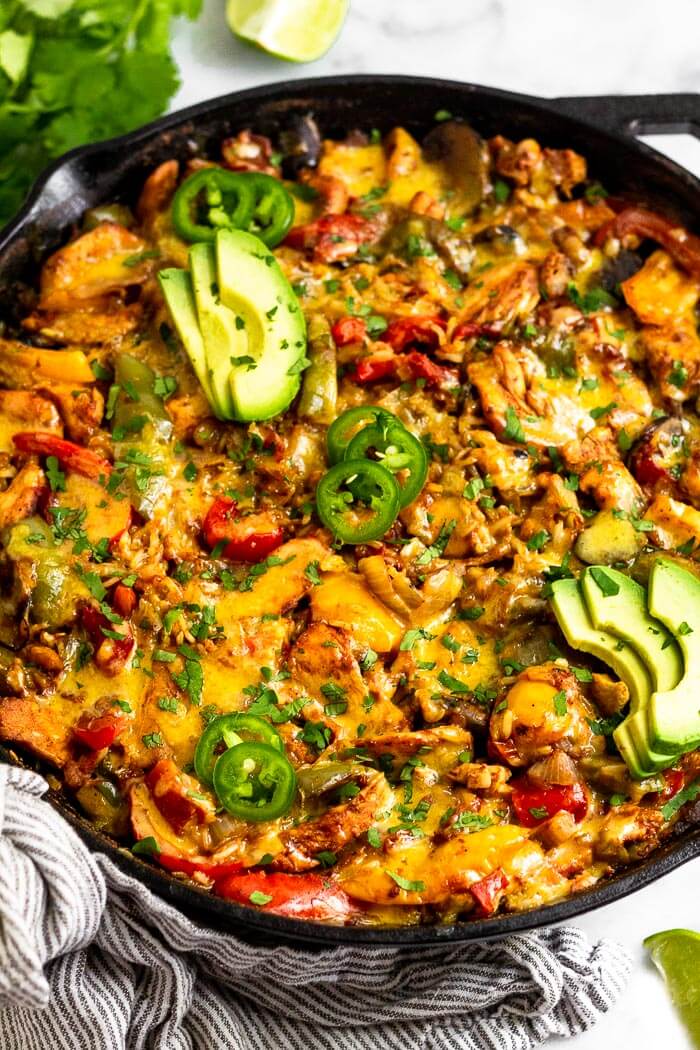 Chicken Fajita Casserole from Eat the Gains
This Healthy Chicken Fajita Casserole combines your favorite aspects of fajitas and packs it into a warm and comforting healthy casserole recipe.
Get the recipe
Chicken Broccoli Casserole
Here's what one reader said about this casserole:
"I stumbled on this recipe while I was looking for healthy casseroles. I made it for my husband and a few friends and we all really enjoyed it. It left us full but we were so happy because we knew how healthy and nutrient-packed it was! Not to mention it was super easy to make!"
6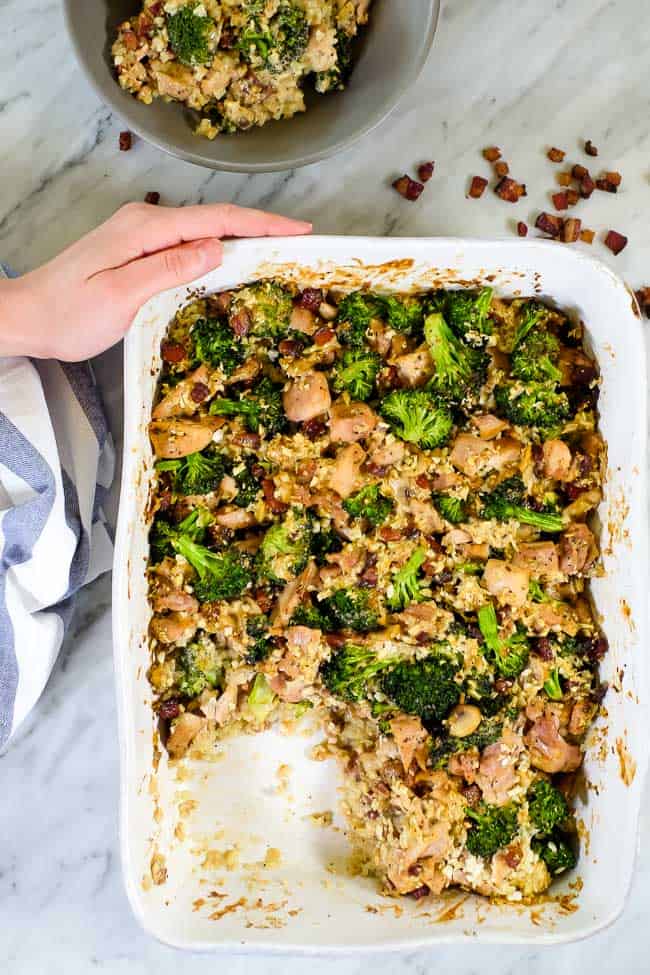 Healthy Chicken and Broccoli Casserole (Paleo + Whole30)
As part of our weekly meal prep, we love to make a big dinner Sunday, like this Paleo + Whole30 healthy chicken and broccoli casserole and have the leftovers in the fridge the following week. This casserole is a great, Paleo + Whole30 family-friendly and large dinner recipe!
Get the recipe
Chicken Noodle Casserole
It's hard to find a healthy version of a chicken noodle casserole, but this one won't disappoint! It uses spaghetti squash noodles and a creamy mayo based sauce that will definitely have you going back for seconds.
7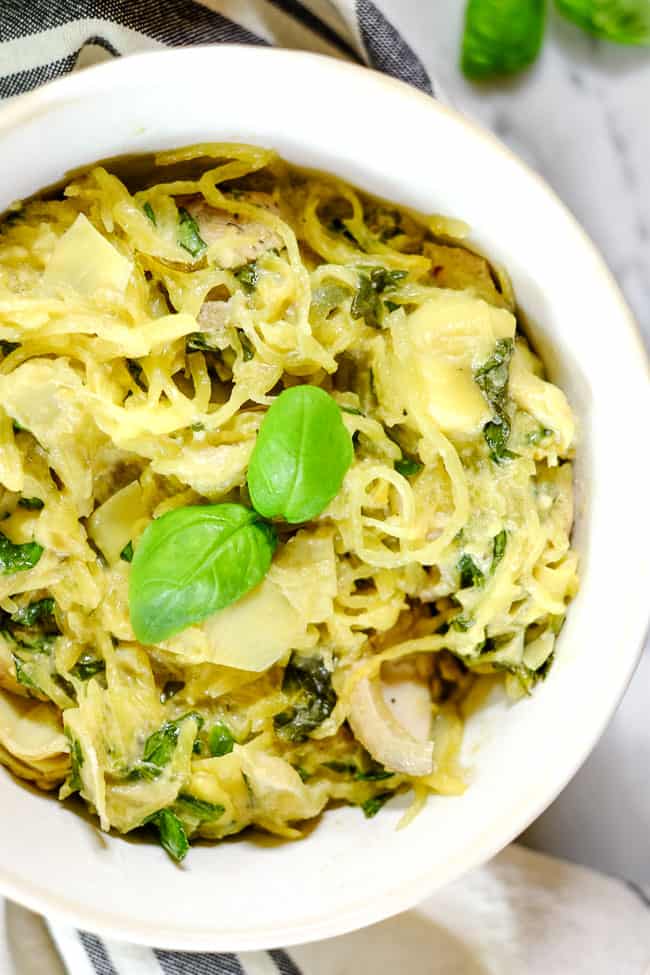 Creamy Chicken Casserole (Paleo, Whole30 + Dairy-Free)
This Paleo + Whole30 Creamy Chicken Casserole is made with spaghetti-squash so it's grain-free, gluten-free and the creamy, cheese-like sauce is dairy-free!
Get the recipe
Chicken Pot Pie Casserole
I think that chicken pot pie is the ultimate comfort food. Packed with a bunch of chicken and veggies and a homemade sauce, this is guaranteed to be better than anything that ever came out of a box.
8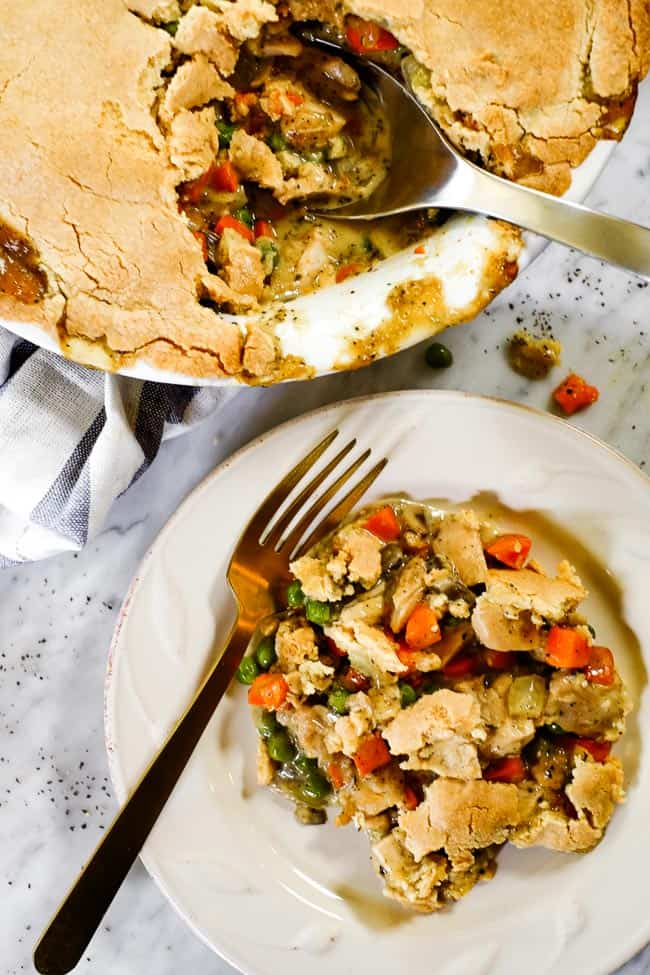 Chicken Pot Pie (Dairy Free)
This dairy free chicken pot pie has a creamy, dairy-free filling with all the chicken pot pie goodies, and a crust that will have you swooning!
Get the recipe
Chicken Bacon Ranch Casserole
How can you go wrong with chicken, bacon and ranch? A healthier version of this casserole pairs spaghetti squash and broccoli with an easy homemade ranch dressing to get creamy goodness in every bite.
9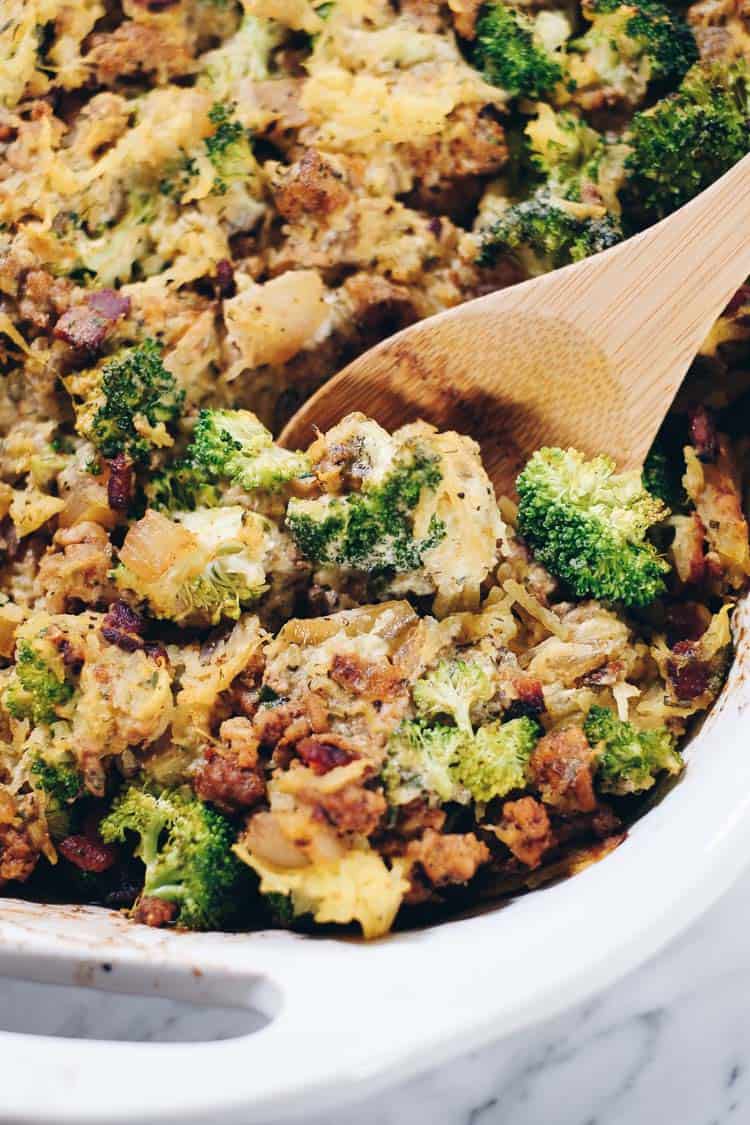 Creamy Bacon Ranch Chicken Casserole (Paleo + Whole30)
This Paleo and Whole30 Creamy Bacon Ranch Chicken Casserole is all you need to know this fall and winter. It's a healthier, creamy and dairy-free casserole!
Get the recipe
---
Like this Recipe?
SHARE IT NOW OR PIN IT FOR LATER!
---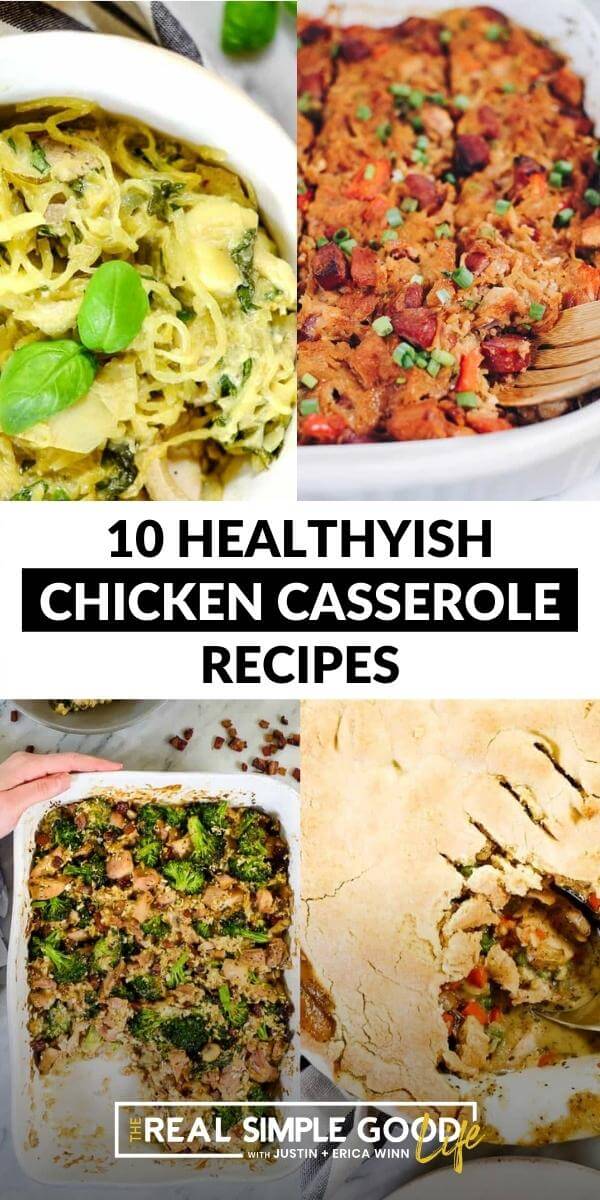 ---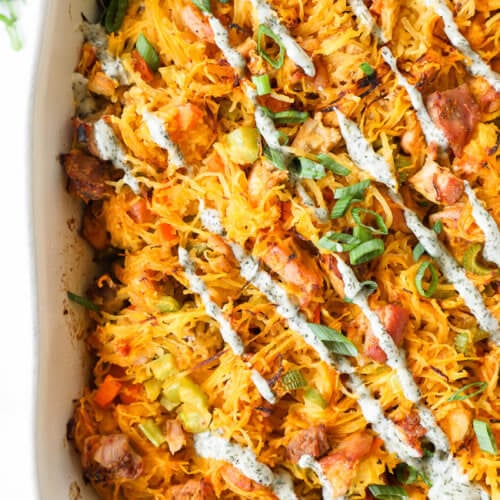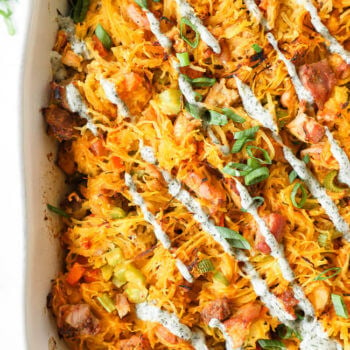 Get the Recipe:
10 Healthyish Chicken Casserole Recipes: Buffalo Chicken Casserole
We made this healthy buffalo chicken casserole with spaghetti squash and an easy homemade buffalo sauce. Plus, we've rounded up more healthy chicken casserole recipes for you.
Ingredients
1 (1) spaghetti squash, (medium to large)
1.5 lbs (680.39 g) boneless skinless chicken thighs, (breast will work but you'll have to adust the cooking time)
Sea salt and ground pepper, (to season chicken on both sides)
1 (1) bell pepper, diced
1 (1) carrot, diced
2 ribs (2 ribs) celery, diced
Ranch dressing, (for topping, see recipe notes)
4 (4) green onions, sliced, (for garnish)
For the buffalo sauce:
1/4 cup (11 g) nutritional yeast
1/2 cup (120 g) hot sauce, (check ingredients for Whole30 compliance and adjust and use less/more based on desired spice level)
1/2 cup (112 g) mayo, (check ingredients for Whole30 compliance)
Instructions
Preheat oven to 400° Fahrenheit and grease two medium baking sheets with oil. Cut spaghetti squash in half and scoop out the seeds. Place the squash, cut side down on one of the baking sheets. Also, grease a casserole dish and set aside.

Place the chicken on the other baking sheet and season on both sides with salt and pepper. 

Place the squash and the chicken in the oven to cook. Remove the chicken after it has cooked to an internal temperature of 165° Fahrenheit, about 20 minutes. Remove the squash when it is cooked (it will give a little when you press on the skin), about 30 minutes. Set aside to cool and keep the oven on at 400° for cooking the casserole.

While the squash is cooking, prep the bell pepper, carrot and celery as noted. Place in a large mixing bowl or casserole dish and set aside.

Also, while the squash is cooking, prepare buffalo sauce by placing all of the sauce ingredients into a small bowl or jar and mixing well. 

Once the chicken has cooled a little, chop it into bite-sized pieces and add it to the bowl with the veggies. Once the squash has cooled a little, scoop out flesh of the squash with a fork into the bowl.

Finally, add the buffalo sauce to the bowl and mix everything together well. Dump the mixture into the casserole dish and spread it out evenly.

Place the casserole in the oven to cook for 20-30 minutes, until everything is heated through. Remove from oven and allow to cool for 5-10 minutes before serving.