A hearty and filling soup made easy in the Instant Pot. This thick and delicious soup is packed full of healthy veggies like potatoes, onion, celery, peas, carrots and mushrooms. It's a vegetable beef soup that will fill your spoon and belly!
Ingredients for this homemade vegetable beef soup
A variety of vegetables with savory broth and stew meat make this soup a meal in a bowl!
Here's what you'll need:
Stew meat – Pre-cubed stew meat is a time-saver, or cut up a small chuck roast or round steak.
Onion and garlic – Who makes soup without onion + garlic?
Potatoes – Cubed potatoes make this a hearty and filling soup. Use whatever kind you like.
Celery – Celery is a must in any vegetable soup.
Carrots – These add a little color and a very slight taste of sweetness.
Mushrooms – They easily soak up all the flavors and provide a nice texture.
Peas – Use fresh or frozen, either will work.
Seasonings + broth – Italian seasoning and beef broth are the base for this soup.
Coconut aminos – Adds a little salty, umami flavor. If you don't have any, check out our DIY coconut aminos substitute recipe.
Tomato paste – A thickener and flavor enhancer for the broth base.
INGREDIENT TIP: If you are looking for a quality bone broth to use in this recipe, check out our comprehensive bone broth review post.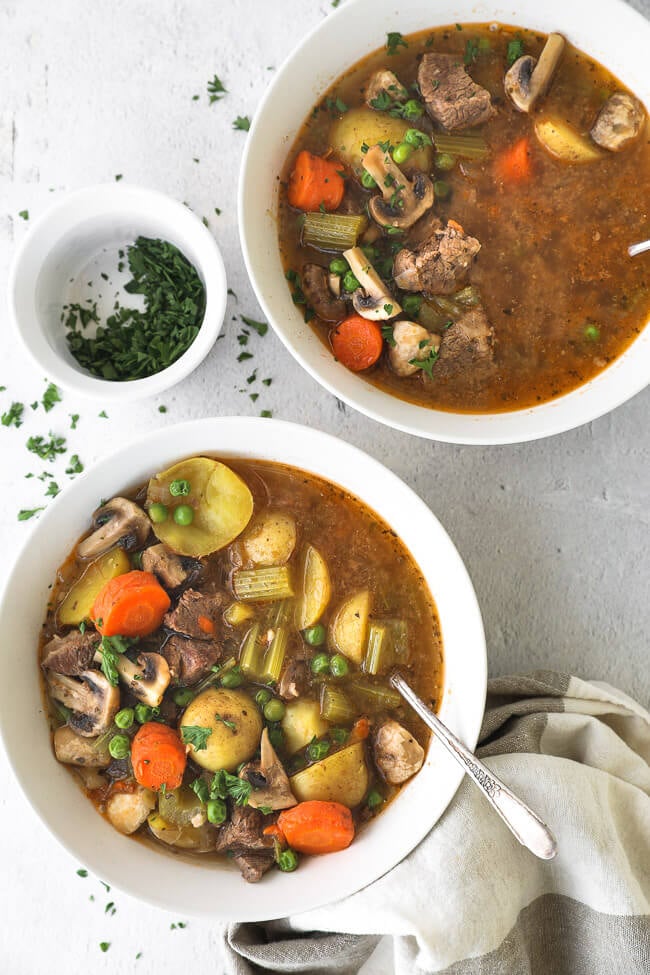 Veggie beef soup cooking tips
Your Instant Pot will do most of the heavy lifting for this one, but here are a few tips:
When you sauté the beef, try your best to get all the sides browned a bit. Don't overcook it, just a little brown on each side.
Use the soup button at high pressure for this recipe. Ours defaults to 30 minutes, but you may need to set the time on your Instant Pot.
You'll add the mushrooms and peas at the end so they don't get mushy and overcooked. Just hit the sauté button at the end and dump them in for a few minutes to warm up and soften.
CHEF'S NOTE: The Instant Pot will take 10-15 minutes to pressurize. Total cook time noted at the top of the recipe is your all-in total cook time including the time to prep, sauté and pressurize.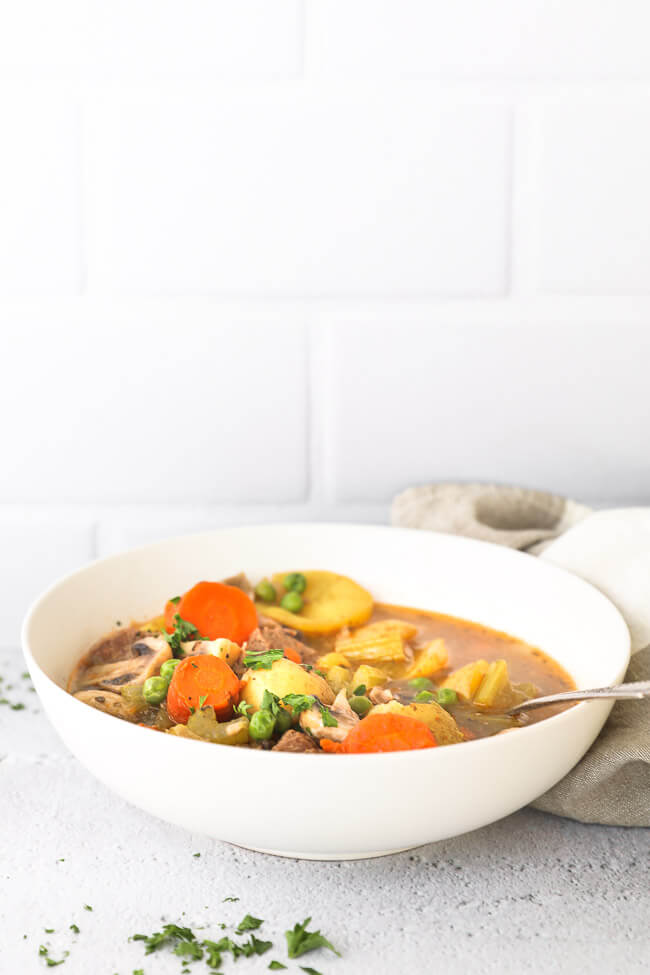 Substitution options for this soup
This recipe is very forgiving and can be made with a variety of ingredients. Here are some options/ideas:
You can use ground beef instead of stew meat.
Radishes are a great low carb substitute for potatoes.
Parsnips will work in place of carrots.
Green beans can be used instead of peas.
You get the idea. Feel free to use ingredients you have on hand or prefer for this recipe, it will still turn out great!
LOOKING FOR MORE? Check out all of our healthy soup recipes!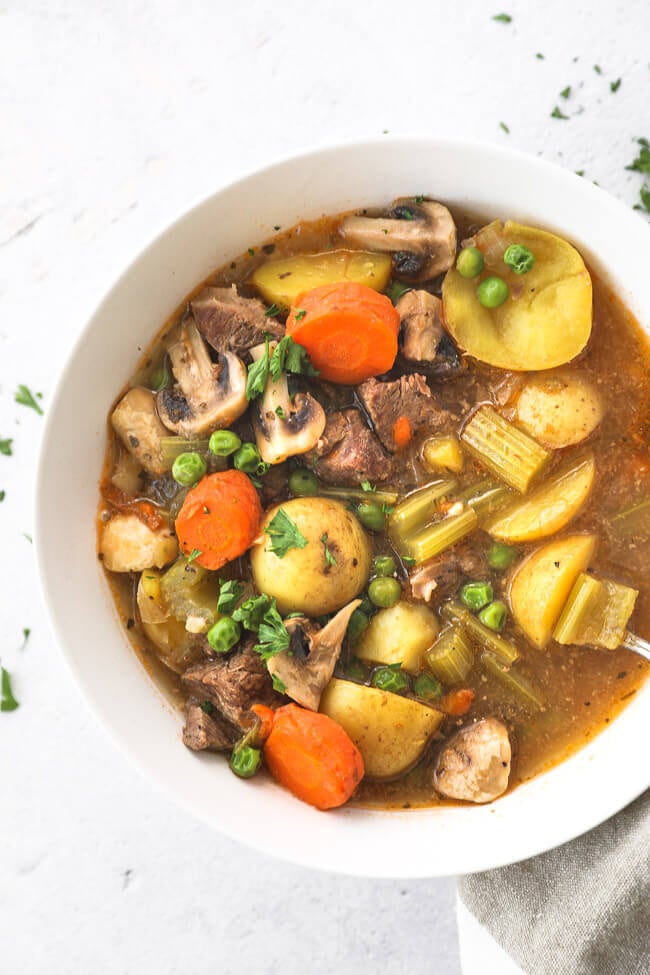 Your turn to try this healthy instant pot soup recipe
Get ready to dip your spoon into this hearty and satisfying soup. If you make this recipe, be sure to leave a comment and rating below to let us know how it goes. Also, take a pic to share on Instagram and tag us @realsimplegood. We love to see what you're making!
---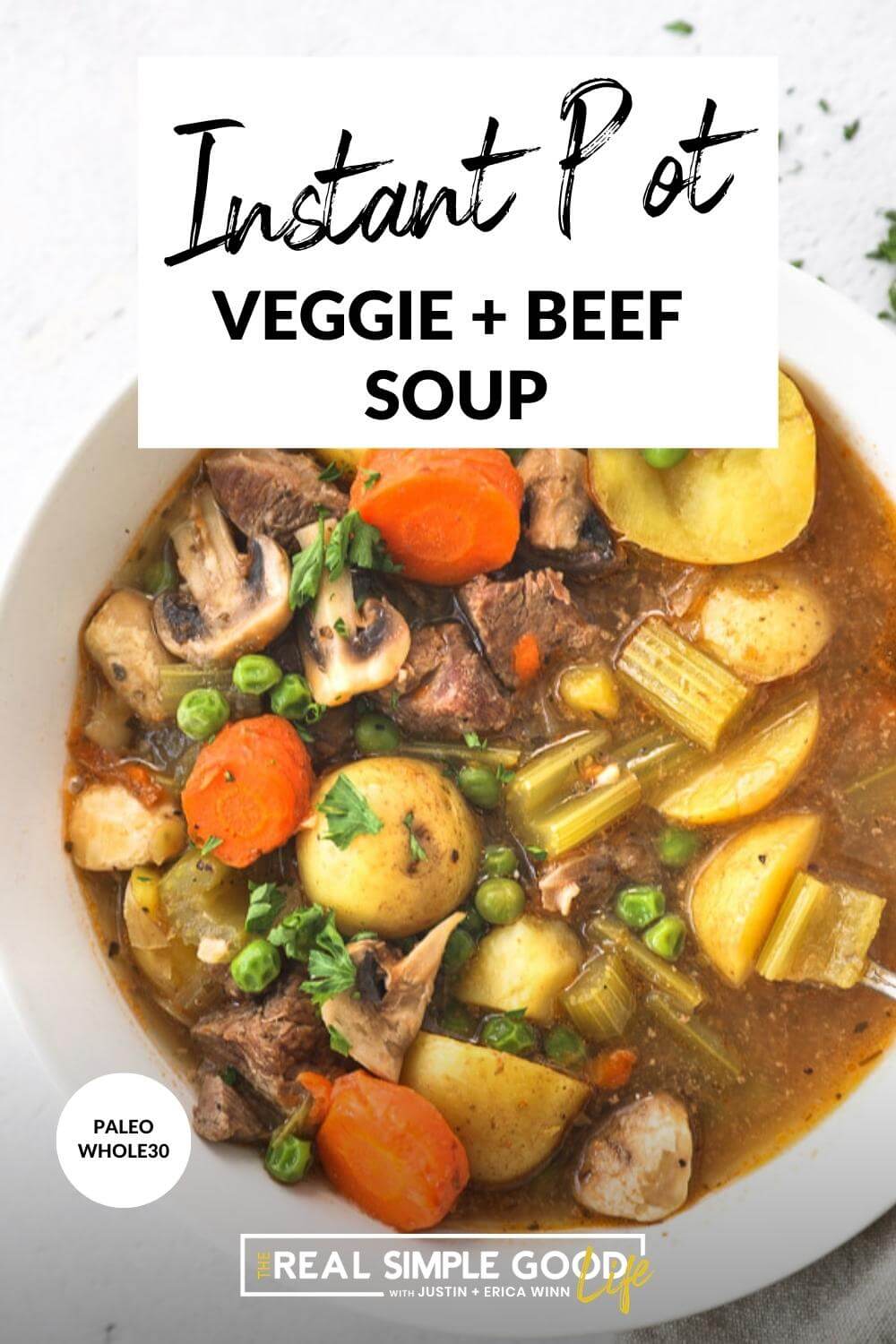 ---
Like this Recipe?
SHARE IT NOW OR PIN IT FOR LATER!
---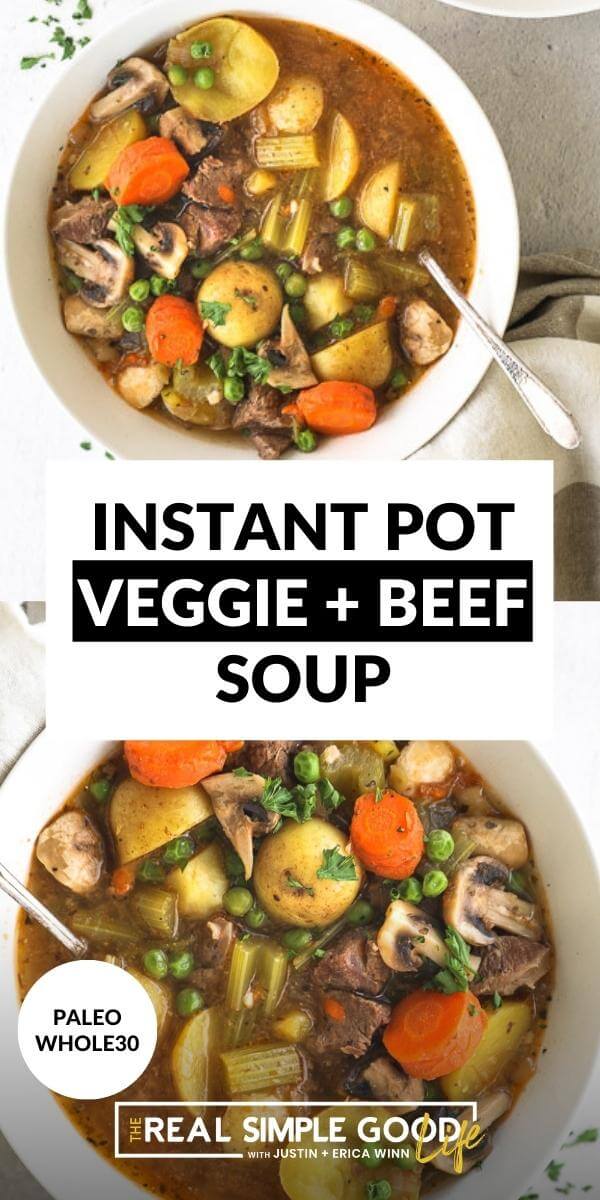 ---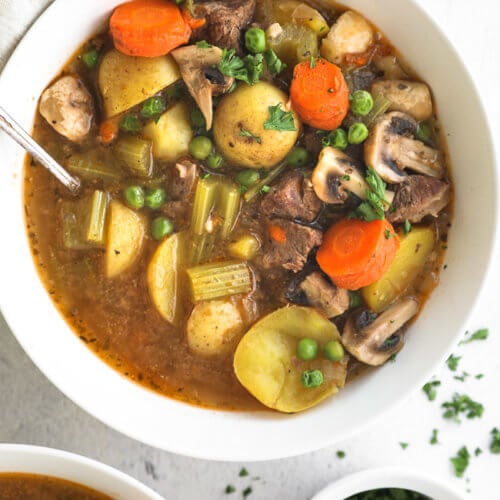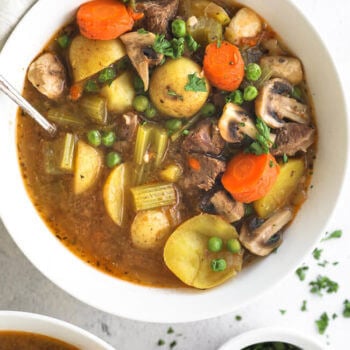 Get the Recipe:
Hearty Instant Pot Vegetable Beef Soup
A hearty and filling vegetable beef soup made easy in the Instant Pot. It's a healthy soup that will fill your spoon and belly!
Ingredients
2 lbs cubed stew meat
1 lb potatoes, cut into 1 inch cubes
1 onion, diced
3 cloves garlic, minced
6 ribs celery, ends removed and cut into 1 inch pieces
3 medium sized carrots, cut into 1 inch chunks
1 tbsp ghee, (or avocado oil)
1 tbsp Italian seasoning
1 tsp sea salt
1 tsp pepper
3 cups beef broth
2 tbsp coconut aminos
1 tbsp tomato paste
8 oz small mushrooms, halved
1.5 cups peas
Instructions
Cut beef into cubes if it isn't already cubed and set aside. Prep potatoes, onion, garlic, celery and carrots and set aside.

Press the sauté button on the Instant Pot and add ghee. Once the pot is hot and shimmering, add the beef cubes. Season beef with Italian seasoning, salt and pepper and toss to coat. Cook beef for 2-3 minutes on each side to brown.

Press the cancel button on the Instant Pot. Add the beef broth, coconut aminos, tomato paste, potatoes, onion, garlic, celery and carrots to the pot.

Secure the lid and valve and press the "soup" button and set to cook for 30 minutes.

While the soup is cooking prepare mushrooms as noted and have the peas ready.

Once the Instant Pot cooking time is up, manually release the pressure.

Remove the Instant Pot lid and press the cancel button. Press the sauté button and add in the mushrooms and peas and stir to mix.

Cook on the sauté setting for 5-6 minutes, stirring occasionally. Or cook until the peas and mushrooms are cooked to your liking.

Press the cancel button on the Instant Pot. Taste the soup and season with any additional salt and pepper as desired. Ladle soup into bowls and serve.
Notes
To make this soup in the slow cooker, simply brown the stew meat in a pan on the stove. Add the stew meat, beef broth, tomato sauce, coconut aminos, potatoes, onion, garlic, celery and carrots to the slow cooker and cook on low for 6 hours or high for 3 hours. When the cooking time is up, stir in the peas and mushrooms to warm and soften for 10-15 minutes.