5 reasons you'll love it
It's like your favorite takeout meal without all of the sugar and unknown ingredients. Trust me, you won't miss Panda Express 😉.
The crispy chicken coated with a sweet, sticky honey sesame sauce is a guaranteed hit with the family.
Just like takeout, the leftovers are great so you can have some honey sesame chicken for lunch the next day.
It goes great with white rice, cauliflower rice or noodles. The sweet sauce will coat whatever you pair it with.
It's a naturally gluten-free and refined sugar-free recipe, but no one would ever guess!
Ingredient notes
Chicken – You can use either chicken breasts or thighs for this recipe. The cooking time will be about the same because you are cutting them into bite-sized pieces.
Coconut aminos – These are a salty-sweet replacement for soy sauce, but without as much salt. See recipe notes for substitution options.
Rice flour – We love how this flour really coats well and crisps up while cooking. You can substitute corn starch or arrowroot starch if desired.
Honey – This gives the dish the stickiest-sweet flavor. In a pinch you could substitute maple syrup.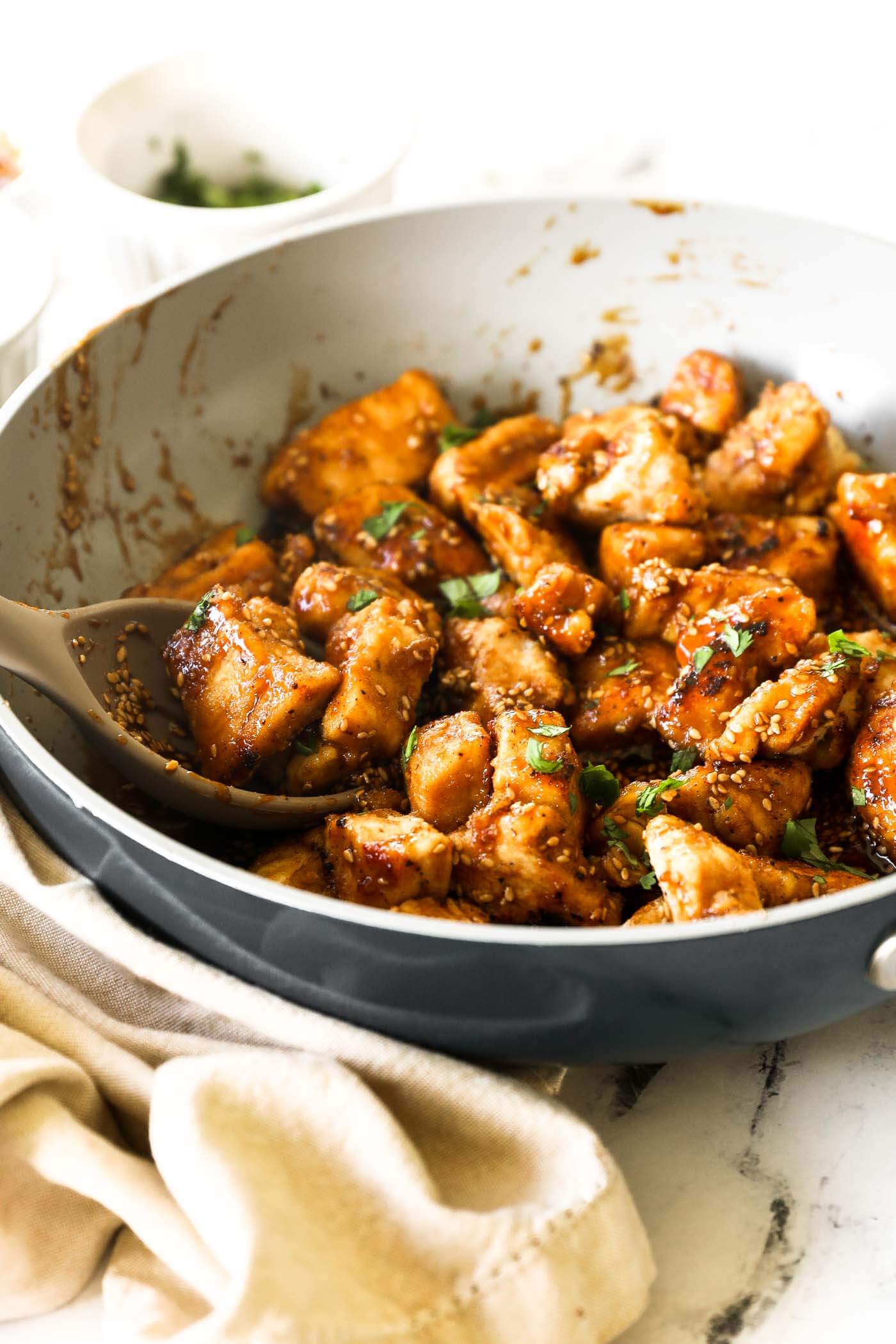 Tips from an expert home chef
Using the zip-top bag to coat the chicken pieces with the flour mixture is a total game-changer.
When cooking the chicken, don't touch it for 2-3 minutes on each side. This will allow the chicken to develop that nice brown, crispy crust.
Be sure to throw your rice or noodles (or whatever your serving it with) in to cook before you get the chicken going.
The sauce can easily be doubled if you want more for spooning over everything.
Store leftovers in an airtight container in the fridge for up to 3-4 days. Simply reheat in the microwave or on the stovetop.
More healthy chicken takeout remakes
If you try this recipe, please share some love!
Don't forget to leave a quick star rating and review below, we read every comment and truly appreciate your feedback. Also, be sure to browse the rest of our easy chicken dinner recipes to find some other favorites too!
Get the Recipe:
Extra-Crispy Honey Sesame Chicken (in 25-Minutes!)
This extra crispy honey sesame chicken coated with a sweet, sticky sauce is a guaranteed hit with the family. Better than your favorite takeout (ahem Panda Express) you might want to double the recipe so you have some left over for lunch!
Ingredients
For the chicken:
1 tbsp sesame oil
1 lb boneless skinless chicken breasts or thighs, cut into bite-sized pieces
1/2 cup rice flour, (can sub corn starch – not strict Paleo or Whole30 or arrowroot starch)
1 tsp sea salt
1 tsp pepper
1 tsp garlic powder
1 tsp onion powder
For the sauce
1/2 cup coconut aminos, (see recipe notes)
1/4 cup honey
2 tbsp sesame seeds
1 tbsp rice flour, (can sub corn starch or arrowroot starch)
2 tbsp sesame oil
For serving:
rice or cauliflower rice
additional sesame seeds, (optional topping)
sliced green onions, (optional topping)
Instructions
Prep the chicken:
Cut chicken into bite sized pieces and set aside.

Add in the rice flour, salt, pepper, garlic powder and onion powder to a zip top bag. Close the bag and toss with your hands to mix.

Dump the chicken pieces in the bag with the flour mixture. Seal the top, removing the air in the bag. Toss the chicken and flour mixture together with your hands until the individual chicken pieces are coated.
Start the sauce:
Place all of the sauce ingredients in a small saucepan. Mix everything well with a whisk to dissolve the flour completely.

Heat the saucepan over medium heat. Once the sauce gets hot, turn it down to a low simmer, stirring occasionally while you cook the chicken.
Cook the chicken:
Heat a large skillet or wok over medium-high heat and add in 1 tbsp sesame oil. Once the oil is shimmering, add in the chicken.

Cook the chicken for 2-3 minutes on each side, until all sides are golden brown and the pieces are cooked completely. Break up any clumps as needed to cook evenly and separate out the individual chicken pieces. Turn heat down to low.
Put it together:
Dump the sauce all over the cooked chicken. Toss to coat the chicken pieces with the sauce.

Remove from heat and serve.