How to Develop Self Discipline
Success in life comes from the small actions you take on a consistent basis. Strong self-discipline allows you to do the things you need to do to be successful – even when you really don't feel like doing them. How do some people have such strong self-discipline? They work at building a strong self-discipline habit, each and every day. Here are some tips on how to develop self-discipline.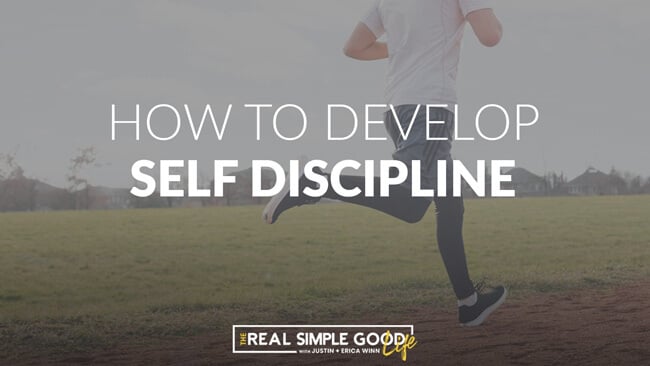 1. Plan to fail and keep moving forward
Planning to fail may sound negative, but this is #1 on the list for a reason. Even with all of our best intentions and plans for success, we sometimes fall short. Many people stop at failure and the key aspect of self-discipline is moving on from failure.
Missed a planned workout? That's fine – you can go tomorrow.
Indulged on ice cream when you're trying to stop eating sweets? Move on and skip the dessert next time.
Didn't start that big project at work you planned on finishing? That's ok, start it first thing tomorrow morning.
The point here is this – if you're wondering how to develop self-discipline – the key is to keep moving forward. Don't let failures and setbacks stop you in your tracks. Acknowledge what caused the failure, learn from it and move on.
2. Just start something hard
The art of self-discipline is choosing to do what is hard and necessary over what is fun and easy. The key aspect of this is taking the first step – starting something hard. Starting anything is the hardest part, so this is the biggest obstacle you need to overcome to forge the path to great self-discipline.
One way to get started is to remind yourself of a feeling of accomplishment. Think of a time you didn't want to go to the gym but did (and had a great workout)! Try and recall starting a project you procrastinated on for a while, only to find out it wasn't that bad (and took a lot less time to finish than you thought).
Reminding yourself that you can and have pushed through that initial inertia to do something hard can help get you going. Just getting started will build momentum and remind you of the incredible feeling of accomplishment that goes along with self-discipline.
3. Find your motivation
It's much easier to be self-disciplined if you have the proper goals and motivation. For instance, if you want to lose weight because you had a health scare, that's some strong motivation. Much stronger than wanting to lose five pounds for bikini season.
Spend some time self-reflecting and writing down your motivation for developing self-discipline. If you know what you want to do and have strong reasons to do it, you will do whatever it takes.
4. Remove temptations and obstacles
Getting rid of temptations and removing obstacles that are preventing you from doing the hard and necessary work will help to build self-discipline. You need to know your weaknesses and avoid them.
If you are trying to eat healthy, remove the junk food from the house. Set out your gym clothes if you are planning on exercising in the morning. Turn your cell phone off and turn off notifications if you are focusing on a critical work project.
5. Start small
In learning how to develop self-discipline, you are learning a new habit. When building any new habit, it's best to start small. Don't try and change 10 habits and routines all at once, just pick one. Work on one aspect of self-discipline daily until you have mastered it (this could be weeks or months). After you have mastered that one aspect, you can apply it to the next thing on your list. Build some momentum and keep rolling.
6. Be organized
Being organized is an act of self-discipline. Being organized can also contribute to building new components of self-discipline. Having a plan and some structure supporting the hard actions you want to take will make maintaining self-discipline much easier. This can take the form of things such as:
Utilizing your calendar to block off gym time or project time.
Setting goals and reviewing them frequently.
Tracking success and achievement.
Maintaining a prioritized to-do list.
7. Learn to tolerate discomfort
If you want to be self-disciplined you will need to learn to go through some discomfort. When you're striving towards new goals, it's not going to be easy and it's not going to feel comfortable. It's important to tolerate and embrace these feelings of discomfort in order to grow.
We experience discomfort when we are learning, growing and changing. Instead of thinking of discomfort as a negative aspect, focus on the positive aspects of doing through some discomfort such as:
Improvement
Advancement
Breakthrough
Development
Transformation
8. Reward yourself
Finally, a reward for all of your hard work! When learning how to develop self-discipline, it's important to have something to celebrate. Give yourself something to be excited about by planning a reward when you accomplish your goals.
Having something to look forward to will give you motivation to keep working on the hard stuff. Sometimes, the anticipation of the reward is the little thing you need to power through and achieve your big goals. Set yourself up for success and give yourself something to celebrate!
It's time to start practicing self-discipline
So, what aspect of self discipline are you going to start working on TODAY? Comment below and tell us what you are working on. If you enjoyed this post and found it helpful please be sure to share it! Tag us in your self-discipline posts on Instagram @realsimplegood and #TheRSGLife. We can't wait to see what you are working on!
---
Like this Post?
SHARE IT NOW OR PIN IT FOR LATER!
---