How To Make Cauliflower Rice
Cauliflower rice is a staple for healthy, low-carb, grain-free cooking. It's simple to make, tastes great and is a fun way to sneak more veggies into your diet. There are plenty of options and variations on how to make cauliflower rice. We have some easy preparation tips and favorite recipes to share with you!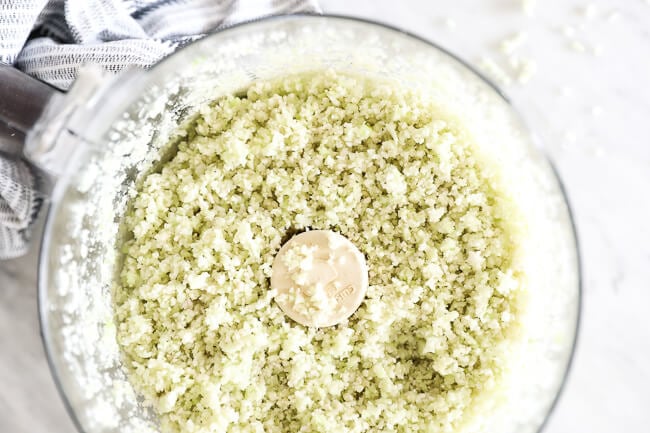 How to make cauliflower rice at home
You can buy bagged, pre-riced (fresh and frozen) cauliflower rice at a lot of grocery stores. That's fine, but we prefer to make our own from a fresh head of cauliflower. It only takes a few minutes!
First, cut off the green outer edges of the cauliflower.
Cut the florets into chunks or break them into smaller pieces with your hands (you can include some of the stem)
Place the chunks into a food processor (you'll likely need to do two separate batches)
Pulse into a "rice" like consistency (don't overprocess, it will get mushy)
Different ways to cook cauliflower rice
The best part about cauli rice is that it cooks quickly and easily. Here are some different cooking options:
Pan fried (sauteéd) on the stovetop
Roasted on a sheet pan
Baked in a covered dish
Pan fried
Our go-to option for cooking cauli rice is on the stovetop with some simple seasonings. It's the quickest and easiest way. Just add a little cooking oil to the pan, toss in the rice with your favorite seasonings and cook over medium heat for 3-5 minutes. Done!
Roasted on a sheet pan
This is a nice way to get a little different texture from your cauliflower rice. Roasting it on a sheet pan allows the cauli rice to crisp up and brown a little bit. To cook it this way, simply dump the rice on a sheet pan. Drizzle with some oil and seasonings and toss to mix. Spread the cauli rice out in an even layer, and roast at 400° Fahrenheit for 10-15 minutes, stirring halfway.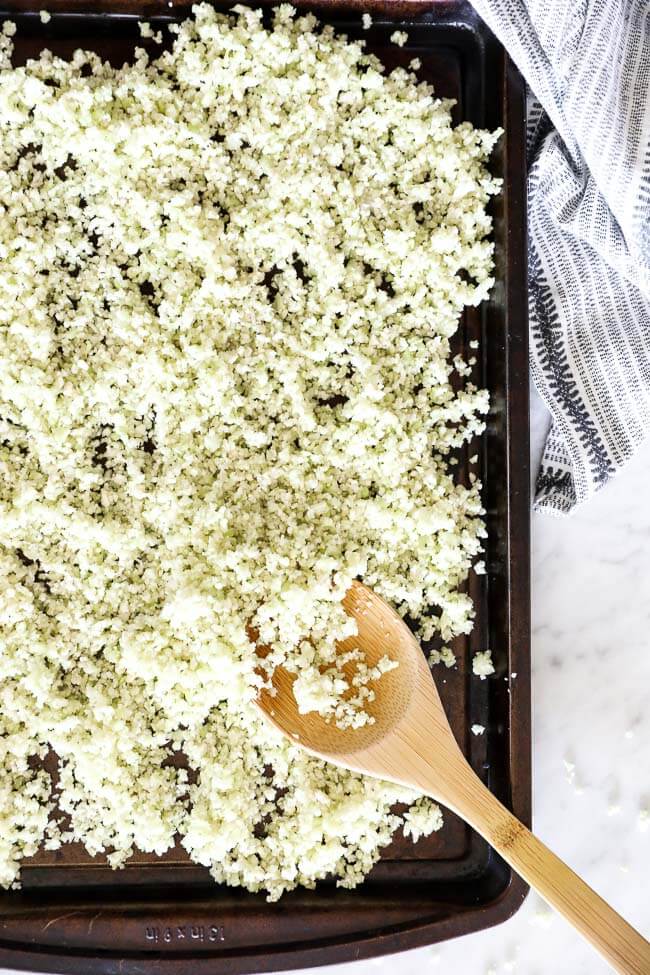 Baked in a covered dish
Baking cauliflower rice in a covered dish results in a tender, fluffy texture. It's like steamed rice instead of roasted rice. For this method, dump the cauli rice in a baking dish with a lid. Drizzle with some oil and seasonings and toss to mix. Bake at 400° Fahrenheit for 10-15 minutes.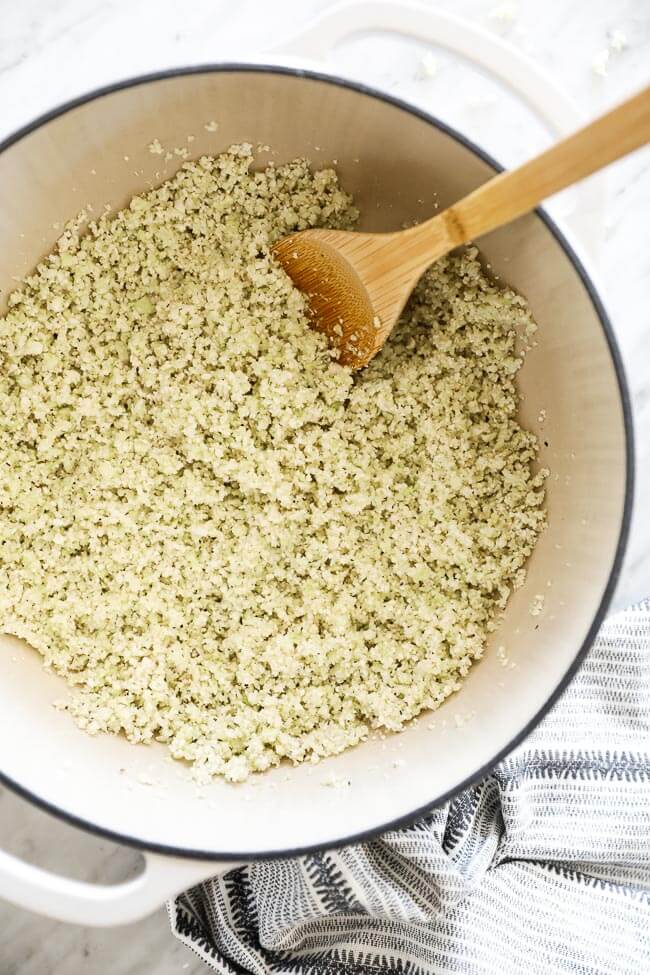 How to add more flavor to cauliflower rice
Cauliflower rice is a lot like regular rice and it will absorb any flavors you want to add to it. If you want to avoid bland-tasting cauliflower rice, here are some tips to add flavor:
Pan fry your cauli rice in the same pan that you just cooked beef/pork/chicken in. It will absorb all of the flavors from the meat and other seasonings. We use this technique in our chicken burrito bowl recipe.
Cook up some onions and garlic in a pan before adding the cauli rice. Mix everything together with salt and pepper for a delicious side dish.
Use different cooking fats/oils. We like duck fat, bacon fat or infused oils like these from Lucini Italia.
Try different seasonings. Check out our 10 easy homemade spice blends post for some inspiration.
Add some texture. Cook cauli rice with chopped broccoli, cruciferous veggies, diced olives, hemp seeds, etc. See our crispy roasted cauliflower rice recipe for an example.
Use fresh herbs. Cauliflower rice pairs well with fresh herbs such as cilantro, parsley, sage and thyme.
Add some sauce. Check out our 6 Easy Whole30 Sauces post for some easy sauce ideas.
Some of our favorite recipes featuring cauliflower rice
---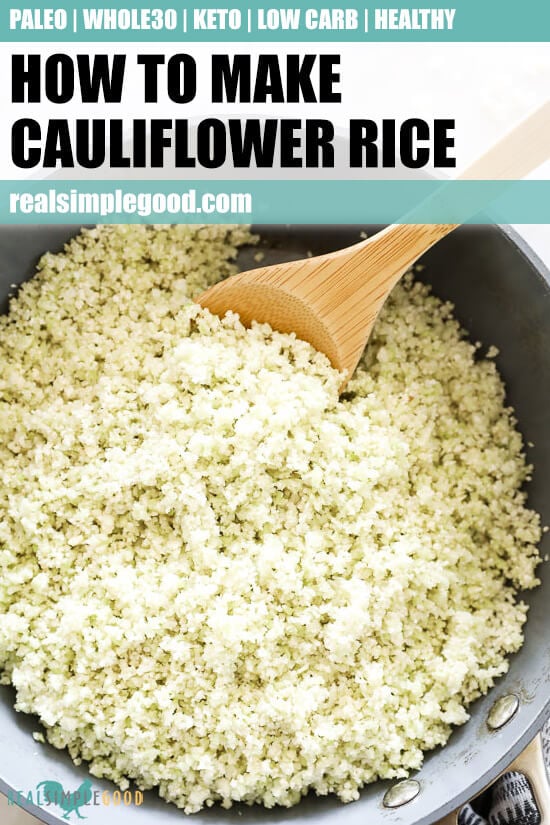 ---
Like this Post?
SHARE IT NOW OR PIN IT FOR LATER!
---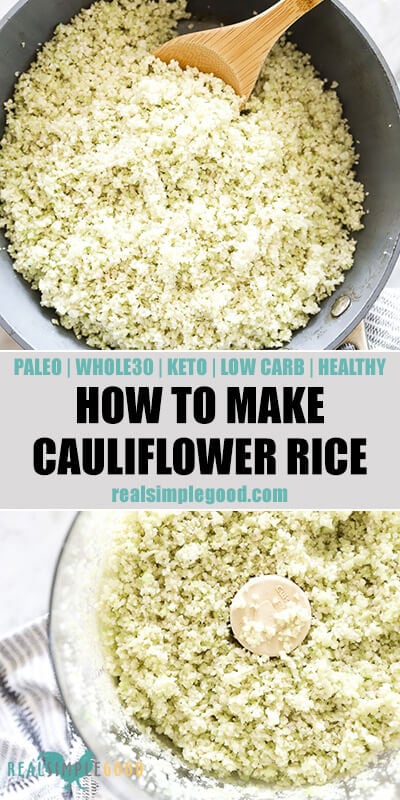 ---