Why you'll love easy DIY recipe
Related ->> 30+ Recipes That Use Coconut Milk
What you'll need
Shredded coconut or coconut flakes – either will work just fine, just make sure you get unsweetened. You could use fresh coconut, but for ease and practicality, I chose flakes for this recipe.
Water – filtered is best.
Optional add-ins – maple syrup, cinnamon, vanilla extract
High powered blender – you need a high speed, powerful blender like a Blendtec or Vitamix for the best results.
How to make homemade coconut milk
It's so very easy to make your own thick and creamy coconut milk at home, here's how:
Blend for 1-3 minutes. I usually feel like it's the consistency I want after about 90 seconds.
Then, give it a taste test and add any additional ingredients – more water if you want it thinner, more coconut flakes if you want it thicker, more sweetener, etc. Blend again if you add more ingredients.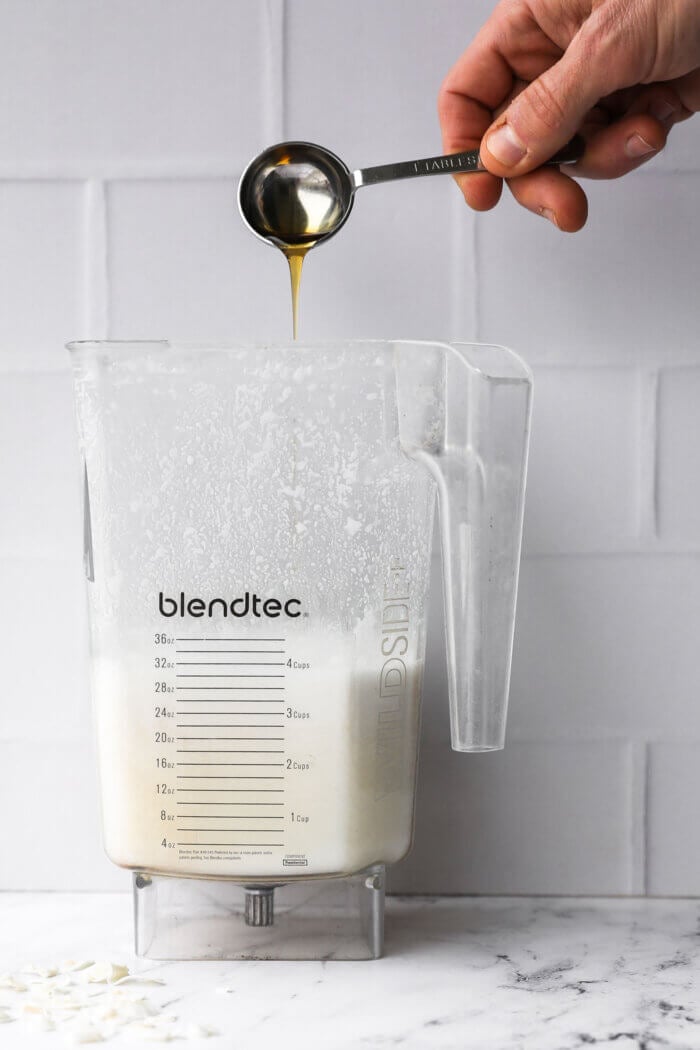 How to strain and store homemade coconut milk
Once blended, you'll need to strain out the pulp, leaving only the creamy milk in the jar for use and storage. Here's how: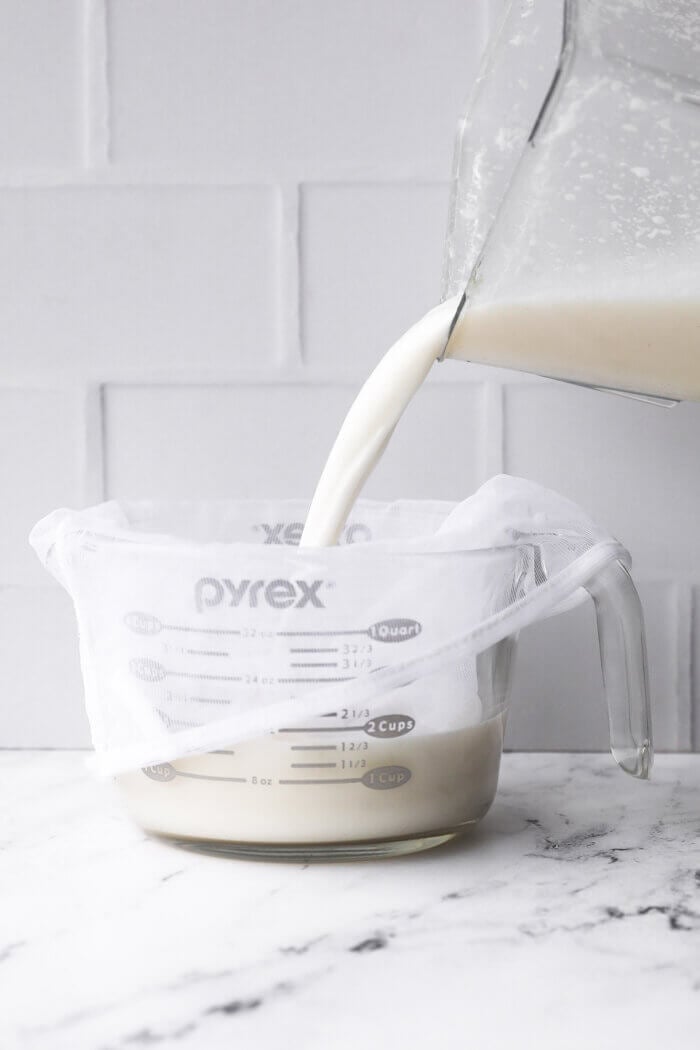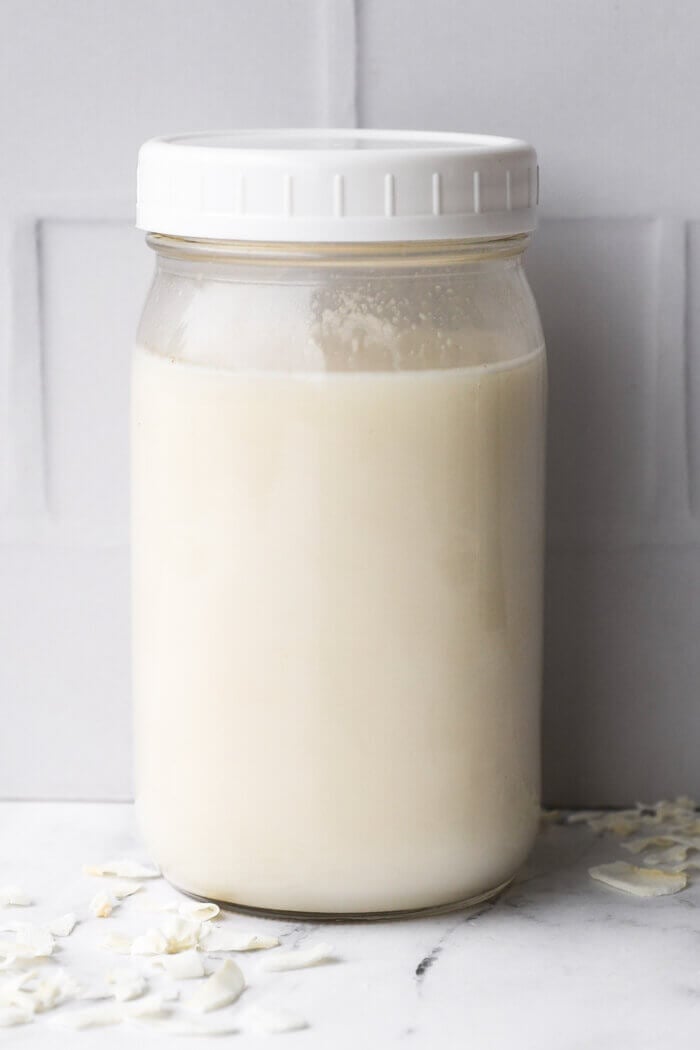 Tips from an expert home chef
Try covering the top of your blender with a towel to avoid any leakage when blending.
If you don't have a nut milk bag or fine mesh strainer, you can also use a thin towel or several layers of cheese cloth to strain out the coconut meal.
Use the strained coconut meal for baked goods, granola or add a little to a smoothie.
Your coconut milk may separate in the fridge, with a layer of fat at the top of the jar. Try giving the jar a shake to break it up. If that doesn't work, toss it all back in your blender for a quick pulse or two to reincorporate the fat. I've only had to re-blend once and then it stays fluid for me in the fridge.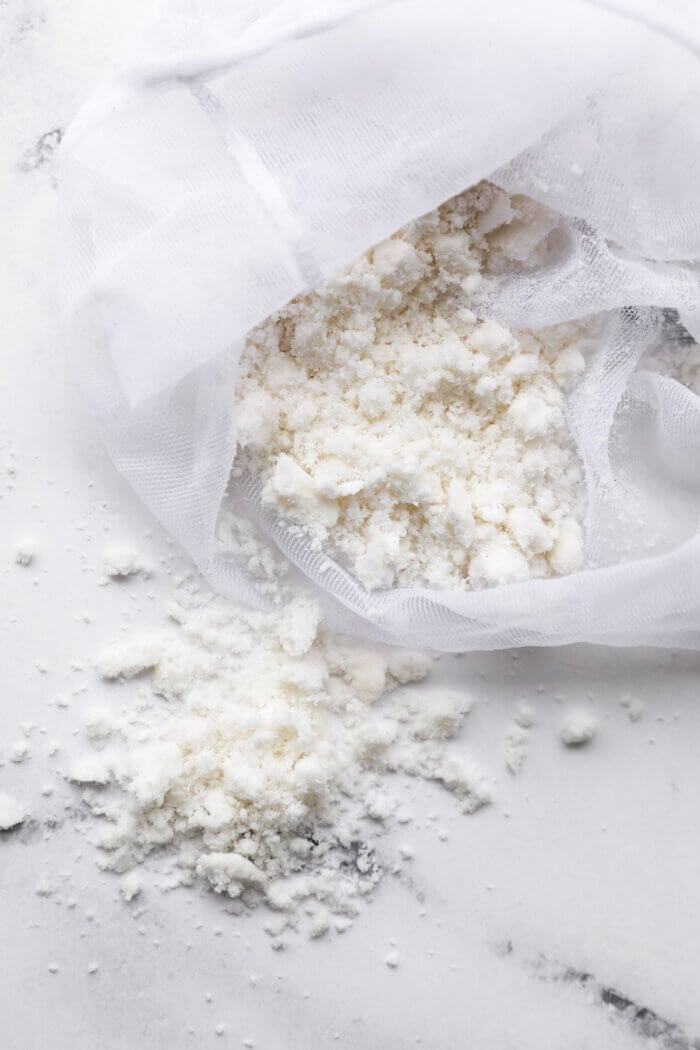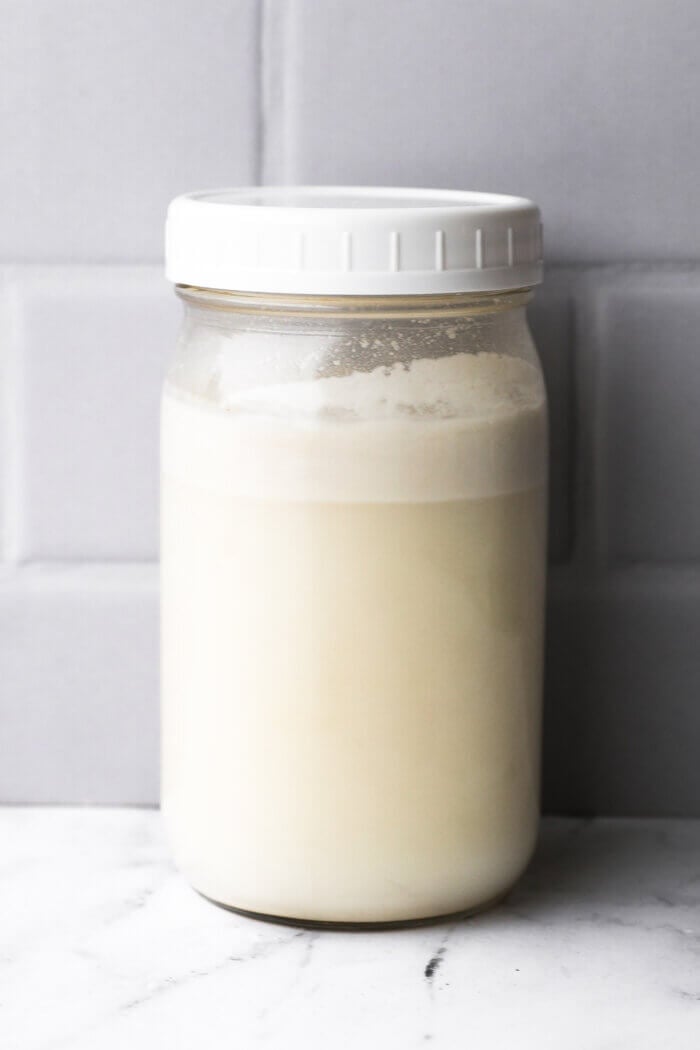 Some healthy recipes that use coconut milk
We have more! ->> Browse all of our coconut milk recipes here.
Get the Recipe:
How to Make Coconut Milk (5-Minutes, 2 Ingredients)
Learn how to make coconut milk at home in a blender in 5-minutes! Just two simple ingredients – shredded coconut and water. Grab your blender and let's go!
Instructions
Place shredded coconut, water and any desired add-ins to a high powered blender and blend until creamy, about 1-2 minutes.

Give it a taste and add any additional add-ins to taste. You can also add more water if it's too creamy. Give the mixture another quick pulse.

Pour into a mixing bowl or cup lined with a nut milk bag or fine mesh strainer. Squeeze out the remaining milk from the milk bag. You'll be left with just the fine pulp from the coconut flakes.

Store coconut milk in a glass jar with an airtight lid in the fridge for 3-4 days. Use the milk in any recipe as you would canned coconut milk. You can also use it in your hot and cold beverages and baked goods. Note: You may notice some separation after storing coconut milk in the fridge. Make sure to give the jar a good shake before using it. Or, throw it back in the blender for a few seconds to mix it again before using.
We hope you love this recipe as much as we do!
Don't forget to leave a quick star rating and review below, we read every comment and truly appreciate your feedback. Also, be sure to browse the rest of our delicious, healthy recipes to find some other favorites too!