This Paleo + Whole30 Instant Pot chicken curry is a super tasty, healthy, quick and easy weeknight dinner. The recipe uses squash instead of potatoes, so you'll get a sweet and savory flavor combination that's unique to a curry. Cozy up with a big bowl of this easy chicken curry!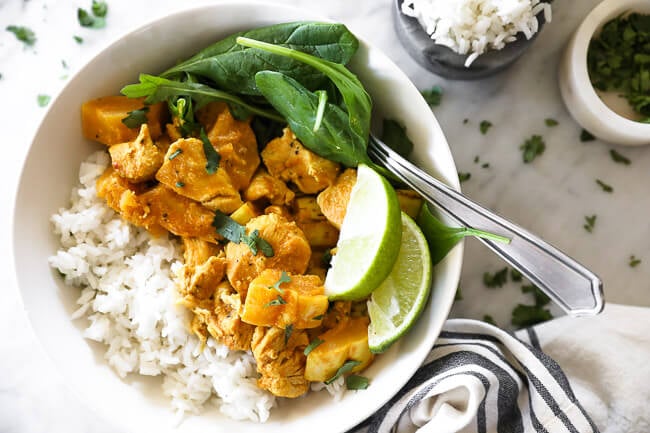 How to make this Instant Pot chicken curry
If you're like us, you weren't quite sure how to harness the power of your Instant Pot when you first got it. Maybe you're still kind of trying to figure it out. That's perfect! This Instant Pot chicken curry is a great way to add the "sauté" function to your bag of tricks.
We love the sauté function for browning and locking in moisture into the meat or poultry we are cooking in our Instant Pot. You'll use the sauté function just like you'd use a skillet on the stove. However, with the Instant pot you can just add the rest of the ingredients to the same pot and pressure cook everything.
Make It A Bowl
Of course, once the Instant Pot curry chicken is done, we like to make it into a full meal, bowl style! We start with a base of greens, whatever you have on hand. We essentially add greens to all of our meals. Then, we layer on some cauliflower or white rice (depending on how strictly Paleo you are). Add some curry chicken and spoon on extra sauce. You're likely to go back for seconds…just sayin'.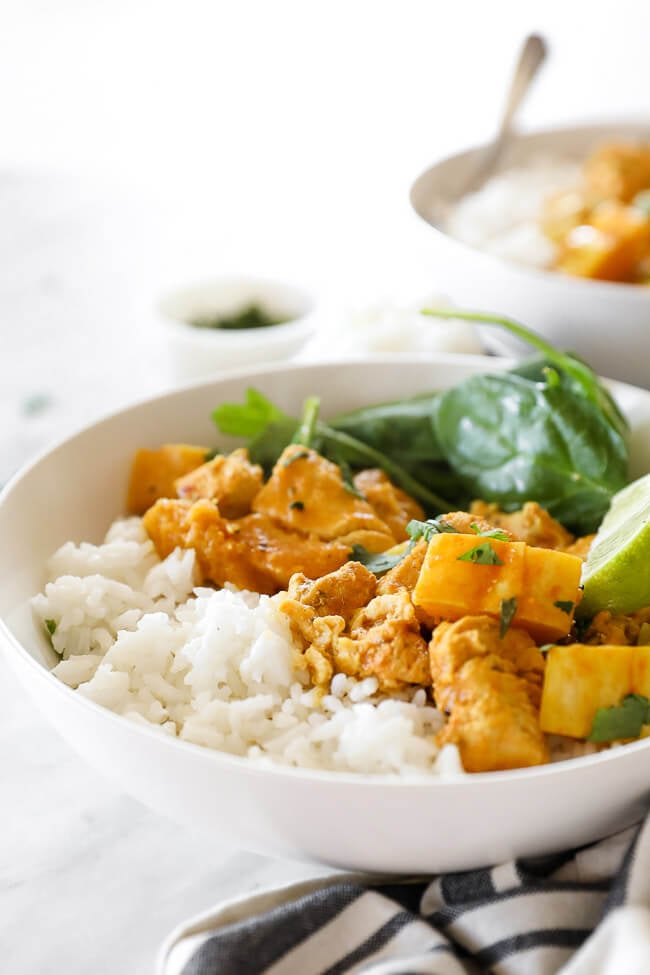 White Rice – Yay Or Nay
The debate on white rice. Ok, here we go. White rice is a grain. Correct. And grains are not Paleo. Correct. But we eat white rice? Yes. This is a personal decision for everyone, and it definitely depends on what your goals are. White rice is very easily digested and seems to make my stomach feel pretty good, so I tend to have some, usually about once a week or so. Maybe twice some weeks. If you are very strictly Paleo or want this recipe to be Whole30 compliant, stick with cauliflower rice!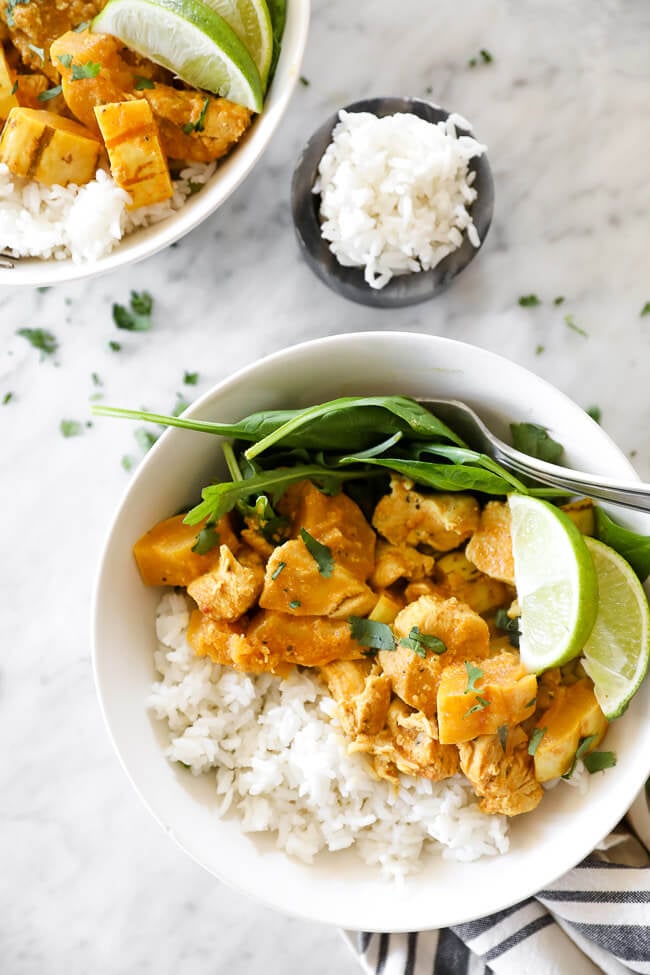 Some Other Instant Pot Recipes To Try
Your Turn To Try Our Instant Pot Chicken Curry
Looking for a pretty quick and easy meal – make this Instant Pot chicken curry! It's flavorful and feels like comfort food. Let us know how it goes and what you think by leaving a comment below. Also, take a picture and share it on Instagram! Tag us @realsimplegood, so we can check it out! Then, give us a follow on Instagram if you don't already! We'd love to stay connected!
---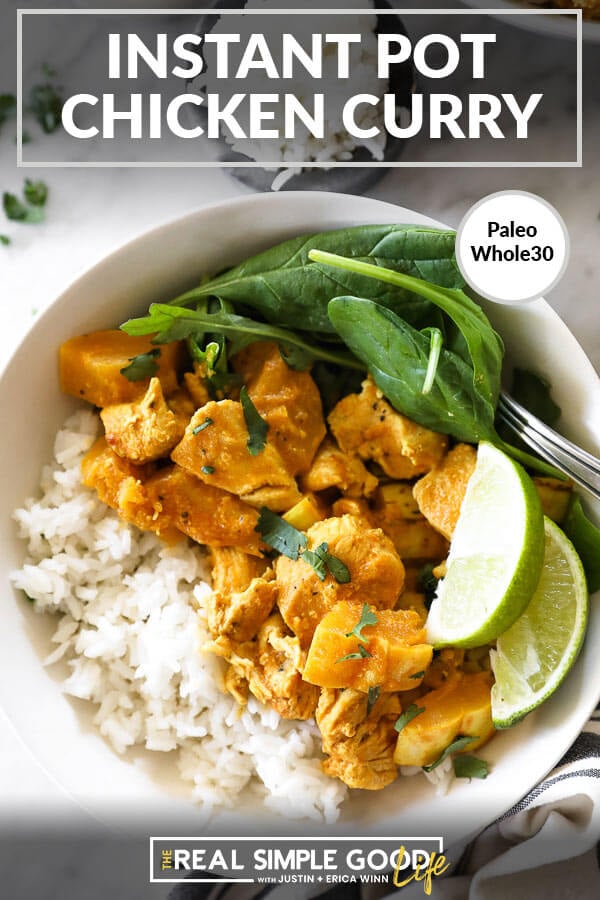 ---
Like this Recipe?
SHARE IT NOW OR PIN IT FOR LATER!
---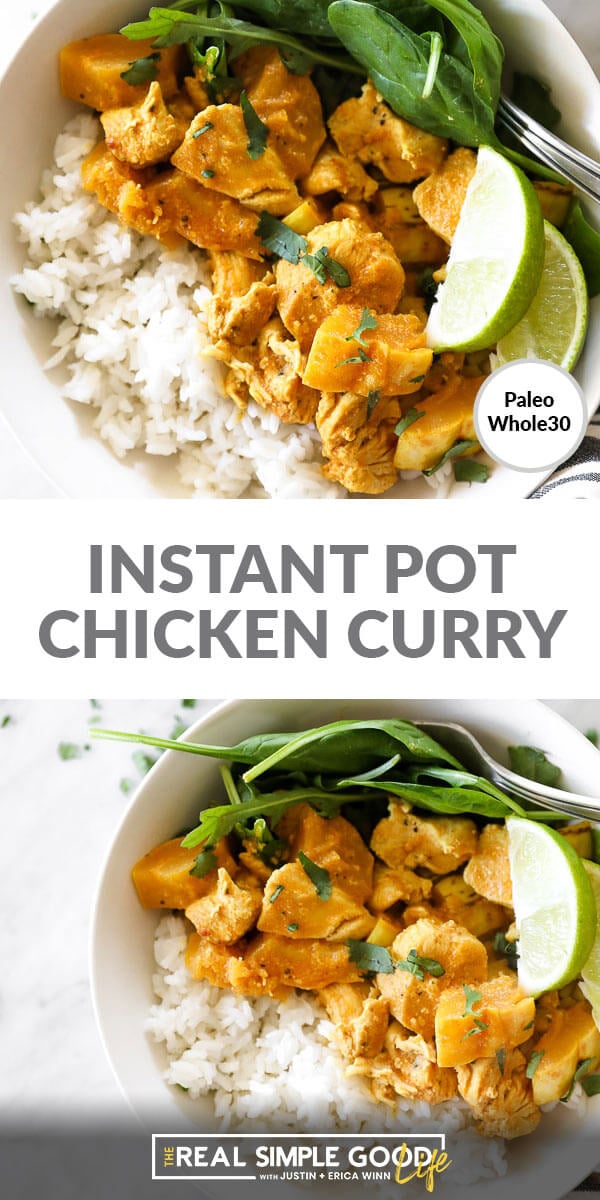 ---
Get the Recipe:
Instant Pot Chicken Curry (Paleo + Whole30)
We love using our Instant Pot to create Paleo + Whole30 recipes, and we love easy dinner recipes that taste like you spent a lot more time and effort than you really did. This Paleo + Whole30 Instant Pot chicken curry is super tasty and a great make ahead meal or also a fantastic quick weeknight dinner
Ingredients
For the chicken curry:
2 lbs boneless chicken breasts, cut into bite sized pieces
Salt and pepper
2 cups delicata squash, cubed, (about 1 medium delicata, or you can sub sweet potato)
3 cloves garlic, minced
1 onion, diced
1 tbsp coconut oil
2 tbsp curry paste, (or sub dry curry seasoning – start with 1 tbsp dry seasoning)
1 tbsp tomato paste
1 cup coconut milk
For serving:
6 cups cauliflower rice, (optional, can replace with white rice)
4 cups greens, (whatever you have on hand)
Fresh cilantro, (optional for garnish)
Instructions
Cut up chicken and season it with salt and pepper, set aside. Cut up squash, garlic and onion as noted.

Press the "Saute" button on the Instant Pot and add coconut oil. Once hot, add the chicken and squash and saute for 5-6 minutes. Stir to try and cook the chicken a little on all sides.

Press the "off/cancel" button and add the rest of the curry ingredients into the pot. Stir to mix. Close the lid, seal the vent and press the "manual" button (or "pressure cook" button) and set the time to cook for 8 minutes at high pressure.

While the curry is cooking, prep your cauli rice or regular rice.

Once the Instant Pot cooking time is up, let the pressure naturally release on its own for 15 minutes and then quick release any remaining pressure. Remove the lid and give the contents a good stir to mix. Taste and season with additional salt and pepper as desired.

Serve the chicken curry over cauli or regular rice and garnish with chopped cilantro.