Is Daily Harvest Worth It? Our Family's Review
Is Daily Harvest worth it? Will you eat more fruits and vegetables? Will it save you time? How do the plans work? Is it affordable? We answer all of your burning questions in our family's review.
Disclaimer: We partnered with Daily Harvest to bring you this post. We only work with companies and brands we truly believe in and use ourselves. Therefore, all opinions and recipes are entirely our own. Thank you for supporting The Real Simple Good Life and our partners.
What is Daily Harvest?
Daily Harvest makes it really easy to eat more fruits and vegetables every day, with variety and tons of flavor in every bite. They deliver delicious food built on whole fruits and vegetables right to your door, and everything is ready to enjoy in minutes.
All of their items are always gluten-free, dairy-free and plant-based. And everything is made without any preservatives, gums, fillers, refined sugars or artificial anything! 95% of the ingredients are also organic.
And it's all very easy to customize beyond this foundation to fit your specific needs, dietary preferences and goals. We'll show you how we like to customize things later in this post.
With over 90 options across 11 collections, they've got something for every craving, dietary preference and time of day.
You'll find things like:
Interested in trying out Daily Harvest? Save up to $40 off your first box with the code REALSIMPLE40 at checkout! Shop here!
Daily Harvest Review: Our Family's Experience
We originally tried Daily Harvest when they first launched with smoothies, and now with a little one and a busier life we have revisited having our freezer stocked with Daily Harvest food to make lunches and busy weeknights just a little easier. We recommend it to others for the following reasons:
It's convenient
Shopping is easy
Great variety
It's affordable
It's convenient
We really love shopping online at Daily Harvest because it saves us time and energy. Everything is delivered to our door!
It's easy to keep our freezer stocked with real, nutrient dense food that we can easily turn into a meal. And on top of that everything is enjoyable in minutes! Real food never felt so convenient!
Shopping is easy
You can shop by Collection (smoothies, bowls, bites, etc.) to get directly to the items you need. And you can customize your box each time to include what sounds great or what needs re-stocking in your freezer.
Great variety
We love how easy Daily Harvest makes it to incorporate a greater variety of fruits and vegetables. There are so many different flavors and options you can try.
It's affordable
We've found that prices feel affordable for the quality and convenience they yield. All items range from $5.99 to $8.99.
It's easy to skip, pause or cancel anytime
If you decide that you want to cancel, just go into your account online and manage your deliveries accordingly. Just note there is an order of operations for canceling. You have to pause first and then cancel. It's easy enough to do.
They do also send you an order reminder before your deliveries, so you have the opportunity to customize your box as needed. As busy parents of a toddler and business owners, we definitely appreciate reminders!
Want to try Daily Harvest? Save up to $40 off your first box with the code REALSIMPLE40 at checkout! Shop here!
Daily Harvest Plans: How It Works
To get started, you simply enter your email address and choose one of Daily Harvest's flexible plans. Here's how it works.
As a new customer, you choose a plan of how many items you want (choose from 9, 14 or 24 items), and you choose how often you want them delivered (choose weekly or monthly).
Then, choose from over 90 unique offerings. All items are priced between $5.99 and $8.99.
After your first delivery, you have even more control of your account with the opportunity to add additional items to your box, change box sizes, swap out selections, skip a shipment and manage all of your deliveries.
When your box arrives, pop everything in the freezer and keep it there until you're ready to enjoy it.
Everything takes just one simple step to prep and is ready in minutes. You just blend, soak or heat according to the instructions for each item.
And when you're done, you can recycle or compost all the packaging and shipping materials.
Interested in giving Daily Harvest a try? Save up to $40 off your first box with the code REALSIMPLE40 at checkout! Shop here!
Daily Harvest Shipping
Getting healthy, nutrient dense food delivered to your doorstep is the best feature of shopping at Daily Harvest!
Their deliveries are packaged well and everything arrives frozen.
We think it's important to note that Daily Harvest is committed to better packaging and shipping practices.
100% home compostable and recyclable packaging.
Shipping materials made from plant-based renewable fiber that breaks down naturally instead of sitting in a landfill for hundreds of years.
You choose your delivery day at checkout, and shipping is always free! Do note that deliveries can sometimes take one extra day to make it to your door, but they are packaged with enough dry ice to remain frozen until you can get them in your freezer.
This has happened to us and everything was still frozen when it arrived.
Shipping is currently available to about 95% of locations in the contiguous U.S. If your location is not currently available, they are continuously working to expand their delivery regions, so check back!
Want to try Daily Harvest? Save up to $40 off your first box with the code REALSIMPLE40 at checkout! Shop here!
Customizing Daily Harvest To Fit Your Needs
All items are gluten-free, dairy-free and plant-based. We typically find ourselves adding a protein to the bowls and flatbreads. However it makes sense for you, it's easy to customize.
A Look At Daily Harvest Food
Here are some of the selections from our most recent Daily Harvest box, so you can see what they really look like.
This smoothie is one of my favorites! I love the combo of blueberries and chocolate and appreciate that it has also got some kale and spinach in it.
You just add your liquid of choice to the cup, and then transfer it all into your blender and blend. Pour it back in the cup and enjoy!
This bowl was tasty. One of the things I love best about Daily Harvest is that it allows me to enjoy a variety of flavors and vegetables. And it's really easy to add protein to these bowls.
I just threw some chicken sausage in the skillet with the rest of the bowl and heated it all up in one easy step! You can also microwave the bowls, since they are 100% compostable and microwave safe!
These flatbreads are really fun! I love that the crusts are made with veggies. This one has a broccoli base. And I added some leftover salmon I had in the fridge on top.
I just preheated the baking sheet with the oven, and then heated up the flatbread. So easy and tasty!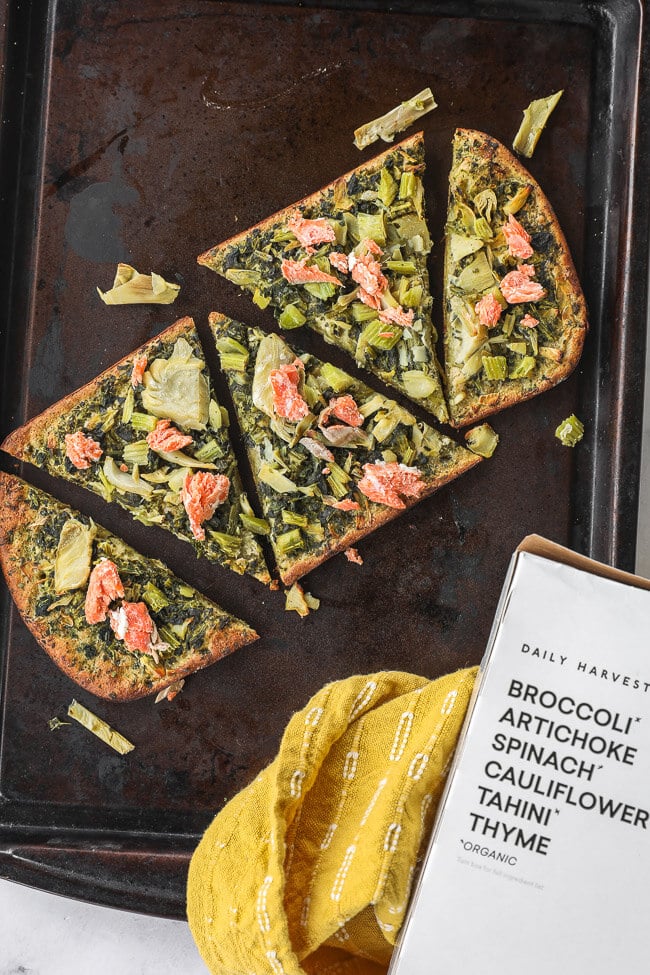 The Forager Bowls are a great breakfast option, built on fonio, chia seeds, flax seeds, cracked oats that offer more paleo friendly options. All of Daily Harvest's food is made in just one easy step. Here's a look at how simple making this bowl is!
This is the bowl frozen in its packaging, straight from the freezer.
Then, I just added some flax milk, and then heated it all up in the microwave.
I topped it with some fresh blueberries we had in the fridge and a scoop of nut butter.
I love energy bites and don't usually mind making them myself, but it sure is nice to have some already made and ready to eat just sitting in the freezer! These ones have a fresh lemony, gingery flavor! Our little one even enjoys them!
Conclusion: So, is Daily Harvest Worth It?
We love Daily Harvest, mostly because it's convenient and saves us time and energy in the kitchen. But it's not for everyone.
Generally, Daily Harvest is a good fit if you:
Have trouble finding foods for your specific diet
Appreciate frozen food, picked and frozen at the source to lock in nutrients at peak ripeness
Love having healthy food stocked in your freezer for when you need it
Strive to eat real food without fillers, preservatives or artificial anything
Want to add more variety of fruits and vegetables to your day
Don't live close to stores with high quality products
Prefer to shop online vs. going to local stores
It might not be a good fit if you:
Don't worry about convenience or variety
Already get enough fruits and veggies in
Can find all of the products you need easily at local stores
Prefer to shop in person and not online
Don't want to commit to weekly or monthly deliveries (although you can pause, skip or cancel anytime)
Interested in giving Daily Harvest a try after reading this review?
Use this link and get started today. You'll save up to $40 off your first order with the code REALSIMPLE40 at checkout!