A super easy sheet pan meal, this baked Italian sausage and peppers recipe is a go-to weeknight dinner. Just chop up the four main ingredients, add some simple seasonings and toss it all in the oven! Whip up the creamy herb aioli to drizzle on top when it's done, and you have a full meal that checks all the boxes.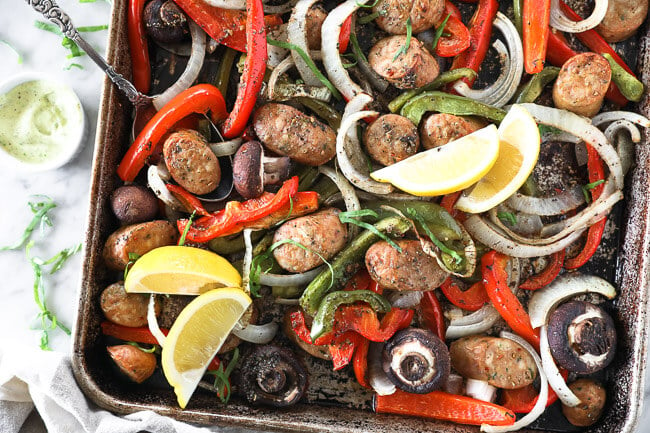 Sheet pan meals are a lifesaver
Sometimes you don't feel like cooking, but also don't feel like having leftovers or pulling something out of the freezer. So instead of ordering takeout, we usually opt for an easy sheet pan meal like this one. The prep is minimal, the clean up is easy and you feel good about putting a healthy home cooked meal on the table for your family.
Some additional serving options
Believe me, you can scoop these Italian sausage and peppers right out of the sheet pan and into a bowl and eat them as is. However, if you are looking to add a little more or some variation for serving, here are some options:
Don't forget the sauce
The sauce for this recipe is optional, but you should really take that option! You won't regret it. We've been making different versions of aioli sauce lately and it putting it on just about everything. For this recipe, the herb aioli is the perfect compliment to the tangy balsamic used to season the Italian sausage and peppers. Plus, if you have leftover sauce you can use it as a dip or drizzle it on just about anything to add some creamy, herby goodness.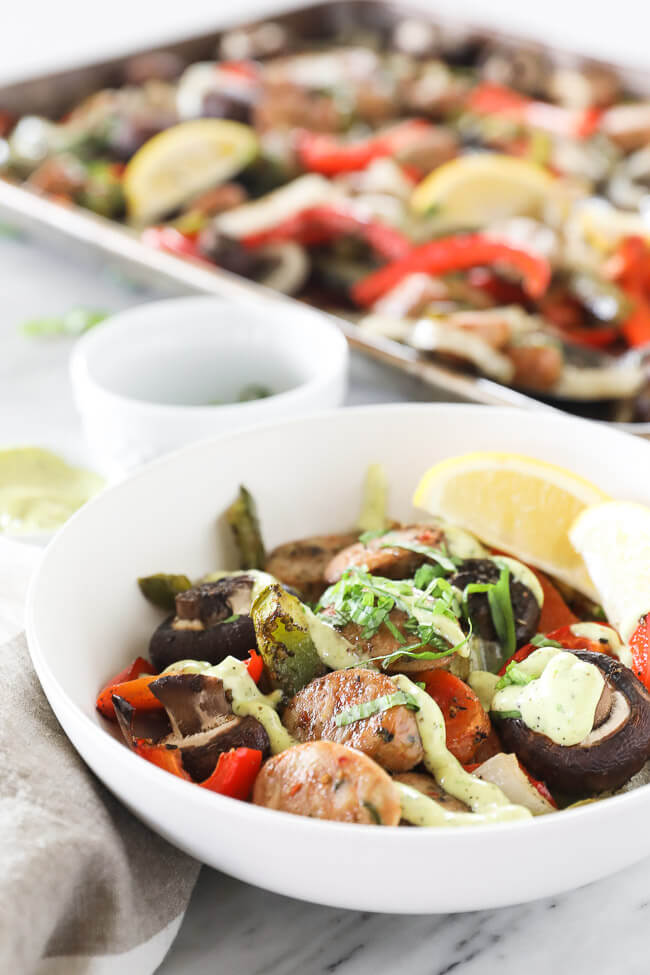 More quick + easy recipes
Your turn to try this easy sheet pan dinner
If you're ready for a flavorful, yet simple and quick meal give this Italian sausage and peppers recipe a try! Top with some herb aioli sauce and it will be a hit for the whole family. Let us know how it goes by leaving a comment below. Also, take a photo and tag us on Instagram @realsimplegood so we can check it out. We love to see what you are cooking!
---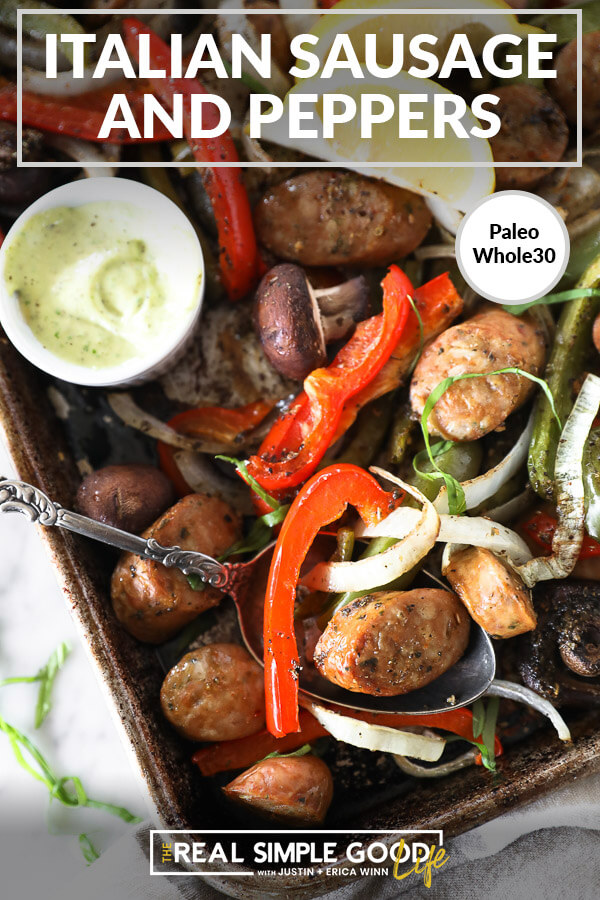 ---
Like this Recipe?
SHARE IT NOW OR PIN IT FOR LATER!
---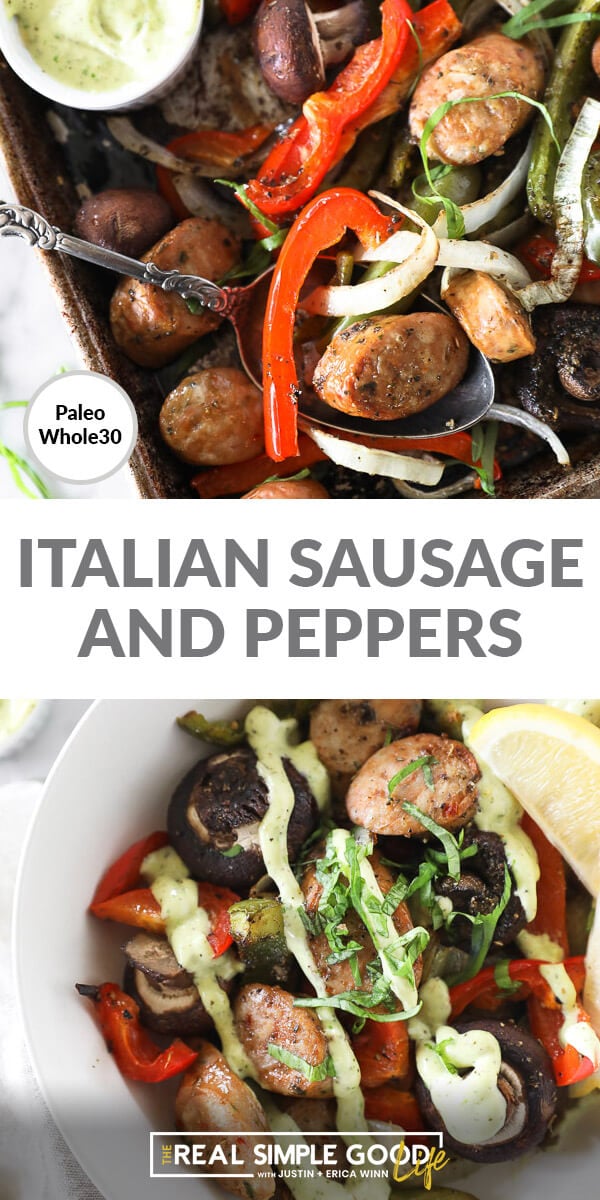 ---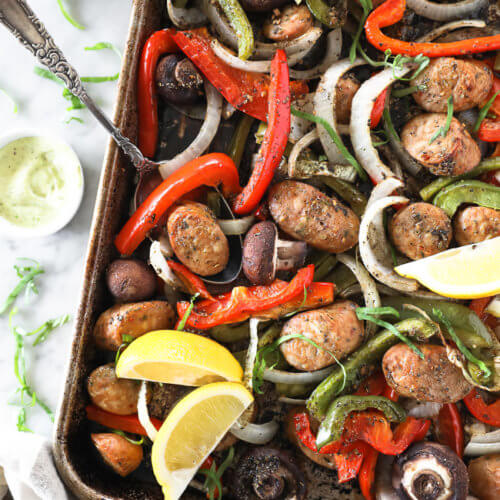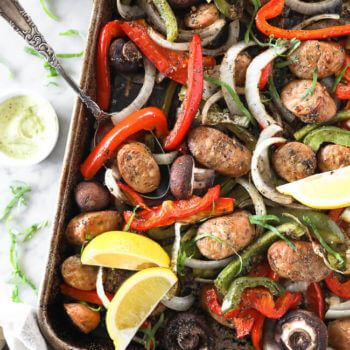 Get the Recipe:
Italian Sausage and Peppers Recipe (Paleo + Whole30)
An easy sheet pan meal, this baked Italian sausage and peppers recipe is a go-to weeknight dinner. A healthy meal for the family that's Paleo + Whole30.
Ingredients
For the sausage and peppers:
1 package pre-cooked Italian sausage, cut into 1/2 thick round pieces, (12 oz)
2 bell peppers, sliced into thin strips
1 onion, sliced into thin strips
8 oz medium-sized mushrooms, (button or cremini)
1 tbsp Italian seasoning
3 tbsp avocado oil
1 tbsp balsamic vinegar
3 cloves garlic, minced, (or sub 2 tsp garlic oil)
1/2 tsp sea salt
1/2 tsp pepper
1/4 cup thinly sliced basil, (optional for serving)
For the herb aioli (optional):
3/4 cup avocado oil, (or sub olive oil)
1 egg
1 tsp Italian seasoning
1 tsp minced garlic
6 fresh basil leaves, roughly chopped
1/2 tsp mustard
1/4 tsp salt
Juice of 1/2 lemon
Instructions
Preheat oven to 400° Fahrenheit and line a large baking sheet with parchment paper.

Prepare Italian sausage, peppers and onion as noted and add them to the sheet pan. Add mushrooms to the sheet pan (cut them into even sizes if needed).

Add avocado oil, balsamic vinegar, garlic, Italian seasoning, salt and pepper to a small dish or bowl and mix. Pour the mixture over the sausage and veggies on the sheet pan and toss to coat. Spread everything out in a single layer as evenly as possible.

Place in the oven to cook for 20-25 minutes, or until the veggies are cooked to your liking.

While the sausage and peppers are cooking, make the sauce (optional).

Place all of the sauce ingredients in a pint jar or a 1 or 2 cup pyrex measuring cup. You want a container just wide enough for your immersion blender.

Place the immersion blender at the bottom of the container. Start blending while holding the blender at the bottom. Don't move the blender from the bottom until the sauce begins to emulsify and thicken. Once it starts to thicken, slowly move the immersion blender to the top until all of the oil is completely mixed in. It should result in a medium-thick sauce (slightly thinner than mayo).

When the sausage and peppers are cooked, remove and serve with sauce (optional) and sliced basil (optional).