We love plantains, and we love burgers! Put those two together, and you get what is called a jibarito. This Paleo + Whole30 jibarito recipe has Puerto Rican roots with a little flare we added with a mayo-free slaw. Get ready to have a new favorite burger recipe!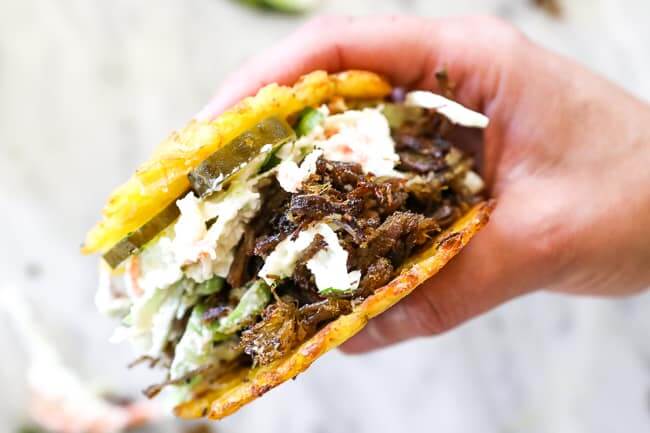 What kinds of meat do you use in a jibarito?
We love pulled pork, and we love making this jibarito recipe when we have leftovers in the fridge to use up. You can also use another shredded meat you like or have on hand, and below are some recipes of ours that would be great. All of them are perfect for meal prep, so you have a yummy protein on hand that you can use in different ways during your work week.
Let's talk about that creamy, mayo-free slaw!
Justin and I really love slaw, especially with something like pulled pork, but I don't eat eggs anymore and that typically takes creamy slaws off the table. Justin came up with this slaw recipe, and honestly it rocked my world! My creamy craving was so satisfied, and we've made it a couple more times since because I loved it so much! Rather than use mayo, Justin created a creamy sauce using macadamia nuts as the base with some other flavors that go great with pulled pork and this jibarito recipe!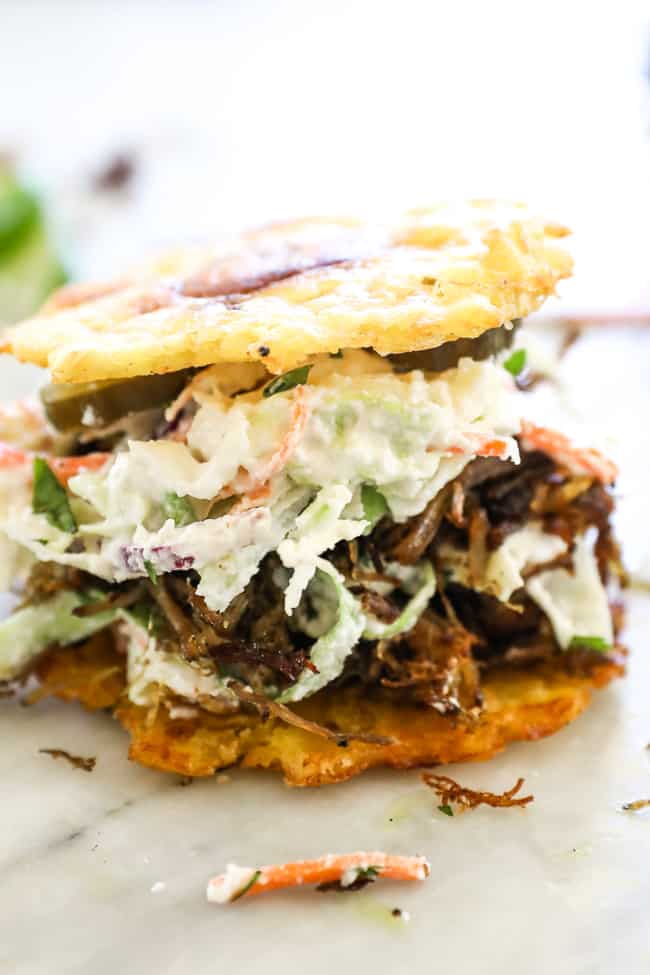 And how do you make those plantain buns?
Well, it's actually not too hard! We like working on them together in the kitchen because it goes faster and is easier with two sets of hands working while the frying pan is going. One tip is to make sure you get green plantains, or mostly green at least, so you get a starchy, french fry like flavor with your buns. Otherwise, yellow/brown plantains will be sweet.
To make the buns, all you do is score and peel your plantains, and then slice them into 1-1/2 inch pieces. Fry the large pieces about two minutes per side and remove from heat and let cool briefly. Then, you smash the plantains. We place the plantain between two pieces of parchment paper and press down with the bottom of a plate. Then, you put them back in the pan to fry again for another minute or two per side. Really it's not that hard. I usually do the frying and Justin does the smashing. It works well!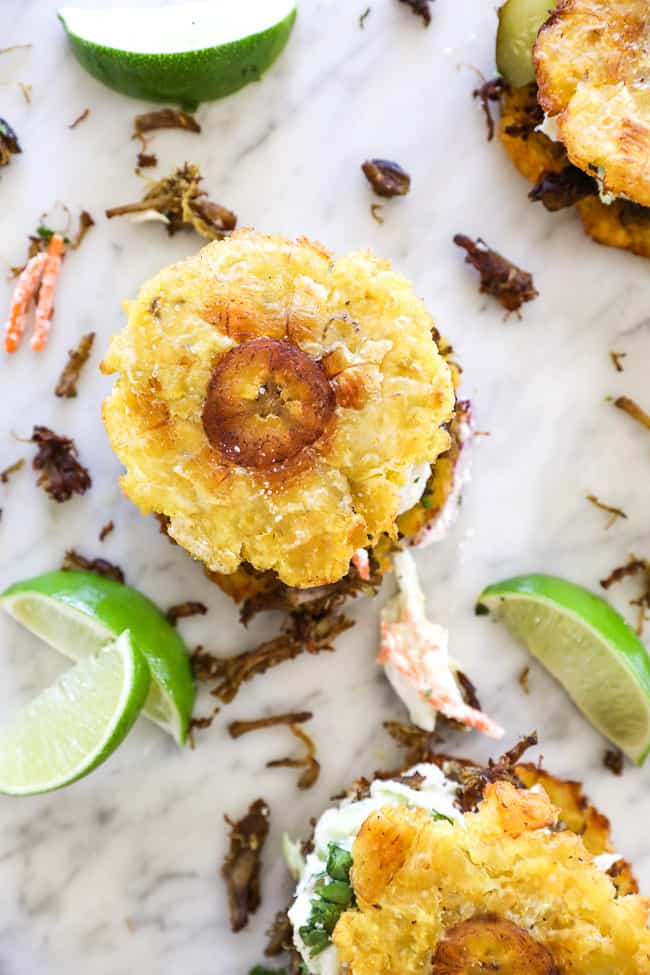 Some other burger recipes to try
Your turn to try our jibarito recipe
Whether you've got pulled pork on hand, or we've just convinced you that you need to make some, make this jibarito! It's seriously so dang good, you'll be craving it on the regular! Leave a comment below, and let us know how it goes. Also, take a pic to share on Instagram. Tag us @realsimplegood so we can see, and give us a follow if you don't already! We'd love to stay connected!
---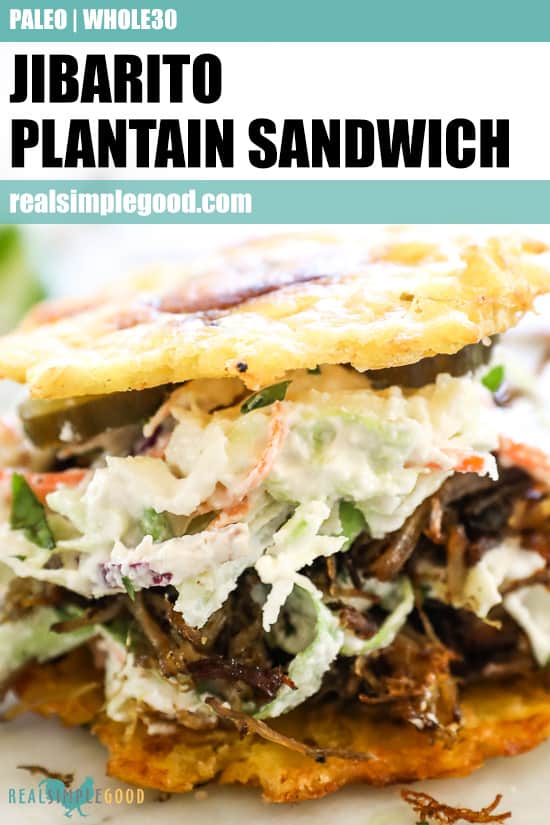 ---
Like this Recipe?
SHARE IT NOW OR PIN IT FOR LATER!
---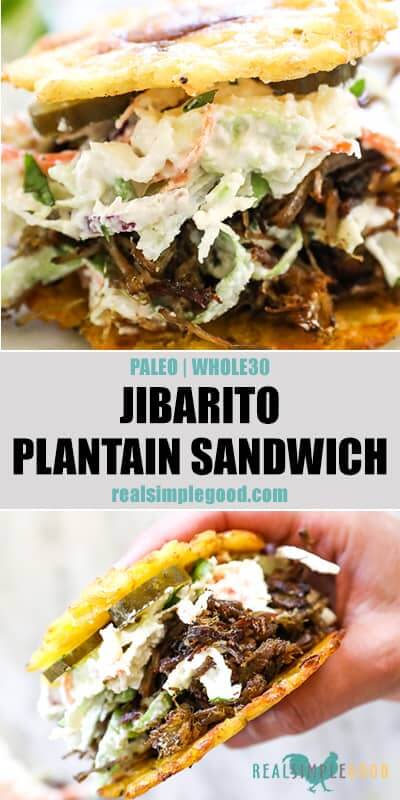 ---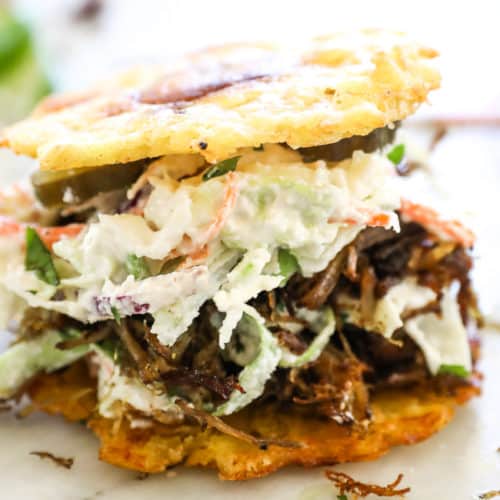 Get the Recipe:
Jibarito Recipe (Paleo + Whole30)
Put plantains and a burger together, and you get a jibarito. This Paleo + Whole30 jibarito recipe has a mayo-free slaw and will be a new favorite recipe!
Ingredients
For the filling:
4 cups prepared pulled pork, (or other meat, see recipe notes)
For the coleslaw:
1/4 cup water
3 tbsp lemon juice
1/4 cup avocado oil
1 cup raw macadamia nuts
1 tsp Dijon mustard
1 tsp apple cider vinegar
1/2 tsp garlic powder
1/2 tsp sea salt salt
1/2 tsp fish sauce
6 cups coleslaw mix, (shredded cabbage and carrots)
For the buns:
2 green plantains
1/4 cup avocado oil, (1/4 to 1/2 cup)
Salt to taste
Optional toppings:
Sliced pickles
Sliced jalapeno
Chopped cilantro
Lime juice
Instructions
First, prepare pulled pork according to instructions (see recipe notes). If it's already prepared, just heat it up quickly after you make the slaw and are finishing the buns.

To prepare the slaw, add all of the coleslaw ingredients to a high powered blender. Process until smooth and creamy.

Place the coleslaw mix in a bowl and add the creamy sauce. Toss to mix well. Taste and season with additional salt and pepper as desired. Cover and refrigerate.

Next, prepare the plantain buns. Start by cutting the ends off the plantains and then scoring the peels lengthwise with a knife. Removing the peels. Slice plantains into 1 to 1-1/2 inch pieces (each plantain should make 5-6 pieces).

Heat a large skillet over medium heat and add in 1/4 cup of avocado oil to cover the pan.

When the pan is hot, add in the plantain pieces, cut side down. You may need to cook in batches, so just fill the pan. Cook plantains on one side for approximately 2 minutes, until browned on one side. Flip plantains to cook on the other side for 2 more minutes. Remove and place on a paper towel lined plate. Repeat with remaining plantain pieces.

Allow plantain pieces to cool for a minute until you are able to handle them. Place a plantain piece between two pieces of parchment paper. Place the bottom of a plate or other flat object over the top piece of parchment paper and press down to flatten the plantain. Carefully remove the smashed plantain from the parchment paper and set aside. Repeat for remaining plantain pieces.

Heat the skillet again over medium and add in more avocado oil if necessary to cover the pan. Cook flattened pieces 1-2 minutes per side, until browned and crispy but not burnt. Transfer to a paper towel lined plate and sprinkle with salt.

Now, make the jibarito sliders by using the plantain pieces as a bun. Start with one piece of fried plantain as a base, add some pulled pork, top with some slaw and any other optional toppings. Top with another piece of fried plantain to complete the bun. Enjoy!
Notes
We love pulled pork for this recipe but you could also use another shredded meat. Below are some recipes that would work for the meat filling for this Jibarito recipe: