Why you'll love these crunchy keto nuggets
The simple low-carb breading completely coats each nugget and crisps up to perfection in the oven or air fryer.
A family-friendly recipe, even the kids will love this one.
They are the low-carb answer to your fast food cravings. Just add some sugar free ketchup for dipping!
Related ->> 10 Essential Keto Sauces
How to make keto chicken nuggets (step-by-step)
No matter how you cook them, you'll prepare the nuggets the same way. Here's how:
Ingredient notes
Chicken – I like chicken breasts best for nuggets, as they are easier to cut into even-sized chunks. You can substitute boneless, skinless chicken thighs if desired.
Flours – Almond and chickpea flours are used for texture and because they are low carb. You can sub tapioca starch for the chickpea flour but it is slightly higher in carbs.
Eggs – Eggs help the flour coat the nuggets and crisp up the outside. You can sub regular milk or nut milk if needed for egg-free.
Tips from an expert home chef
Making the nuggets – When coating the nuggets with the flour mixture, it helps to use one hand for the egg part and the other hand for the flour part. This helps to keep the flour mixture as "dry" as possible and avoid clumping.
An example – Coat the chicken with egg using only your left hand. Drop the coated chicken in the flour with your left hand. Then, using only your right hand, scoop the flour all over the chicken. Transfer the chicken to the baking sheet with your right hand. Repeat for the rest of the chicken.
Don't forget the dip – Our favorite dip for these nuggets is some chipotle aioli. Of course, some sugar-free ketchup or keto ranch dressing are great options too.
What to serve with these healthy chicken nuggets
We hope you love this recipe as much as we do!
Don't forget to leave a quick star rating and review below, we read every comment and truly appreciate your feedback. Also, be sure to browse the rest of our delicious keto recipes to find some other favorites too!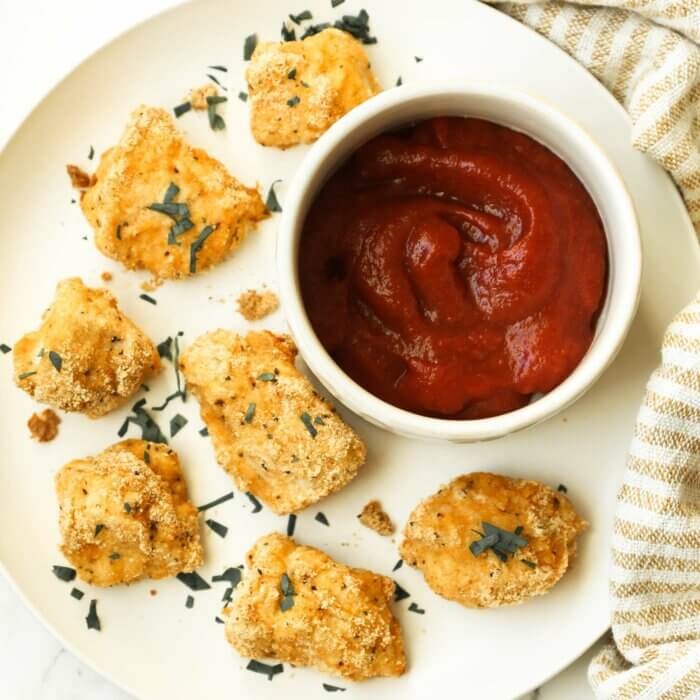 Get the Recipe:
Crunchy Keto Chicken Nuggets (Oven or Air Fryer)
Made with a low-carb almond flour coating and an easy seasoning blend, these crunchy keto chicken nuggets are perfection. Bake them in the oven or crisp them up in the air fryer – your choice!
Ingredients
1.5 lbs boneless skinless chicken breasts
1 cup almond flour
1/4 cup chickpea flour, (can sub tapioca flour, but it's higher in carbs)
1 tsp garlic powder
1 tsp paprika
1 tsp salt
1 tsp pepper
2 eggs, (can sub 1/2 cup whole milk or almond milk for egg-free)
Olive oil spray, (if using the air fryer)
Equipment
Air Fryer (optional, oven-baked instructions included also)
Instructions
For the oven:
Preheat oven to 400° Fahrenheit and line a baking sheet with parchment paper.

Cut the chicken breasts into bite-sized pieces. 1.5 lbs of chicken will make around 25-30 nuggets. Set aside in a bowl.

Dump the almond flour, chickpea flour, garlic powder, paprika, salt, and pepper on a plate. Use a fork to mix up the flour and seasonings.

Whisk eggs in a bowl.

Now, make the nuggets. First, take one piece of chicken and coat it with egg. Then, place it in the flour mixture and coat it completely on both all sides. Set the chicken piece on the baking sheet pan. NOTE: It helps to use one hand for the egg part and your other hand for the flour part. That helps to keep the flour mixture as "dry" as possible and avoid clumping.

Repeat for all of the chicken and arrange the coated chicken nuggets in a single layer on the baking sheet, leaving some room between each nugget.

Place in the oven to cook for 12-15 minutes, or until the chicken pieces are completely cooked through.

Remove and serve immediately.
For the air fryer:
Follow the instructions above (steps 2-5) to prepare the chicken nuggets and get them coated with the flour mixture.

Preheat the air fryer (if yours preheats) to 400° Fahrenheit. If it doesn't preheat, set it to 400° for 5 minutes to warm up.

Place the coated chicken nuggets in the air fryer basket. Don't allow them to touch so they can cook evenly. If needed, cook in 2 batches.

Spray the chicken pieces with some olive oil or avocado oil spray if desired to help them get golden brown (optional).

Cook for 8-10 minutes, or until the chicken pieces are completely cooked through.

Remove and serve immediately.
Notes
These chicken nuggets are best when served immediately. If you have leftovers, you can store them in the fridge and reheat them in either the microwave or pop them in the air fryer at 400° for 2-3 minutes.
Nutrition amounts noted are per serving and an estimate provided for those following a Ketogenic or low-carb diet. See our full nutrition information disclosure here. 
Calories: 278kcal, Carbohydrates: 8g, Protein: 31g, Fat: 14g, Fiber: 3g