Today is a big day…I have finally cracked the code on egg-free cookies. And these Keto cookies are also Paleo and low carb with no added sugar, so what are you waiting for?! Go make these low carb cookies and enjoy!
Disclaimer: We partnered with Bob's Red Mill to bring you this post. We only work with companies and brands we truly believe in and use ourselves. Therefore, all opinions and recipes are entirely our own. Thank you for supporting Real Simple Good and our partners.
Can I use any powdered or granulated sweetener in these Keto cookies?
In short, the answer is no, but maybe. The truth is that I haven't delved too much into other natural sweeteners like monk fruit, stevia, Swerve, etc. because they contain prebiotics in them that I seem to not tolerate well and/or they have a weird aftertaste I can't get over. That said, you may be able to substitute another sweetener, but the amount might vary and since I haven't tried it, I can't say for sure that it will turn out as good as these.
Can I use any almond flour in these Keto cookies?
We've used Bob's Red Mill Almond Flour for years. It's made from whole blanched almonds and is super fine, which is perfect for these low carb cookies! It makes the texture light, while still holding together well. So, could you use another almond flour…maybe, but we love the quality and performance of Bob's Red Mill Almond Flour and it's always our go-to! We appreciate that they focus on high quality, minimally processed products and from mill to table. Plus, they're headquartered right here in Oregon, and we love supporting our local partners!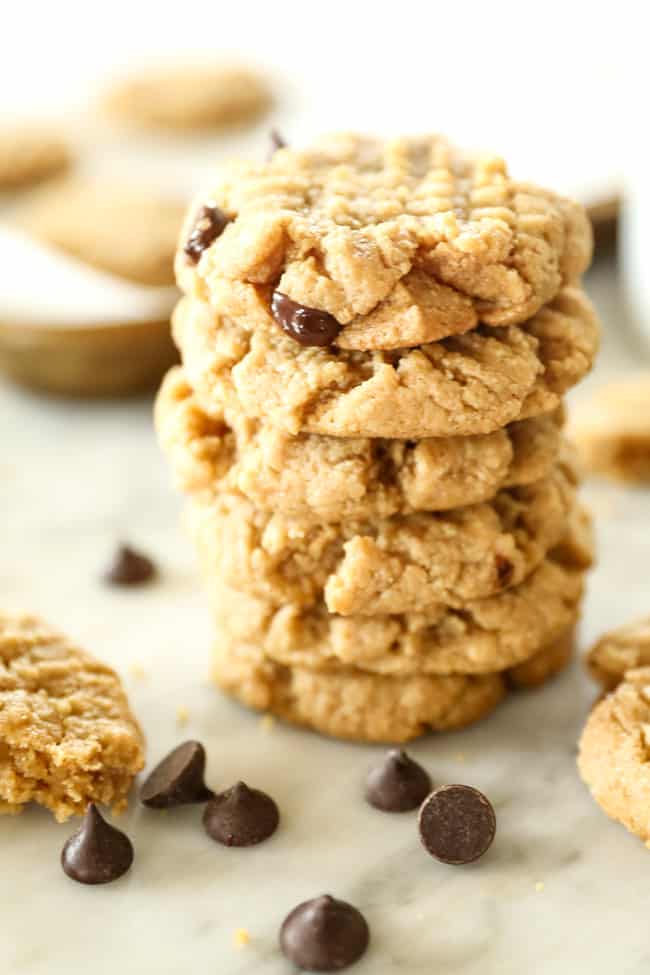 Remember, these low carb cookies are still just a treat
It's easy to get excited about treats and overindulge, especially if you're like me! But…remember, these keto cookies are just meant to be a treat enjoyed every now and again. We don't recommend making them every week and enjoying them every day…while I've said that the erythritol doesn't seem to upset my stomach like other sweeteners, I still think it's probably best to only enjoy it occasionally.
Your turn to try these Keto cookies
Working on reducing your carb intake or dealing with insulin resistance issues? These Keto cookies are a great way to enjoy a treat without totally undoing your efforts or causing a blood sugar spike. Leave a comment below and let us know how it goes. Also, take a pic to share on Instagram, and tag us @realsimplegood. Make sure you give us a follow if you don't already. We'd love to stay connected!
---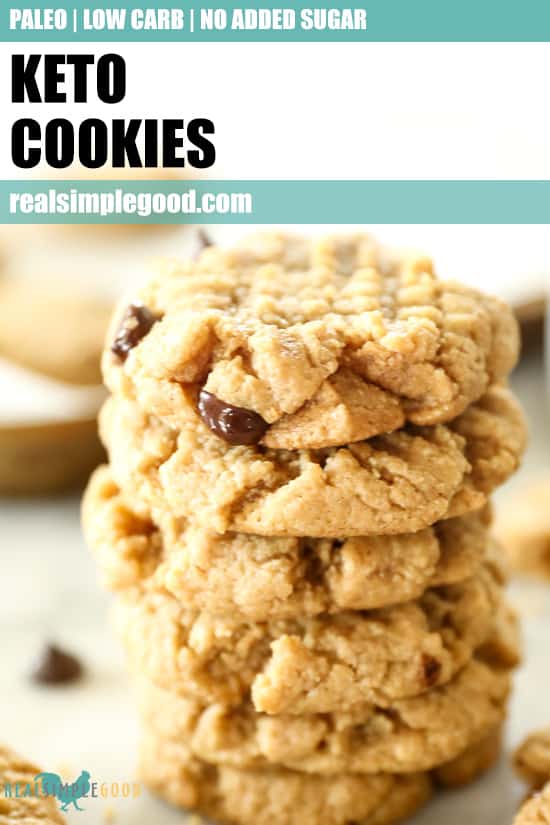 ---
Like this Recipe?
SHARE IT NOW OR PIN IT FOR LATER!
---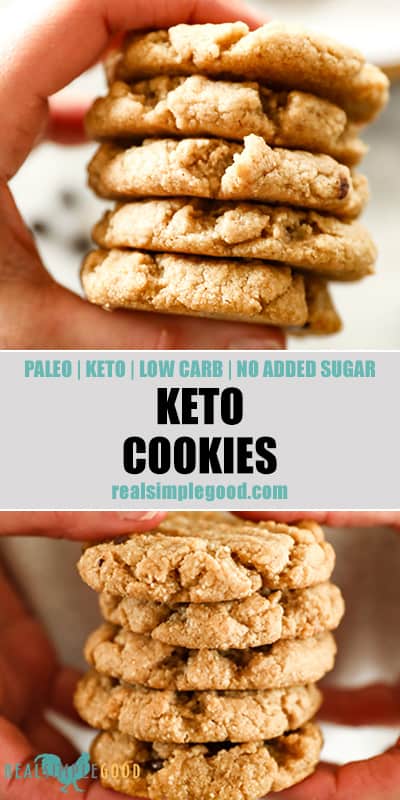 ---
Get the Recipe:
Keto Cookies (Paleo + Low Carb)
These Keto cookies are Paleo, egg-free and low carb with no added sugar! You'd never know it though! They taste like a traditional peanut butter cookie!
Instructions
Preheat oven to 350° F and line a baking sheet with parchment paper.

In a medium mixing bowl, whisk almond flour, erythritol, baking soda and sea salt.

Add nut butter and melted ghee or butter.

Add warm water and gelatin to a small bowl and mix continuously with a fork or whisk so no clumps form. Remove and dispose of any clumps you can't get out and then pour into bowl. Mix immediately to combine everything. Fold in chocolate chips if using.

Roll into balls and place on baking sheet. Use a fork to make a # on each cookie. Transfer to oven and bake for about 9 minutes. Let cool on baking sheet and then store at room temperature in an airtight container.
Calories: 103kcal, Carbohydrates: 3g, Protein: 3g, Fat: 9g, Saturated Fat: 1g, Fiber: 1g