Our favorite low-carb, baked meatball recipe — it's easy to make, uses ground turkey and a handful of herbs and healthy seasonings, and is packed with flavor. The meatballs emerge from the oven tender and juicy — no breadcrumbs added! Keto and Whole30 compliant.
These are really delicious. I have never put peppers in my meatballs. They are so good. This is the only meatball recipe I'll be making for a while! Thank you!

Michelle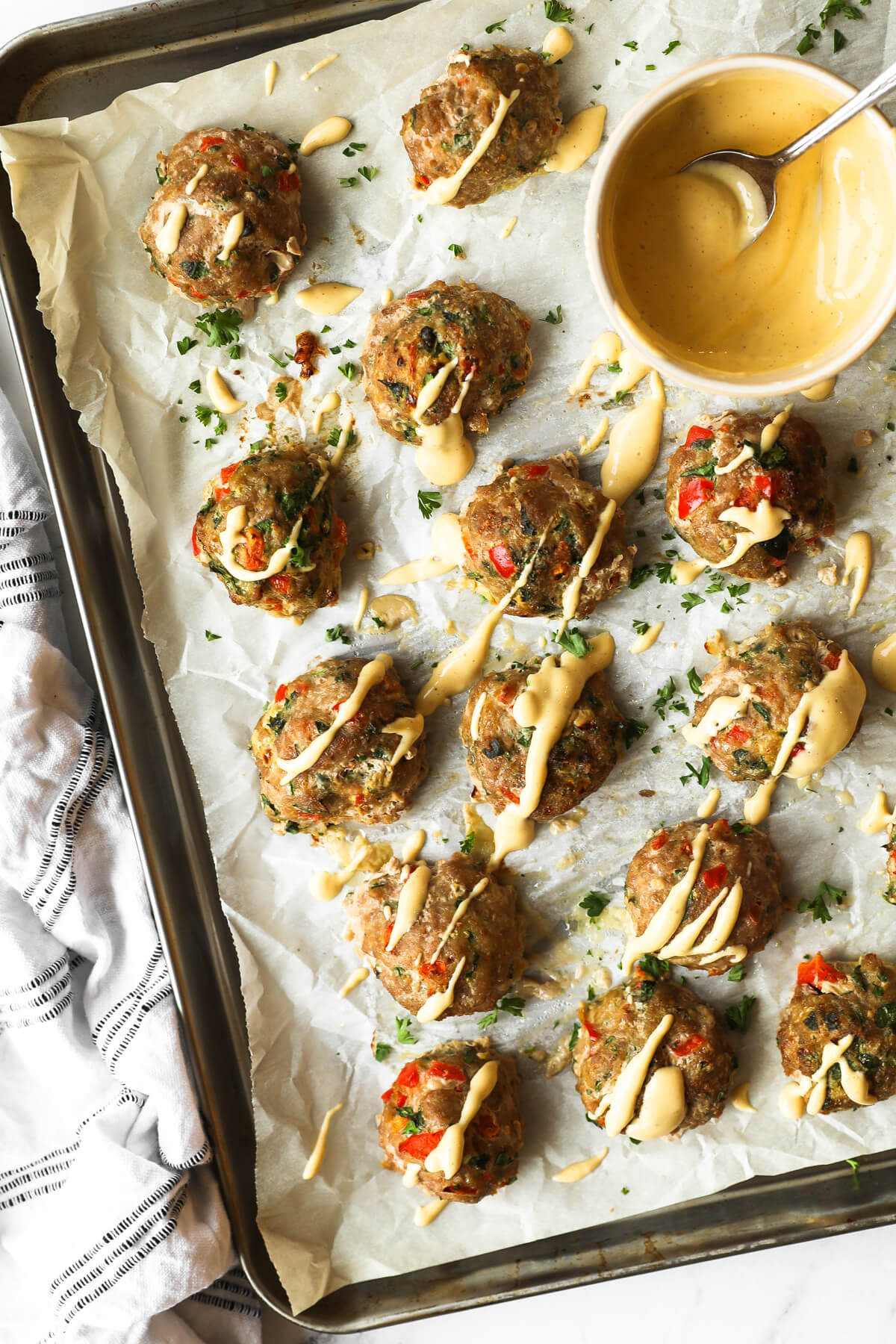 If you like these meatballs, check out this recipe for keto friendly pizza meatballs!
Simple, Low Carb Turkey Meatballs
We like keeping it simple around here, and these keto turkey meatballs are no exception. They only have six main ingredients plus a couple of simple seasonings.
The base – Ground turkey, egg and nutritional yeast. The egg helps the meatballs stick together without breadcrumbs and the nutritional yeast gives it a cheesy flavor without dairy.
Some veggies – We like to add vegetables to healthy meatballs. These have some bell pepper to add a little crunch along with spinach and parsley for a touch of fresh flavor.
Seasonings – A little garlic powder, salt and pepper is all you need!
The sauce – Although it's optional, it kinda isn't. Don't miss dipping and dunking meatballs in the creamy aioli sauce.
Need more low carb recipes? Check out all of our healthy keto recipes!
Meatballs with no Breadcrumbs
It might sound crazy, but you don't really need breadcrumbs (or any kind of flour) in meatballs.
This recipe uses an egg to help hold the meatballs together and it works great.
Plus, no breadcrumbs means this recipe stays Whole30 and Keto friendly. It's even dairy free if you are looking for that.
Need more? We have hundreds of easy and delicious Whole30 recipes!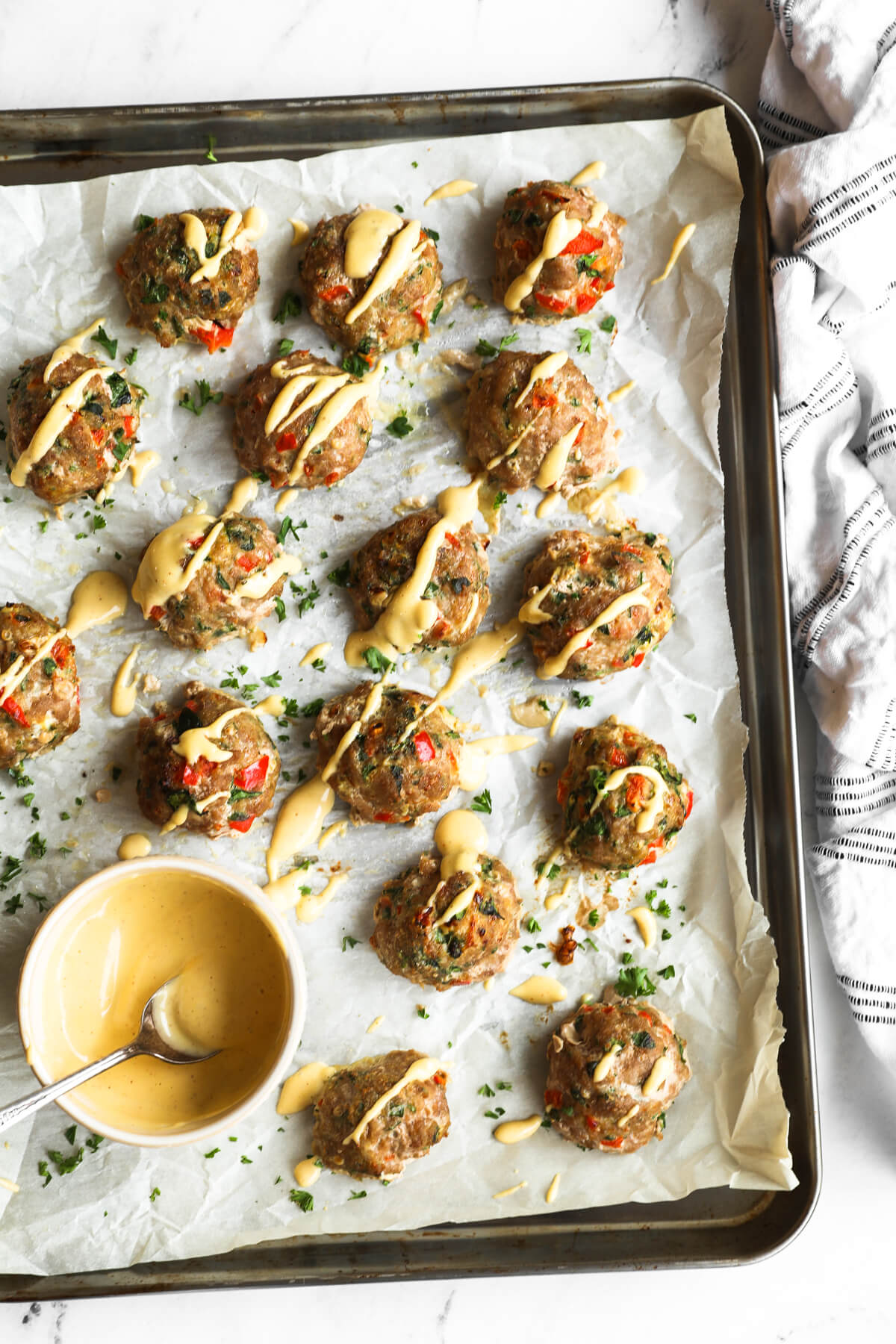 Tips on How to Make Turkey Meatballs
Since ground turkey (or chicken) is finely ground, it tends to stick to your hands a lot.
You can't completely prevent this, but here are some tips to make it manageable:
Don't over-mix the turkey. You want to just get all of the ingredients incorporated into the turkey and then stop.
You can mix the turkey with an oil covered wooden spoon or spatula to prevent sticking.
Coat your hands in oil before mixing the turkey and rolling out the meatballs. Re-apply oil as needed.
To help with #3, I like to keep a clean paper towel and jar of oil next to me when I'm forming meatballs. That way, I can use the paper towel to pick up the jar and add more to my hands when needed.
Or you can also try using an ice cream scoop to drop the meatballs on the sheet pan. Then, they just need a little forming with your hands.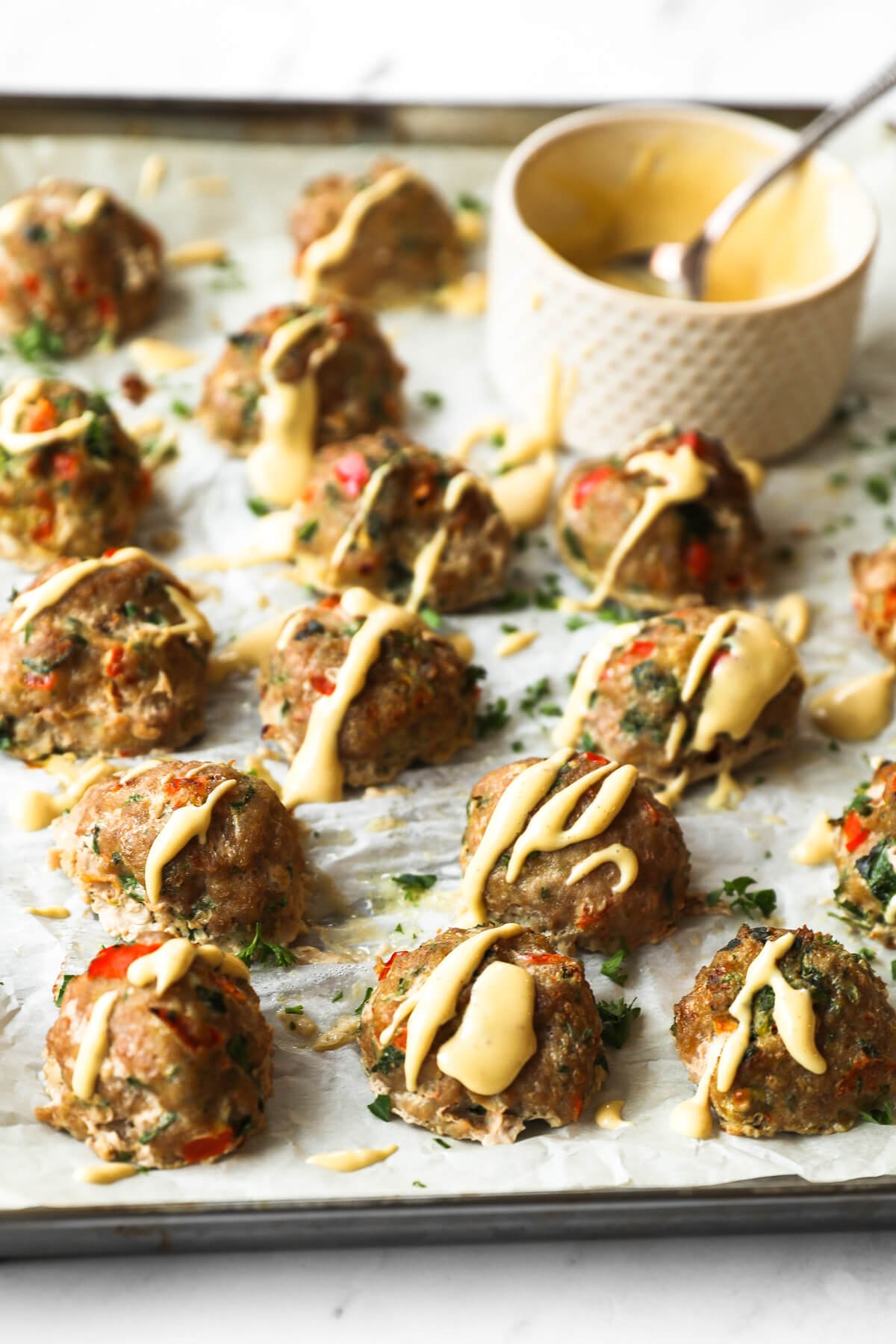 What to Serve With Healthy Turkey Meatballs
These meatballs really do go with just about anything. They are great over any kind of veggie noodle or regular noodles. When mixed with the aioli sauce, it's divinely creamy. Other serving options are:
For Keto/low-carb:
For Whole30/Paleo:
Your turn to try these oven-baked turkey meatballs
Ready for some easy meal prep? Plan to make these keto turkey meatballs and then pair them with whatever sounds good for breakfast, lunch or dinner.
If you make them, leave a comment below and let us know how it goes. Also, take a pic to share on Instagram! Tag us @realsimplegood we love to see what you're cooking!
---
---
Like this Recipe?
SHARE IT NOW OR PIN IT FOR LATER!
---
---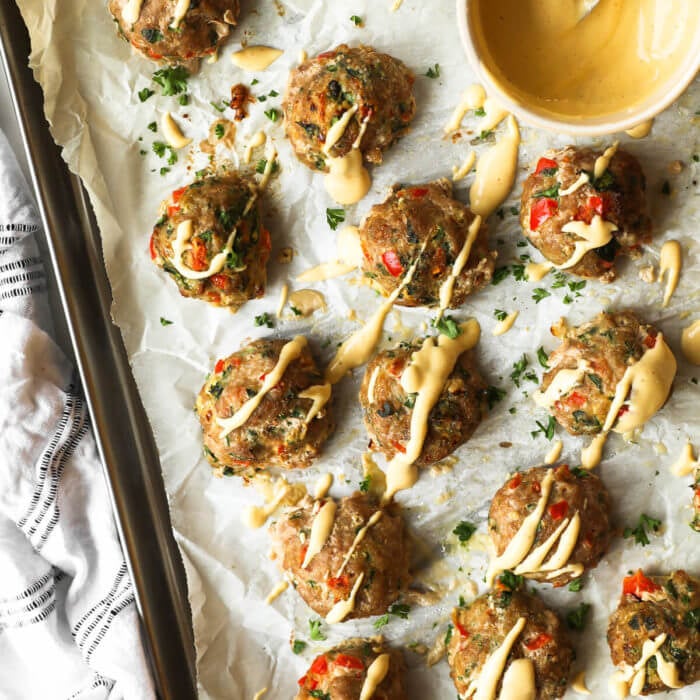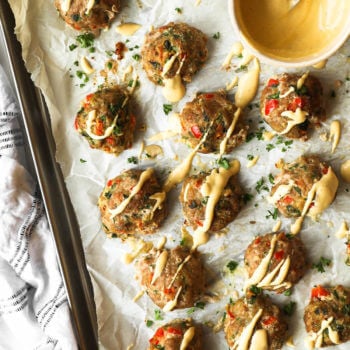 Get the Recipe:
25-Minute Turkey Meatballs (Keto + Whole30)
These homemade meatballs use ground turkey and are Keto and Whole30 compliant. They're low carb, tender and juicy – with no breadcrumbs added!
Ingredients
For the meatballs:
2 lbs ground turkey
1 egg
1/4 cup nutritional yeast
1 cup spinach, chopped
1/2 bell pepper, diced
1/4 cup fresh parsley, chopped
1 tsp garlic powder, (or sub about 1 tbsp galic oil)
1/2 tsp sea salt
1/2 tsp ground black pepper
For the optional spicy aioli sauce:
3/4 cup avocado oil
1 egg
1/2 tsp mustard powder
1/4 tsp sea salt
1 tbsp hot sauce, (adjust to taste)
Instructions
Preheat oven to 400° Fahrenheit and line a large baking sheet with parchment paper.

Add all of the ingredients to a large mixing bowl, and use your hands to combine the ingredients.

Form the mixture into meatballs the size of oversized golf balls and place on lined baking sheet.

Transfer to oven and bake for 20-25 minutes, until fully cooked. If desired, switch the oven to broil for the last 2-3 minutes to brown the top of the meatballs.

While the meatballs are cooking, prepare the sauce (optional). Place all of the sauce ingredients in a pint jar or small pyrex measuring cup. You want a container just wide enough for your immersion blender.

Place the immersion blender at the bottom of the container. Start blending while holding the blender at the bottom. Don't move the blender from the bottom until the sauce begins to emulsify and thicken. Once it starts to thicken, slowly move the immersion blender to the top until all of the oil is completely mixed in. It should result in a creamy sauce. Cover and refrigerate until use.

Remove meatballs from oven and serve topped with spicy aioli (optional).
Notes
Nutrition facts are an estimate provided for those following a Ketogenic or low-carb diet and include the optional sauce for this recipe.  See our full nutrition information disclosure here.
Calories: 134kcal, Carbohydrates: 1g, Protein: 12g, Fat: 10g, Saturated Fat: 1g, Fiber: 1g