This Korean BBQ chicken is the bomb diggity! It's a simple recipe that packs in all the classic Korean BBQ flavors and spices. With only 5 minutes of prep for the marinade and a quick cooking time, this is going to be your new favorite Paleo and Whole30 grilled chicken recipe!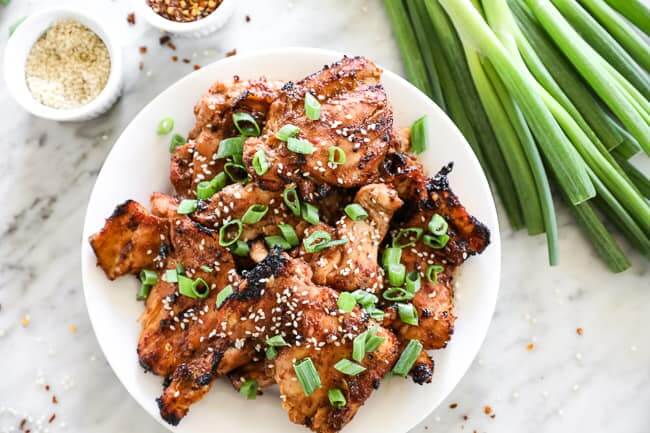 Oh that sticky sauce…..
Do you see that finger licking sauce on those perfectly grilled chicken thighs? It's a simple marinade with basic ingredients but oh wow, does it pack a punch! Your taste buds will be blown away and you'll be going back for seconds – you've been warned.
A note about fish sauce
We use fish sauce in a lot of our recipes, and it really adds a depth of flavor that you can't get with anything else. It doesn't taste "fishy", which a lot of people are afraid of. It really is the key ingredient in this Korean BBQ Chicken recipe, so we don't recommend leaving it out or substitutions!
If you absolutely despise fish sauce or can't eat it for some reason, simply add more coconut aminos to replace the fish sauce. We use Red Boat brand fish sauce, which we purchase from Thrive Market. It is clean tasting and doesn't have any sugar. Watch out for added sugars in other brands!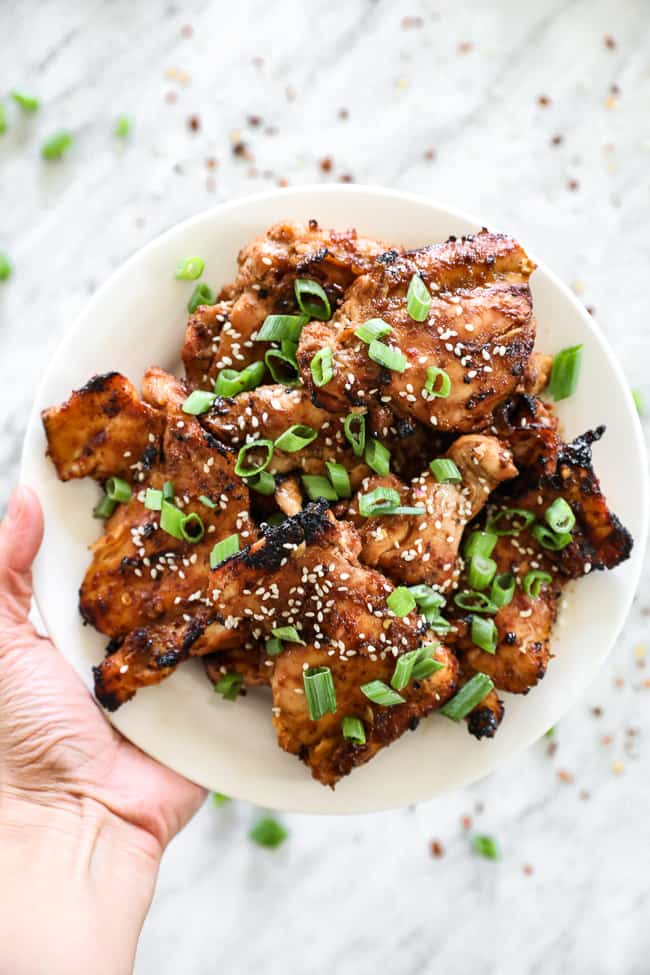 What's the best type of chicken to use for this Korean BBQ chicken recipe?
We want our recipes to be quick and easy, while still being as flavorful as possible. So, boneless chicken thighs really fit this recipe perfectly. They absorb the flavorful marinade well and cook quickly. Alternatively, you could use:
Chicken breasts
Bone in thighs
Drumsticks
Wings.
Basically, any type of chicken you want will work with this Korean BBQ chicken marinade!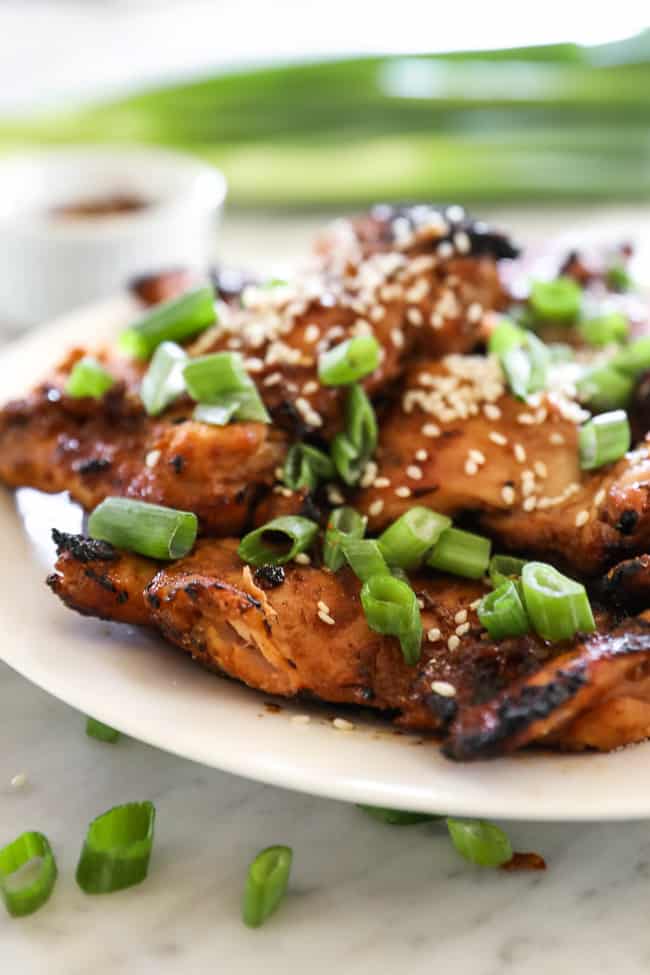 Other cooking options
While grilling will provide you with the most flavor for this recipe, there are other cooking options.
A cast iron grill pan is a good option for getting grill-like results indoors.
A regular cast iron pan works too.
Baked in the oven on a sheet pan or in a casserole dish.
If you choose any of these alternate cooking methods, just remember to baste the chicken with any remaining marinade while cooking. There should be plenty left over for basting.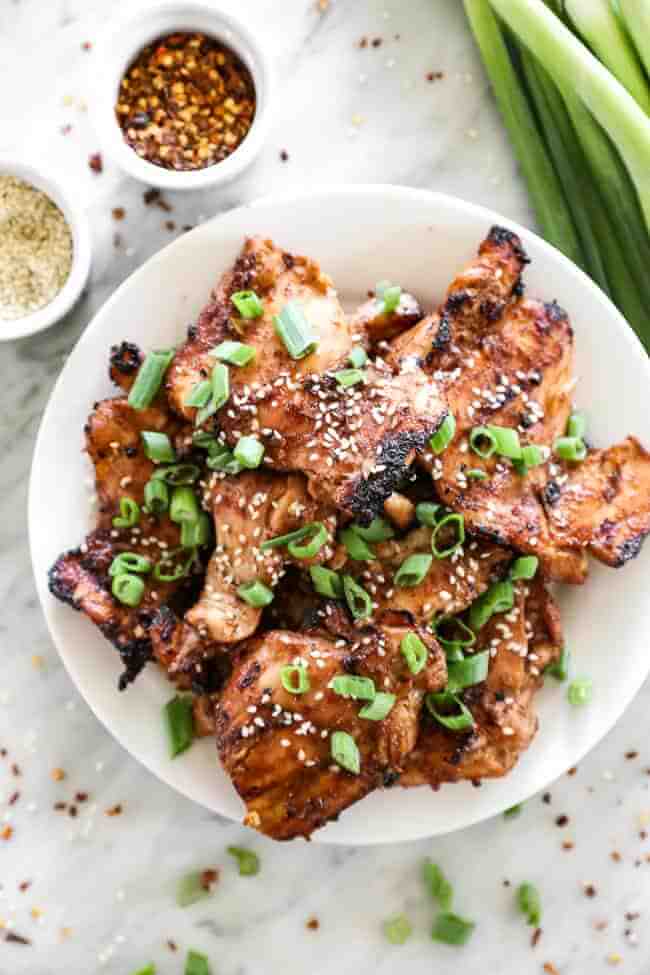 Some sides that go well with this recipe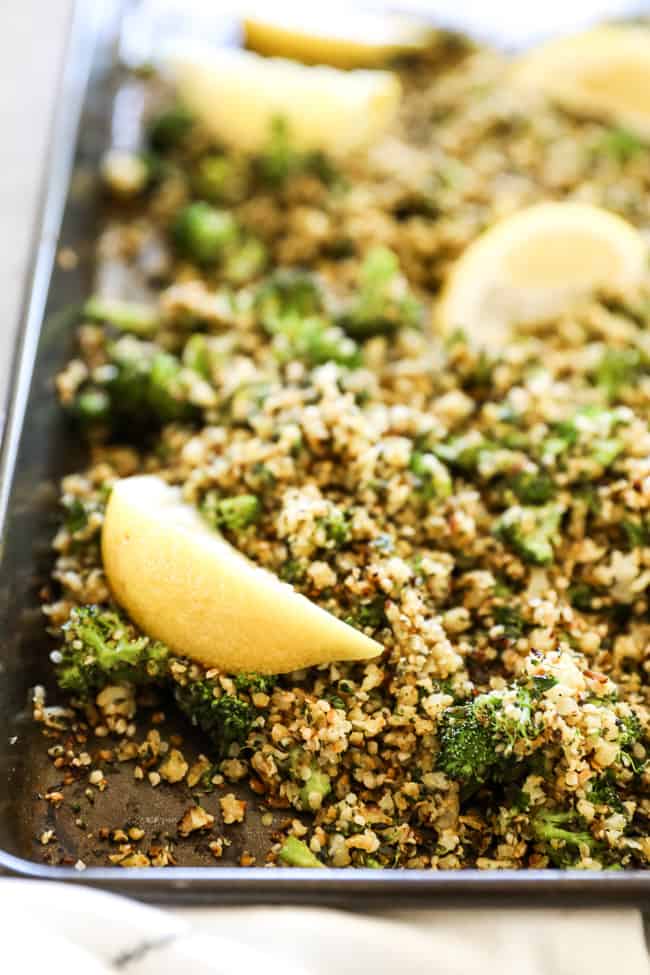 Your turn to try this Korean BBQ Chicken Recipe
Go ahead – fire up your grill and cook up this Korean BBQ chicken! We know you'll love this simple, fun and flavorful recipe. Leave a comment below, and let us know how it goes. Also, take a pic to share on Instagram. Tag us @realsimplegood, and give us a follow if you don't already. We'd love to stay connected!
---
---
Like this Recipe?
SHARE IT NOW OR PIN IT FOR LATER!
---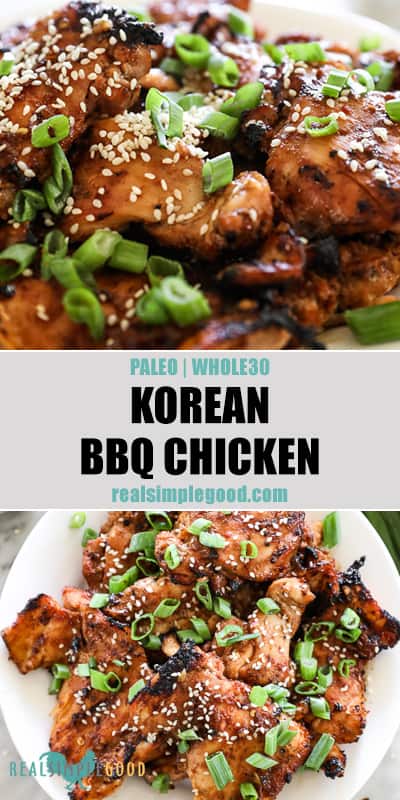 ---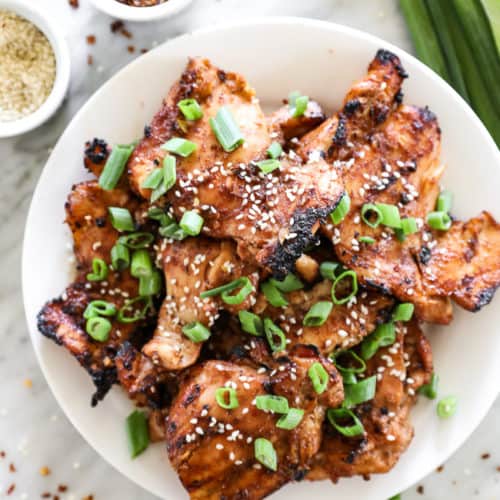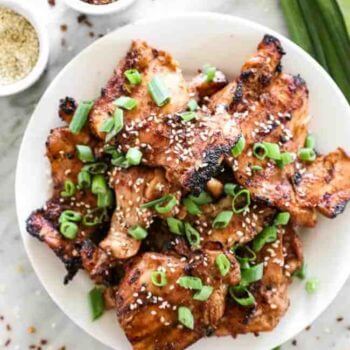 Get the Recipe:
Korean BBQ Chicken (Paleo + Whole30)
An easy recipe and flavorful marinade, this Paleo + Whole30 Korean BBQ chicken is authentic and tasty! Grilled chicken thighs are an easy weeknight dinner.
Ingredients
Optional toppings:
green onion, diced
sesame seeds
Instructions
Make the marinade by combining all of the marinade ingredients in a bowl and mixing well.

Place chicken in a shallow dish or zip-top bag and cover with the marinade. Cover and refrigerate for at least 15 minutes or a couple of hours if you have time.

Heat your grill to medium high heat.

Add the chicken to the grill and cook, flipping once and basting chicken with any remaining marinade until cooked through, about 6-8 minutes on each side depending on the size of the chicken.

Remove from the grill, top with optional toppings if desired and serve.
Notes
For other cooking options, this recipe can be made in a skillet on the stovetop or baked in the oven. For the skillet, cook over medium-high heat for 5-6 minutes per side. For the oven, cook at 400° Fahrenheit for 30-35 minutes, basting with any additional marinade.