Have you guys tried lamb burgers yet? It seems like lamb has become more of a mainstream option these days, and I'm seeing it more often on restaurant menus and available for purchase in stores like Whole Foods. Our local Whole Foods even has pre-made lamb patties that you can purchase – now that's easy! If you haven't tried it yet, these lamb burgers with rosemary pesto sauce are the perfect introduction to this flavorful meat.
It's nice to have a different option other than our regular ground beef burgers to mix in when we want something fresh. Ground lamb typically has a little more fat than the ground beef we eat, so the lamb burgers are kind of like a rich, flavorful alternative to ground beef.
We decided to spice these burgers up with a rosemary pesto sauce because, well – why the hell not? Rosemary is a perfect pairing with lamb and it just felt right to remix our tried and true lemon artichoke pesto sauce into a rosemary version to slather over these burgers. Plus, I like having the leftover pesto sauce in the fridge to use as a dip for veggies and plantain chips, so you really can't go wrong there.
Just look at that juicy burger, don't you want to dig right in? Go ahead and give these lamb burgers with rosemary pesto sauce a try the next time you feel like having a burger. Let us know how you like them by leaving a comment below, and tag us on Instagram @realsimplegood so we can check it out!
---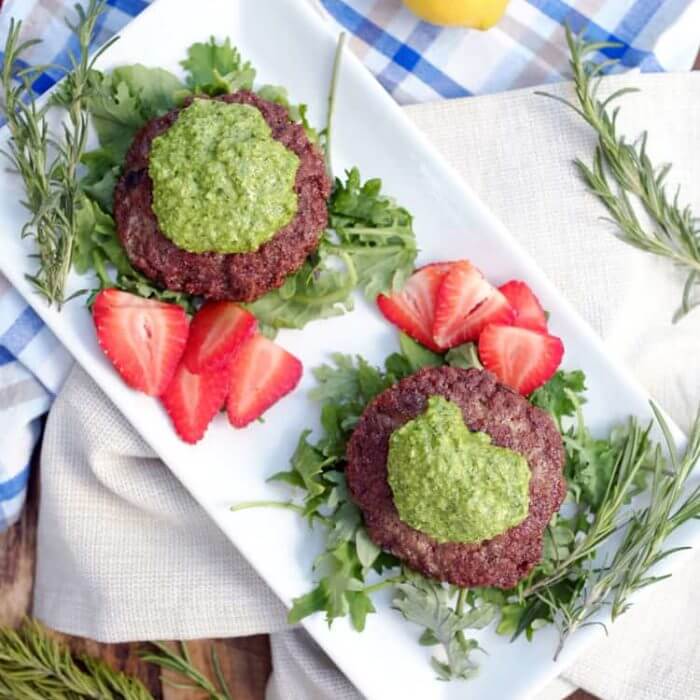 Get the Recipe:
Lamb Burgers with Rosemary Pesto Sauce (Paleo, Whole30 + Keto)
Rich and flavorful, these lamb burgers with rosemary pesto sauce are a gourmet meal that can be on your plate in under 20 minutes. Paleo + Whole30 friendly.
Ingredients
For the rosemary pesto:
½ cup raw unsalted sunflower seeds
2-3 cloves garlic, - smashed with the side of a knife
1 lemon, - juice of
1-2 big handfuls of fresh basil
2-3 big handfuls of fresh spinach, arugula or baby kale
1-2 sprigs of fresh rosemary
salt and pepper to taste
1/2 cup olive oil, or avocado oil
For the burgers:
1 lb ground lamb, (or pre-made lamb patties, we found some at Whole Foods)
Salt and pepper to taste
Instructions
Start by making the rosemary pesto. Add the sunflower seeds, garlic and lemon juice from one lemon to a food processor. Pulse until combined.

Add the fresh basil and your choice of greens (spinach, arugula or baby kale).

Remove the leaves from the stems of your rosemary sprig(s). We used 2 full sprigs of rosemary because we wanted a strong rosemary flavor. Rosemary is a very flavorful herb, so only use one sprig or less if you are looking for a more subtle rosemary flavor.

Season with a pinch or two of salt and pepper to your liking.

Stream the olive oil (or avocado oil) in while the food processor runs until the consistency is smooth.

Next, make your lamb burgers. Shape your ground lamb into 3-4 evenly sized burger patties. Season with salt and pepper on each side.

Heat a cast iron or other skillet over medium heat. Once the pan is at temperature, add in your lamb patties to cook.

Cook to your desired level of doneness, about 3-4 minutes per side for a medium burger.

Serve your lamb burgers over a bed of greens with a generous dollop of rosemary pesto on top. We also added some strawberries which was a perfect sweet pairing with the burgers. Sautéed peppers make a great topping as well.

Any leftover pesto can be stored in a jar in the fridge for later use.
Notes
Nutrition facts are an estimate provided for those following a Ketogenic or low-carb diet. See our full nutrition information disclosure here.  
Calories: 888kcal, Carbohydrates: 6g, Protein: 30g, Fat: 83g, Saturated Fat: 21g, Fiber: 2g