It's no secret. I have always had a sweet tooth, and I just love making treats. They are fun, they make people happy, and I enjoy it, so I don't really feel bad about it. Plus, we don't have treats too often, so when we do it is nice to have something really good! This layered banana cream dessert is the perfect sized treat. You can make two or four, or however many you need. The recipe is for two servings, so one for now and one for later…or share with a friend or loved one.
Banana is a good treat because it does most of the sweetening for you. Plus if you use frozen bananas you get a creamy, soft serve ice cream texture which is a treat all in its own. Take a look. Don't you want to spoon some right into your mouth?
Get ready to impress your family and friends with this luxurious and indulgent dessert. They look just as impressive as they taste. Serve them up in small mason jars or in stemless wine glasses so your guests can see the glorious layers. The salted caramel running down the sides of the jars, and the salty pecans sprinkled on top. Mmmm…You can serve these up right away, or make them in advance and just keep them in the fridge until you are ready to serve.
Go treat yourself with this layered banana cream dessert, and let us know how it goes by leaving a comment and rating below. Also, take a picture and tag it on Instagram @realsimplegood so we can check it out!
---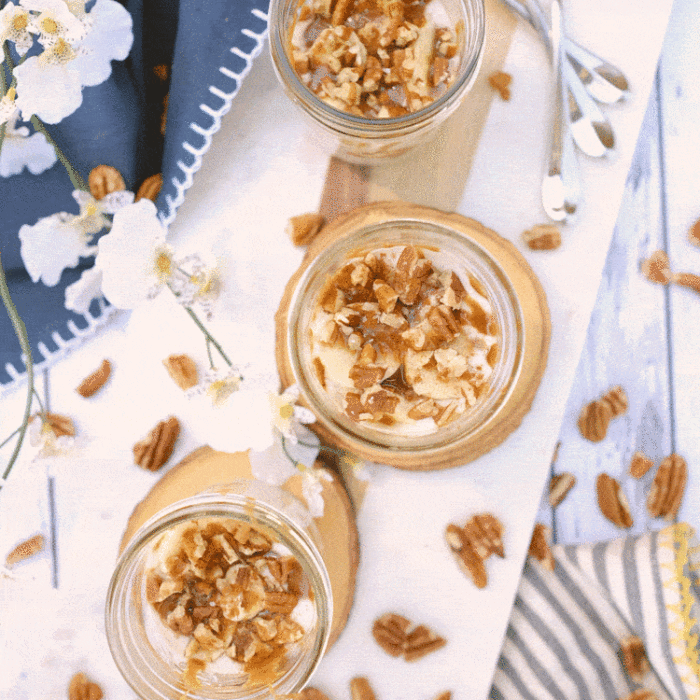 Get the Recipe:
Layered Banana Cream Dessert (Paleo, Vegan + GF)
Ingredients
1-1/2 cups full fat coconut milk
1 frozen banana, (I like to peel and split bananas in half or thirds and freeze them to have on hand for smoothies or treats like this)
1 tbsp grass-fed collagen/gelatin, - optional (it makes it even creamier and adds protein and is good for your joints and stomach)
1 tsp vanilla
1 fresh banana, - cut into thin slices
1 batch salted caramel sauce, (linked to in post above)
Pecans, - chopped for topping
Sea salt for topping
Cinnamon for topping
Instructions
Place your coconut milk, frozen banana, collagen, and vanilla in a blender. Blend on high until everything is smooth.

Start layering. Use a small mason jar or a stemless wine glass (or something similar). Scoop some of the banana cream in the bottom, then add a layer of banana slices and drizzle a big spoonful of caramel. Repeat until the creamy goodness is all used up.

Top with chopped pecans and a dash of sea salt.

Serve these right away or keep them in the fridge until you are ready to serve.