The weekend is calling! Make a batch of these light and fluffy gluten free pancakes for the family! We used coconut flour and tapioca flour to keep them grain free, and we offer an easy swap to make them vegan too. You'll have a beautiful stack to serve up in just about 15 minutes. And you can top them with all your favorite pancake toppings.
Disclaimer: We partnered with Bob's Red Mill to bring you this post. We only work with companies and brands we truly believe in and use ourselves. Therefore, all opinions and recipes are entirely our own. Thank you for supporting The Real Simple Good Life and our partners.
Gluten free, grain free, dairy free, nut free + paleo pancakes
These pancakes are easy to make work for everyone! They're even toddler approved! So, make up a batch (or a double batch) to enjoy a family breakfast over the weekend. Or maybe you are like us and like to make pancakes for brinner (breakfast for dinner). Either way, set out everyone's favorite toppings and have fun!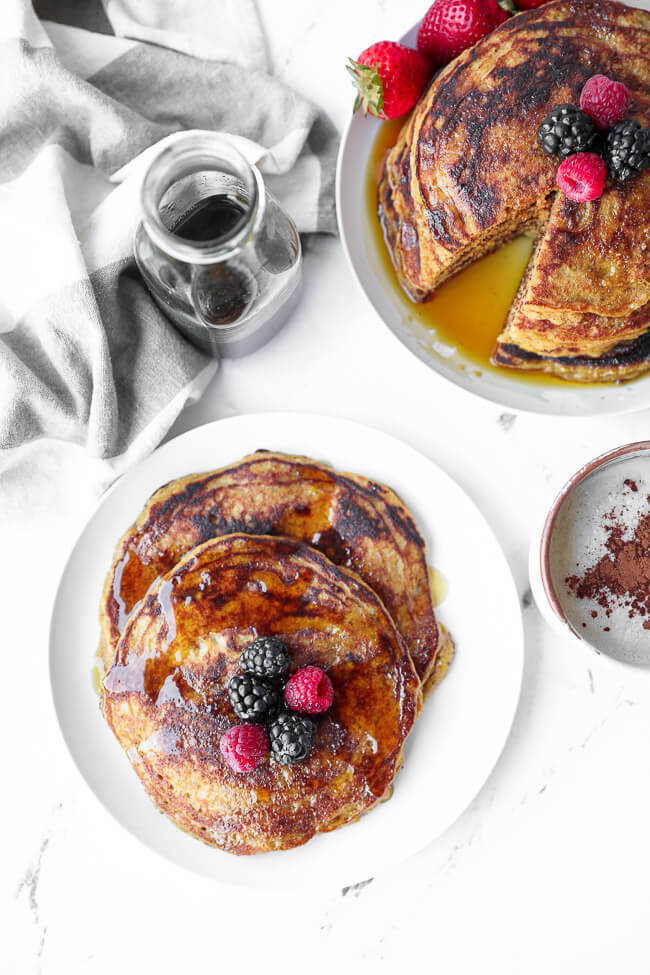 Looking for more? Check out all of our gluten free breakfast recipes here!
What flours do you use for gluten free pancakes?
We love Bob's Red Mill for all of our gluten free flour needs! This recipe calls for Tapioca Flour and Coconut Flour. The combo of these two flours makes the perfect light and fluffy pancake!
We have used Bob's Red Mill for gluten free and Paleo friendly baking flours for years. You'll see us using their flours in many of our recipes – from family recipes like these gluten free pancakes to cookies like our gluten free homemade snickerdoodles, to healthy muffins like our lemon poppy seed muffins to savory dishes like our creamy Tuscan chicken! We love the quality of their products from mill to table and the fact that they're a local Oregon company!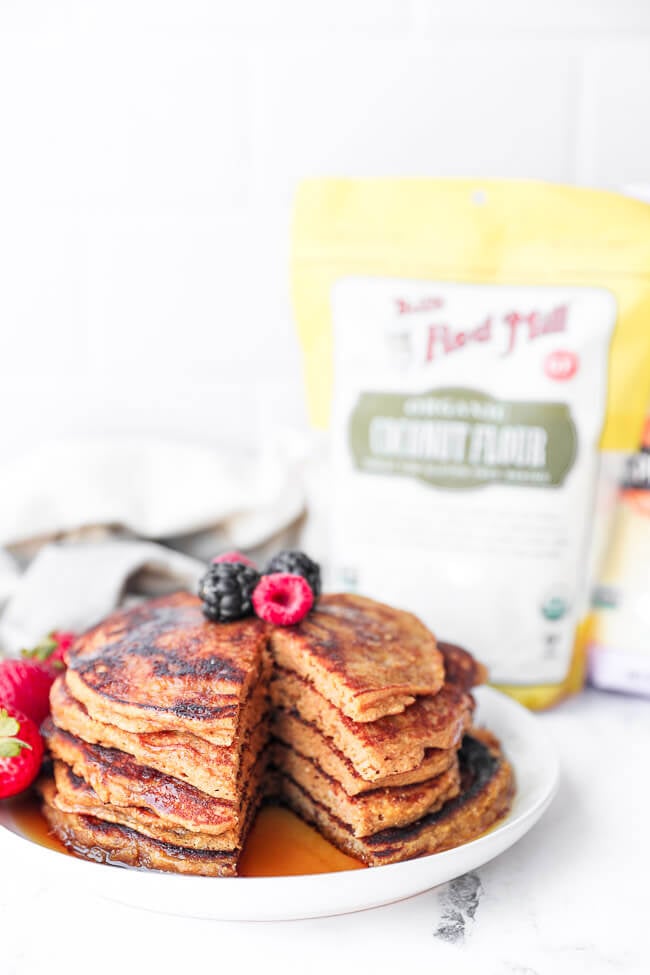 Can you make these pancakes vegan friendly?
YES! Just one easy swap will take these gluten free pancakes from dairy-free to vegan as well! Instead of eggs use flax meal and water. Just mix 6 tablespoons of ground flax meal with 7-1/2 tablespoons of warm water. Let it sit while you grab the rest of the ingredients, and then use the mixture in place of eggs in the recipe.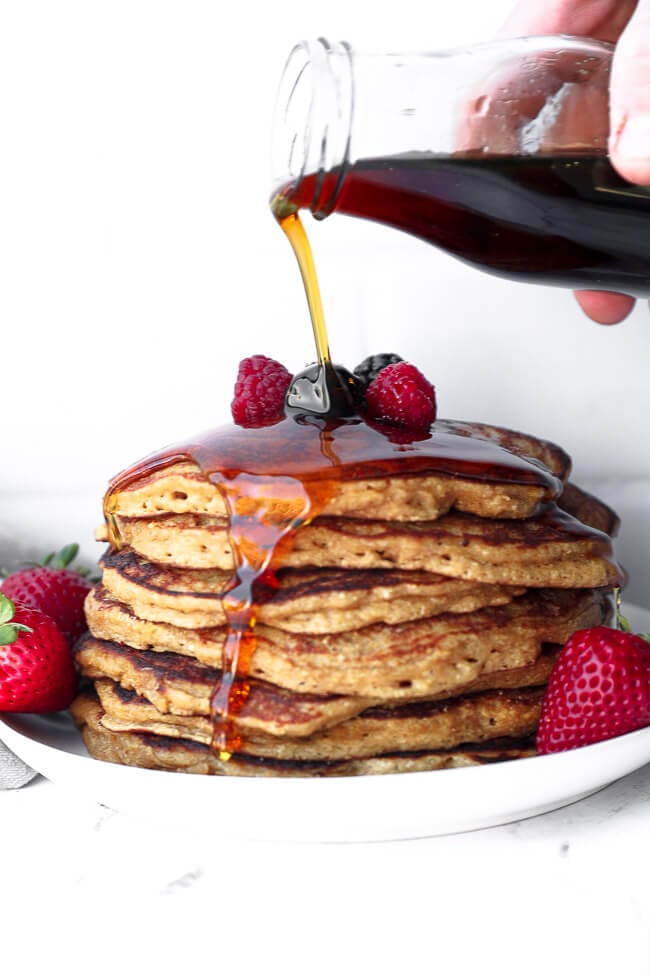 Pro tip: Make these pancakes vegan friendly by using ground flax meal and water to make flax eggs in place of regular eggs.
Some other breakfast recipes to try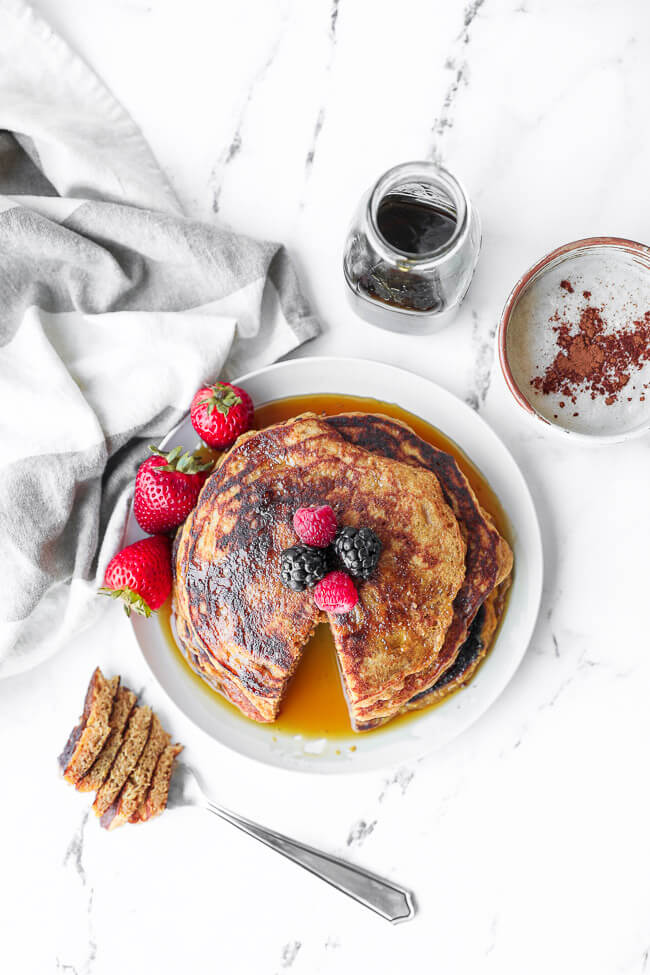 Your turn to make these light and fluffy gluten free pancakes
Get ready to enjoy a family breakfast with these pancakes! It's a stack the whole family will enjoy! Leave a comment and rating below to let us know how it goes. And share a pic on Instagram. Tag us @realsimpelgood, so we can check it out. We love to see what you're cooking!
---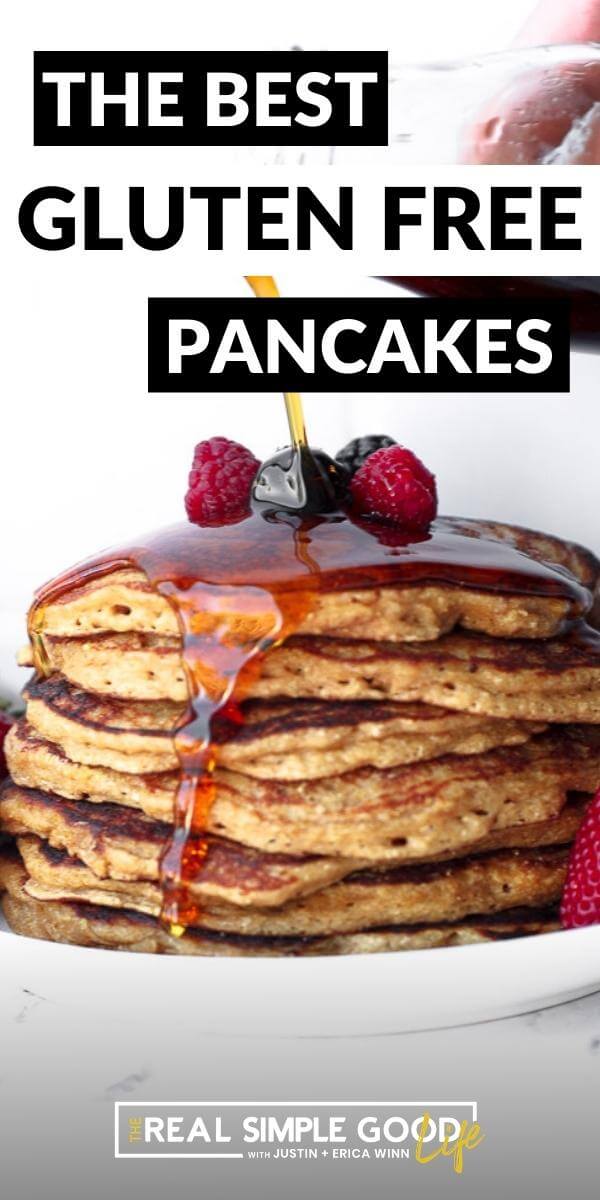 ---
Like this Recipe?
SHARE IT NOW OR PIN IT FOR LATER!
---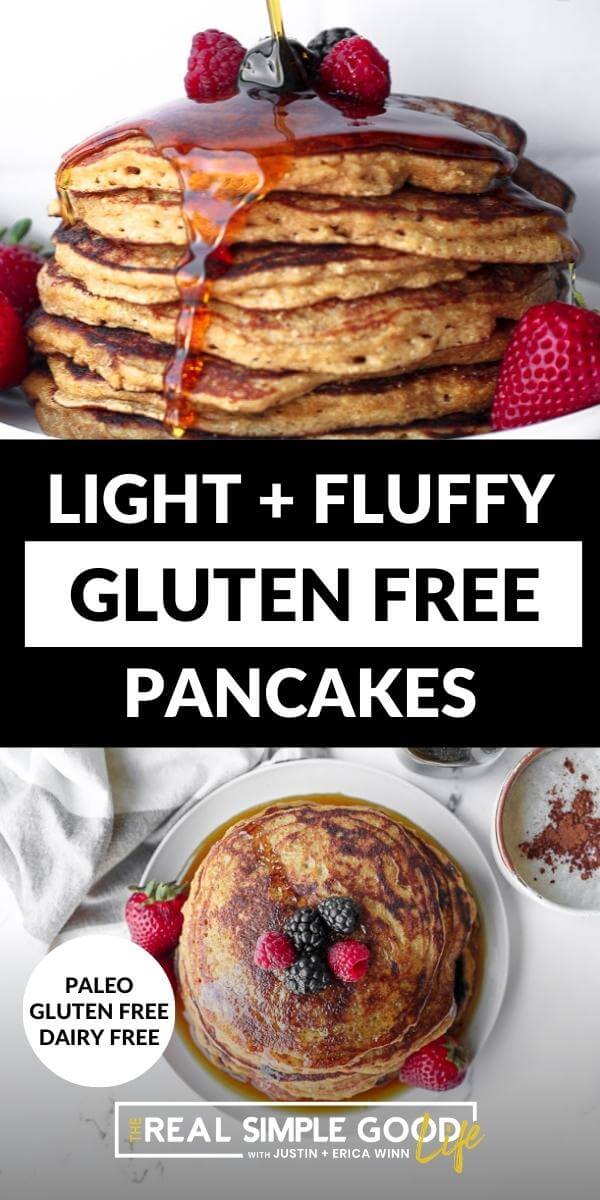 ---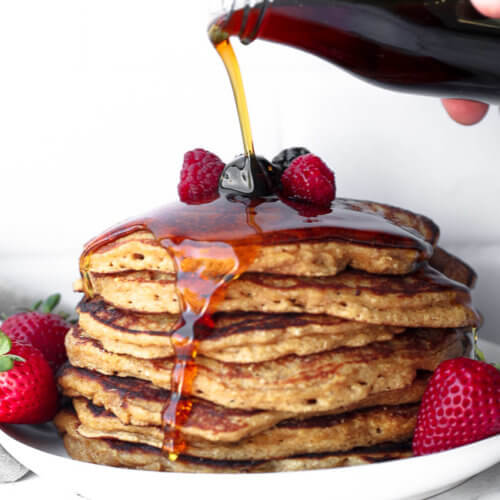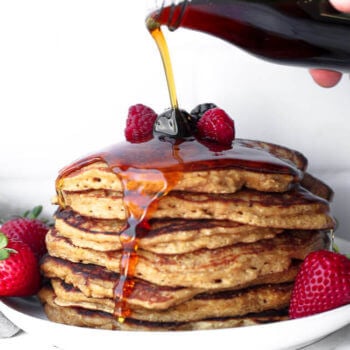 Get the Recipe:
Light and Fluffy Gluten Free Pancakes
The weekend is calling! These light and fluffy gluten free pancakes are great for the whole family!
Instructions
In a medium mixing bowl, combine all of the dry ingredients with a whisk.

Add the wet ingredients and continue whisking until a smooth batter forms. Note: It will be a little thicker than your typical pancake batter.

Heat your griddle pan or other pan of choice over medium heat.

Use a non-stick coconut oil spray to your heated pan.

Scoop a couple of spoonfuls of the batter into your pan and spread the batter out a little with the back of your spoon to form a larger circle shape. Remember the smaller they are the easier they are to flip, so choose your size and shape carefully.

Flip the pancakes when they start to bubble. You can check to see that the bottom side has started to brown just a little. That is the perfect time to do your flipping.

We like to place the pancakes on a plate in the oven with low heat (about 200 degrees) until all the pancakes are cooked so we can enjoy them together while they're warm and right off the stove.

Top with whatever you love and enjoy!