This Keto + low carb loaded mashed cauliflower might just be the best side dish ever! And we don't say that lightly. We've enjoyed it with all the proteins and with all the other veggies. If you've got picky eaters or are hosting a get together, THIS is the side dish to serve that nobody will even realize is low carb or healthier!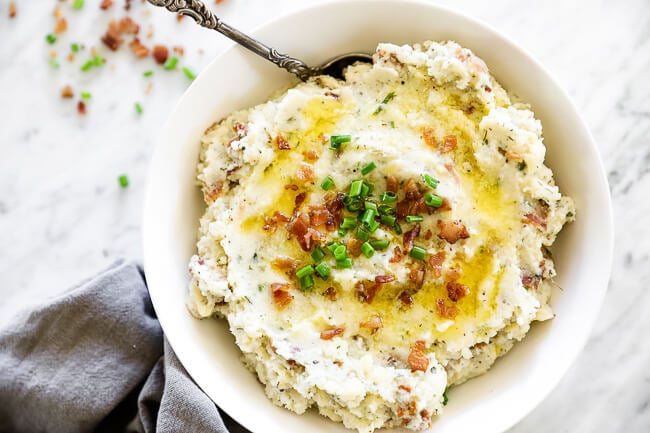 It's Keto but not Paleo
We're just going to get this out of the way early – this recipe is NOT Paleo. I know…we pretty much never do that. Typically when we post a recipe with dairy in it, it is optional and just as delicious omitted. However, this Keto loaded mashed cauliflower really wouldn't be the same without the cheese, and therefore, we decided to not make it Paleo and dairy-free. Sorry for those of you with dairy allergies or sensitivities. We have lots of other Paleo side dishes to choose from!
How to make your mashed cauliflower super smooth and creamy
We originally made this dish just using a potato masher to mash the cauliflower and it turned out delicious, but then when we made it again Justin had the great idea to put the cauliflower through the food processor after he boiled it. Then, he returned it to the pot to mix in the rest of the ingredients. The finished side dish ends up super creamy and smooth like traditional mashed potatoes. Alternatively, you can stick with the potato masher and end up with a more chunky texture. Go with whatever you prefer!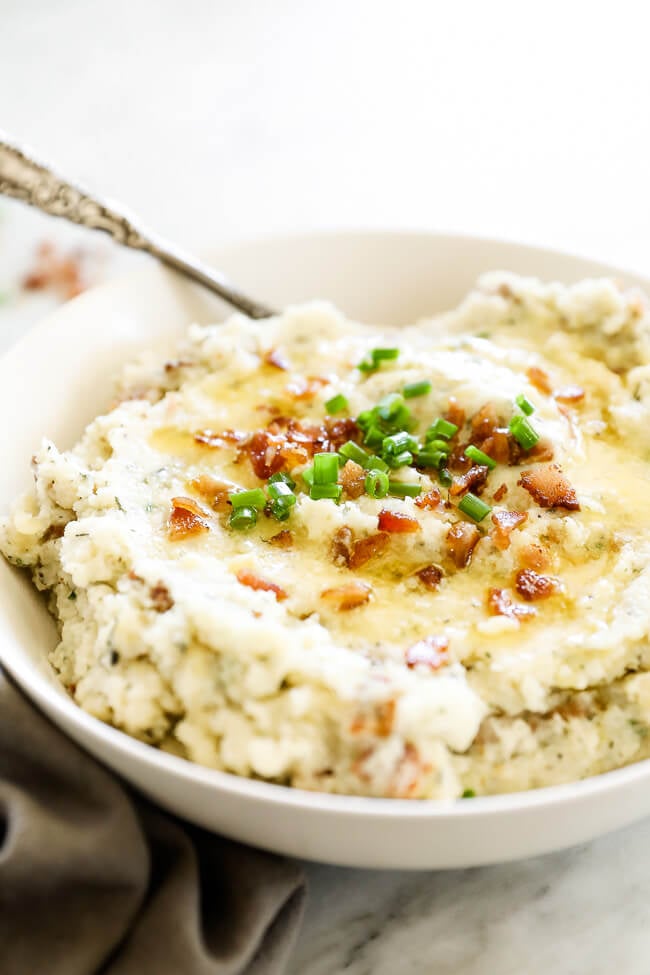 Serve it up with all the things
You're going to love pairing this loaded mashed cauliflower with all the things. Justin's favorite is with our easy salisbury steak recipe! It's basically the most hearty, comfort food-like pairing. And the best part, the combo is so flavorful you won't even notice that it's all healthier versions. You can enjoy this mashed cauliflower with just about anything though – salmon or other fish, shrimp, chicken, beef, pork, etc. It is truly complimentary to all the proteins. What will you try first?
Some other low carb side dishes to try
Your turn to try our loaded mashed cauliflower
It's not Paleo because of the cheese, but if you tolerate cheese you're going to want to make this loaded mashed cauliflower! Justin really knocked it out of the park with this one, and we can't wait to hear what you think! Leave a comment below, and let us know how it goes. Also, take a pic to share on Instagram, and tag us @realsimplegood so we can see. Make sure to give us a follow if you don't already – let's stay connected!
---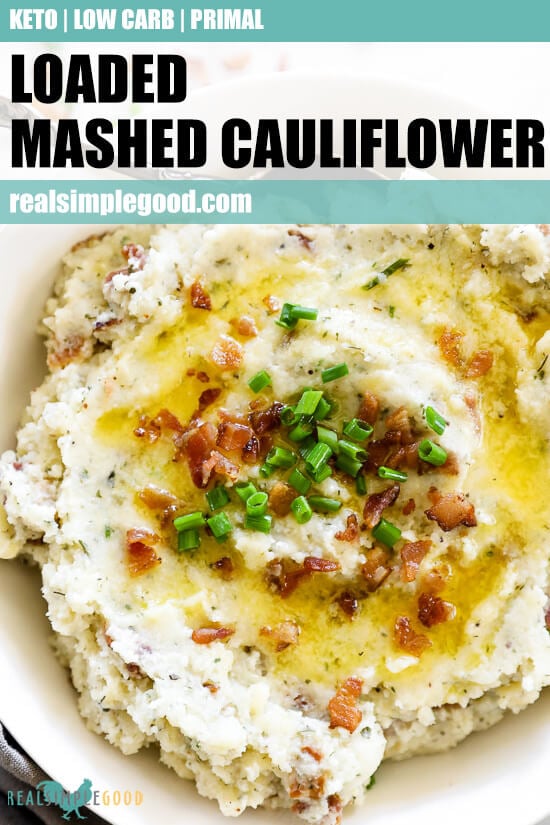 ---
Like this Recipe?
SHARE IT NOW OR PIN IT FOR LATER!
---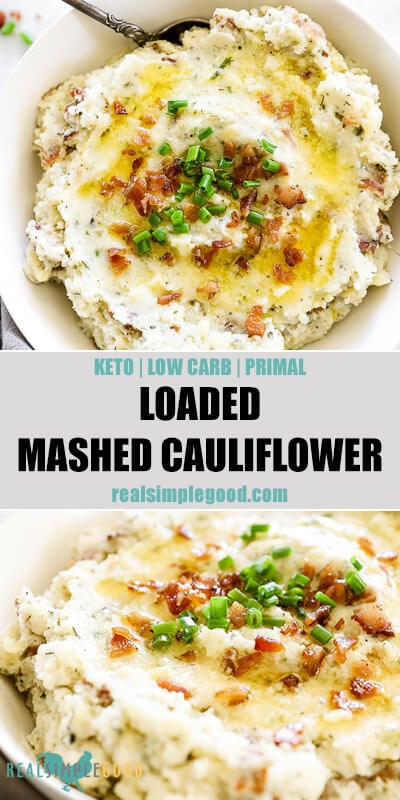 ---
Get the Recipe:
Loaded Mashed Cauliflower (Keto, Low Carb)
This Keto + low carb loaded mashed cauliflower goes with all the proteins and with all the other veggies. Perfect for picky eaters and get togethers!
Ingredients
2 medium heads of cauliflower
8 pieces bacon, diced
2 tbsp ghee, (or coconut oil for dairy free)
2 cups shredded cheese
For the seasoning:
1 tbsp parsley
1 tbsp chives
1 tsp dill weed
1 tsp garlic powder
1 tsp onion powder
1 tsp sea salt
1 tsp ground pepper
Optional topping:
Chopped fresh chives
Additional shredded cheese
Instructions
Cut the cauliflower into medium sized florets and place them into a pot. Fill the pot with water to cover the florets. Place the pot on the stove and cover, turn heat on high and bring the water to a boil. Once the water reaches a boil, boil, covered for 15 minutes, or until the florets are very soft.

While the cauliflower is cooking, dice bacon and place it in a skillet over medium heat. Cook, stirring occasionally, until the bacon is browned, about 6-8 minutes. Remove from the skillet and place on a paper towel lined plate.

While the bacon is cooking, shred the cheese and prepare the seasoning mix by adding all of the seasoning ingredients to a small bowl or jar and mixing well.

Once the cauliflower is cooked, dump it in a colander to drain.

Add the cauliflower back into the pot and mash with a potato masher (SEE RECIPE NOTE 1). Keep the heat on low to help evaporate any water. 

Add in the ghee, seasoning mix, bacon and cheese. Mix well to incorporate. Serve topped with optional toppings as desired. (SEE RECIPE NOTES 2 & 3)
Notes
Nutrition facts are an estimate provided for those following a Ketogenic or low-carb diet and do not include optional toppings for this recipe. See our full nutrition information disclosure here. 
RECIPE NOTE 1: If you are looking for a fine "mashed potato" consistency, transfer the cauliflower to a food processor with the S blade and process until smooth (you may need to do this in batches). Then, transfer the pureed cauliflower back into the pot. 
RECIPE NOTE 2:  If you want a cheesy top layer, you can transfer the cauli mash to a casserole dish and top with extra shredded cheese. Place in the oven under the broil setting to melt the top layer of cheese and serve. 
RECIPE NOTE 3: This dish can be prepared in advance and reheated. Just complete all of the steps, transfer to a casserole dish, cover and refrigerate. Cook covered at 350° Fahrenheit for 20-30 minutes or until warmed through. 
Calories: 247kcal, Carbohydrates: 8g, Protein: 11g, Fat: 19g, Saturated Fat: 9g, Fiber: 3g