Why you'll love this marinade for grilled vegetables
There's nothing better than fresh veggies on the grill tossed with a delicious, tangy sauce.
You can use any vegetables you have on hand that you feel like grilling.
It's a simple recipe, just chop up the veggies, grill them and toss everything in the marinade.
You get the most flavor when you pour the marinade over the veggies after grilling, as they soak up more flavor.
Related ->> Check out these Grilled Cauliflower Steaks
How to make the grilled vegetable marinade
We love simple and healthy sauces, marinades and dressings. Here's what you'll need for this one:
Olive oil
Balsamic vinegar
Garlic powder
Dried basil
Lemon juice
Just mix these ingredients with a little salt and pepper and you have a delicious dressing for your grilled vegetables.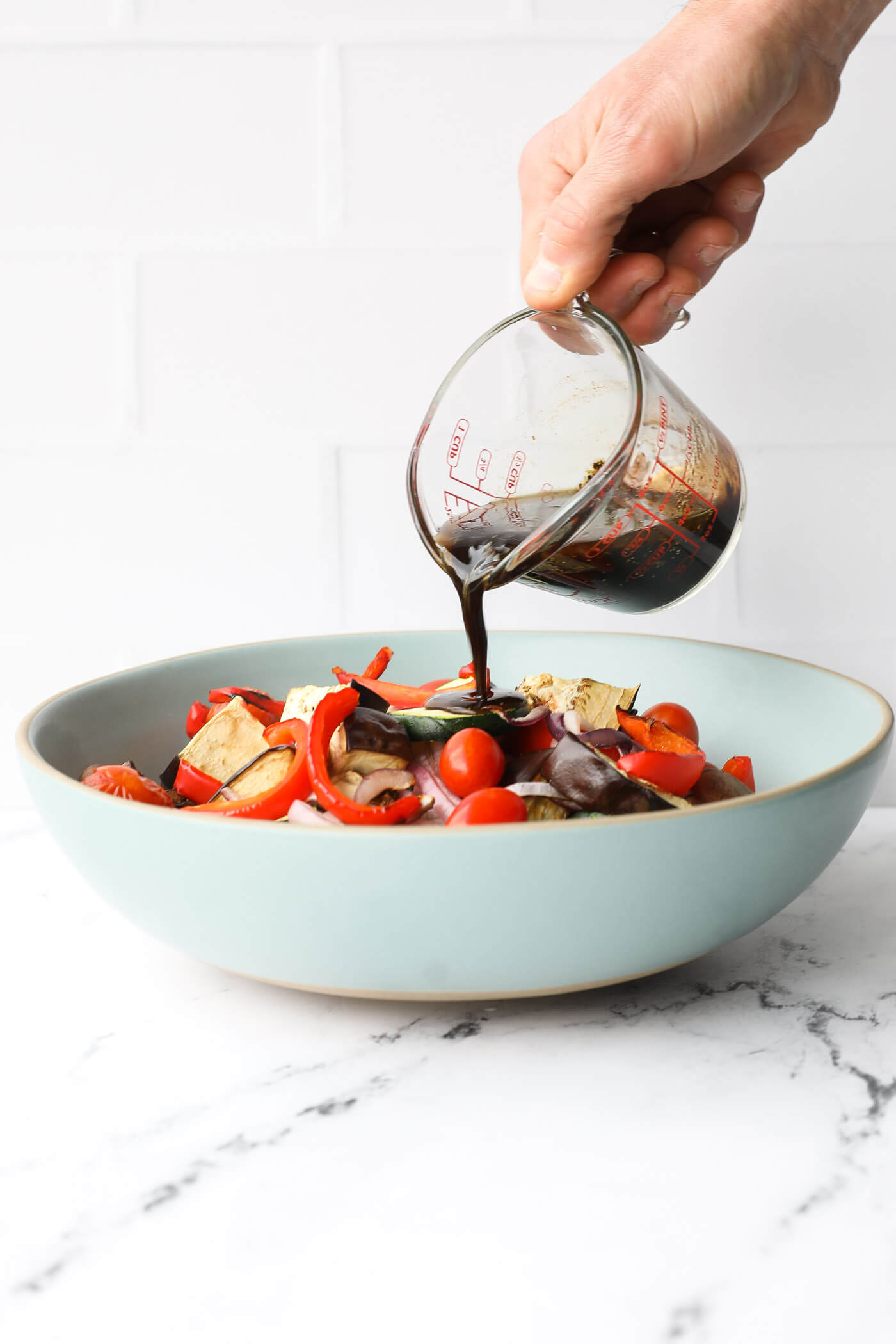 PRO TIP: Toss your vegetables in the marinade AFTER grilling. Cooked vegetables absorb the flavors much better than raw.
Step-by-step visual instructions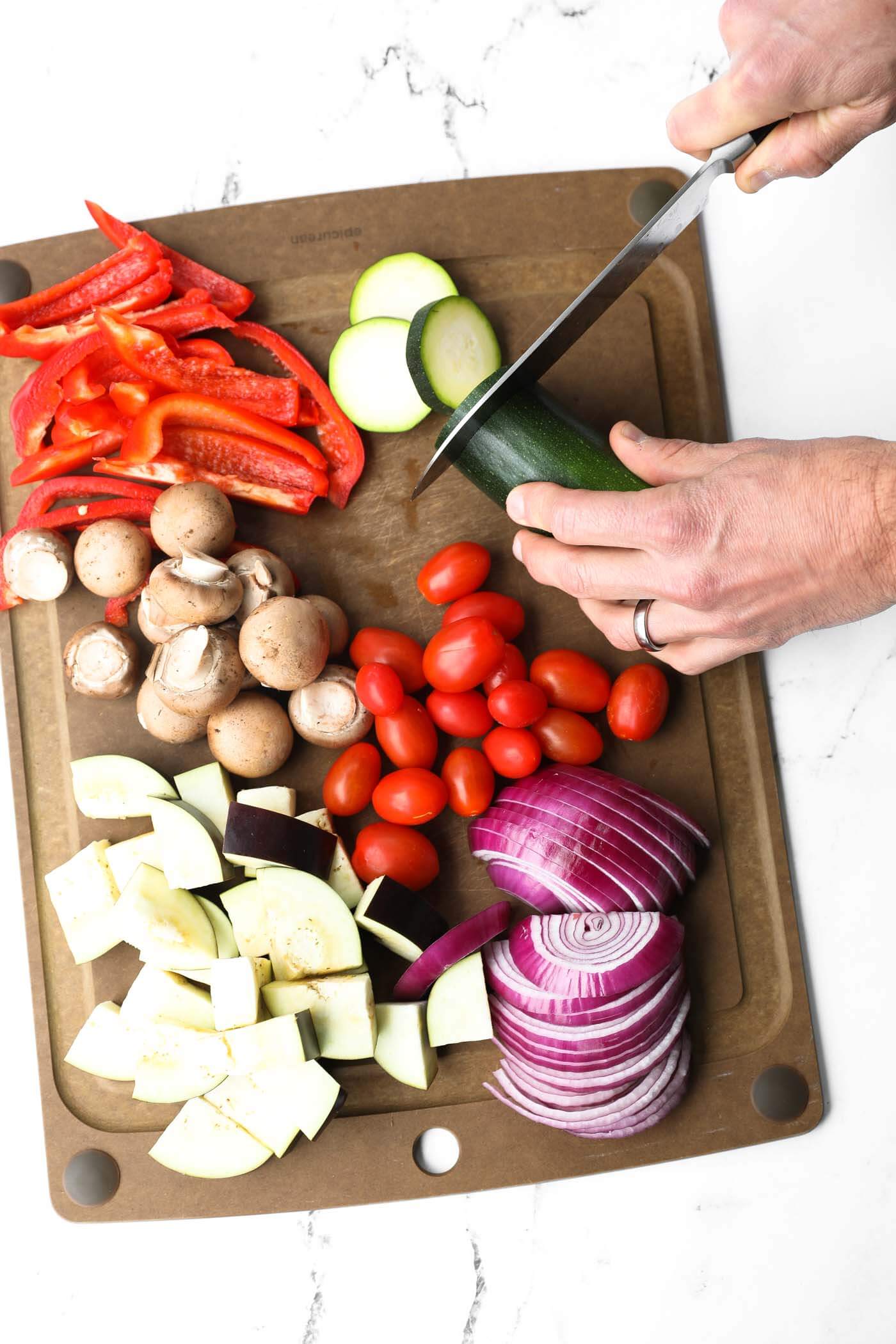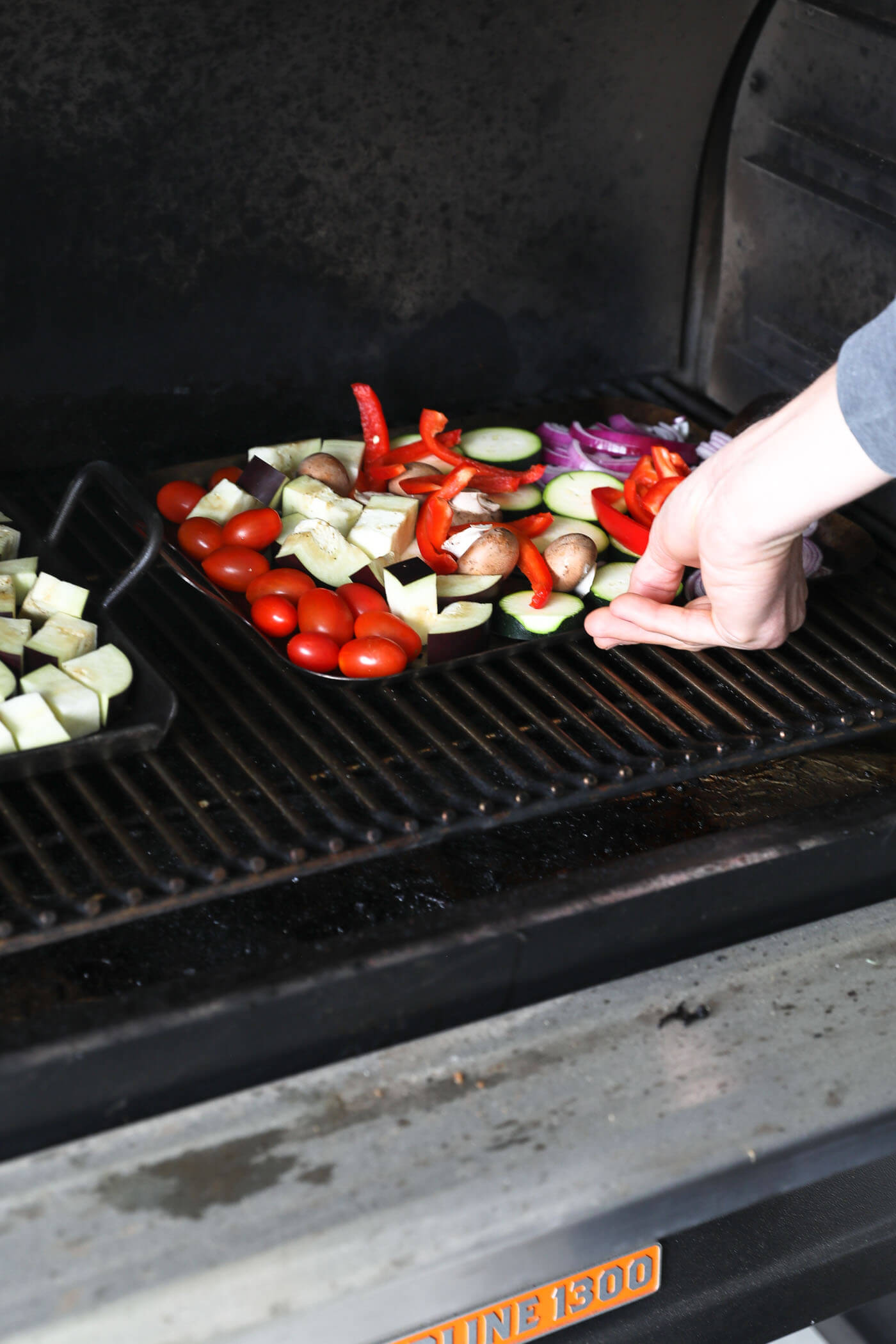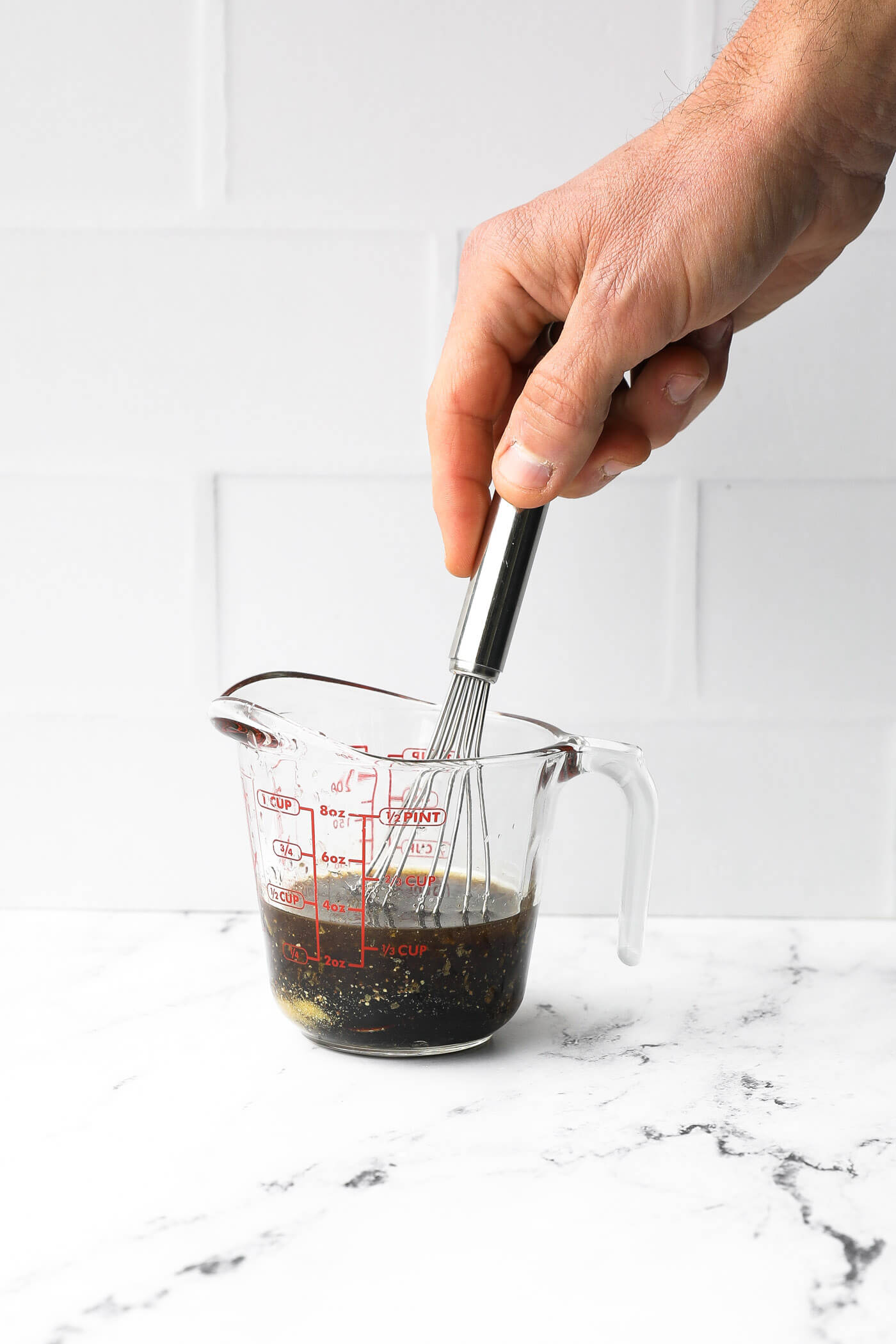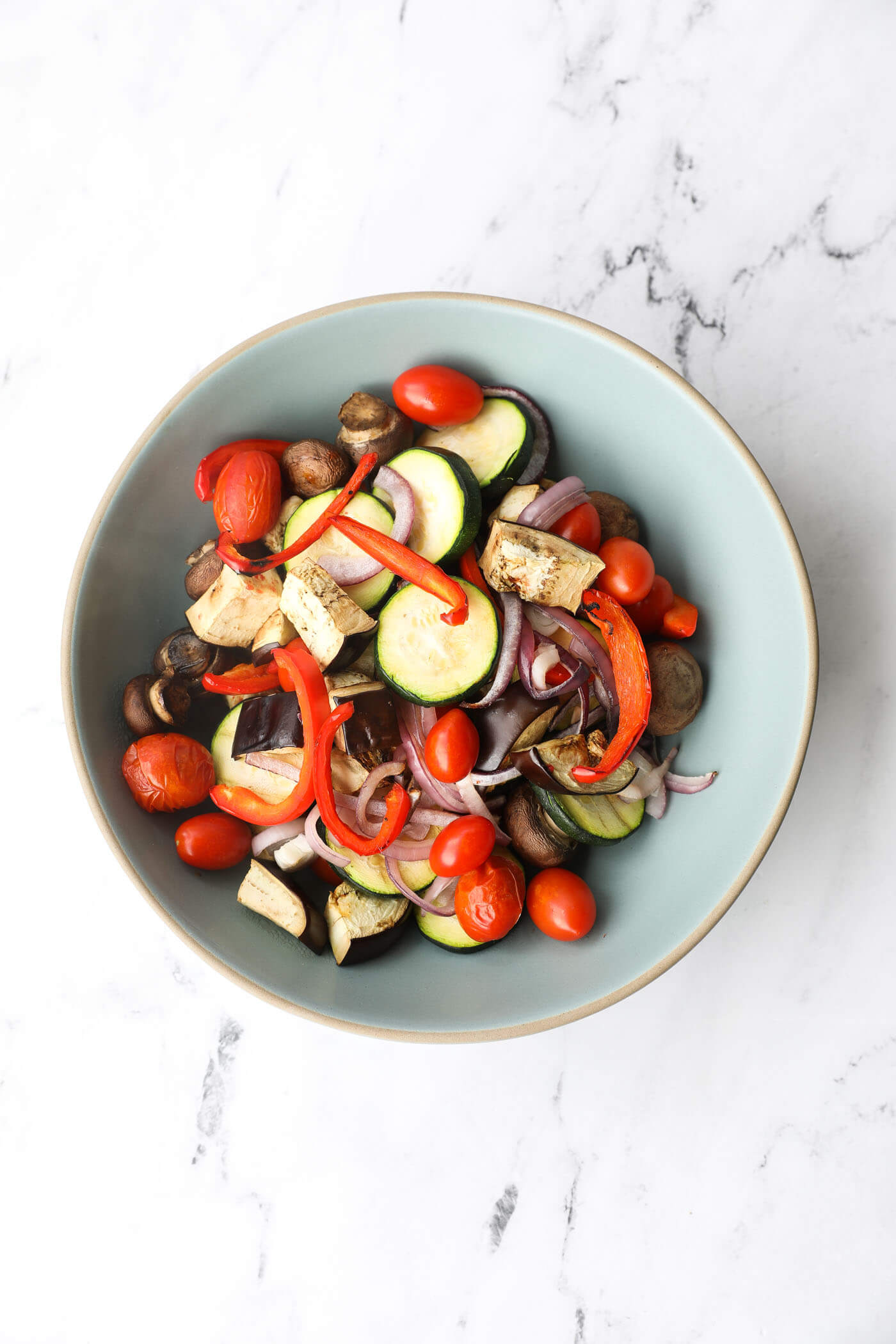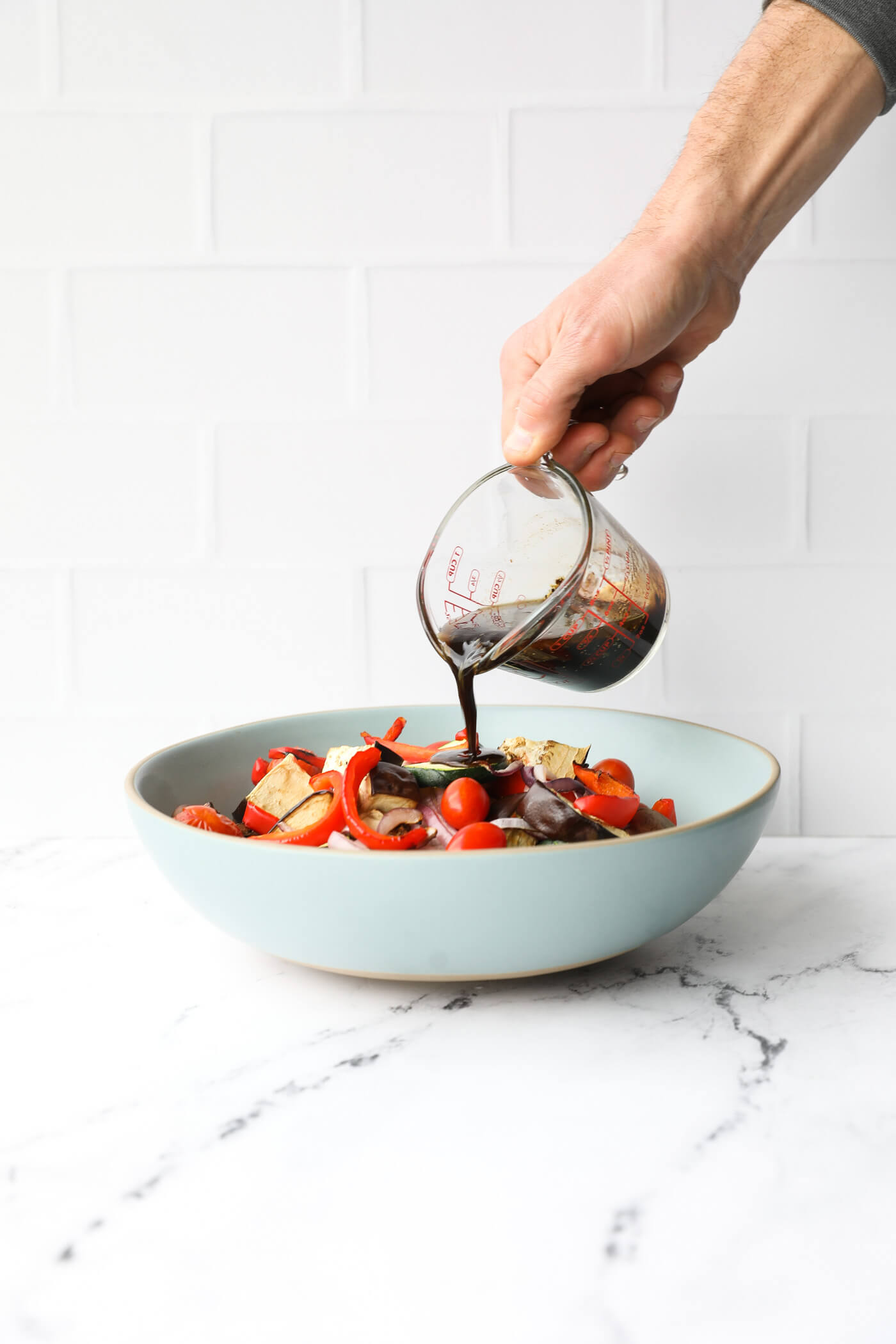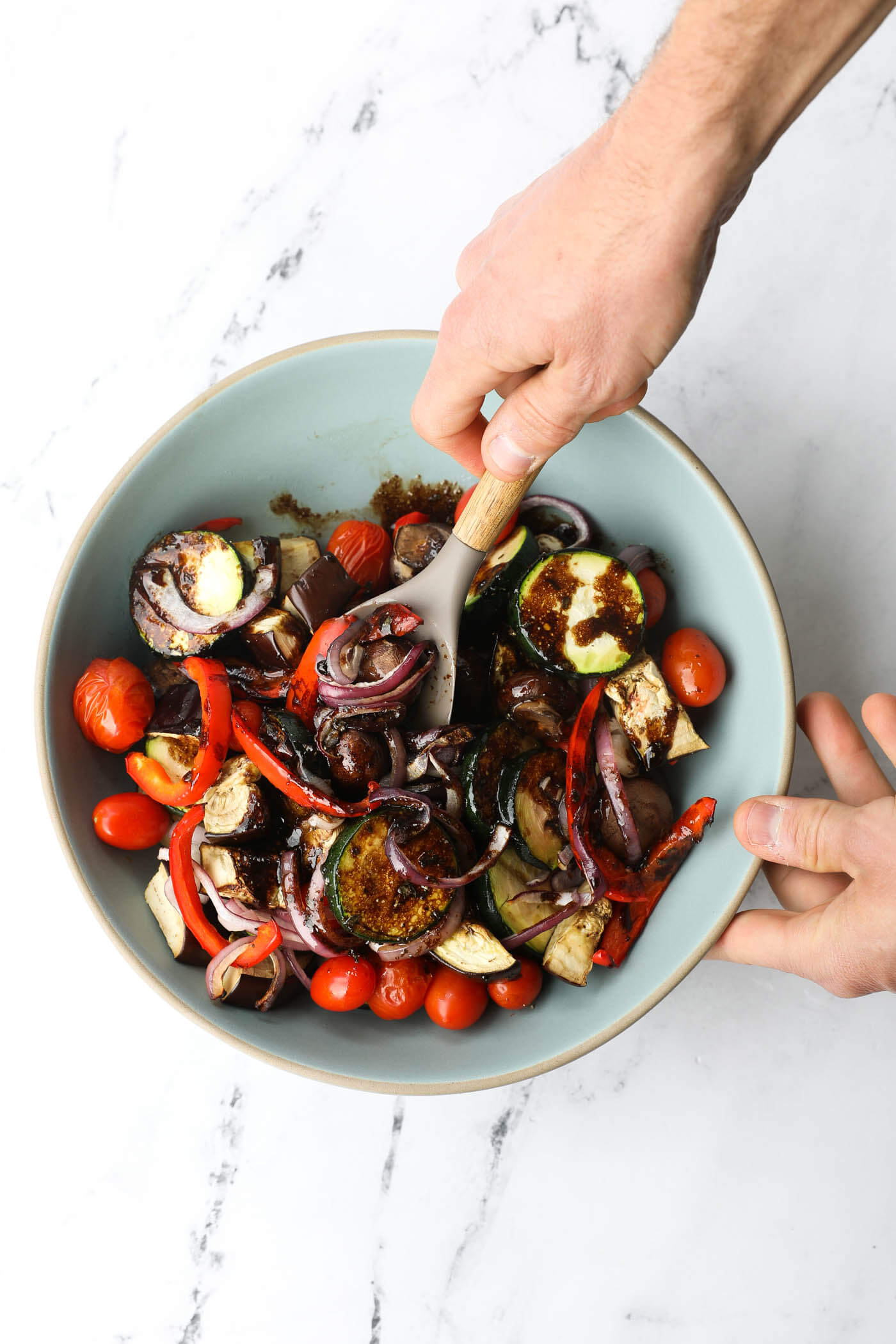 Tips for grilling vegetables
I've provided a combination of vegetables in the recipe card, but you can really grill any veggie you want. Here are some grilling tips:
Cut the veggies into large pieces (large enough so they don't fall through the grill grate)
Alternatively, you can cut the veggies smaller and use a grill pan or grill basket to place them on the grill
Don't overcook them – A lot of vegetables will get soft and mushy when overcooked
Toss with a little oil and salt and pepper before grilling, then use the marinade dressing after grilling for the best flavor
But what if I don't have a grill?
No grill? No problem! Just place the veggies on a sheet pan and roast at 400° Fahrenheit for 15-20 minutes. Follow the other instructions as noted and just toss the veggies in the marinade after they are cooked.
If you don't have a grill or don't feel like heating up your grill this is a great option. It is also an easy way to clean out your fridge and do some healthy meal prep over the weekend.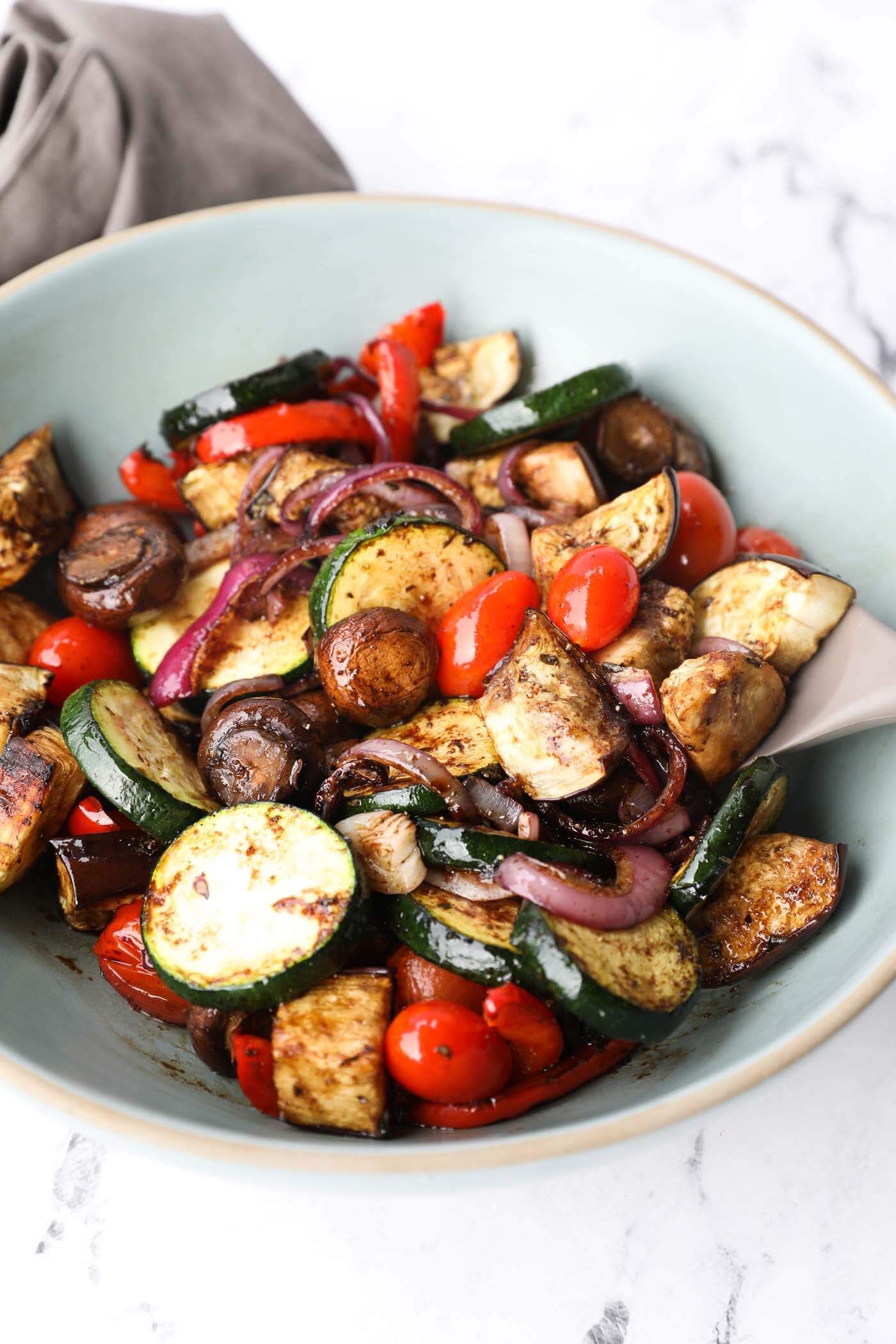 What to serve with healthy grilled vegetables
We are big meat eaters and love grilling, so we usually pair these veggies with some sort of steak or chicken. They go great with:
Some other options for serving these vegetables are:
As a side for any leftover protein
As part of a appetizer platter (they are great cold the next day)
Tossed with some pasta
Spooned over some toasted bread
Added to some scrambled eggs
We hope you love this recipe as much as we do!
Don't forget to leave a quick star rating and review below, we read every comment and truly appreciate your feedback. Also, be sure to browse the rest of our easy and healthy grilling recipes to find some other favorites too!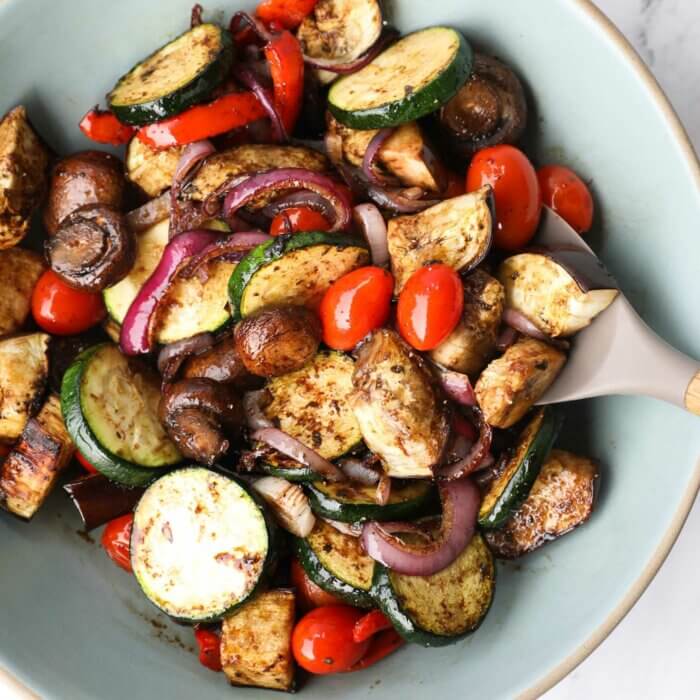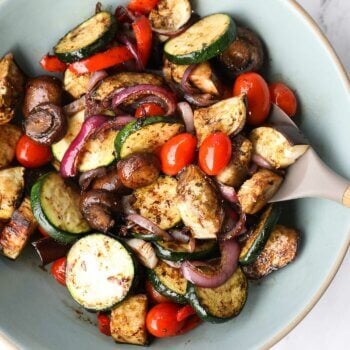 Get the Recipe:
Healthy Grilled Vegetable Marinade
This healthy marinade for grilled vegetables uses balsamic vinegar in place of sugar. Marinate the veggies after grilling for best results, they'll soak up more flavor. Use this for any grilled veggies!
Ingredients
For the veggies:
1 medium zucchini, – sliced into bite sized pieces
1 red onion, – sliced into rings
1 bell pepper, – top and seeds removed and sliced into strips
1 cup mushrooms, – halved
1 cup cherry or grape tomatoes
1/2 eggplant, – sliced into bite sized pieces
For the vegetable marinade:
1/4 cup olive oil
2 tbsp balsamic vinegar
1 tsp garlic powder
1 tsp dried basil
Juice of 1 lemon
1/2 tsp salt
1/2 tsp pepper
Instructions
Chop up all of the vegetables and heat your grill to medium-high heat.

Mix the marinade ingredients in a bowl or jar and set aside.

Place vegetables in a large bowl or on a sheet pan if you're putting them directly on the grill grates. If desired, use a grill pan to help prevent the veggies from falling through the grill.

Place veggies on the grill to cook, about 6-8 minutes per side. You want the veggies to get a nice char from the grill, but pull them off before they get too soft.

Remove veggies from the grill and place them in a bowl. Pour the marinade over the veggies and gently toss to coat.

Allow the veggies to sit for 5 minutes to soak up the flavors. Serve and enjoy.