One of my favorite appetizers is deviled eggs. These two bite (or one big bite) treats are the perfect mini snack for any type of gathering, especially this time of year around the holidays. However, since my old version of deviled eggs isn't exactly paleo I had to come up with a new version for my pre-feasting appetizer this year. Since I haven't quite perfected my own paleo mayonnaise yet, I decided to use an avocado for the creamy addition to make these mayo free deviled eggs. Oh boy was that a good idea. Topping them off with some crispy prosciutto? Now that's just downright indulgent. But isn't that what the holidays are for?
These deviled eggs turned out so great, they disappeared off the plate in no time and had everyone asking what was in them! So if you are looking for a new paleo appetizer, give these mayo free deviled eggs a try. We're sure you'll love the mix of creamy avocado combined with the crispy and salty prosciutto. Your holiday guests are sure to enjoy them too.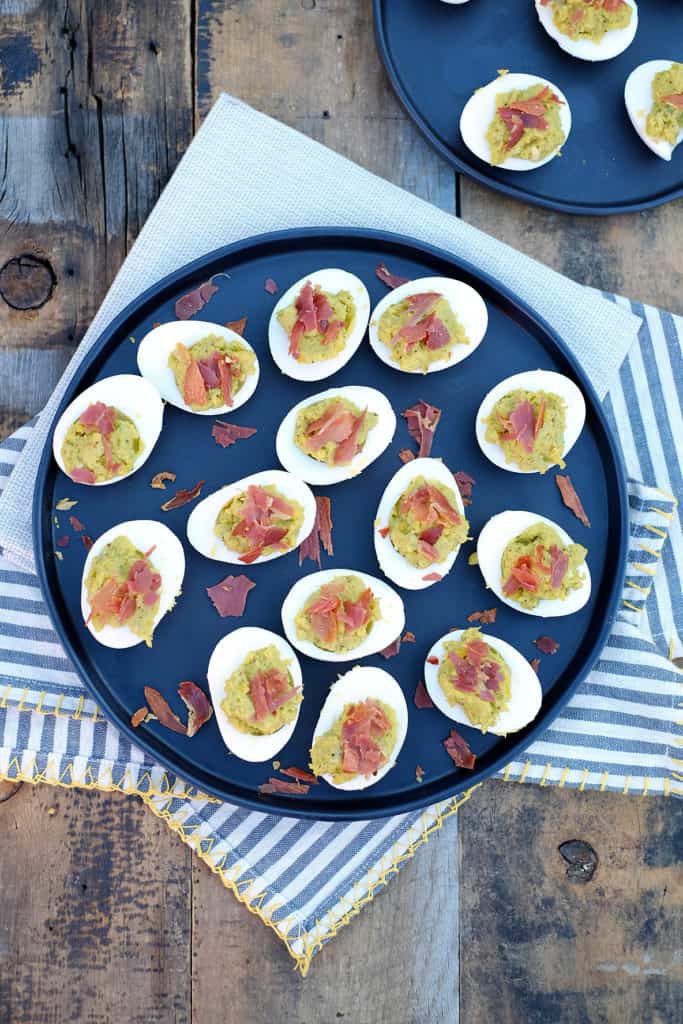 Since these have avocado in them, they will turn brown if you let them sit too long. Plan on making them fresh for your guests to devour and don't anticipate any leftovers!
If you make these, we'd love to hear what you think about them. Leave a comment and rating below and don't forget to take a picture and tag us on Instagram @realsimplegood so we can find it!

---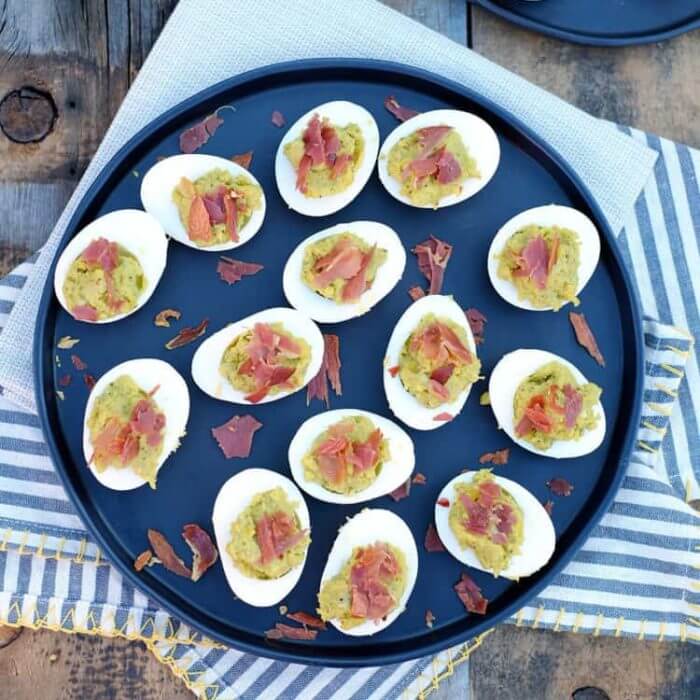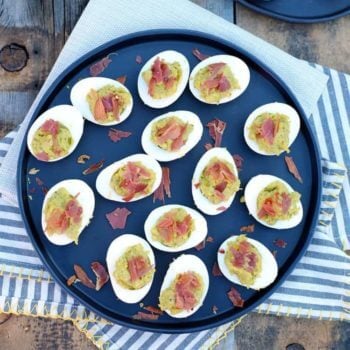 Get the Recipe:
Mayo Free Deviled Eggs (Paleo, Whole30 + Keto)
These mayo free deviled eggs have a mix of creamy avocado combined with crispy and salty prosciutto. Paleo and gluten free.
Ingredients
2-3 strips prosciutto
1 dozen eggs, - hard boiled and peeled
1 avocado
1 tbsp garlic powder
2 tsp onion powder
1-2 tbsp yellow mustard, - use 2 if you like more of a mustardy flavor
pinch of salt and pepper, to taste
1/2 tsp smoked paprika, - optional
Instructions
Set your oven to broil

Line a baking sheet with parchment paper. Lay out the prosciutto on the parchment paper and place it in the oven to broil for approximately 5 minutes, until it's browned and crispy. Be careful not to burn it. Remove from oven and allow to cool.

Cut each hard boiled in half. Scoop out the yolk into a medium bowl. Place the empty egg halves on a serving platter or plate.

Cut the avocado in half and scoop out the insides into the bowl. Add in the garlic powder, onion powder and mustard.

Mix everything together with a mixer, whisk or fork. You want to mix it well to form a creamy texture. Add salt and pepper to taste.

Next, scoop the egg and avocado mixture into the egg halves. Heap up each egg half with the mixture until you've filled every egg half up and used all of the mixture. Sprinkle the eggs with smoked paprika if you'd like.

Finally, break up the prosciutto into small pieces and place some crumbles on each deviled egg.

Serve these mayo free deviled eggs to your hungry guests!
Notes
Nutrition facts are an estimate provided for those following a Ketogenic or low-carb diet. See our full nutrition information disclosure here.  
Calories: 100kcal, Carbohydrates: 2g, Protein: 6g, Fat: 7g, Saturated Fat: 1g, Fiber: 1g