Meatza is a low carb pizza recipe where the crust is made from just meat! Only 10-minutes to prep this filling pizza with simple toppings.
The Meatza Pizza Crust
Ever since my intermittent fasting experiment, I have been exploring how I feel eating more of a low carb diet. You can read more about my intermittent fasting results here.
This meatza recipe came about because pizza really sounded good and I wondered how to make a low carb pizza without a cauliflower crust.
Enter meatza, the pizza recipe where you make the crust out of the meat itself!!
Looking for more? Check out all of our keto diet recipes.
At first I thought about doing a chicken Meatza, but eventually settled on a mixture of beef and pork for the crust in this recipe. It's seasoned with some simple seasonings you'll have stocked in your cupboard and only takes a few minutes to mix together.
The flavor turns out tasting like an Italian meatball and when you add on the toppings it's oh so tasty.
The Perfect Pan Size for this Meat Pizza
The key to forming the perfect Meatza crust is to spread it out as much as possible into a thin, even layer on a sheet pan. We use a 12 x 17 inch pan and it turns out perfect. If you think the meat won't reach to the edge of the pan at first, just keep pressing out all of the high spots with your hands until it reaches.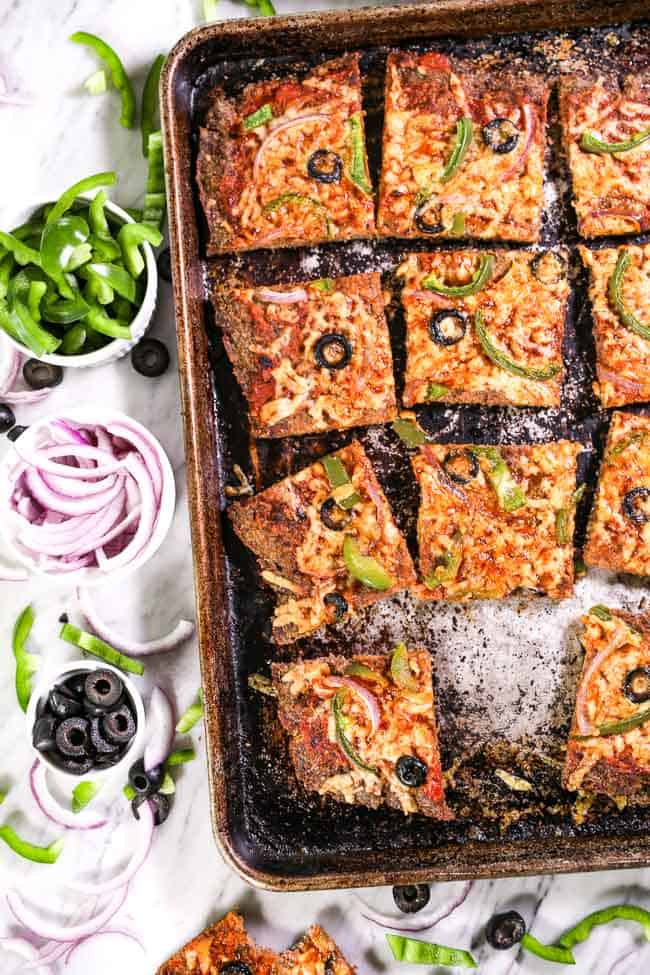 The Crust Will Shrink
Since there is fat in the beef and pork that forms the meatza crust, when you first bake it it will shrink down and release some fat. That's ok, just carefully pour off the fat when you take the crust out of the oven (before you add the toppings). It helps to use a sheet pan with a lip so you don't spill any of the hot drippings when taking the crust out of the oven.
Low carb pizza toppings
When we make our "normal" Paleo pizza, we tend to go heavy on the toppings. However, with this low carb pizza recipe, the crust is really the star of the show so we didn't add as many toppings as usual. A little marinara sauce and just a few slices of bell pepper, onion and sliced olives did the trick quite nicely.
To Cheese or not to Cheese
As you can see from the pictures, we added cheese to our Meatza. While it's not strict Paleo, we have found that eating high-quality grass-fed cheese on occasion is a nice treat and agrees with us just fine. Now of course you can leave the cheese out but if you tolerate dairy or are just eating a low carb/keto diet, cheese-away!
Some other low carb recipes
Your turn to try this easy keto pizza recipe
Give this low carb pizza recipe a try, you won't be disappointed. It's rich and filling and hard not to over-indulge on – you've been warned! Leave a comment below and let us know how it goes. Also, take a pic to share on Instagram! Tag us @realsimplegood, and give us a follow if you don't already. We'd love to stay connected!
---
---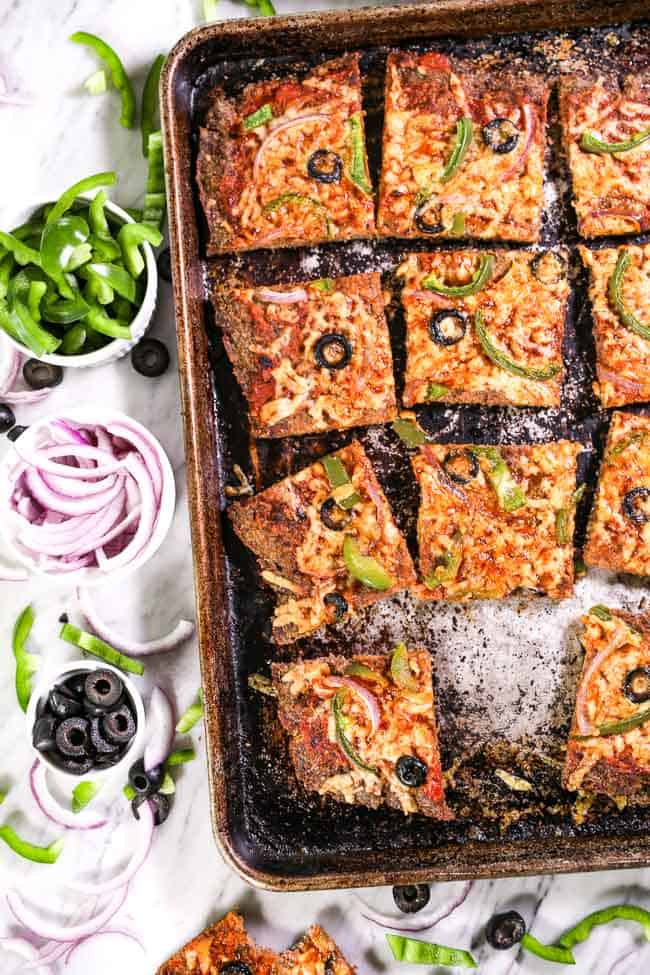 Meatza (Easy 10-Minute Prep Recipe)
Meatza – a low carb pizza recipe where the crust is made from just meat! A rich and filling pizza topped with cheese, olives and peppers.
Print Recipe
Rate Recipe
Ingredients
For the crust:
1

lb

ground beef

1

lb

ground pork

1/3

cup

almond flour

2

tbsp

Italian seasoning

1.5

tsp

garlic powder

1.5

tsp

onion powder

1

tsp

sea salt

1

tsp

ground pepper
For the toppings (or sub whatever toppings you prefer):
1

cup

marinara sauce

1/4

cup

olives, sliced

1/4

bell pepper, sliced into thin strips

1/8

red onion, sliced into thin strips

2

cups

shredded cheese

(optional, omit for strict Paleo)
Instructions
Preheat oven to 400° Fahrenheit. To make clean up easier, you can line your sheet pan with parchment paper. Use a sheet pan with a lip as the crust will release fat while cooking. A 12 x 17 size pan is best for this recipe, as it will force you to spread the crust out nice and thin to reach the edges of the pan.

Add all of the crust ingredients to a large bowl and mix well to incorporate all of the ingredients evenly (we use our hands).

Spread the meat out on the baking pan and form it into a thin, even layer. Shape it into a circle if you wish or you can make a square pizza. Just try to spread it out evenly, about 1/4 to 1/2 inch thick.

Place in the oven to bake for 15 minutes, or until the meat is cooked through. It will shrink and release some fat.

Remove from the oven and carefully pour off the fat from the pan. Add the toppings to your pizza. Start with a base of sauce spread out in an even layer over the crust. Add the remaining toppings as desired.

Place in the oven to cook for 10 more minutes.

If desired, turn the oven to broil and broil for a few minutes to brown the toppings a bit (optional).

Remove and allow the meatza to cool for a few minutes. Cut into pieces and serve.
Notes
Nutrition facts are an estimate provided for those following a Ketogenic or low-carb diet and include only the ingredients noted in this recipe. See our full nutrition information disclosure here. 
Nutrition (per serving)
Calories:
851
kcal
|
Carbohydrates:
11
g
|
Protein:
54
g
|
Fat:
65
g
|
Saturated Fat:
25
g
|
Fiber:
3
g