Breakfast is definitely Justin's jam! Eggs are his favorite food, and he loves cooking up a hearty breakfast. He recently created this tasty, veggie loaded Mediterranean breakfast frittata. It's got all your favorite Mediterranean flavors, like artichoke hearts and kalamata olives. Let's dig in! 
Why Make Breakfast Ahead Of Time?
We are huge proponents of make ahead breakfasts because they make eating a healthy breakfast a no-brainer. If a healthy option is convenient, people are more likely to make a good decision. As part of our meal plan subscription service, Real Simple Good Paleo Meal Plans, every weekly meal plan includes a make ahead breakfast. A large breakfast like this Mediterranean breakfast frittata is a great way to make a large batch breakfast that you can simply re-heat in the morning.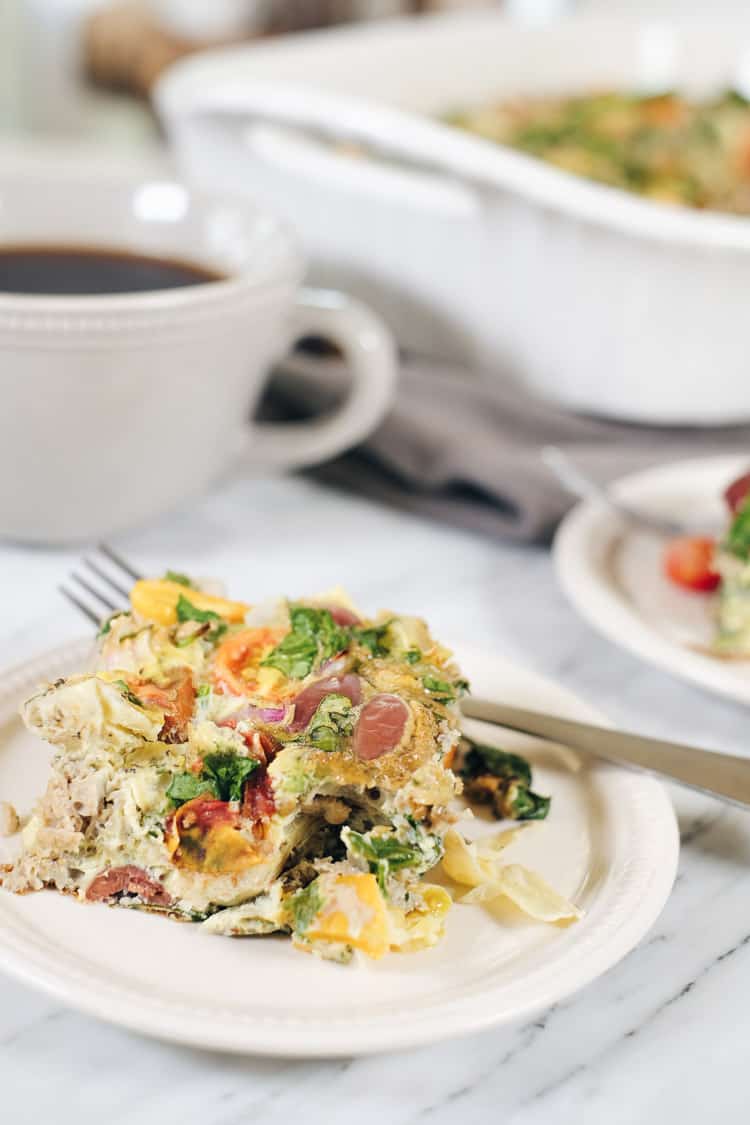 Veggie Filled Frittata
In addition to making breakfast ahead of time, we also love sneaking in lots of veggies. It's a great way to start your day with a nutrient dense meal. In this Mediterranean breakfast frittata, we have loaded it with artichoke hearts, kalamata olives, red onion, tomatoes, spinach and fresh basil.
Other Make Ahead Breakfast Ideas
Interested in the concept of make ahead breakfasts, but need a little more inspiration? Here are several other great recipes to try! It doesn't always have to be an egg casserole, and we've included some egg-free options too.
Your Turn To Try Our Mediterranean Breakfast Frittata
Once you start making breakfast ahead of time and realize how easy it makes your mornings, you'll never go back! You will save time, dishes and effort in the morning, all while fueling yourself with a healthy and nutrient dense meal. Let us know how it goes by leaving a comment below. Also, take a photo and tag us on Instagram @realsimplegood, so we can check it out!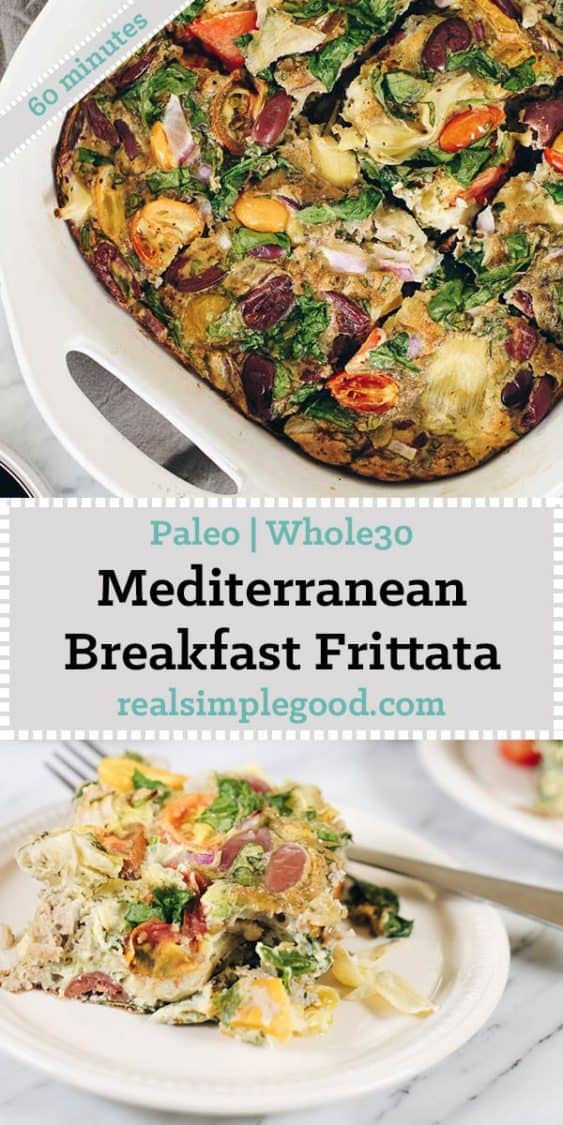 ---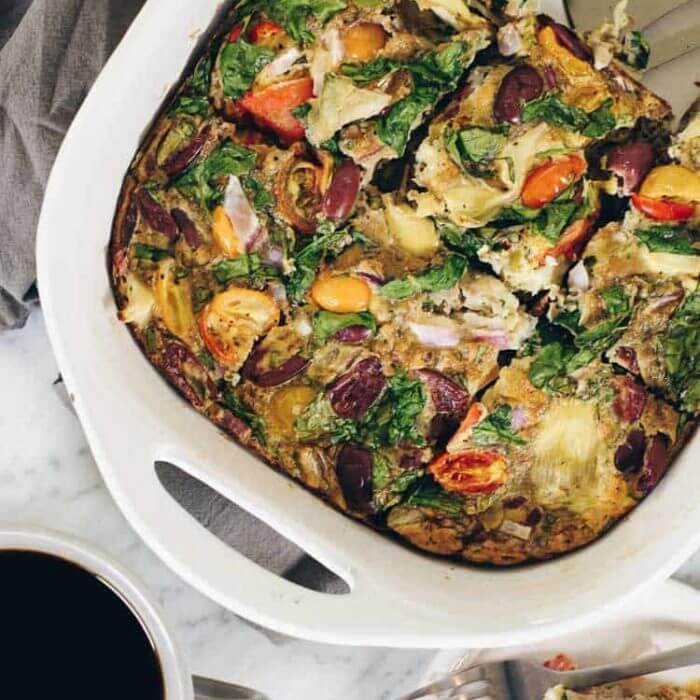 Get the Recipe:
Mediterranean Breakfast Frittata (Paleo, Whole30 + Keto)
This Paleo and Whole30 Mediterranean breakfast frittata is a great make ahead breakfast you can re-heat in the morning for a healthy start to the day!

Ingredients
2 tbsp grass-fed butter or ghee, (ghee for Whole30 or coconut oil for dairy free)
12 eggs
1/4 cup coconut milk
2 cups spinach, roughly chopped
2 cups grape or cherry tomatoes, halved
1/2 red onion, diced
1 cup kalamata olives, sliced
1 can artichoke hearts, drained and quartered, (14.5 oz)
1/2 cup fresh basil, sliced, (about 10-15 leaves)
1/2 cup feta cheese crumbles, (optional, omit for Whole30)
Salt and pepper
Instructions
Preheat oven to 375° Fahrenheit and lightly coat a medium baking dish with butter or ghee.

In a large bowl, scramble the eggs and coconut milk well.


Cut up spinach, tomatoes, onion, olives, artichoke hearts and basil as noted. Add the chopped veggies to the bowl along with the eggs and mix. Sprinkle in salt and pepper to taste (about 1 tsp each) and mix again.


Pour mixture into the baking dish. Bake in the oven for 40-45 minutes, until the eggs are cooked all the way through in the middle. Cooking time will vary depending on the size of the baking dish, so check the eggs after 30 minutes and adjust cooking time as needed.

Sprinkle with feta cheese (optional) before serving. Enjoy.
Notes
Nutrition facts are an estimate provided for those following a Ketogenic or low-carb diet and include the optional cheese for this recipe. See our full nutrition information disclosure here. 
Calories: 256kcal, Carbohydrates: 6g, Protein: 11g, Fat: 20g, Saturated Fat: 7g, Fiber: 2g, Sugar: 2g