Ok, this mini bacon wrapped meatloaf recipe is a winner for so many reasons! Not only are things just better in mini sizes, but these mini meatloaves are great for an egg-free breakfast, a hearty lunch, or dinner! I mean I could almost put some ice cream on top, and eat them for dessert too! Ok, I'm kidding on the dessert part, but they are seriously the perfect make-ahead recipe, so you have something delicious on hand for a quick breakfast, an easy pack and go lunch, or dinner after a busy day!
Bacon, Beef + Italian Sausage
Bacon, ground beef, and Italian sausage make this recipe so dang tasty. A clean Italian sausage can be a tougher item to find though, and we've done our best to find a clean and readily available one. We use Isernio's spicy Italian sausage, which we purchase regularly at Trader Joe's. You can use their store locator to find a location that sells it near you. The addition of Italian sausage to this meatloaf gives it lots of extra flavor. We occasionally make our own sausage using ground pork from pigs Justin's mom raises. We also get bacon from her, but when we are low on our stock we purchase Hempler's natural uncured bacon from Costco. The pigs for the Hempler's bacon are fed a vegan diet, which does unfortunately include grains, but everything else is very clean! It is the best store-bought bacon we have been able to find.
Quick + Easy
Another great feature of this mini bacon wrapped meatloaf recipe is that it only takes about 10 minutes to prep and get it in the oven. It will bake for about 30 minutes, and for your efforts you will have a delicious meal on the table, or you can store it in the fridge or freezer to have on hand for a quick and filling breakfast, lunch on the go, or a hearty dinner. Whenever you eat it, just add some greens and enjoy!
30 Minute Paleo Meals
While we are on the topic of quick and easy, have you checked out our new eCookbook yet? It's called 30 Minute Paleo Meals, and it is full of simple recipes! Here's what you'll get:
30 quick and easy Paleo recipes that can be made in 30 minutes or less and have 7 ingredients or less
Easy to follow recipes with basic ingredients you can find at most stores
Each recipe is designed to be an entire meal (not just a featured chicken or fish recipe)
A variety of main dishes including chicken, beef, pork, seafood, and breakfast recipes
Full-color photos of each recipe on every page for inspiration
A linked table of contents so you can jump directly to any recipe
A print-friendly version of each recipe without the photo
Your Turn To Make This Mini Bacon Wrapped Meatloaf
Make our mini bacon wrapped meatloaf, and enjoy it for breakfast, lunch, or dinner. Let us know how it goes by leaving a comment below. Then, take a photo and tag us on Instagram @realsimplegood, so we can check it out!

---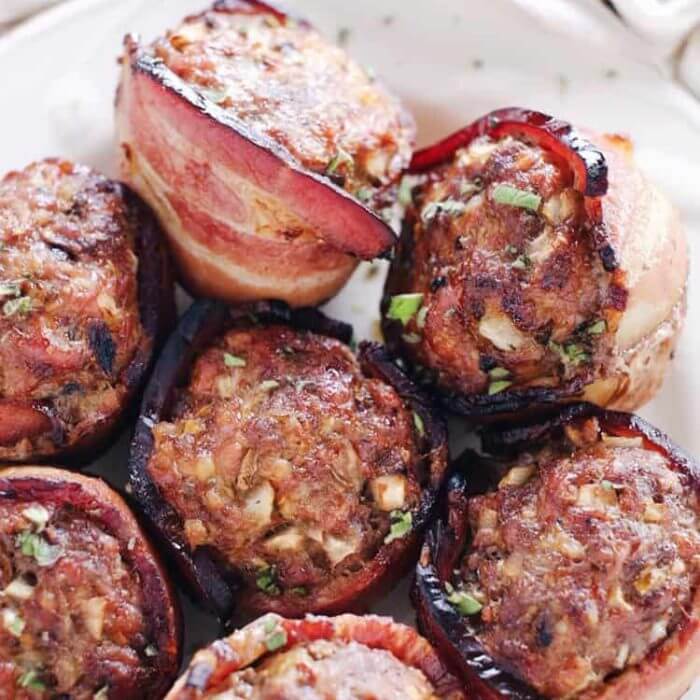 Get the Recipe:
Mini Bacon Wrapped Meatloaf (Paleo, Whole30, Keto)
This mini bacon wrapped meatloaf recipe is a winner for many reasons! Paleo + Whole30, they are great for breakfast, lunch, or dinner! Did I mention bacon?
Ingredients
3 cloves garlic, – minced
1/2 onion, – finely diced
1 cup mushrooms, – finely diced
1 tbsp fresh oregano, – finely diced
1/2 lb ground beef
1/2 lb spicy Italian sausage
1 tsp pepper
8-10 slices bacon
Instructions
Preheat oven to 400 degrees fahrenheit. If you want to save yourself some clean up, line the bottom of the oven with a sheet of aluminum foil. The bacon and meatloaf tends to bubble and drip when cooking.

Next, cut up garlic, onion, mushrooms, and oregano. Place in a large mixing bowl and add in beef, sausage, and pepper.

Use hands to mix ingredients together well. Divide into 8-10 equal sized portions and shape into small round balls slightly smaller than the size of your muffin tin.

Wrap bacon slices around the edge of each meatloaf ball and place in the muffin tin. The bacon ends should just meet or slightly overlap, so cut bacon pieces as necessary to fit.

Bake for 30 minutes. Remove from oven and allow to cool for at least 5 minutes before serving.
Notes
Nutrition facts are an estimate provided for those following a Ketogenic or low-carb diet. See our full nutrition information disclosure here.  
Calories: 542kcal, Carbohydrates: 4g, Protein: 24g, Fat: 46g, Saturated Fat: 16g, Fiber: 1g