Happy New Year!! You know what that means…Time to regroup from the holidays and refresh with a mint berry breakfast smoothie. Kickstart your day with this smoothie packed full of antioxidants and healthy fats. The mint is great for digestion and reducing inflammation, too. Win-win.
Sometimes our mornings are hectic, getting out the door before 7am and sometimes me before 6am, so I can get a barre class in before work. Bar Method is my favorite workout, and this is my local studio. It is the best!…Just in case you're looking for a new workout with the new year. On those mornings, getting out the door around 5:30, it is rough to feel like I have my life together and have adequate fuel to be energized for the rest of my day. A smoothie packed with healthy fats, antioxidants, and anti-inflammatory ingredients makes this mint berry breakfast smoothie one of my favorites.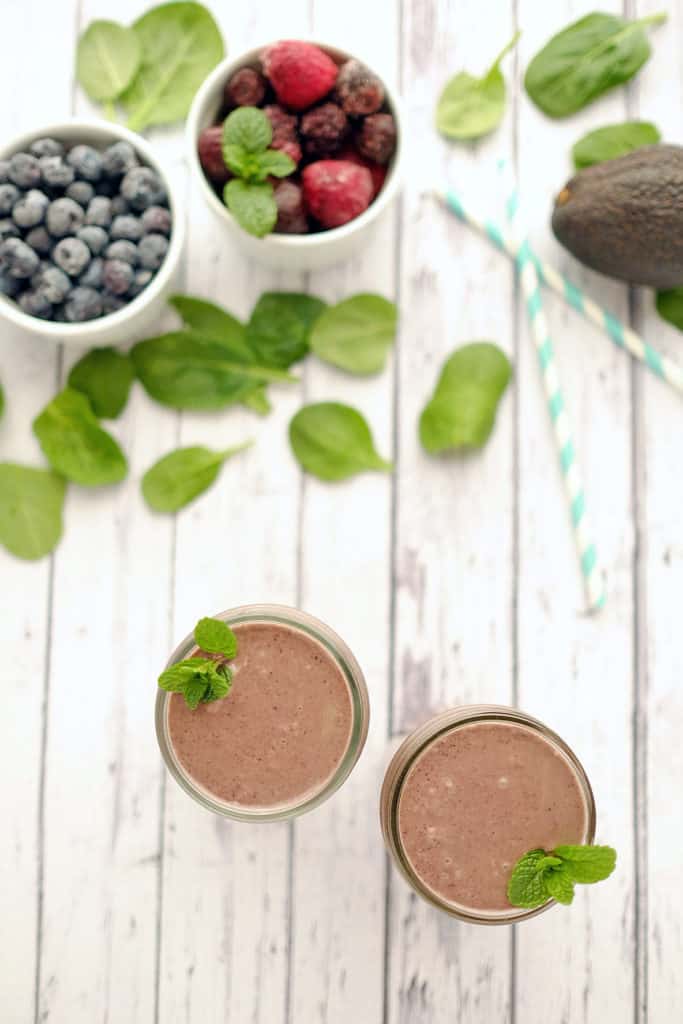 It's not too sweet, but has some berries for carbs after a workout. I love pairing it with our country breakfast sausage for a well-rounded post-workout meal.
Blend up one of these mint berry breakfast smoothies, and let us know how you like it by leaving a comment below. Also, take a picture and tag it on Instagram @realsimplegood so we can check it out!
---
Get the Recipe:
Mint Berry Breakfast Smoothie (Dairy-Free, Paleo)
Ingredients
1 cup nut and/or coconut milk, (I use either a creamy cashew milk or full fat coconut milk or a combo of the two)
1 cup filtered water
1/4 avocado
3/4 cup of frozen berries, (I used an organic antioxidant mix from Costco with strawberries, blackberries, blueberries, and cherries and added extra frozen blueberries)
1/2 frozen banana
1 big handful of fresh spinach
15-20 leaves of fresh mint, (If you're feeling a little daring try more mint so your smoothie is mojito like)
Instructions
Place all of the ingredients in your

blender

in the order listed above.

Blend on high until your smoothie is smooth and even in consistency. You may need to stop and restart to get everything moving in your blender.

Once your smoothie is all blended up, pour into a glass or to-go container and get your day started. This will make one big smoothie or two smaller smoothies. I like to have a small smoothie with some protein.