Made in one bowl and done in just about 40 minutes, these gluten free and dairy free blueberry muffins are easy to make and filled with juicy blueberries. Fresh, frozen or dried blueberries will work.
Gluten free blueberry muffins in one bowl
I'm kind of lazy in the kitchen. I like it when I can make my muffins and only dirty one bowl. Here is how you accomplish the one bowl method.
Start with the dry ingredients – combine them in a large mixing bowl
Make a hole in the center of the dry ingredients
Add the wet ingredients and whisk them together gently in the hole
Stir the whisked wet ingredients into the dry ingredients
Fold in the blueberries
Portion out into muffin tin
Bake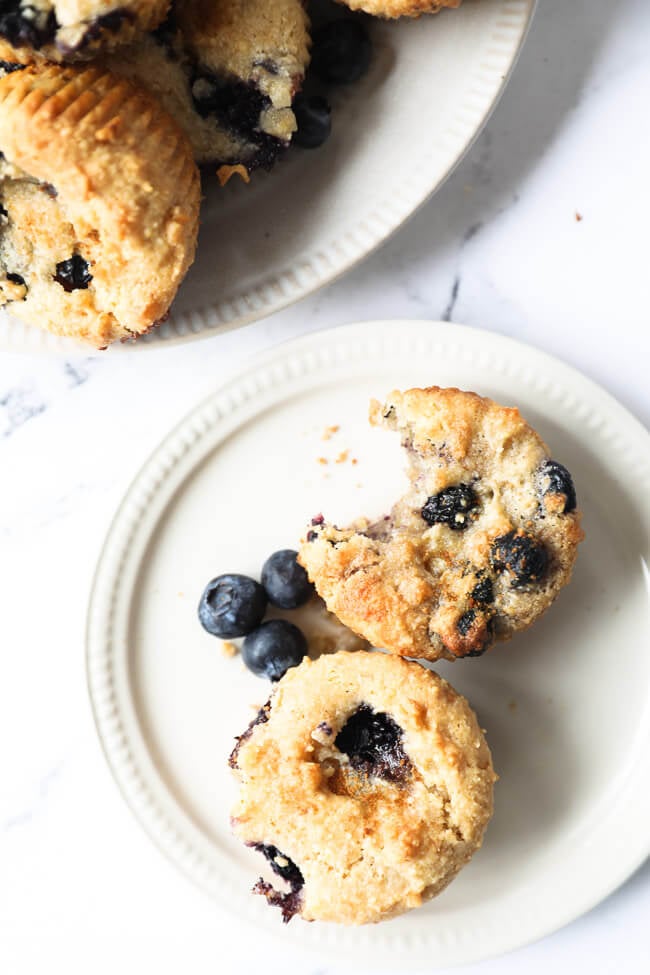 Options for making Vegan blueberry muffins
This gluten free blueberry muffin recipe is easily adapted to be vegan as well. Here is how to make it vegan, but do note that it will make one extra bowl to clean up.
Replace eggs with flax eggs – combine 3.5 tablespoons flax meal with 1/2 cup of warm water and let it sit for 5+ minutes.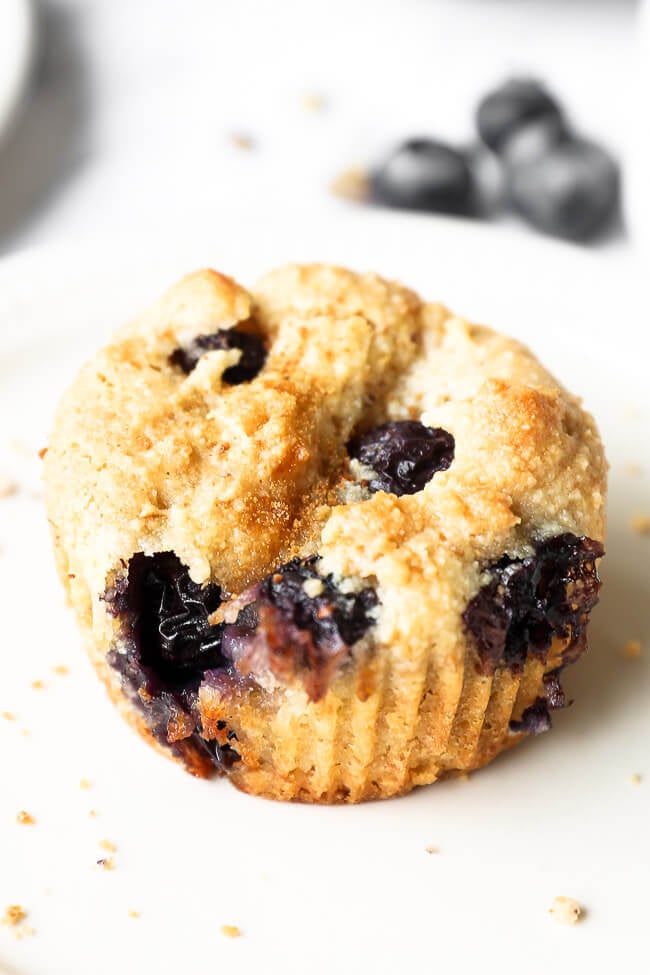 Almond flour blueberry muffins
I often wish I could just use a 1:1 gluten free flour mix, but they typically have potato starch in them and my body is not a fan of potatoes, so…I do a lot of baking with almond flour. For these blueberry muffins, I've combined almond flour and tapioca flour, which results in a crusty outside and light and fluffy inside of the muffins.
Make sure to use blanched almond flour. You want blanched almond flour rather than almond meal for this recipe. Here's why:
It's finer and lighter and results in a fluffier texture.
Visually the muffins look prettier. If you used almond meal the muffins would be more of a brown color.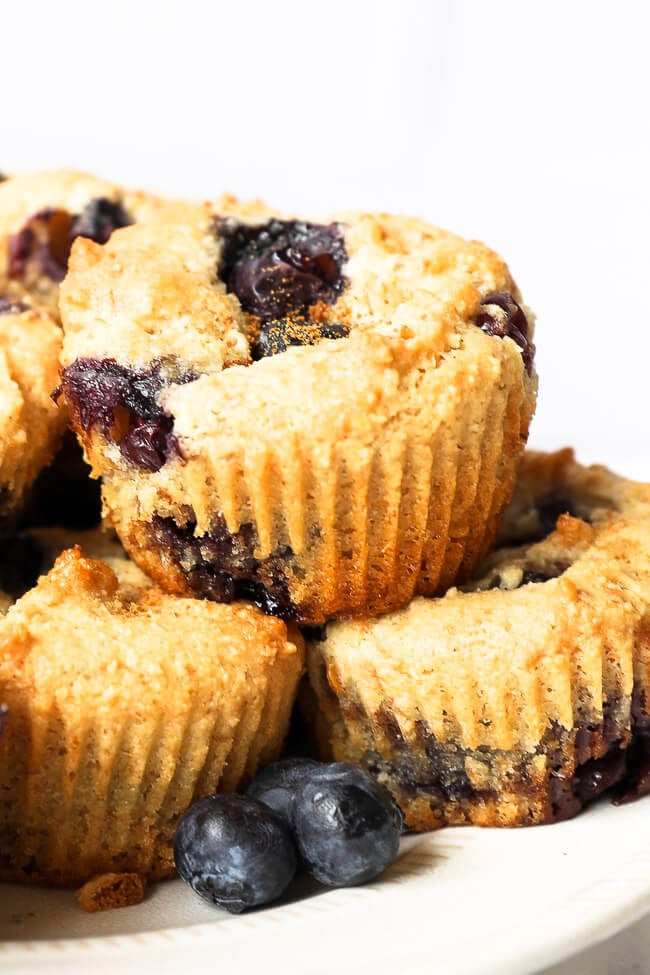 Dairy free blueberry muffins
We used coconut oil in these blueberry muffins to keep them dairy free. However, you could use ghee or butter if you're not worried about keeping these muffins dairy free.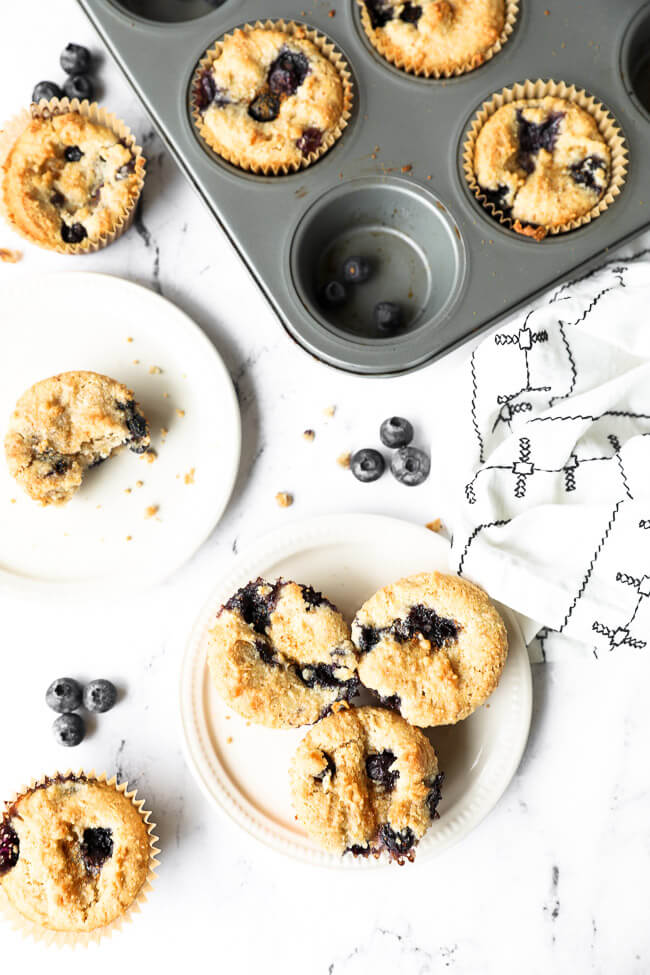 Fresh, frozen or freeze dried blueberry muffins
You can use any of those options. I tested them all out. The only caveat is that if you choose fresh or frozen blueberries, you'll want to make sure to store your muffins in the fridge. Otherwise, they turn to mush in about a day on the counter. They'll stay fresh about 5-7 days in the fridge though!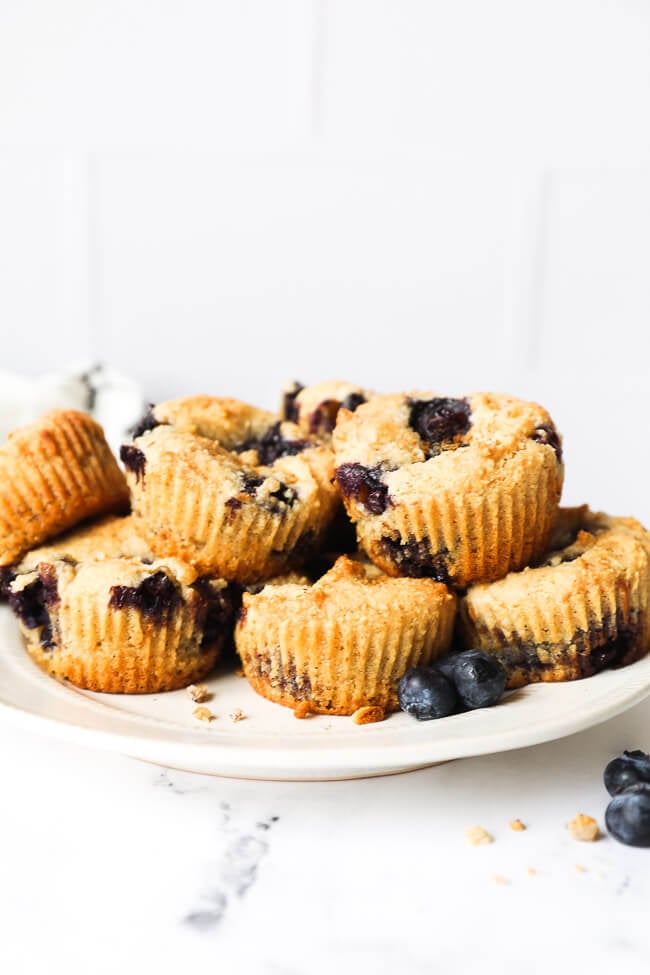 More gluten free muffins to try
We've got some other great gluten free and dairy free muffins to try.
Your turn to try our one bowl gluten free blueberry muffins
Make a batch of these easy to make muffins and enjoy the tasty, healthier snack or breakfast on hand. Leave a comment and rating to let us know how it goes. And take a pic to share on Instagram. Tag us @realsimplegood, so we can check it out. We love to see what you're up to in the kitchen!
---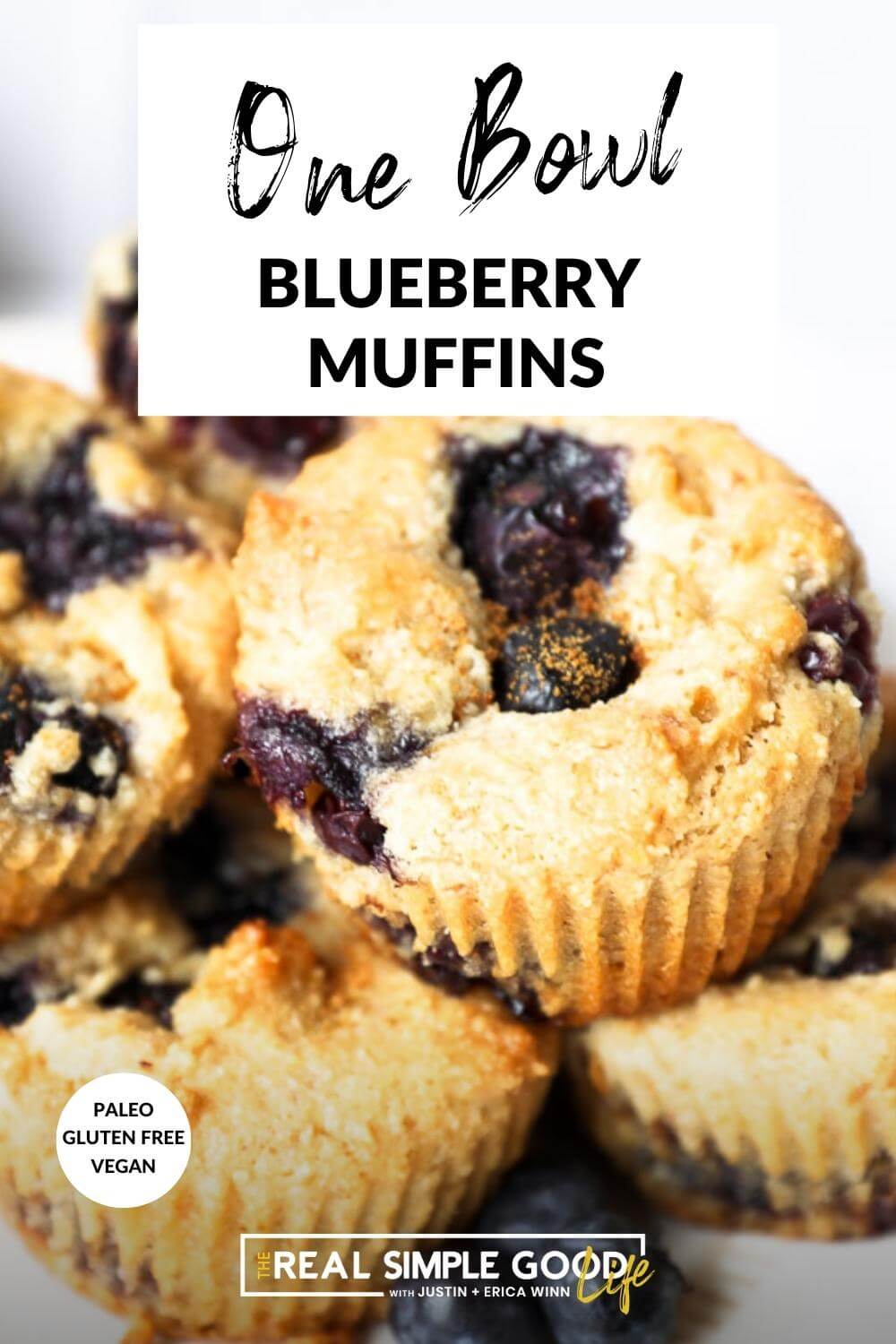 ---
Like this Recipe?
SHARE IT NOW OR PIN IT FOR LATER!
---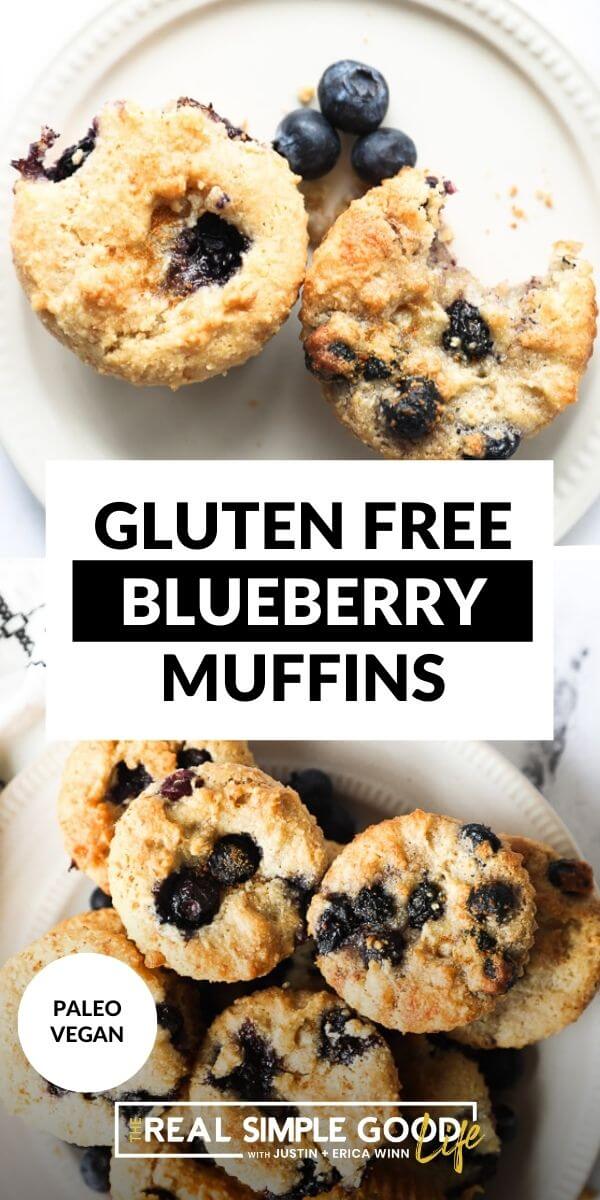 ---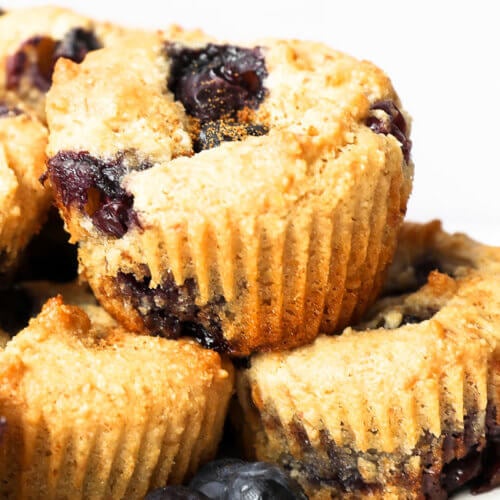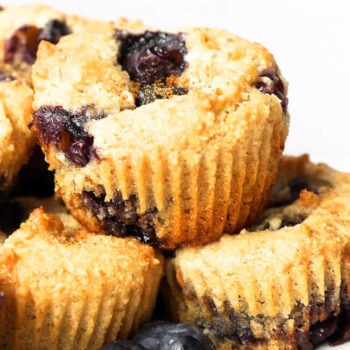 Get the Recipe:
One Bowl Gluten Free Blueberry Muffins
Made in one bowl in just 40 minutes, these gluten free and dairy free blueberry muffins are easy to make and filled with juicy blueberries. Fresh, frozen or dried blueberries will work.
Instructions
Preheat oven to 350° Fahrenheit and line a muffin pan with parchment liners.

In a large mixing bowl, whisk almond flour, tapioca flour, baking powder and sea salt. Make sure there are no clumps. Make a hole in the center of the flour mixture.

Add eggs, maple syrup, coconut oil and vanilla extract to the hole. Whisk and then combine the wet and dry ingredients until smooth, and fold in blueberries.

Scoop mixture into lined muffin tin, and transfer to oven. Bake for about 30 minutes, or until a toothpick comes out clean. They may cook a little faster if you use freeze dried blueberries – check them at 25 minutes.

Once muffins have cooled, serve and enjoy. Store in an airtight container in the fridge to keep longer. If you use freeze dried blueberries they will keep a little better on the counter.