You know what we love?! One pan meals and meals that are anti-inflammatory! Check this one pan turmeric chicken skillet out! It has a unique blend of flavors and will feel like a new way to enjoy chicken for dinner.
Adding Turmeric Into Your Cooking
Turmeric is known for its powerful anti-inflammatory properties and has been used for a long time in cooking and medicine in India. This PBS post goes into much about the history and benefits of turmeric. Dr. Axe also has a great post about how turmeric can be medicinally better than some drugs on the market. Check it out here. I'm sure that by now you've heard that turmeric is good for you and your body and it is great to introduce it into your everyday cooking. It is easy to add it to roasted veggies, smoothies, and also teas. Check out our turmeric maple roasted beets and carrots for another recipe idea!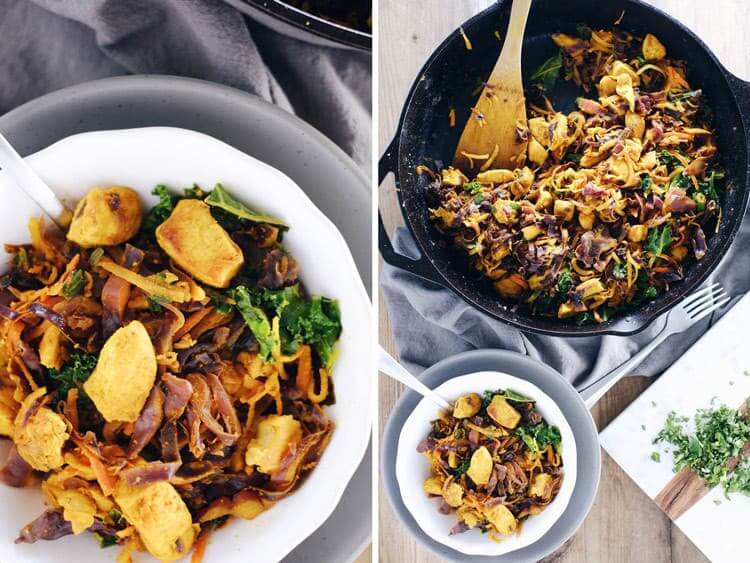 One Pan = Less Effort And Clean Up
The ease of a one pan dish really can't be beat, and the fact that this one pan turmeric chicken skillet is a tasty and healthy way to reduce inflammation as well makes it a no-brainer. Give it a try! Serve it with some rice and enjoy!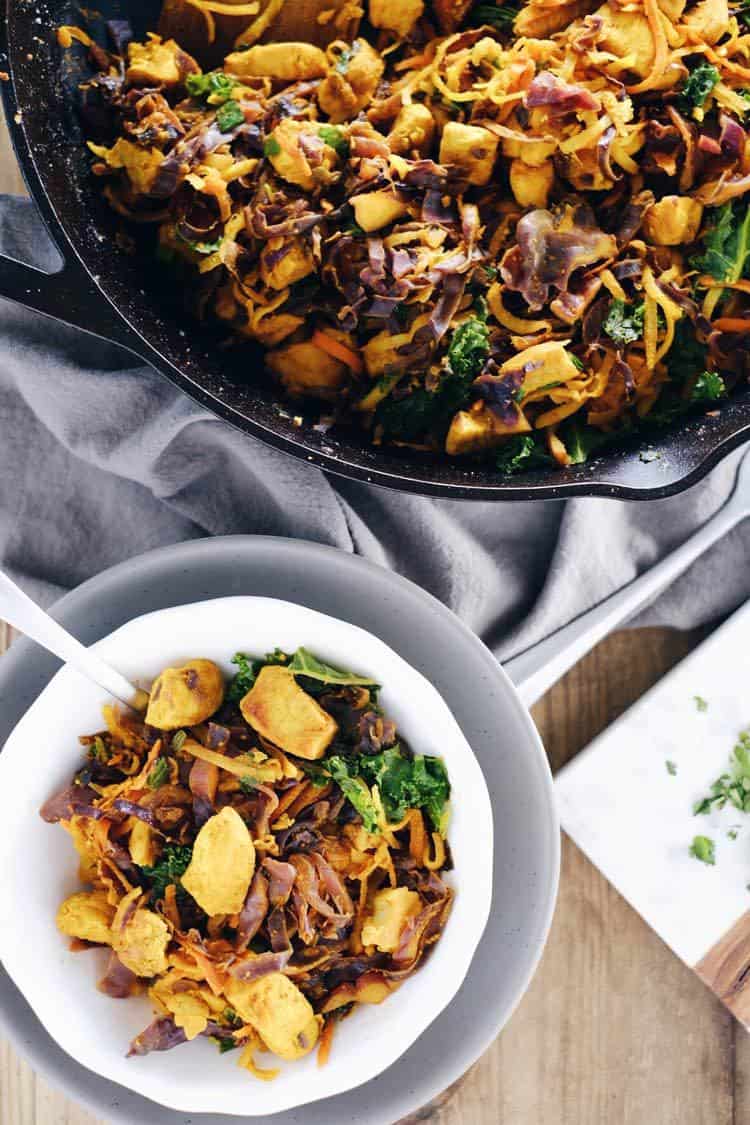 Your Turn To Try Our One Pan Turmeric Chicken Skillet
Add more turmeric into your diet by making this one pan turmeric chicken skillet! Your body will thank you! Let us know how it goes by leaving a comment below. Also, take a photo and tag us on Instagram @realsimplegood, so we can check it out!

---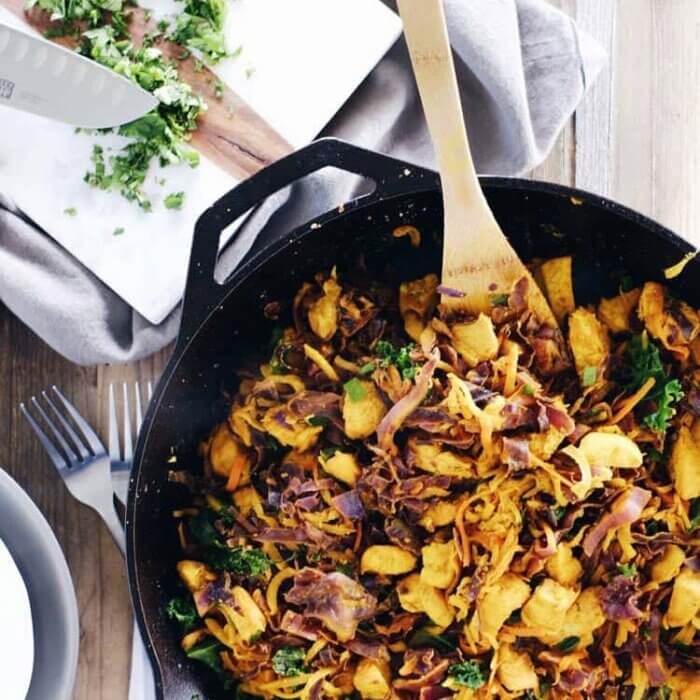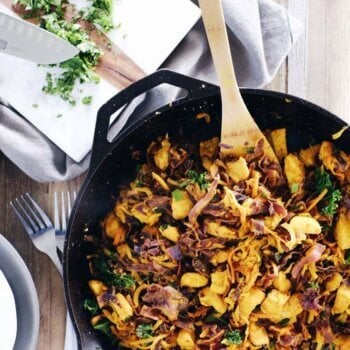 Get the Recipe:
One Pan Turmeric Chicken Skillet
This one pan turmeric chicken skillet has a unique blend of flavors and is a Paleo + Whole30 way to enjoy chicken with powerful anti-inflammatory benefits.
Ingredients
1.5 lbs chicken breast or thighs
1 tbsp avocado oil
1/2 head cabbage, chopped
3 carrots, grated
1 tbsp turmeric
1 tsp garlic powder
1/2 tsp sea salt
6 green onions, chopped
3 cups spinach or kale
1/2 cup fresh cilantro, chopped
1 cup white rice, (optional – omit for Whole30 or Keto)
Instructions
Start by cutting up chicken into small pieces. In a large skillet over medium heat add oil. Once hot, add chicken and cook until chicken is starting to brown, about 6-8 minutes.

While chicken is cooking use food processor to chop cabbage and grate carrots. Or hand chop and grate.

Once the chicken is about cooked, add about half the cabbage to pan and once it starts to cook down, add the rest. Allow cabbage to cook down and soften.

Add turmeric, garlic powder and sea salt. Mix to evenly combine and add the carrots, green onions and spinach or kale. Stir until everything is mixed and turn heat down to low. Simmer for 2-3 minutes.

Remove from heat and serve over optional white rice with chopped cilantro on top. Enjoy!
Notes
Nutrition facts are an estimate provided for those following a Ketogenic or low-carb diet and do not include rice for this recipe. See our full nutrition information disclosure here. 
Calories: 291kcal, Carbohydrates: 14g, Protein: 39g, Fat: 8g, Saturated Fat: 1g, Fiber: 5g