Our Honest Review of the Instant Pot Duo 6 Quart
Before you buy the Instant Pot Duo 6 Quart pressure cooker, read our family's honest review. We share its pros, cons and exactly how we use it at home.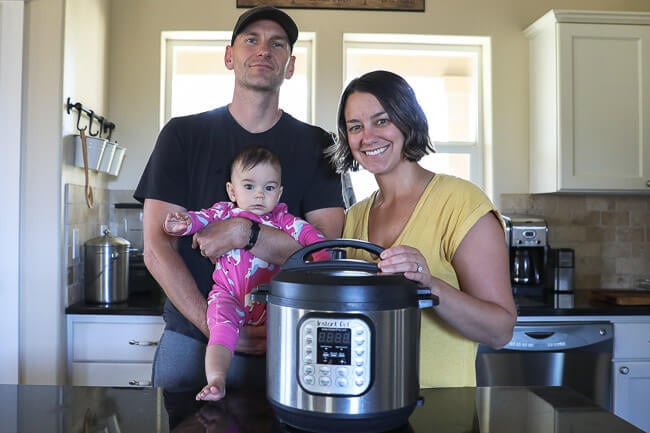 Our Final Verdict $79.99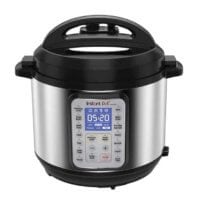 Product Name: Instant Pot Duo 6 Quart
Product Description: The Instant Pot Duo™ 6 quart 7-In-1 multi-use electric pressure cooker does a little bit of everything and prepares dishes up to 70% faster to support your busy lifestyle.
Brand: Instant Pot
Price
Features
Storage
Cleanup
Summary
There's a reason the Instant Pot Duo™ is a bestseller. With a short learning curve it's easy to use, versatile and saves you time in the kitchen. With functionality to satisfy everyone from the beginner to the advanced chef, you'll wonder how you ever lived without one!
Pros
Affordable and reliable
Versatile and functional
Quick cooking times 
Easy to clean
Cons
Takes up storage or counter space
Slow cooker function isn't great
Not always as fast as you think
After 3+ years of use, we can confidently say that the Instant Pot Duo is our favorite kitchen appliance.
We were late to jump on the Instant Pot bandwagon because we didn't really want another appliance taking up space in our kitchen and it seemed a little scary to use a pressure cooker.
Although we initially found it daunting and a little hard to use, we quickly came to appreciate the functionality and versatility it added to our kitchen. We fell in love with the sauté function, rice cooking ability and how quickly we could make tender, fall-apart pulled pork.
Here's our detailed review of the Instant Pot after years of consistent use in our kitchen.
Instant Pot Overview
In case you don't know what an Instant Pot is, let's start with a quick overview. The Instant Pot is a pressure cooker multi-tool that can also sauté and slow cook. It comes pre-programmed with various functions for making specific things like soup, rice, yogurt, etc.
Features
Specifically, the Instant Pot Duo 6-Quart 7-in-1 model comes with 13 standard one-touch Smart Programs — Soup/Broth, Meat/Stew, Bean/Chili, Slow Cook, Sauté, Rice, Porridge, Steam, Yogurt, Keep Warm, Multigrain, Poultry and Pressure Cook.
In our experience, you'll likely find 3-4 of these functions that you use consistently. The programs/features we use all the time are:
Sauté – This function makes the Instant Pot a true "one-pot" machine. With this function you can brown meat before pressure cooking it or thicken a sauce or soup after cooking.
Pressure cook – This is the primary function of the Instant Pot. Get "slow-cooked tender" beef barbacoa in about an hour or fall-apart short ribs in 90 minutes.
Rice – This function completely replaces a rice cooker. Just add the rice and let it cook with the push of a button.
Soup – This function is nice because the Instant Pot automatically adjusts the pressure and temperature while cooking so the liquid doesn't heavily boil.
Aside from these functions, we consider the other functions as "nice to have" but don't use them often. However, depending on the types of food you make, you may find other functions like steam, porridge or yogurt more useful.
Ease of Use
Although pressure cooking can seem daunting if you haven't done it before, the Instant Pot is surprisingly easy to use.
Buttons/Labeling – All of the functions are push button and clearly labeled so they are easy to read and use. A red light also indicates which function is in use while cooking.
Design – The Instant Pot is designed with simplicity in mind. It only has 3 main pieces – the cooker, the pot and the lid. The design also has a built in lid holder (see the picture below).
Cleanup – The stainless steel pot is easy to clean, even after cooking a full batch of food. The lid isn't hard to clean either, as the silicone ring is removable for cleaning.
Instructions – The Instant Pot instructions are clear and easy to follow. Also, there are thousands of Instant Pot recipes and use tutorials online.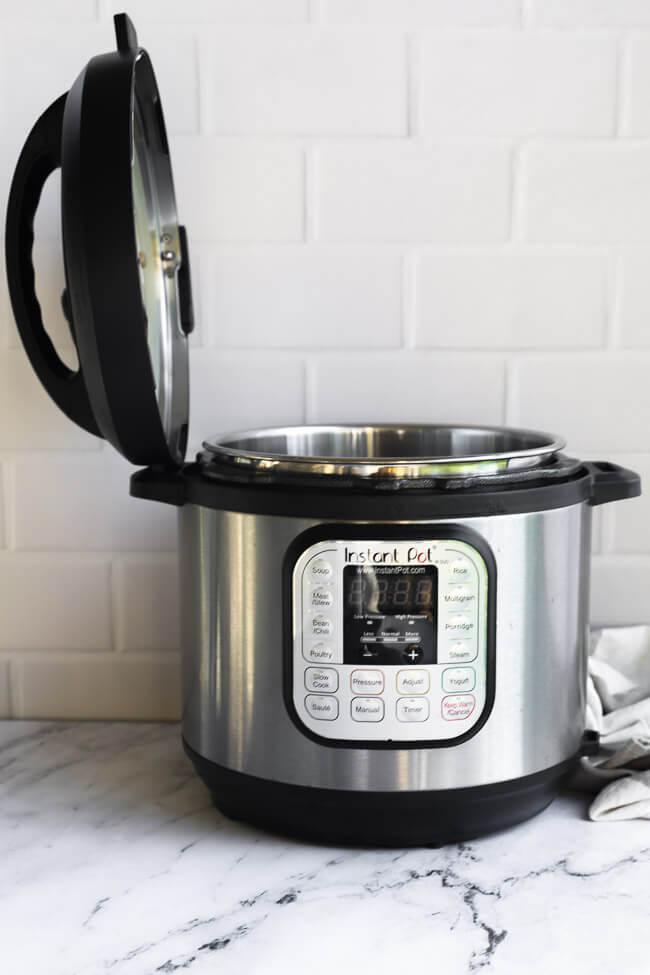 Instant Pot Imperfections
There is plenty to love about the Instant Pot, but there are a few minor downsides to point out.
Size/storage – Although the 6 quart Duo is relatively small for a pressure cooker, it does take up either counter space or cupboard space. It may not be ideal for those without much kitchen or storage space.
Burn notice – The Instant Pot requires 1 cup of liquid to properly pressurize. If you don't have enough liquid or have dry ingredients on the bottom of the pot, you may get a "burn" notice. This can be inconvenient if you have to restart a recipe and open the pot to stir or add liquid.
Capacity – Although our 6-quart Duo is a good size for our small family, you may find that you want a larger size for batch cooking or feeding a large crowd.
Slow cooker function – The Instant Pot heats only from the bottom, so we've found that the slow cooker function doesn't work as well as a traditional slow cooker.
Cooking time – This isn't unique to the Instant Pot, but it's worth mentioning. Before the "cooking time" you set on the Instant Pot actually starts, it needs to pressurize. This takes longer the more food you put in the pot. It will take on average 10 minutes (and sometimes more) to fully pressurize and start cooking. Be sure to take this into account when cooking.
Affordability
The Instant Pot 6-quart Duo is surprisingly affordable for such a versatile kitchen appliance. It can be purchased anytime for $99 and sometimes you can find it on sale for cheaper.
Considering how much we use ours, the bang for your buck with an Instant Pot is impressive.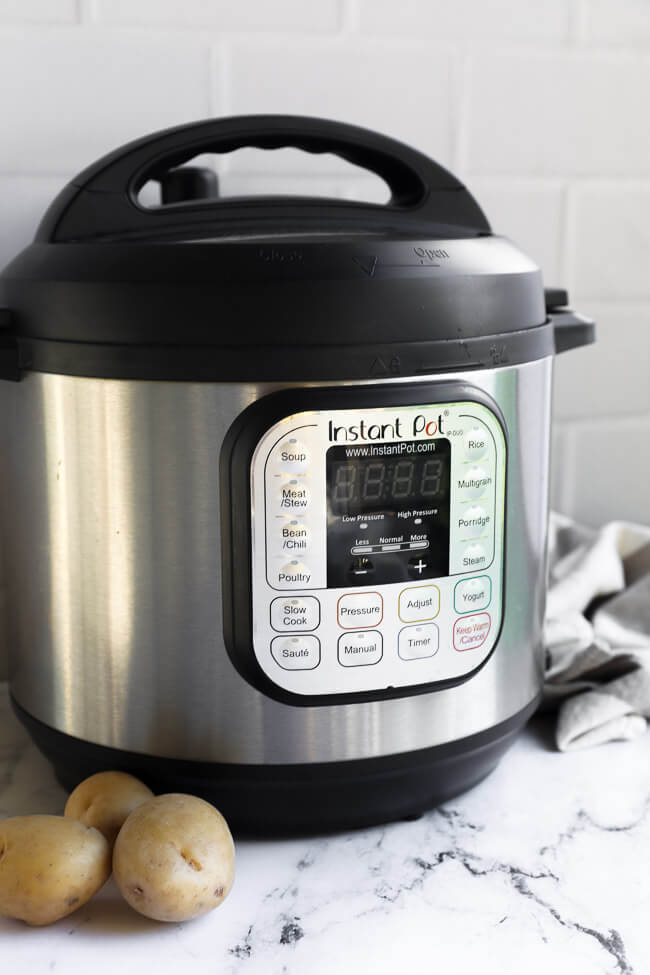 Accessories
Although you don't need any accessories to use the basic functions of the Instant Pot, there are a handful of accessories out there that can be helpful.
If you use the steam function a lot, you can add on a steamer set or basket. If you plan on making desserts or casseroles, you can get a loaf pan or cake pan.
I advise using your Instant Pot for a while before purchasing any accessories to decide what you truly need for your personal use.
Our Favorite Instant Pot Recipes
If you decide to purchase a new Instant Pot, we have a bunch of healthy Instant Pot recipes for you to try out with your new kitchen gadget! To help you narrow it down, here are 5 of our personal favorites that are in regular rotation in our kitchen.
In Conclusion
The Instant Pot 6 quart duo is a cooking appliance that we highly recommend. It's affordable, saves you time in the kitchen and is a versatile workhorse. If you are on the fence about getting one we hope this review was helpful. Feel free to leave any questions in the comments below.
---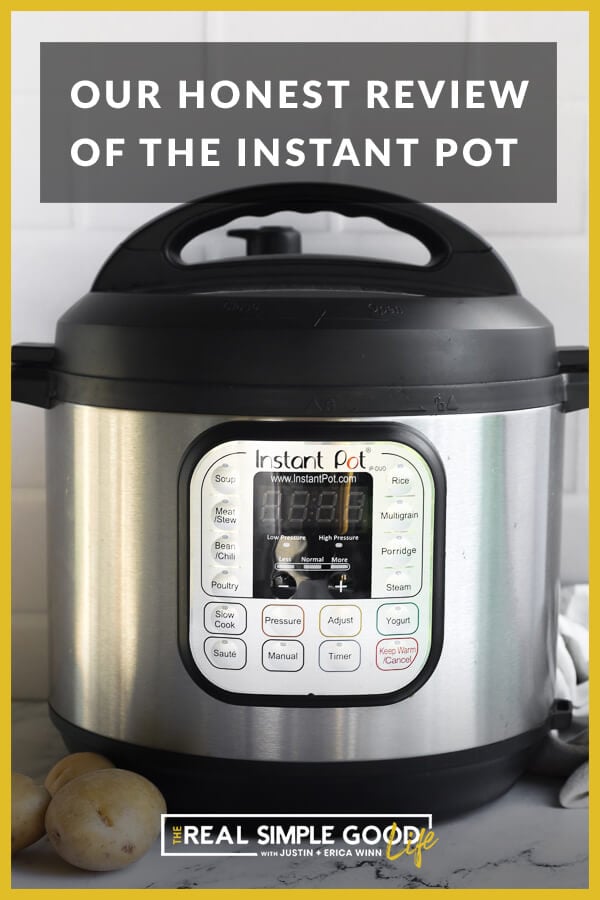 ---
Like this Post?
SHARE IT NOW OR PIN IT FOR LATER!
---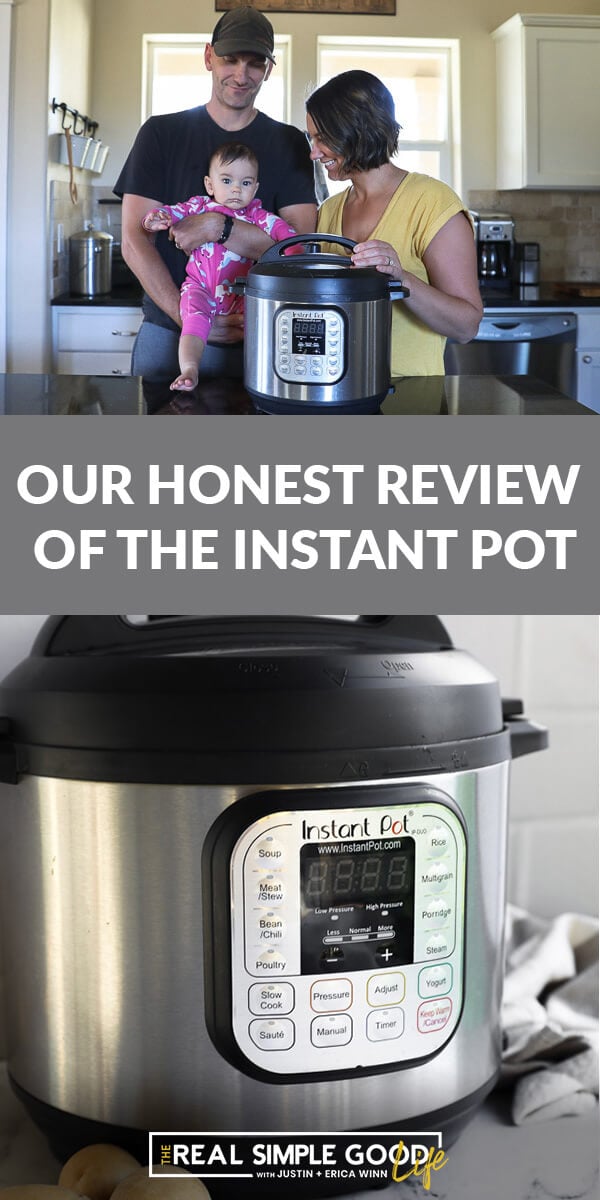 ---