Muffins. I just love them. I love that they can be savory, sweet or both, and I love that it's a controlled portion. Sometimes I just want to eat all the things, so muffins are a good way for me to get a few bites of something really yummy without totally wrecking myself. They are also really great for a snack on the go, so…double bonus!

I love bananas foster (you should try our version of the ice cream recipe if you haven't yet), and this is sort of a muffin version. The recipe is pretty simple and nut free. You can add the caramel topping or eat them without for a more savory treat. Essentially you just whisk together all of the wet ingredients in one bowl and the dry ingredients in another. Then slowly combine the dry ingredients into the bowl of wet stuff. The batter comes out like a typical muffin batter and comes out perfectly cooked after 20 minutes in the oven. While the muffins are baking you can make the caramel sauce and then let it simmer while the muffins finish.
And then they were on their way into the oven.
And then this was shortly before they were shoveled into our mouths.
---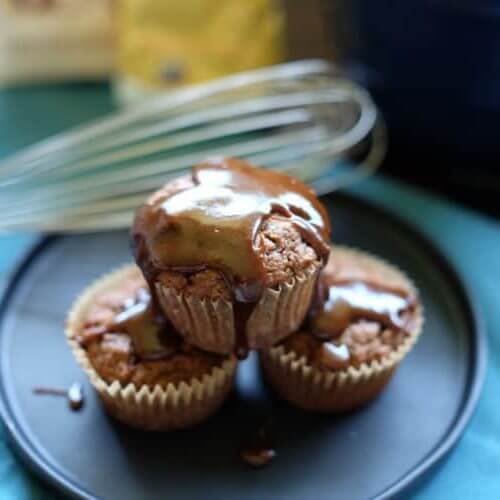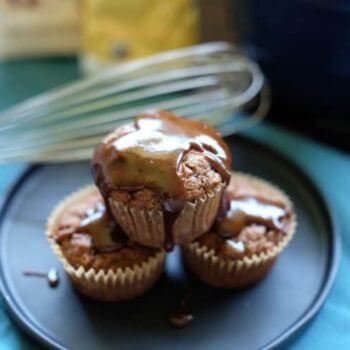 Get the Recipe:
PALEO BANANA CARAMEL MUFFINS
Instructions
Preheat your oven to 350 degrees and line a muffin tin with silicone or paper liners.

In a large mixing bowl, whisk the eggs and coconut sugar together.

Add the vanilla and coconut oil or grassfed butter and mix until smooth.

Stir in the mashed bananas until ingredients are combined.

In a smaller mixing bowl, combine all of the dry ingredients.

Slowly pour the dry ingredients into the bowl of wet ingredients and continue mixing until all of the ingredients are combined and mostly smooth.

Pour the batter into the lined muffin tin so each muffin is about 2/3 full.

Bake the muffins in the oven for 20 minutes. A toothpick will come out clean when they're ready.

While the muffins are baking, make your caramel sauce.

In a small sauce pan or skillet heat the coconut sugar and coconut milk over medium heat, stir until a silky caramel forms.

Let the caramel simmer over low heat until the muffins are done.

When the muffins are done remove from the oven and let cool for a few minutes.

Drizzle your topping over the muffins and serve.