Summer is in full swing, and what's better than a summertime treat that is on the lighter side?! One of my favorite things about the summer is all the fresh berries. Our garden is bursting at the seams with berries right now. After picking a bunch of raspberries and blueberries yesterday afternoon, I decided to make these paleo berry lemon bars. They are refreshing with a lemon cashew cream filling, berry topping and almond-walnut crust.
This recipe is not too complicated but is a little more time intensive than some of our others because the cashews will need to be soaked in water overnight, so you'll have to plan ahead just a little extra. Creating these yummy bars can be broken down into three steps: the crust, the cashew cream layer and the berry layer on top.
Start with the crust – you just pulse the nuts in your food processor. Then, add the dates and a little salt and pulse until it's all combined. Push the mixture into a parchment lined pan and bake for 15 minutes.
Next, make the cashew cream. After the cashews have soaked overnight, combine them in your food processor with all of the other cashew cream ingredients and pulse until the mixture is smooth and creamy looking. Layer it on top of the crust.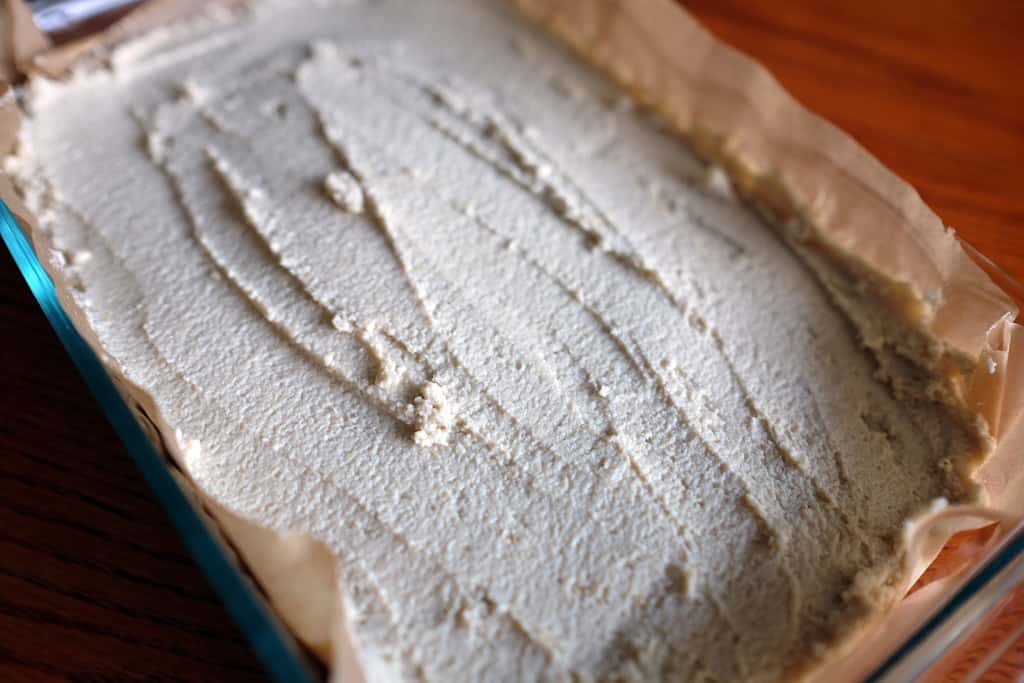 Finally, make your berry topping. If you use blueberries, you'll want to start with them on the stove and reduce them until they start to pop and look more like a jam. Then add your other berries and breakdown just until there are only little chunks of berries left. Let the berry reduction cool, and then layer it right on top of the cashew cream.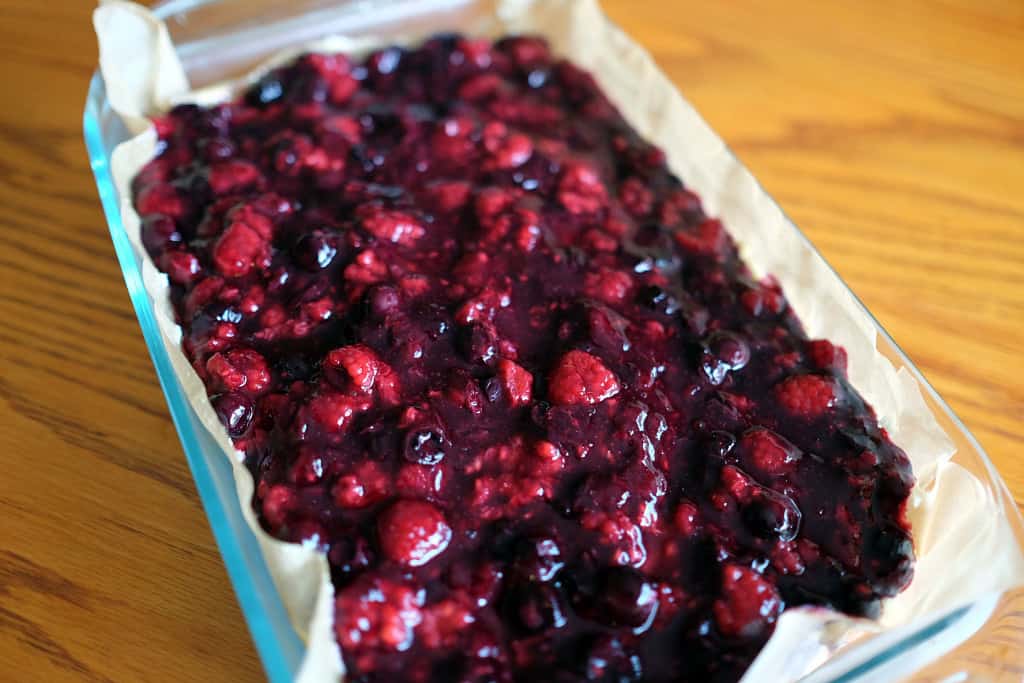 Place the bars in the freezer and let them set for a few hours. Cut into squares and serve. You can keep them in the freezer for a couple weeks, or in an airtight container in the fridge for a week. I doubt they'll last that long though…ours didn't!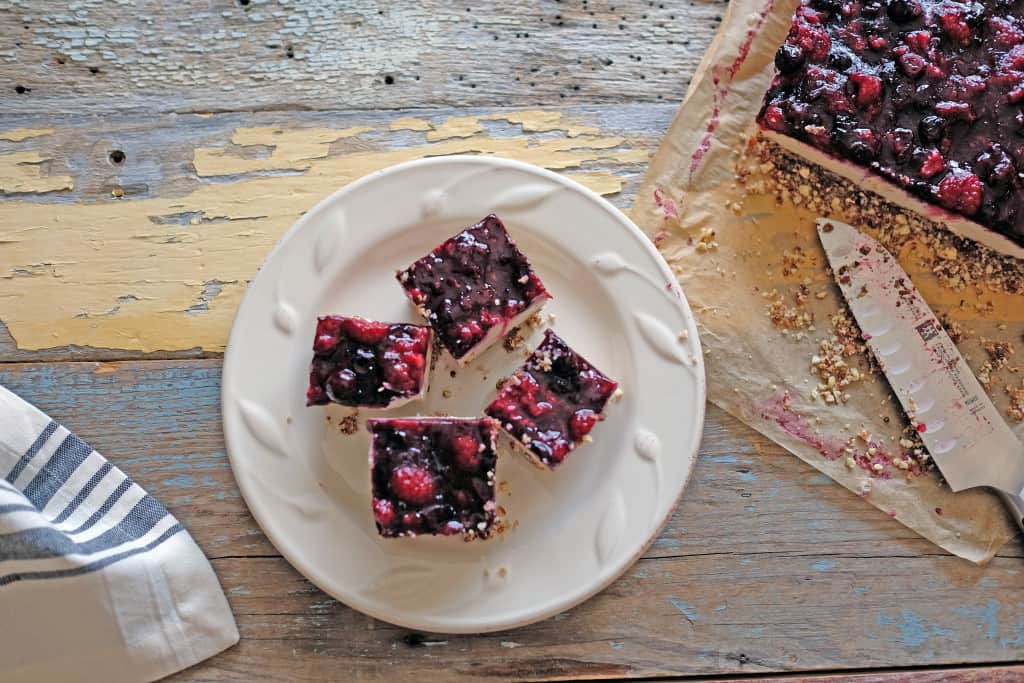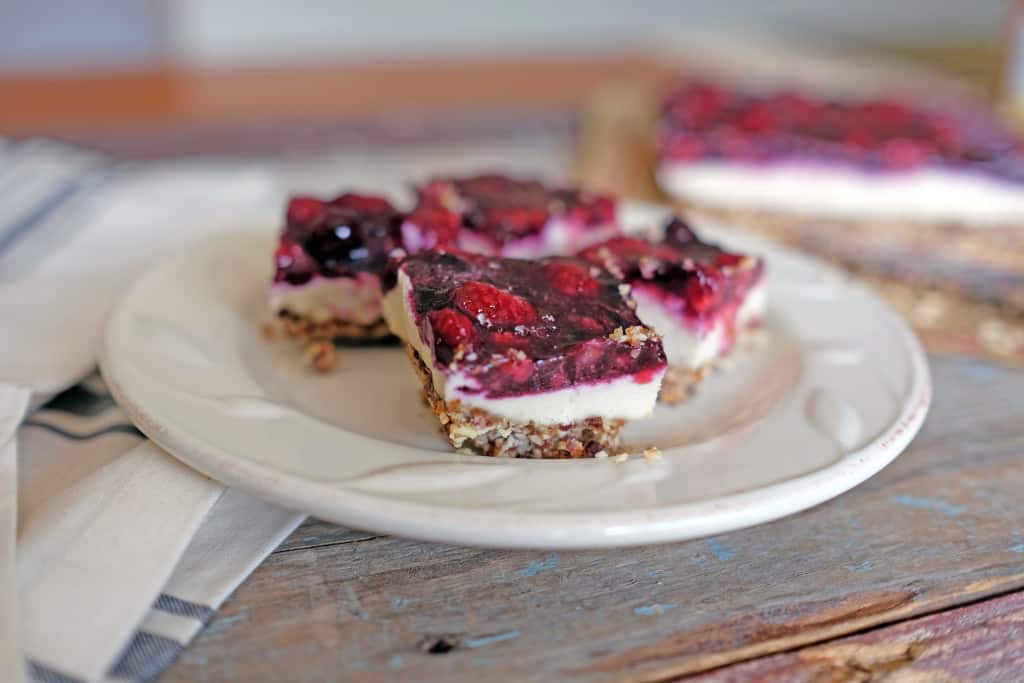 If you try out this recipe, let us know what you think by leaving a comment below and adding a rating. Also, take a picture and tag it on Instagram #realsimplegood so we can check it out!
Enjoy!
---
Get the Recipe:
PALEO BERRY LEMON BARS
Ingredients
For the crust:
1-1/2 cups nuts, (I used 1 cup of almonds and 1/2 cup walnuts)
1/4 cup shredded unsweetened coconut
10 dates, - pitted
1/4 tsp salt
For the berry topping:
3 cups of fresh berries, (I used 2 cups of blueberries and 1 cup raspberries)
Instructions
Important Prep Note: The cashews need to be soaked overnight before you can make the cashew cream.
For the crust:
Line a 7x11'' pan with parchment paper, and preheat oven to 350 degrees.

Place the nuts and shredded coconut in your food processor and pulse until the texture is roughly chopped.

Add the pitted dates and salt to your food processor and continue pulsing until the texture is grainy.

Remove mixture from your food processor and press down into parchment lined pan.

Bake for 15 minutes until the edges are golden brown.

Remove from oven and set aside.
For the cashew cream:
Note the cashews should be soaked overnight before making the cashew cream.While the crust is baking, place all of the cashew cream ingredients in your food processor and pulse until the mixtures is smooth and creamy.

You will need to stop periodically and scrape the sides down and continue pulsing.

Once the cashew cream has formed, layer it on top of your crust.

Set the pan aside again to make the berry topping.
For the berry topping:
Place the berries in a sauce pan over medium, low heat.

Let your berries reduce to a jam like consistency. I used blueberries and if you do too, start with them in the sauce pan first because they take a little longer to break down. Once they have mostly popped, then add the rest of your berries.

Remove your berry sauce from the heat and let it cool.

Once cooled, layer on top of the cashew cream.

Place your pan in the freezer for a few hours to let everything set.

Remove and cut into squares and serve!

Note: You can store these in the freezer for a couple of weeks or in the fridge in an airtight container for about a week.